We use affiliate links. If you buy something through the links on this page, we may earn a commission at no cost to you. Learn more.
Product Requirements:
Device:
Windows ME, 2000 (SP4 or later), XP (Home or Pro)
Mac OS X (10.3 or later)
USB port (1.1 or 2.0) for data transfer to PC or Mac
Sony Memory Stick (original, PRO, MagicGate, ROM, Memory Select, DUO)
or
Compact Flash
PhotoDiary (included software):
Windows (same as above — will not run on Mac)
Pentium III 450MHz or higher
500 MB free hard drive space
128 MB RAM
16-bit color display at 800×600 or higher
I have been searching for a device that will allow me to dump the memory cards from my digital camera (Sony DSC-F828) since I bought it late last year. I have been using my laptop for this purpose, along with a card reader, cables, and USB 2.0 PC Card. Picture me squinting at my laptop screen in bright sunlight, copying and pasting the files from my memory cards onto the laptop hard drive. This was not an ideal solution (Julie has often listened to me whine about the inconvenience of it all). I wanted something simple that would fit in my camera bag and hold lots of pictures. Imagine my joy when Julie told me about the device pictured below.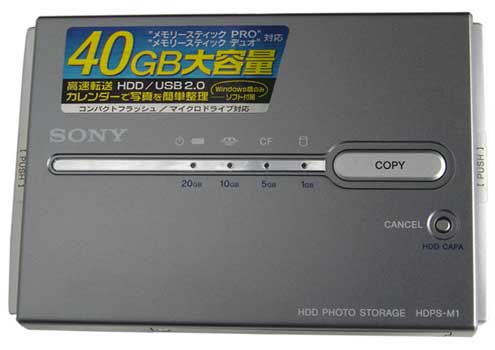 My joy was short lived. My research quickly revealed that Sony does not currently plan to sell the device in the US. I continued to read the specs and it seemed that this portable hard drive/card reader had been designed specifically for me. It has card reader slots for the two media types (Sony Memory Stick and Compact Flash) used in my camera, it is relatively small, battery powered, and really, really simple to use.
A mistake had been made. Sony designed a photo storage device to my personal specifications and then, failing to realize that I do not live in Japan, did not make it available to me. I would tell you that I cried, but it would probably be more accurate to say that I whined. Julie bore the brunt of this.
Perhaps that is why she contacted her Hong Kong connection, Brando at the Brando Workshop, and asked if he could get one for me to try. I cried real tears of joy (translated: stopped whining for a moment) when Julie told me that Brando had agreed to ship one for review — and it wasn't even my birthday! Enough with the boring background. Below you will see the device in my hand.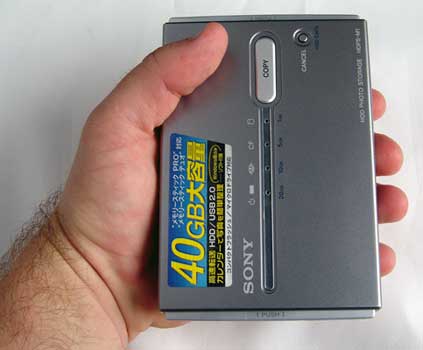 As you can see, my thumb bends too far back at the first joint. This has absolutely nothing to do with This marvelous Sony product — it is a defect that runs on my father's side of the family.
The HDPS-M1 weighs a little less than eleven ounces with dimensions of 5 3/8(W) X 1 3/16(H) X 3 5/8(D). It fits in the pocket under the lid of my camera bag — no more lugging around my laptop in order to reclaim memory cards during a long day of shooting. With 40GB of hard drive space, I can theoretically transfer 80 of my 512MB Lexar Memory Stick Pro cards without connecting to a PC at home or laptop on the road. That is over 8000 full resolution jpegs (8MP in fine mode) — a number I am only now approaching after seven months of pretty intensive photo shooting. Just trying to put it all in perspective.
The portable drive has doors on each end for accessing the USB plug and power jack (one end) and memory card slots (other end). These doors use a tricky little double hinge mechanism — after opening and closing it a few times I began to appreciate the design. With the exception of the pins, which run through both hinges and the tiny springs that open the doors, the mechanism is made of plastic. This is not a combat-ready piece of electronics, but rough treatment would probably cause the internal hard drive to fail before the exterior moving parts.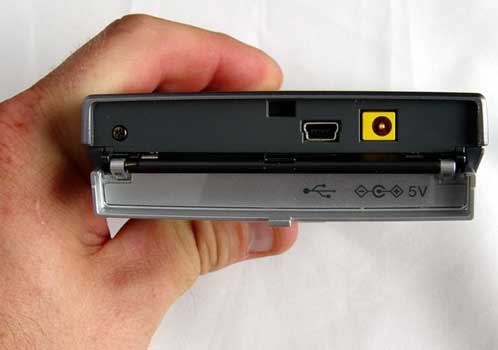 The doors are opened by lightly pressing them straight down and then releasing. The springs do the rest. Reverse the process to close them.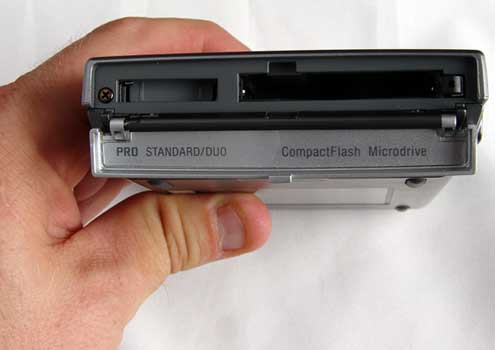 As you can see above, the HDPS-M1 has built-in card reader slots for Memory Stick (all current formats) and Compact Flash. The documentation does not guarantee compatibility for Memory Stick cards with capacity over 1GB (the current limit for Memory Stick PRO). If Sony comes out with larger capacity Memory Stick PRO cards and you can afford them, you can probably afford to hire an assistant with a strong back to follow along behind you with a laptop, card reader, and a cooler full of Mountain Dew.
This photo storage device actually works in two different modes — portable or USB. I will cover the portable mode first. The device powers on in portable mode if it is not connected to a computer via USB cable. When you turn it on, the far left led on the top glows green (you'll have to squint and/or use your imagination to see the green led below).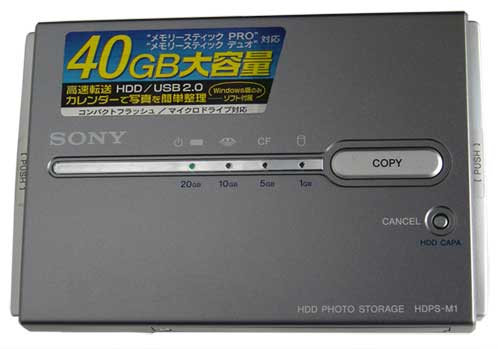 Then you simply insert your memory card into the appropriate slot and the corresponding LED (memory stick or CF) along with the led below the hard drive symbol glow green. The word COPY on the big silver button will also turn bright green as you can see below (imagination — you know the drill).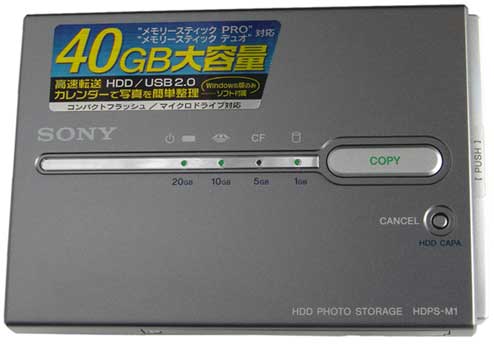 To copy the contents of the memory card over to the portable hard drive, press the COPY button. The small leds serve as a progress indicator — flashing from left to right while the device copies files. When the copy operation is complete, the leds return to the state they were in when you originally inserted your memory card.
The card will have to be cleared when you return it to your camera. The HDPS-M1 only does one thing in portable mode — copy files. My camera clears a card almost instantly. It takes longer to click through the menus than it does to execute the delete command, so I do not mind this relatively minor inconvenience. Sony could have used a cut-and-paste method here, but that approach can be dangerous. If something interrupts the operation (e.g., battery runs out), the remaining pictures could be lost. Besides, "Cut And Paste" would have required a significantly larger button in order to fit all of those extra characters on it's face.
While in portable mode, you can check free space on the hard drive by pressing and holding the small round HDD CAPA. button below the COPY button. If more than 20GB remains, all four of the small indicator leds will light up — three leds for 10GB, two leds for 5GB, and one led for 1GB. Both memory card slots must be empty in order to check free space.
I have consistently copied the contents of a full 512MB Lexar Memory Stick PRO to the portable drive in 3 to 3 1/2 minutes. This is a great deal faster than any other method that I have tried so far — including USB card readers. Sony claims that this photo storage unit utilizes the parallel capacity of their Memory Stick PRO cards. That may account for the optimal speed.
The battery is supposed to last for about one hour. This does not sound like a lot of time, but it should conservatively allow for the transfer of at least 1500 pictures (120 pictures per 512MB card, 3.5 minutes per card = 17 cards : 17 X 120 = 2040 pictures). Of course you would have to monitor it closely and power off immediately after each transfer was complete in order to get the most out of this limited battery life. On a recent trip to the zoo, my wife and I transferred thirteen full 512MB (over 1100) cards on a single charge. Our shutter trigger fingers were exhausted before we were able to run the battery down.
Switching to USB mode is easy. You plug the mini USB connector into the HDPS-M1 and the other end into your PC or MAC. The device becomes a standard external hard drive. The two card slots automatically become available on your computer as USB 2.0 card reader slots. Windows XP automatically displays an action menu (see below).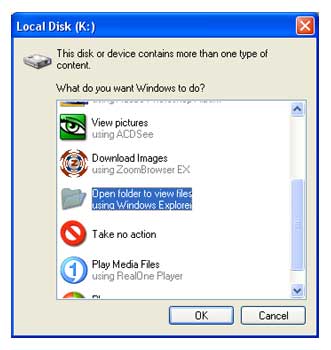 Using My Computer you can easily copy the contents over to your computer. The USB 2.0 connection is really fast. I was able to transfer 4.4GB from the portable drive to my PC in 6 minutes and 27 seconds. I connected the device to a USB 1.1 port and tried the same transfer. The copy status dialog indicated that it would take over 2 1/2 hours to complete and I had wandered away before it finished. I highly recommend a USB 2.0 port!
Unplugging the USB cable returns the device to portable mode.
To recharge the battery, you plug in the included charger. When charging, the power led blinks red (if the power is off) or green (if the power is on). When the led stops blinking, it is fully charged.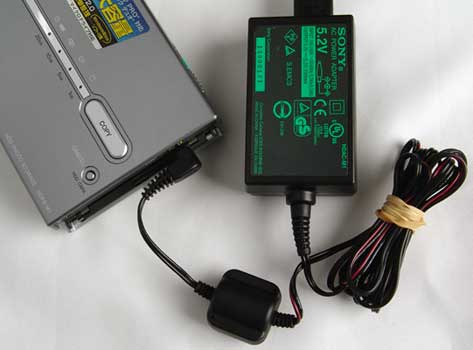 Sony includes a soft black bag for the HDPS-M1.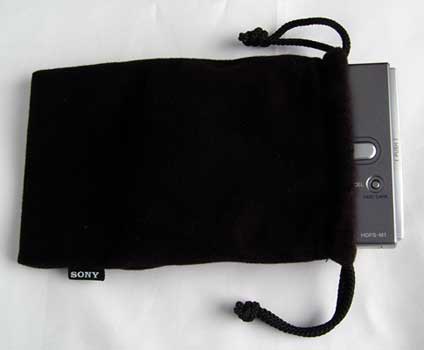 Sony also includes a program called PhotoDiary. I didn't really even consider installing it — I already have several photo editing/organizing programs. After looking through the manual while writing this review, I may rethink that decision. The program offers several integrated functions for organizing, viewing, and distributing photos.
I personally like everything about the HDD Photo Storage device. If you happen to own a Sony DSC-F828 digital camera, there is nothing else on the market that will meet your portable storage needs as well as this device. Anyone using Memory Stick or Compact Flash would find it very handy to have in their gadget bag. If you want a small LCD for viewing photos, you will need to look at one of the other products on the market. I use my on-camera LCD for that purpose. Alternatively, I prefer my laptop for more detailed viewing.
As I mentioned earlier, Sony has not offered this unit for sale in the US. It is interesting to note that although all of the printed material — including the box — is in Japanese, the printing on the device itself (e.g., buttons, indicators, slot labels, etc.) are in English. For this reason I would expect them to eventually be made available here in the US. If you just can't wait (like me), you should consider contacting Brando at the Brando Workshop.
Price: $320 (plus shipping if special ordered from Brando)
Pros:
Battery powered, portable
USB 2.0 (fast transfers)
Two built-in memory card reader slots
Small (fits in camera bag)
Simple, easy to use
Cons:
Short battery life (one hour)
Product Information
Price:
320.0
Manufacturer:
Sony
Pros:

Battery powered, portable
USB 2.0 (fast transfers)
Two built-in memory card reader slots
Small (fits in camera bag)
Simple, easy to use

Cons:

Short battery life (one hour)