We use affiliate links. If you buy something through the links on this page, we may earn a commission at no cost to you. Learn more.
Product Requirements:
Device:
Windows 98, 98SE, ME, 2000, XP & MAC
I've had my 3rd generation 30gb iPod for 1 year now and find that it has become a gadget that I never want to be without. Apple really knows their stuff when it comes to both the physical design of a product, and its user interface. I'm spoiled at this point, and have a hard time getting excited about other digital audio players. Except for price, it's really hard to find fault with the iPod.
When the folks at Digital Mind Corporation contacted me to see if I had an interest in reviewing their Xclef player, I'll admit that I wasn't chomping at the bit at the opportunity. But after I took a closer look at their product specs and pricing, I decided that I needed to write a review for the person that hasn't already become a devout follower of the iPod and also has a smaller budget to work with.
Hardware Specs:
Hard Disk Type : 2.5", Low Power HDD, ATA I/F
Capability : 40 GB or 80 GB 2.5in drive (up to 137 GB, when available)
File System : FAT 32
Buffer Memory : Max. 12MB
USB2.0 supported as well as USB1.1
Digital Audio Format : MPEG 1,2,2.5 Layer3 (8-320Kbps.Vbr), WMA (32-192Kbps)
Sampling Frequency : 8 – 48KHz
MP3 Encoding (32kbps – 320kbps)
S/N Ratio : > 90dB
THD : < 0.01%
ID3 Tag : Ver 1.0/1.1/2.0 supported
FM Tuner & FM recording – 20 presets
Voice Recording (32Kbps – 128Kbps)
Display : 160*105, W/B LCD, EL Backlight
Battery 3.7V, 2000mAh, Lithium-Ion Rechargeable, AC
Adapter: 100 – 240 AC to 5V DC
Playback Time: 20 hours
Earphone Out : 10mW + 10mW
Digital Input : S/PDIF(IEC958)
Dimension : 129 x 81 x 22mm
Weight : 255g
Included In Box:
Ear bud earphones
USB Cable
CD for Win 98 Driver
AC Adapter
User Manual
Carrying case with belt clip
Line-in Cable
While there is now a 80 GB version of this product available, I was sent the 40 GB Xcelf to review. When I first removed it from the packaging, I was slightly taken aback by its size and weight. It's definitely larger than my iPod in both bulk and heft. This isn't a player that will ride comfortably in a pocket. That said, the Xclef has a very rugged feel to it that an iPod really doesn't have. iPod users will probably agree with me, that they pretty much coddle their digital music player as they would a newborn baby. The Xclef feels like it is made to toss around willy nilly without fear of harm – of course I didn't test out that theory…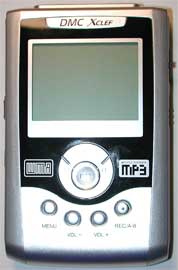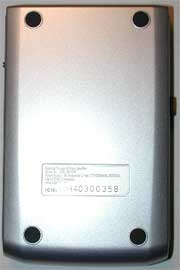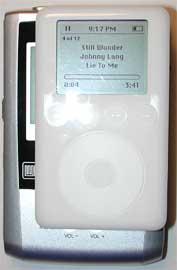 The player feels like it is made of metal, but I believe it is just plastic. The front and back are a metallic gray, while the sides are black. While the device is large, it is comfortable to hold and did pass the Gadgeteer creak test. It didn't quite pass the rattle test though… Shaking the unit resulted in rattling noises from various buttons and switches. Unlike the iPod, the Xclef does not show finger prints or smudges. The front of the device has a large 160 x 105 pixel blue backlit display. The quality of the display is very much like an older Palm PDA. Think Palm III with greenish background and black text… This type of display is easy to see with the back light on and off.
Below the display are the multi buttons. This circular pattern of buttons contains the well known Play/Pause, Stop, Next Track, Previous Track functions. The buttons are plastic and have excellent tactile feedback. By holding down the Play/Pause button for several seconds, it also doubles as a Power On button when the unit is turned off. This button is concave, so your finger will never have a problem finding it. The Stop button works the same way for turning the unit off.
Below the multi buttons are 4 smaller buttons that have the assigned functions of Menu, Volume Up, Volume Down, and Rec A/B. Like the multi buttons, these buttons also are made of plastic and have excellent tactile feedback.

The left side of the Xclef has a small format USB connector that is protected by a rubber flap. A small power connector is also located on this side of the unit.

The opposite side of the Xclef has the jog dial and hold switch. The jog dial is a spring loaded lever that can be either pressed up, pressed down or straight in as a select feature. The hold switch is a typical two position switch that prevents key presses from being registered when the unit is in the hold state. If you try to turn the unit on when it is in hold, a small lock image will appear on the display to notify you of its status.

The top of the Xclef has a line-in jack, microphone and earphone jack. Using the included line-in cable, you can use the recording feature of the Xclef to capture audio from other devices, such as cassette and CD players. You can also record using the built-in microphone. Although the earphone jack looks strange (a remote may be available in the future), it is standard sized, so that you can use your favorite ear buds or headphones. The included pair of ear buds are not the most comfortable, so I suggest replacing them quickly.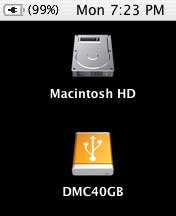 The Xclef doesn't ship with any special software like iTunes or Real JukeBox. That's because the player functions as an external USB storage device. Once you plug the USB cable into your PC or Mac, it will show up as a removable hard drive that you can easily drag and drop files to. I copied my entire MP3 collection to the Xclef that is organized into artist/band folders with separate album folders and songs below them. The actual transfer was pretty quick using USB 2.0. According to the specs, the Xclef can transfer files at a maximum of 480Mbps.
Upon powering the player on, you are greeted with a whimsical splash screen and then the Digital Mind Corp. logo that displays while the unit is booting up. This booting procedure takes between 5-10 seconds or so. That's right, the Xclef doesn't power on instantly… Although the wait isn't long, it is annoying. At least to me.
Once the unit is fully operational, you see an alphabetical browser view of the top level folders/files stored on the hard drive. Using the jog dial, you can scroll up and down through the listing. Pressing the jog dial in on a specific folder will navigate into that folder. Pressing the jog dial in on a song will begin the playback of that song.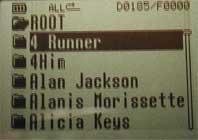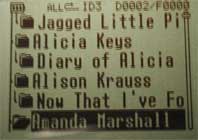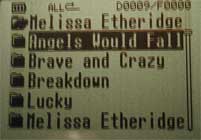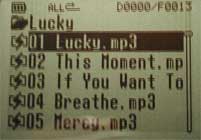 Left to right: Root listing, Tree listing, Folder (album) listing, Track listing
Pressing the Menu button while in the browser view will toggle between the top level folder list, to a tree view, and then to a search view. Depending on how you have your music collection arranged, searching for a particular artist or song can take awhile. Although the ability to scroll through artists and then drill down into specific albums is very similar to the iPod, it just doesn't feel as easy to do on the Xclef. In fact, it feels quite tedious.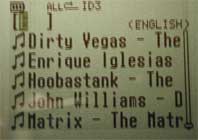 The search view is interesting and could be really cool, but seems to only work if you happen to have all your songs stored in one folder instead of separately. With this feature, you can search by the first three letters of a song by using the jog dial to scroll through the alphabet.
While a song is playing, there is quite a bit of info displayed on the screen including song name, bit rate, equalizer setting, battery level, playback status, volume level, next song and previous song titles. The player does support ID3 tags. If you enable to this setting, the information displayed during song playback will include the artist name and album name instead of the next and previous track info.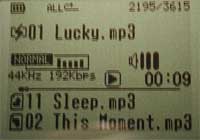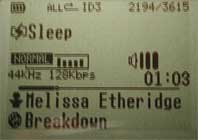 Left to right: Without ID3 enabled, with ID3 enabled
The sound quality on the Xclef is very good, and volume levels are such that I rarely listen at more than 1/2 of maximum. With the user and preset EQ settings, you can actually make this player sound better than an iPod. The equalizer modes include Normal, Classic, Jazz, Rock, Ultra-Bass and a User Defined EQ with 5 Bands.
The setup menu mode gives you access to a multitude of user definable settings. Check out the screen shots below.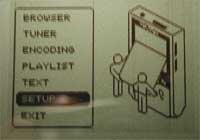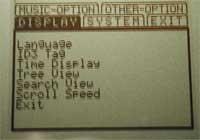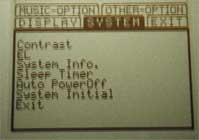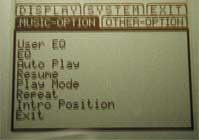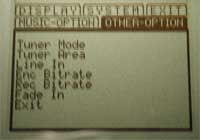 Besides being able to play .MP3 and .WMA files, the Xclef has a few more tricks up its sleeve. For one, there is a built-in FM radio that uses the earphone cable as an antenna. The radio pulls local stations in quite well and has a good sound. The ability to program up to 20 presets is also very nice. You can even record what you are listening to on the radio by pressing the Rec /A-B button. However, I did notice that whenever I would try this, it would cause the radio station to immediately play static. The recordings are saved as consecutive files named ENC00#.MP3.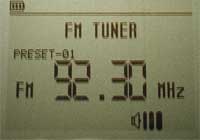 Another feature of the Xclef is the ability to display text files on the screen. Although I don't think you would really want to read a book on this device, this feature would let you do so.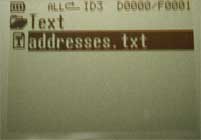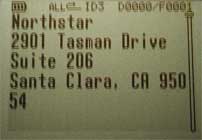 In day to day use, I found the Xclef to function superbly as a removable storage device for my PC and Mac. It is totally plug and play and doesn't require any additional software to work. Coming from an iPod though, using this device as a music player takes a little getting used to. Finding a specific song that I want to play takes much longer than what I am accustomed to. That said, someone that has never experienced an iPod might not have as much trouble.
Battery life on this gadget is excellent. Now, I've never actually tried to play music for 20 consecutive hours, but I have gotten over 10 hours at a time out of it. Speaking of the battery though, charging it is a pain. You can't just plug in the AC adapter and go. You have to actually plug it in and turn it on. If you power the unit on while it is plugged into the AC adapter, it will automatically go into recharge mode. Unfortunately, it does not power off once the battery is fully charged. I supposed this wouldn't be so bad if the display could be turned off…
There is one thing that I wish this player could do that it can not. I wish that I could randomly play all songs by a specific artist without having to navigate to each individual album folder. Yes, this is a feature that the iPod can already do… Sorry, I can't help myself.
The Xclef has a lot going for it. It is less expensive than an iPod of the same storage capacity, has the ability to upgrade the hard drive if you wish (it uses 2.5 inch laptop hard drives), has an FM radio and the ability to record voice and input. I think this player would be great for for the first time budget conscience digital audio buyer as it can play both MP3s and WMAs. Although I'm not ready to give up my trusty iPod, I am anxious to see what Digital Mind Corp. has in store for their future products. They seem to be on the right track as far as price and feature set go.
Price: $229 (40GB), $379 (80GB)
Pros:
Reasonable pricing
Functions as USB storage device
Great sound quality


Ability to update firmware and hardware 
Cons:

Bulky
Start up time too long

Charging requires you to turn the unit on
Does not automatically turn off after charging
Product Information
Price:
229.0
Manufacturer:
Digital Mind Corporation
Pros:

Reasonable pricing
Functions as USB storage device
Great sound quality
Ability to update firmware and hardware

Cons:

Bulky
Start up time too long
Charging requires you to turn the unit on
Does not automatically turn off after charging