We use affiliate links. If you buy something through the links on this page, we may earn a commission at no cost to you. Learn more.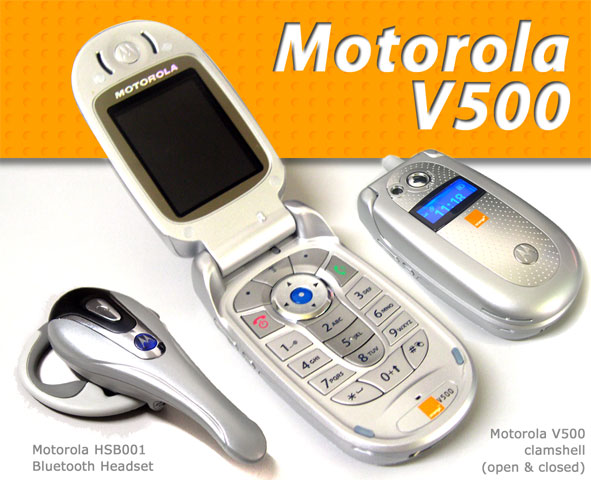 I had a lot of trepidation regarding the Motorola V500, the first time I saw it. Maybe it was the darkening Singapore shopping mall around me, at half-past closing time. Maybe it was the pushy sales clerk who alternately badgered and begged me to hand over my money. Maybe it was because I'd never heard of this model until he broke it out of its cardboard box. Maybe it was because it was so obviously not a Nokia or even, for that matter, an Ericsson.
Still, after a ridiculous amount of hemming and hawing, I did end up bringing the phone home with me that night, nestled tightly in my sweaty palm like a gold nugget. It was a strange feeling. I hadn't had a clamshell since my StarTAC days, and I suppose I was expecting something more … wallet-sized, somehow.
Features
The V500 is a curious Moto model, in that it's available only via specific providers like Orange and Cingular. Its featureset is exactly the same as the more common V400 though, so this review will generally apply to both models.
A cursory inspection of the v400/v500 featureset shows that it's a phone on the same level as the Ericsson Z600 and the Nokia 7200 (both of which are currently tied for Most Annoying Pseudo-Fashion Statement, Mobile Cover Category). It's got a 65k screen, bluetooth, a VGA camera, WAP 2.0 browser, speakerphone, and an optional bluetooth headset which I gamely had included in the package.
The best thing about this phone, the thing that convinced me to stick my VISA in the swiper, was the fantastic 65k screen. The reds and oranges are just eye-popping. Its LCD looks even better than my Ipaq's, although obviously it's easier to make a high-quality 176 x 220 screen than a 320 x 240 one. It's no smartphone, but it's damn close.
The built-in VGA camera (a feature I'd been lusting for with my last two phones) is of average quality, but it's very responsive. The delay between pressing the capture key and the picture actually being taken is non-existent. Much better than with the Nokia 7250, although Moto doesn't do fish-eye. The pictures you get won't win any awards, but it's ok for taking visual notes, adding faces to your phone book and updating your moblog. Apart from the standard support for indoor, outdoor and night shots, you can adjust the exposure settings to give you significantly brighter or darker images. Handy for when you're going for that artsy, high-contrast, lossy-compression look. Each image (at 640 x 480) weighs in at around 30-40kB, so you can fit no more than a hundred of them in the phone's 5mB of shared memory, before you have to start thinking about where to dump them.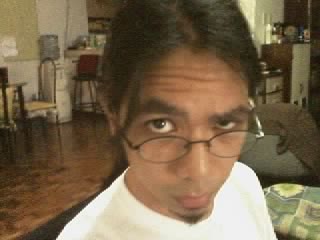 The mirror beside the camera lens makes taking self-portraits a snap. Figuring out the differences between settings like "Indoor (Home)" and "Indoor (Office)" is slightly more difficult. Personally, I would have found descriptive captions like "Low light" or "Bright flourescent lighting" easier to apply to specific circumstances, but that's just me.
Fortunately, transferring media to and from the V500 is fairly simple. As is often the case with Bluetooth devices, the initial setup is a bit of a struggle, but everything goes smoothly once all of your equipment has been properly introduced. (Would that people were this easy to pair up.)
Pairing the V500 with my Ipaq 2210 took about 5 minutes, mostly due to an unfamiliar Motorola menu system, and my own aversion to user manuals. Once I had paired them up though, transferring some of my portfolio artwork over to the phone was easy, as was pulling some of the Moto's included ringtones (can you say MP3 support baby?) over to the Ipaq. Pairing the phone with the headset was a very simple procedure as well, and the two devices would automatically detect when the other was in range after that. The only caveat was that I simply could not get the Ipaq and the headset to work with the phone at the same time. Basically, when the headset was active, I could not initiate file transfers between the Ipaq and the Moto. I can only assume that the V500 is a monogamously-connected wireless device, but I have yet to test this theory with other BT-compatible equipment.
I also was unable to send contacts from Pocket Outlook to the Moto, which was exceedingly annoying. It's a small gripe, but it had certain implications for me, namely that I would be forced to enter every contact twice, instead of just syncing it automatically between my PC, my handheld and my mobile (and any other device that might conceivably need it, like my BT toilet flusher). This is a common problem with most of the midrange BT phones (Ericsson T610, Nokia 6310i, etc.); I've only ever gotten this working with the high-end Nokia 6600. And speaking of contacts, the Moto is apparently unable to receive SMS business cards from Nokia phones (and, I assume, other brands as well). You'd think a phone with GIF, JPG and MP3 support could accept a text-based, tab-delimited VCF, but that's not the case.
SMS issues (or "Why the V500 wasn't designed for Filipinos")
Another text-related issue I encountered had to do with sending an SMS. It's obvious that this phone wasn't designed with the Asian market in mind, because options for creating new text messages are buried in submenus. To start texting, one has to select Message Center, scroll to and select New Message, then select New Short Message. Actually sending the SMS requires another 4 button-presses, during which you are required to select a contact, press Add, press Done, then press Send. (And no, pressing the green Call button doesn't expedite this process the way it does in Nokia phones.) I send anywhere between 10 and 30 SMS every day (which is relatively few compared with other Filipinos), and I honestly can't imagine how Motorola could have made this any more inconvenient.
I understand that it was necessary to categorize the menus thus in the interest of clarity, but commonly used areas like this should be accessible via shortcuts. With any device meant for one-handed usage, anything requiring over 3 button-presses is a serious inconvenience, and the Motorola's 8-step texting process is downright insulting. The Nokia 7210 has a similarly deep menu system by comparison, but you can start creating a new text message with one button by pressing the left navigation arrow. Alas, no such shortcuts were immediately available with the V500.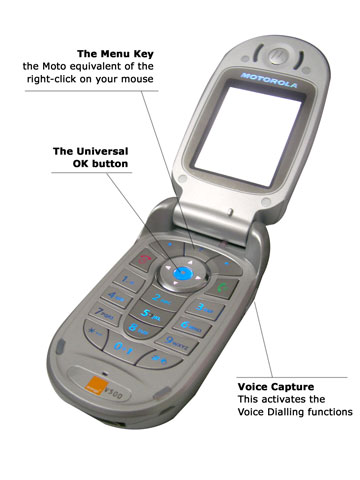 After much consternation (read: whining), I did find a solution to my problem however. Those of you who are loyal Moto fans probably already know this trick, but it was certainly news to me. Apparently, you can assign a numeric shortcut to any menu item of any depth, which you can then access by pressing the Menu key + the assigned number. To perform this little miracle, all you have to do is scroll to a given item, then hold down the Menu key for 2 seconds. A dialog will pop up asking you if you want to create a shortcut, and voila! The four-button process is now reduced to two. My only gripe is that this magical procedure is mentioned nowhere in the manual (i.e., as rewritten by Orange), and I honestly would never have figured it out for myself. This sort of secrecy is fine for hidden levels in video games, but these are consumer electronics we're talking about here!
Extras like voice-activated dialing worked without a hitch, although attempting to use this feature with the headset required me to raise my voice to potentially embarassing levels. Also, it takes about 10 seconds for the number to actually be dialled, so if you're in a hurry, using Quick Dial will definitely be more efficient.
If you're the sort who likes enhancing their phones with third-party software like diallers and SMS managers, be aware that only a handful directly support Motorola, and even less support this particular model. In these situations, remember that demo versions are your friends.
I was unable to test the V500's Internet-related features in time for this review, but it does support all the usual suspects (GPRS, WAP 2.0, Email via POP3/IMAP). Your mileage will definitely vary, with these features more than any other.
So is it worth it?
Phone prices are remarkably flexible depending on your area and service provider, so I won't bother debating whether or not this phone is worth the money. My best guess is that it should be somewhere in the US$400 range if you're purchasing it without a service plan, but I've seen sites where it was being sold for a bit more than half that. (If you're from the UK, Orange is practically giving this phone away, so you should at least check it out.)
A better way to look at the V500 would be to compare it with its rival phones, which include the Sony Ericsson Z600 and Nokia 7200. A purely feature-based comparison will show that the Moto has the highest resolution display of the three (the Z600 sports a medium-sized 128×160 lcd while the 7200 has to make do with a miniscule 128×128 postage stamp of a screen). All three phones have integrated VGA cameras, but only the Moto and the Ericsson have Bluetooth. Also note that the Moto is rather conspicuously lacking any form of IrDA support, so people who have legacy IR devices they want to use with their phones may need to look elsewhere. Kinda reminds me of a few years ago, when those first few iMacs came out with no floppy disk drives (a subject which I'm still undecided on … some of my PC's here at home have floppies, some don't).
On the entertainment side of things, only the 7200 has an integrated FM radio and Video recorder, which may be more important to some folks. (Personally, I wouldn't be caught dead with this phone, or its fashion-victim covers.)
Battery life has never been much of an issue for me because I charge all of my equipment when I get home every night, but people who are on the road for long periods will be glad to know that the Moto has an indicated standby time of 5 days, and a talk time of 6 hours. This is generally what you'd expect from a 700mAh battery, and is similar to Nokia's claims regarding their own 7200. The longest I've gone without charging the Moto is about 2 days, which included constant use of the Bluetooth headset and camera, as well as several calls. For my purposes, this is more than enough, but it may be best for road-warriors to check out the optional desk charger and extra battery that Motorola offers for their V-series models.
All in all, I think the V500 holds its own versus the competition, but it'll be up to you to decide which extra features are more important to you. Although I never considered the 7200 when I was shopping, I do think that looking for a hi-res LCD would be my very first priority, in which case, the Moto would be the clear winner. Keep in mind though that the Moto has something of a learning curve for Asians who have used nothing but Nokias for most of their mobile lives, and its use of shortcuts is painfully lacking.
Price: Depends on carrier and plan. Find best price here.
Pros:
Big smartphone-esque screen (176 x 220)
Responsive VGA camera
Relatively large phone memory (5mb)
Solid performance
Cons:
Unnecessarily lengthy texting process
No way to send or receive business cards from other mobiles
Spotty manual