We use affiliate links. If you buy something through the links on this page, we may earn a commission at no cost to you. Learn more.
Product Requirements:
Device:
Any brand of Laptop computer
6/15/04 See updates in red below
I am head over heels in love with my 15 inch PowerBook G4. I decided to make the switch not quite 2 months ago, and haven't looked back yet. Having used a desktop PC as my primary computer for eons, converting to a wireless laptop has been extremely liberating. I'm no longer tethered to a 19 inch monitor, full size keyboard, mouse or power outlet. Yay!
So here's the thing… I'm not only an internet addict, but also a TV addict. Not content to choose one vice over the other, most nights I find myself sitting in my Lazy Boy chair with the PowerBook on my lap while watching the tube. The problem is, that my PowerBook can get pretty darn hot. So, when the folks at LapLogic contacted me to see if I might be interested in learning more about their LapPad products, I eagerly agreed.
When the package arrived, I was surprised to see that they had included a wide selection of their products, from entry level on up. Available in different colors, weights and formats, LapPads can reduce the heat experienced by laptop users by up to 57 degrees Fahrenheit. That's a big deal when laptops under certain conditions can generate as much as 130 degrees Fahrenheit on the chassis underside. According to the reports included with the LapPads, humans start to feel uncomfortably warm in the 104-108 degree Fahrenheit range. While I've never actually been burnt from using a laptop in my lap, I have become uncomfortably warm.
Using soft and/or rigid materials (depending on the model), LapPads are able to protect against three types of laptop heat:
Convective Heat – Heat that is transferred from the laptop computer through the air.

Conductive Heat – Heat that is transferred when a warm notebook computer physically touches the skin or body.

Radiant Heat – Heat that is transferred electromagnetically, typically in the infrared spectrum.
If all this sounds like too much techno babble hooha and all you really want to know is if these products can actually make laptop lap working more comfortable, then keep reading…
The tests that I preformed with the various LapPads were very unscientific. I didn't have a way to accurately measure the amount of heat between my lap and the laptop. So, you'll have to just take my word for how each pad helped and to what degree they helped.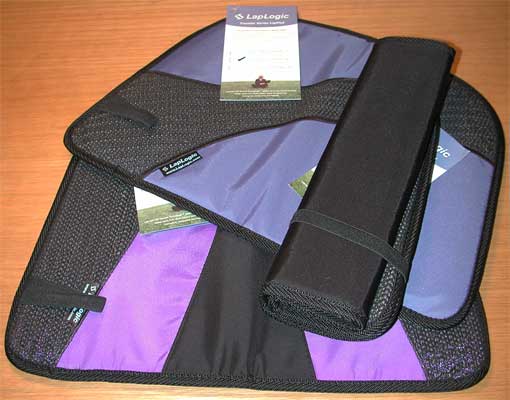 Top to Bottom: Traveler Series Kona, Norte, Chinook
Starting with the Traveler Series, there are 3 different models. The Kona, Norte and Chinook. These go from good to best in heat protection, starting out at the bottom with the Kona model which is only 3 oz and can be easily rolled up or folded to stow in a backpack. The Kona is available only in black and is 11.4" x 15.8" x 0.3" when unfolded. Like all of the LapPads, one side has a grippy rubbery coating similar to the matt-like material that you can buy to line kitchen cabinets. The opposite side is constructed of a canvas material.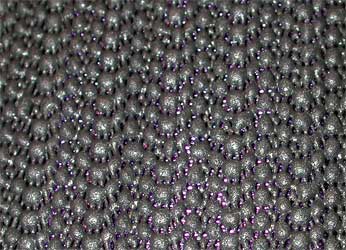 Early on I realized that I was actually testing these LapPads wrong when I visited the LapLogic web site and happened to see a picture of one of the pads in use. The bottom of the laptop is supposed to rest on the grippy surface, no the colored canvas surface.
Although the Kona model is the most compact of all their offerings, I found that I only preferred to use it when really on the go… such as at the airport. When at home in front of the TV, I found the more rigid models to work out better. At only $19.95, this is the least expensive pad but does keep your lap comfortable when doing typical low power type tasks such as web surfing and emailing.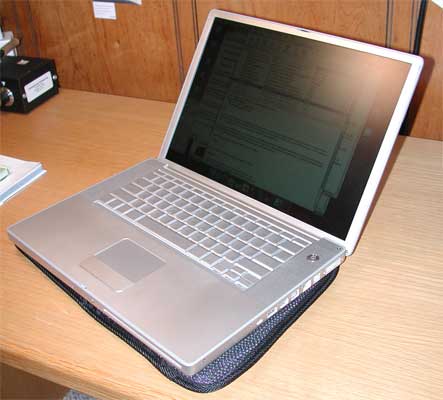 The Norte and Chinook models of the Traveler Series add some additional thickness or denseness to increase heat reduction. The Norte is 4 oz and 11.4" x 15.8" x 0.4" when unfolded, while the Chinook is 7 oz and 11.4" x 15.8" x 0.4" when unfolded. Both models are not quite as foldable as the Kona, but come in different colors. The Norte is $29.95, while the Chinook is $44.95. It was hard for me to feel a huge heat difference between these two models. But there was a noticeable difference between them and the entry level Kona model.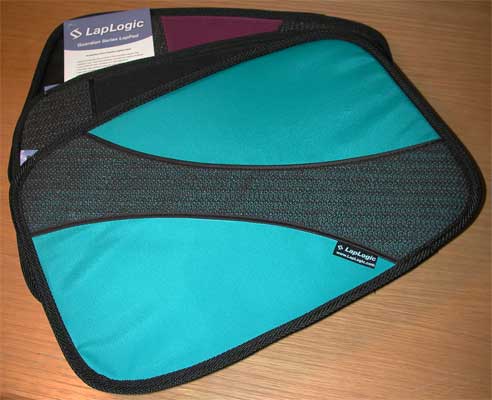 For people that like a more rigid work surface, I found the Guardian series LapPads to be better suited for the couch potato like myself. Available in good, better and best heat protection, these models increase in both weight and thickness. The Bora model comes in at 9 oz and 11.0" x 16.0" x 0.5", the Mystral at 10 oz and 11.0" x 16.0" x 0.8" and the Taku at 14 oz and 11.0" x 16.0" x 1.0". Like the Traveler series, the entry level Guardien LapPad is only available in black, while the other models are available in various colors. Pricing begins at $24.95 and goes up to $49.95.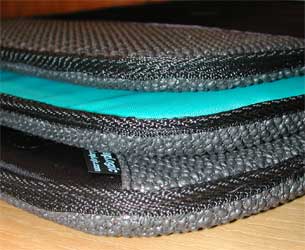 I found the Guardian series pads to keep my lap comfortable for the longest amount of time. Although I could detect the difference between the Bora and Taku, it was hard to tell the difference between the Mystral and Taku. At $50 the Taku is pretty expensive… I'm not sure I'd fork over that much cash for a laptop pad. That said, if you need a rigid lap desk, any one of the Guardian series will do a great job.
People were concerned that this type of product might actually cause a laptop to overheat internally… I decided to run some tests to see if this might be true.
For test #1, I used my PowerBook on a flat wooden surface for 2hrs. I woke it out of sleep mode and worked with it the same way that I do every day. Tasks included checking email, surfing webpages, viewing Quicktime videos, listening to iTunes music, MSN chat, Dreamweaver webpage editing and Photoshop image editing. WiFi was enabled as was Bluetooth (I use a Bluetooth mouse).
Test #2 consisted of the same type of tasks and the same length of time. But, this time the PowerBook was setting on a Guardian series Taku (their best model) LapPad. I used a CPU temperature reporting program for the Mac called Temperature Monitor. Here are the results of the test:
Time

Temperature
Without LapPad

Temperature With Taku LapPad

Start

90° F

88° F

30 minutes

119° F

126° F

60 minutes

129° F

134° F

90 minutes

131° F

137° F

120 minutes

131° F

138° F
As you can see from the results, the LapPad does seem to insulate the heat inside the laptop by a few degrees. That said, I think the benefits of the product far outweigh 5-7 degrees.
Price: $19.95 – $49.95
Pros:

Protects lap from heat
Available in different prices, sizes, colors
Cons:
Best models are expensive  
Product Information
Price:
19.95
Manufacturer:
LapLogic
Pros:

Protects lap from heat
Available in different prices, sizes, colors

Cons:

Best models are expensive