We use affiliate links. If you buy something through the links on this page, we may earn a commission at no cost to you. Learn more.
Product Requirements:
Any PDA listed
here
It would appear that the sticky adhesive screen protectors of yesterday, the
ones that had to be changed every month (if not earlier) and left a tacky
residue when removed, are finally going the way of the dinosaur – and
that is a very good thing.
Nowadays, all screen protectors must meet the minimum criteria of being
scratch-proof and reusable. If they use an adhesive, then it must be a gentle
silicone type that instead of actually sticking to the PDA's screen, clings
to it. It would appear that for those who choose to use an adhesive based
protector, versus a non-adhesive, that  there are only two criteria left to
decide upon: clarity and price.
The Bosity Enhancement
PDA Screen Protector fits into this new generation that uses long lasting
plastic backed with a gentle adhesive.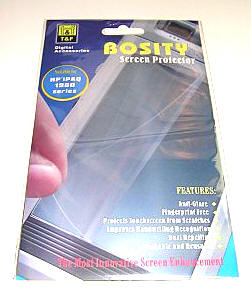 The kit includes the screen protector, a lint-free cotton cloth, and a stiff
paper squeegee – not too shabby for the price!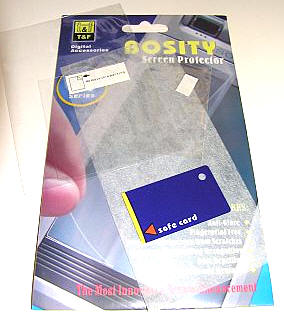 To apply the protector, you wipe the PDA's screen with the cloth, then peel
back a portion of the plastic backing from the protector. There is a tab of tape
on the plastic backing to help get the process started. Using the squeegee, you
can push off any bubbles that appear as the protector is unrolled across the
screen. Should you get a bit of lint or a defiant bubble, you can use a length
of scotch tape to lift the corner of the protector, then re-apply.
The clarity of the Bosity is on par with that of the
Brando, which I have previously
reviewed. Because the Bosity is designed to be anti-glare, it has a slight
opaqueness and texture. I prefer a clearer glass-like surface, much like the way
a naked screen looks and feels. But those that like the feel of paper under
their stylus and less of a glare when under a light will most likely prefer this
type protector instead.
Never miss one of our posts again. Sent MON, WED, and FRI with the latest gadget reviews and news!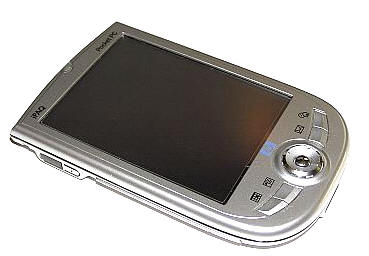 The Bosity does not sit flush with the sides or bottom of the PDA which does
not make it any less easy to use. In fact, if you need to remove and reapply the
protector at any time, this will make it easier.
If you prefer less glare from your screen protector and like a slight "pen on
paper" fell from your stylus, then you should like the Bosity. For the price and
the included accessories, it is one of the better available values.
Bosity Enhancement PDA Screen Protectors are available
here.
Price: $6.95
Pros:
Inexpensive
Anti-glare
Reusable
Long lasting
Kit comes with unexpected extras for the price
Cons:
None
Product Information
Price:
6.95
Manufacturer:
SuntekStore
Pros:

Inexpensive
Anti-glare
Reusable
Long lasting
Kit comes with unexpected extras for the price

Cons: