We use affiliate links. If you buy something through the links on this page, we may earn a commission at no cost to you. Learn more.
Hi all! This has been a crazy week! I have been semi offline since Wednesday due to upgrading to the new ethernet version of the Direcway Satellite modem (DW6000). It took two days before I had it working. They had forgotten to activate the modem before sending it to me… DOH! As a result to that frustration and the fact that I'm in the middle of some home remodeling fun, we're taking a short break from posting reviews this week. Never fear though, we'll be back on our regular schedule starting Monday.
Thanks to all of you that have volunteered to review the 2 iPod products. I'll be contacting the people that I've choosen for the reviews this weekend.
I just received an email from a friend of mine that happened upon the store pictured below. Too funny! They even use the same font in their logo as we do… hmmmmmmm…. It's actually a kitchen gadget store located in Omaha, Nebraska.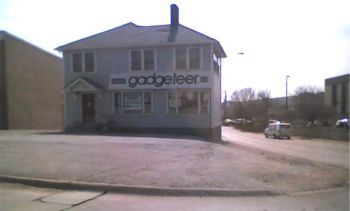 Have a great weekend, and Happy Easter!