Product Requirements:
Device:
Win98, Win2000, WinXP, or Linux Desktop PC for
transfer of files
Serial/Null modem cable purchased from
Club 100
Or just use as a standalone computer!
For many years now I have been following "The Gadgeteer" site. Gadgets these
days seemingly encompass a range of different devices, be it a PDA, MP3 player
or digital camera. The list is almost endless.
But those things aren't really new. There was a device that had many of the
basic functions of a PDA or a laptop more than 20 years ago. Yes, in 1983!
Imagine a portable device that runs on 4 AA batteries & runs for 20 hours+,
has an address book, a date book, a notepad-like app, a built-in modem, a
full-travel keyboard, a terminal application, even the ability to connect to a
modern Windows or Linux based PC & transfer files. Sounds great doesn't it? But
in 1983? No way I hear you say! What are you smoking son?
Well I'm here to tell you that this magical computer DID exist back then. And
it still exists now with many hobbyists, writers and hackers still getting great
enjoyment from it. This little computer is called a
Radio Shack TRS-80 Portable
Computer!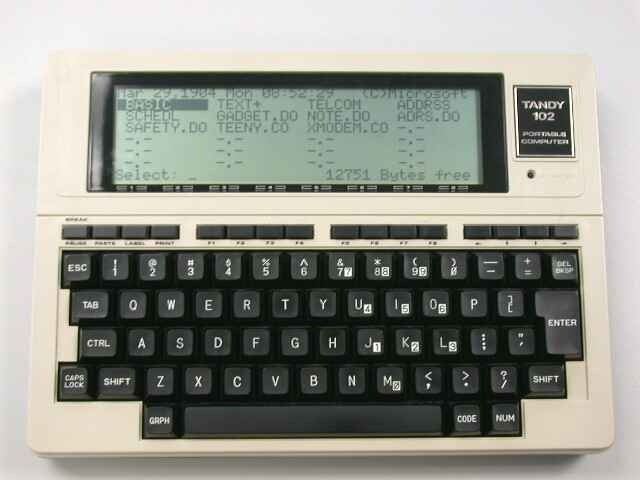 What greets you when you turn your
Tandy 102 on. Note the non Y2K compliant date – an oversight on the part of
Bill Gates! Doesn't effect the running of the computer though
Here are some of its stunning hardware details:
Processor: 8 bit 8085
Clock Speed: a blazing 2Mhz
RAM: 8KB expandable to 32KB. Yes, that means KILO-byte.
ROM: 32KB
Keyboard: Full travel keyboard
Modem: 300 baud
Built-in Apps:
ADDRS: the address book
SCHED: the datebook
TEXT: the notepad
TELCOM: the terminal application
BASIC: Microsoft Basic
Connectors: RS-232, Printer, System Bus, Cassette, Internal Modem

Connectors on the Tandy
The Tandy 100 was released in 1983, followed in 1986 by the Tandy 102 which
was a slightly smaller version of the 100 & widely regarded as the better of the
two. Tandy also released the Tandy 200 which had a larger flip-top screen & was
expandable to more Ram, but didn't meet with the same success.
The Tandy was immensely popular with journalists. They where able to write
out their articles on the road on the Tandy's excellent keyboard, then through
the 300 baud modem send their articles through to the newspapers mainframe.
Hackers & road warriors also loved the Tandy, thanks to the excellent
portability the machine has.
But the really amazing thing about this machine is this: it lives on today!
Rick Hansen has run Club 100
for nearly 1000 years…well maybe perhaps 20! Just about everything about this
machine can be found on his site. He even sells reconditioned Tandy's!!! You
will also find out how to connect the Tandy to your desktop PC.
The reason for this amazing longevity is the versatility of the Tandy. It was
beautifully designed by Kyocera in Japan. Tandy (as well as NEC & Olivetti)
branded the machines, and guess who provided the operating system? Yeah you
guessed it…Microsoft! In fact it is widely reported that it was the last
hands-on programming Bill Gates did at Microsoft. Of course, he also threw in a
version of his standard Microsoft BASIC. And I have to say he did a brilliant
job. The interface to the machine is elegance & simplicity personified. See,
Microsoft hasn't always been evil! 😉
A soldered in place mask-ROM holds the operating system (etched in silicon)
so it's as immutable as stone. Software providers can commit to production with
the certainty that their products can not ever be rendered obsolete or impaired.
Software from 1983 remains 100% valid today and tomorrow. And 21st century
software production is ongoing.
I got my Tandy 102 through eBay, and I haven't regretted it. As can be seen
through my
PalmHeads website, I've found many uses for it. And I expect I will continue
to do so.
Oh, and I've also written this entire article on my Tandy 102, and
transferred it via serial cable to my Linux desktop for further editing!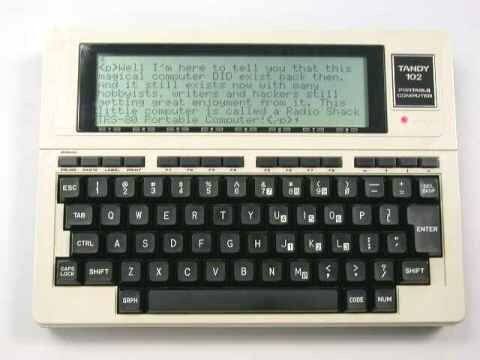 This article written on my Tandy!
Price: $20 – $100 (eBay) to $75 – $350 (Club 100)
Pros:
Great battery life
Does what it does with minimum fuss
Versatile
Robust
Connect to modern PC's
Cool factor
Cons:
We're talking about a computer released in the early 80's that's still
useful!
Maybe perhaps they are a little hard to find
RAM "may" be an issue!