We use affiliate links. If you buy something through the links on this page, we may earn a commission at no cost to you. Learn more.

The Keycard Travelock, available from RoadWired 
provides the laptop owner with a simple and effective way to secure their
portable computer. The kit includes a 4.5" and 60" braided and coated steel
cable along with a laptop lock designed to fit in any standard laptop locking
slot. This fit securely in the locking slot on my IBM Thinkpad.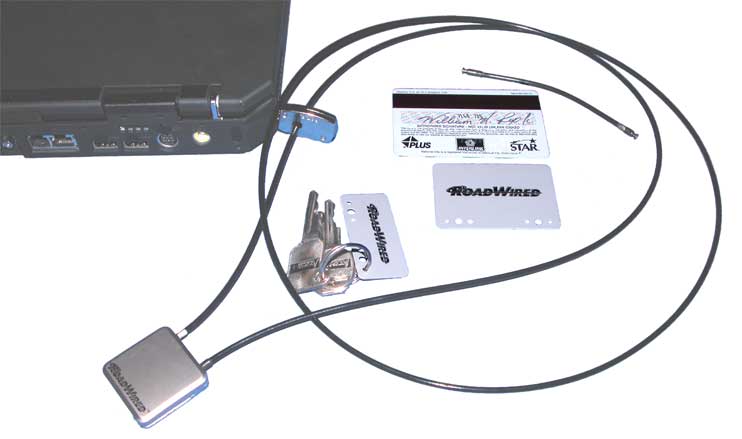 Using the included 4.5" cable, this anti-theft device can also be used as a
luggage lock.
The Travelock uses mechanically encoded key cards, rather than a traditional
key. Included in the package is a small plastic key card (suitable for attaching
to your key ring) and a larger key card (slightly smaller than a credit card).
The lock itself has a die-cast metal housing and weighs in at one-half ounce.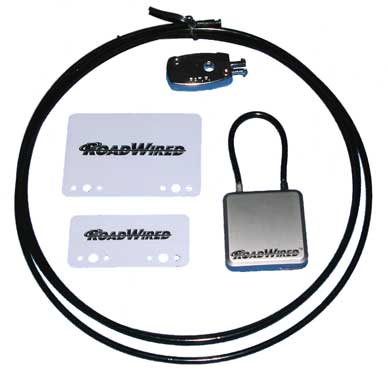 If the original keycards are lost, RoadWired can provide replacements — be
sure to record the key code in case replacements are needed. You may also order
multiple locks using the same key code.
This product is simple to use and easy to lock. The only problem I
encountered was when I wanted to change from the 4.5" cable to the 60" cable.
One side of the cable popped out easily and the other side requires
significantly more pressure on the key card to release it. I talked to the
vendor about this issue and he commented that it was made this was by design.
Price: $15.95 Available in Black, Red, Yellow, and
Nickel (as illustrated)
Pros: 

Simple, easy to use lock
Multi-purpose use with included short (4.5") and long (60") cables
Option to purchase multiple locks with same key code
Cons: 
Difficulty changing cables
Product Information
Price:
15.95
Manufacturer:
RoadWired
Pros:

Simple, easy to use lock
Multi-purpose use with included short (4.5") and long (60") cables
Option to purchase multiple locks with same key code

Cons:

Difficulty changing cables