We use affiliate links. If you buy something through the links on this page, we may earn a commission at no cost to you. Learn more.
Product Requirements:
Device:
Windows PC 98, 2000, ME, XP or later
Does it ever drive you nuts that the perfect PDA is just beyond your reach?
It's like the proverbial brass ring that you can almost touch, but never quite
grab. Let's face it, a PDA enthusiast's life is full of trade offs. To get some things that you
like, you have to live with some things that you don't. For the past 5 months,
my main PDA has been the
HP 2215 iPAQ.
Although its small size and 2 memory card slots, will probably keep this model on my all time fave
list for a long time to come, I found myself dreaming about my next
main PDA only a month after having purchased it. The new PDA would have a bigger screen, more memory and built in WiFi, etc,
etc, etc…
When the Toshiba e805 (the e800 is
identical to the e805 except that it does not include the ArcSoft PhotoBase
software) was announced
with its 4 inch display and special hi-res mode, I was very
interested. But once I saw the body style, button layout and learned that the
hi-res mode was only available in certain applications, my interest soon
departed. That is until Lisa Gade of PDA
Buyer's Guide showed me her e805 at the Consumer
Electronics Show in Las Vegas a few weeks ago. I was so impressed, that I
ordered one as soon as I returned home from the show. Are the trade offs that
I've had to live with for this device going to keep it as my main PDA, or will I
be dreaming of the next big thing within a few months? Read on to find out…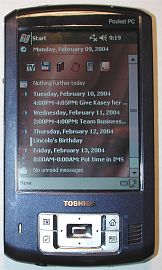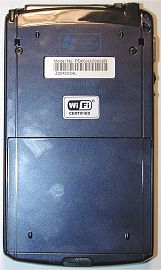 Hardware Specifications
Operating System: Microsoft® Windows® Pocket PC 2003 Premium
Processor: Intel® PXA263 processor 400MHz
Memory: 128MB SDRAM memory, 32MB CMOS Flash ROM, 32MB NAND Memory (Flash ROM
Disk) Application memory
Display: 4.0" TFT Transreflective Color display (240 x 320 portrait resolution
w/64K colors), ATI Graphics Controller w/2MB internal video memory
Expansion: 1-SD (Secure Digital) card slot (3.3V), 1-Type I/II CF Card Slot
(3.3V)
Stereo headphone/Microphone port (Stereo; 4 ring jack 3.5mm).
Infrared port (115kbps)
Integrated Wi-Fi (IEEE 802.11b)
Cradle Connector Port (USB Client, USB Host, Serial)
Battery: Rechargeable 3.7V x 1320 mAh Lithium-Ion user swappable battery
AC Power: AC Input: 100~240 Vac, 50/60 Hz; AC Output Voltage: 5V/3A
Dimensions: (L x W x H) 5.30 x 3.00 x 0.60 in. (134.62 x 76.2 x 15.24 mm)
Weight: 6.8 oz (192.78 g)
What's In The Box
Toshiba e805 Pocket PC
Stylus
AC Adapter/Power Cable
USB Cradle
Warranty Card
Quick Start User's Guide
Quick Start Card
Safety Instructions
EULA (End Users License Agreement)
Companion CD (ActiveSync, Outlook 2002, various third party apps)
ArtSoft PhotoBase CD
Like most new PDAs, the first thing I really notice once I have it in
hand, is the overall styling of the device. The e805 is big, chunky and
relatively corporate looking. Having used the HP2215 for many months, I wasn't
sure how easy it was going to be to adjust to the size of this model. In hand
the e805 feels very solid and substantial. But even with the added weight and size,
I found the device to be comfortable to hold and use for extended periods of
time because the width of the device really isn't any different than the HP2215.
The difference is in the length.
Applying the now standard squeeze / creak test, the Toshiba passed with
flying colors. No flexing or cracking here folks!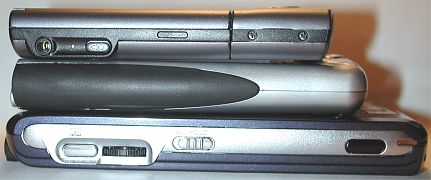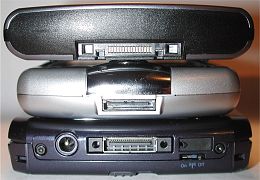 Top to bottom: PalmOne Tungsten T, HP 2215 iPAQ, Toshiba e805
The casing is a combination of deep blue, black and silver colored plastic.
The main body is deep blue with a hint of a metallic fleck to it. Although I
like the color, the plastic itself is slick and extremely prone to finger
prints, which drives me nuts. I find myself constantly polishing the unsightly smudges on
the back side of the PDA with my shirt or a tissue.
The majority of the front side is taken up with the humongous 4 inch display.
More about it in a bit… Under the display are the application and navigation
buttons. Arranged in a rectangular pattern, the application buttons form a U
around the square navigation pad. While in the center is a small select button. All of
the buttons appear to be made of silver plastic and have excellent tactile
feedback. Gamers will be excited to learn that the 4 way nav pad can be
converted into an 8 way pad via a software switch. The only down side to this
feature is the fact that these buttons are really not optimized for arcade style game play.
They are too flat and close together, which makes pressing them quickly a little
difficult sometimes. For game play, I
really prefer my HP2215's small round nav pad to the Toshiba's.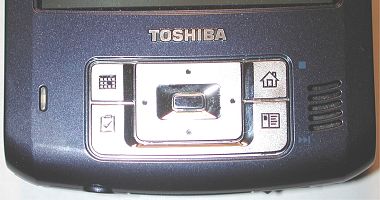 Embossed in the casing plastic on the outside of each application button, is
a specific media function graphic such as play/pause, previous, next and stop.
The built in Windows Media player has been setup to automatically map the
buttons to these functions. To the left of the button layout is the charger /
alarm status LED. This LED glows amber while charging in the cradle and then
turns green when charging is complete. It also flashes amber for alarms. On the
opposite side of the buttons is the speaker grill. Maximum speaker volume is
just ok. However, I have found that it is adequate enough to allow the e805 to function as an alarm clock if
it is on the night stand near your bed.

On the left side of the e805, we find a large record button, a spring loaded
jog dial, hold button and the IR port. The record button is recessed so that you
won't accidentally activate it when just picking up the device. I actually have mapped the record button to the
Today app, because I hate using the teeny weenie power button to power on the
device. Jog dial lovers will be happy to that see that Toshiba did not remove it as
most Pocket PC models seem to be doing lately. This jog dial is spring loaded
and can be pressed in as a select in some applications. The hold button when
activated will keep the PDA from acknowledging all button presses except for the
Power button.

The right side of the PDA has a small reset hole that the included stylus tip
can fit into.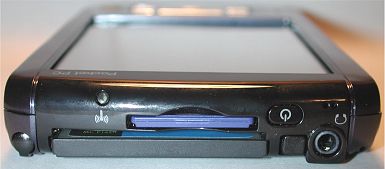 Speaking of the stylus, it's located at the top of the e805 along with the
earphone jack, power button, SD slot, CF slot, CF spring loaded eject button and
WiFi status LED.
The stylus which has an aluminum barrel, is the collapsible variety. Even
when fully extended, it's pretty small. I have been using it mainly as a reset
switch poker than for a stylus, because it really isn't comfortable at all to
use as a stylus.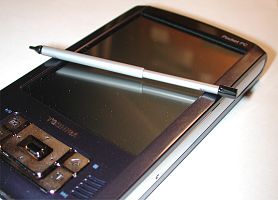 Sound quality through the earphone jack is fantastic. It blows my
iPod out of
the water… which really annoys me to no end. I found myself hearing things I'd
never noticed before when I tested listening to the same exact MP3 file on both
my iPod and the e805. Volume levels are more than adequate. I tend to not want
to blow my eardrums up, so even setting the system volume at 40% and Windows
Media player's volume to 33% was perfect. Advanced sound controls can be
adjusted through software to adjust the left and right earphone volume levels,
as well as bass and treble levels. If only this PDA had a 20gb hard drive
<pout>!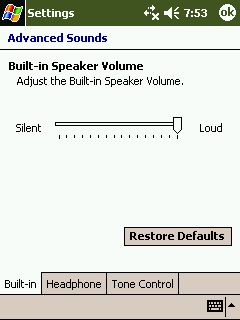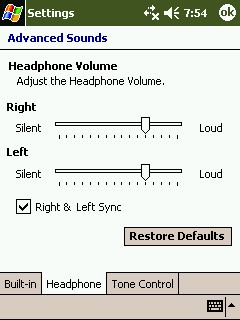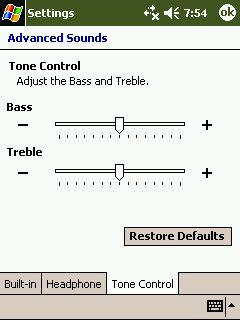 The power button is small, stiff and sits flush with the casing. As I mentioned above, I ended up
re-mapping the record button to the Today app so that I could use it to power on
the PDA quickly.
Like my HP2215, the e805 has dual memory card slots. Yay! You have access to
both an SD (SDIO capable) and a CF Type I/II slot. I love the freedom of keeping one
slot as just a memory card slot, and the other free to be either additional
memory, or for a GPS, Bluetooth card, etc. With the built in WiFi though, I've
been using both slots for memory cards.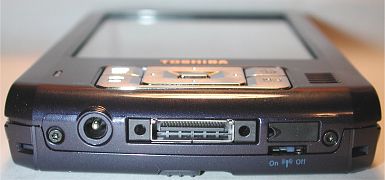 The bottom of the device has an AC jack, battery switch, WiFi
power switch and sync port. The AC adapter that ships with the PDA can plug into
the cradle or directly into the PDA, making it convenient when you need to bring
a method of charging with you on a trip.
The battery switch has a rubber door over it to protect against accidental
tampering. Flipping the switch under that door will perform a hard reset on your
device. This is way easier to do than to remember what wacky button combination
to press.
I found the addition of a hardware WiFi switch to be a little unusual. I
don't use WiFi all that often, so I do use the switch to turn it on and off. I
figure maybe it somehow helps save battery life disabling it that way. You can
turn the radio off though through software if you desire.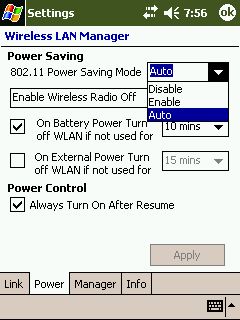 Speaking of WiFi, I found the e805's built in wireless radio to feel faster
at surfing than the several SD and CF WiFi cards that I've used with other
Pocket PCs in the past. Surfing with this device is a blast!
The sync port is your typically proprietary connector. It looks like an iPAQ
connector, but it's not. Toshiba has given the e805 USB host capability. This
means you can use various USB peripherals such as mice, keyboards and some
storage devices with this PDA. You will need to purchase Toshiba's $20 adapter
which plugs into the sync port, and any special drivers required for the
peripherals that you wish to use.
The cradle that ships with the e805 is pretty cool. For one thing, the back
rest can be adjusted if you happen to have the higher capacity battery
installed. The base is heavy enough so that you can pretty much insert and
remove the PDA with just one hand. But the coolest thing about this cradle is a
totally useless feature… the base glows blue when the PDA is inserted. I'm a
sucker for cool little touches like that!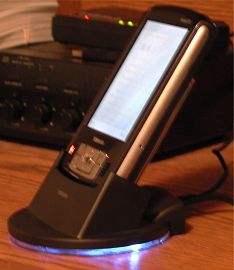 On the back of the e805 is the removable battery. The
built in 1320 mAh Lithium-Ion battery is huge (capacity-wise) when compared to
the 900mAh battery that my HP2215 has (a higher capacity battery is available
which is thicker and protrudes out of the back of the device). Despite the fact
that the e805 has a huge screen, and a fast processor, the battery did a very
good job of powering the PDA through all of my daily tasks. To give you an idea
of how the battery performs, here a sample usage pattern:
Battery Level
Time Used
Activity
Screen Brightness Level /
Volume Level thru built-in speaker or headphones
100%
10:45am – 11:00am (15min)
Media Player Playing MP3s thru speaker
75% / 50%
91%
11:00am – 11:30am (30min)
Media Player Playing MP3s thru speaker
screen off / headphones 50%
 
11:30am – 11:45am (145min)
Powered off / out of cradle
n/a
88%
2:00pm – 2:30pm (30min)
Image Viewer slideshow pulling images from CF
card
75% / 50%
2:30pm – 3:30pm (60min)
Powered off / out of cradle
n/a
77%
3:30pm – 5:15pm (105min)
Reading with PalmReader
75% / 50%
5:15pm – 9:15pm (240min)
Powered off / out of cradle
75% / 50%
42%
9:15pm – 9:30pm (15min)
A little of this and a little of that
75% / 50%
9:30pm – 11:00am (810min)
Powered off / out of cradle
75% / 50%
32%
11:00am – 11:08am (8min)
WiFi surfing
75% / 50%
25%
11:08am
1st low battery warning
75% / 50%
 
11:08am – 11:44am (36min)
Reading with PalmReader
75% / 50%
9%
11:44am
2nd low battery warning
75% / 50%
 
11:44am
End of test
n/a
Total usage
time 3hrs 59mins / Total powered off time 20hrs 55mins
A variety of settings can be tweaked to wring as much juice out of the
battery as possible.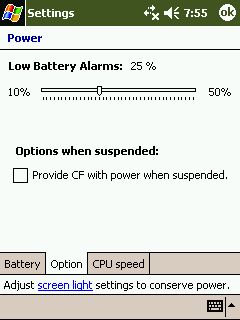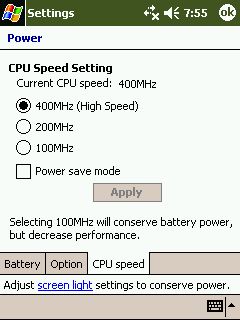 Besides having 128mb of RAM, built in WiFi, and 2 memory card slots, probably
the main feature that will draw people to this PDA is its 4 inch (diagonal)
display.
Screen size comparison
3800 series iPAQ
3.10 x 2.34in  (78.8 x 59.5mm)
1910 series iPAQ
2.86 x 2.16in  (72.7 x 54.8mm)
2215 series iPAQ
2.88 x  2.18in (73.2 x 55.5mm)
Toshiba e805
3.24 x  2.43in (82.30 x 61.72mm)
While this isn't the first Pocket PC to sport a 4inch screen (the Toshiba Genio
e550 also had one) this is
the first Pocket PC to offer VGA (640 x 480) resolution! Well, let's back up a
smidge… The e805 isn't exactly 640 x 480… at least not out of the box. Out
of the box, you get the VGA display in just the ClearVue suite of applications.
Disappointing to say the least. Fortunately, the developer community has come up with
a way around this limitation by releasing 2 freeware resolution switchers. These
programs allow you to switch from QVGA (quarter VGA 240 x 320) to VGA for all applications
— sorta. I've been using ResFix
1.0d, but have recently paid for the 2.0 version which also allows you to rotate
the screen in landscape mode. If you're an e805 owner, you MUST get this
application!
In regular 240 x 320 mode, everything is BIG and wonderfully bright. People
with eye sight problems will really like this PDA. But if your eyes are good,
you'll definitely love this PDA. Switching to VGA mode is like upgrading your
old 15 inch monitor to a 19 inch model. You'll wonder how you ever managed
without it! It's amazing how much additional information
that you can view at one time.
To give you an idea of just how much of a difference screen size / resolution
can make, check out the with VGA and without VGA images below. You have to click
on the thumbnails to see the full size screen captures.



Pocket Explorer viewing the same webpage



Pocket Explorer viewing the same webpage
Not all applications totally support VGA mode. When you run these apps, they
will only display in the upper left corner of the screen. They still work fine,
but just don't look that great. This is especially true of almost all of the
games that I tried on the e805.

I can't forget to talk about the color quality of the display. It is
excellent… at least to my eyes. Below are the e805 and HP2215 displaying the
same image at full brightness. The picture was taken with out a flash.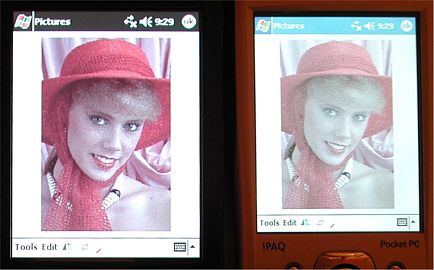 Left to right: Toshiba e805, HP2215
The HP2215, which I thought had a great display, looks washed out when
compared to the Toshiba. The Toshiba is so bright, that it still looks great at
only 50% brightness. I should also mention that my e805 is devoid of any dead
pixels.
The e805 has an ATI Graphics Controller with 2MB internal video memory.  This
special controller allows the e805 to display graphics much faster than Pocket
PCs without the controller. Viewing video using such apps as Pocket TV is really
a joy!
As far as overall system speed, I'd have to say that the e805 feels a little
slower than my HP2215. I find that odd when the processor in the HP2215 isn't as
powerful as the one in the e805. That said, I find a bit of a lag here and there
when turning the unit on, or launching apps using the application buttons. I've
also found that my e805 suffers terribly from the infamous alarm problem. I
don't depend on it to alert me to appointments, as it typically will not turn on
when one sounds. It's an annoying problem which plagues may Pocket PC models…
Although it never seemed to be a problem on my HP2215.
Software Specs
Out of the box, the e805 has 126.79mb of free RAM and 32mb of 
non-volatile Flash storage.
Software Included In ROM
Pocket Outlook – This is your PIM (Personal Information Manager) Suite of
applications. You get Contacts, Calendar, Tasks, Notes, and Inbox. All of
these applications will sync directly to Outlook on your desktop PC.
Pocket Internet Explorer – Web browser.
Pocket Word, Pocket Excel – View and edit Word / Excel documents.
Block Recognizer – Graffiti clone input method. If you have a Palm OS PDA
and know Graffiti, then you'll be right at home with this input method.
File Explorer, Calculator, Solitaire
Voice Recorder – Nice interface for the
voice recorder.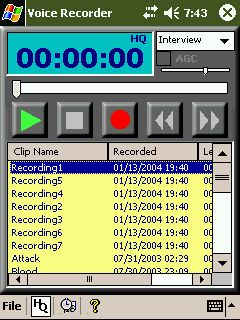 Jawbreaker – New bubble popping game.
Backup – Utility for Backup/Restore to Main Memory, Memory Card, or File
Store. Can be set to backup at predetermined times automatically.
ClearVue™
Suite – A stand-alone Microsoft® Office file and image viewer for your
Microsoft® Windows Mobile™ 2003 Pocket PC. ClearVue Suite opens and views native
Microsoft Office 97, 2000 and 2002 PowerPoint, Excel and Word files, as well as
JPG, PNG and Windows bitmap (BMP) images. Keep in mind that this is only a
viewer. You can not edit Word, Excel or PowerPoint files with it.
Windows Media Player 9 for Pocket PC – Listen to digital music and watch
movies.
Microsoft Reader for Pocket PC – Read electronic books.
MSN Messenger – Chat with your buddies, just like on your PC.
Pocket MSN
Terminal Services Client – Connect to a Windows XP Professional system to see
and control everything as if you were sitting in front of it.
World Clock –
View time in 3 different cities at the same time. Also allows you to set 3
alarms based on selected cities.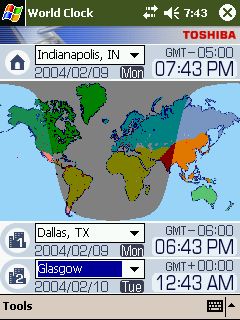 Home – So so program launcher application with tabs.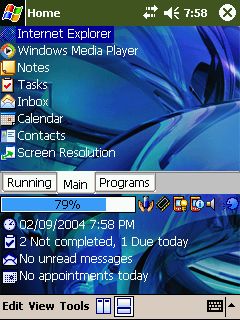 Toshiba ConfigFree™ Software – Nice set of tools to diagnose problems with
your WiFi setup. I love the little WiFi sniffer type application.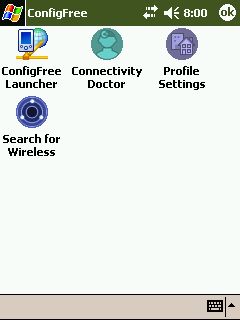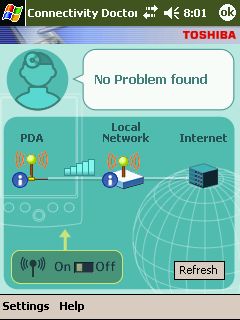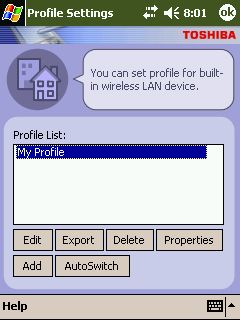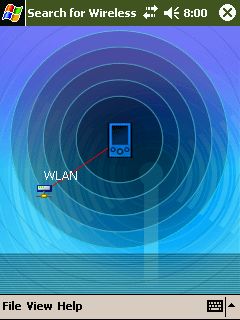 VoIP Software – allows users to place phone calls over a high speed wireless
LAN.
Additional software included on CD(s):
Outlook 2002 – Popular desktop PIM.
ActiveSync 3.7 – Application that syncs
Outlook info to your Pocket PC.
TOSHIBA Text to Speech for Pocket PC – Synthesizes voice, and reads out emails,
text files and text data on the clipboard. Text to Speech consists of three
applications, Mail Speech, Text Speech and Speech Settings (requires 5.879 mb).
This is a fun application to play with. You should hear how it butchers my last
name when it reads it. ;o)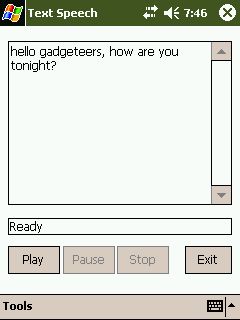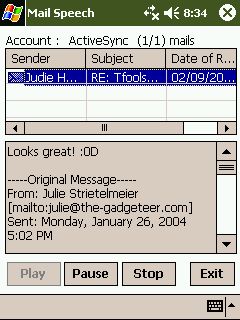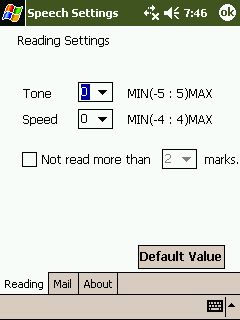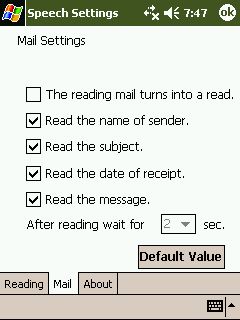 Voice Command – Supposedly allows you to operate your Pocket PC "hands free" without
tapping or pressing buttons. Includes three components, Global Command, User
Command, Command for each application (requires 1.299 mb). This is a fun
application to play with, but I was unable to get the "hands free" part of it to
work. It seemed like I had to always press the assigned activation button before
speaking my command. The cool thing is that you don't have to train it for your
voice. The not so cool thing is that the help file isn't very helpful.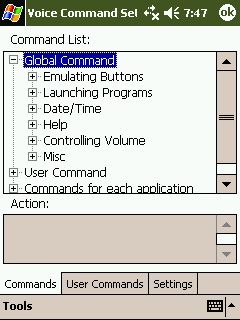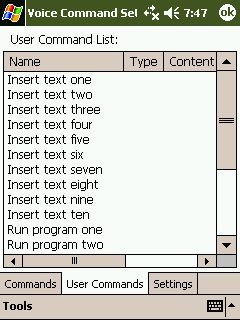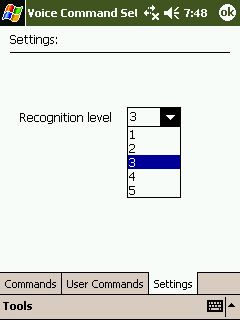 ClearVue Application Suite User Manual
ATI Presentation Pack – Includes the IA Presenter and IA Screen Mirror modules.
The IA Presenter allows you to take your Microsoft PowerPoint slides and run a
presentation from your Pocket PC. The IA Screen Mirror projects the contents of
your Pocket PC's LCD screen onto an external projector or monitor.
Wireless Projector Utility – Use this application to send the images from the
Pocket PC's screen or presentation slide or an image file to wireless projector,
and display on the screen.
Minesweeper, Reversi and Hearts games.
JETCET PRINT Pocket (Trial Version) – Printing solution for your Microsoft®
Windows Mobile™ 2003 Pocket PC.
ArcSoft PhotoBase – Only included with the e805, and not the e800, this is an image viewer that includes slide show features,
beaming features and very simple editing features.
Summary
It's really hard not to love this device. A gorgeous display, tons of memory,
2 expansion slots, and built in WiFi make it a true power users PDA. To me it
feels more like a mini tablet PC than just a Pocket PC. I can see myself taking
this device along on a trip and leaving Mini-me at home. That said, the e805
isn't without its faults… It is a bit large for my personal PDA tastes, and
can be a little sluggish here and there. The alarm problems (which are not the
fault of Toshiba) have been aggravating me, as well as the fact that not all
applications fill the wonderful VGA display. Even though I have my gripes, just
like I said in the first paragraph of this review, to get some things that you
like, you have to live with some things that you don't. Right now, I'm dealing
with the trade offs and have made this device my main brain for the foreseeable
future.
Price: $599
Pros:
Great hi-res display
128mb of RAM
Built in WiFi
SD and CF card slots
Cons:
Hi-res mode only available in specific applications (unless you use a hack)
Feels sluggish at times
Crummy stylus
Case / Slip cover not included
Product Information
Price:
599.0
Manufacturer:
Toshiba
Pros:

Great hi-res display
128mb of RAM
Built in WiFi
SD and CF card slots

Cons:

Hi-res mode only available in specific applications (unless you use a hack)
Feels sluggish at times
Crummy stylus
Case / Slip cover not included