We use affiliate links. If you buy something through the links on this page, we may earn a commission at no cost to you. Learn more.
The importance of the VCR can never be overstated when we take a look at the
evolution of home and personal entertainment, however it appears that it is now
time for the reigning king to step aside. Let's take a walk through the not so
distant past…
Most of us have had access to television since we were children, and many of
us can remember when the only channels that that were avaiable were whatever
local affiliate stations you could pick up with the antennae on the back of the
TV set, namely ABC, NBC, and CBS. Better reception was sometimes achieved with
"bunny ears" if you lived in the city (a bent up wire coat-hanger also worked if
you were desperate), or elaborate aerial antenna rigs on the top or side of your
home if you lived in a fringe reception area.
During this time, if you wanted to see a movie that wasn't at least five
years old or made specifically for television, then you had to go to a movie
theater.
Sometime in the late 70s, boxes became available from local cable companies
that would allow you to get up to 55 channels of news, programs and movies with
a subscription. The cool thing about these movies is that they were only a
couple of years old. If you lived in the boondocks, and there were no cable
companies willing to wire your home, then you could buy a
satellite dish for some
ungodly amount that would allow you to get programming from all over, the only
problem was that you needed a degree in engineering to hook it up and make it
work.
During this time, if you wanted to see a movie, then you had to catch it when
it aired. Or, you could record it with a very expensive, very bulky contraption
called a Video Cassette
Recorder, or VCR. Granted, the VCR was not quite as technologically advanced
as the two years older
Sony Betamax,
but it allowed longer recording time (four hours instead of two) and it cost
only $1000 vs. the $1300 Sony. If you had cable TV and a VCR, then you probably
also had a collection of movies that you had recorded yourself, which you could
watch them whenever you wanted. Believe it or not, at that time, this practice
was considered pretty darn cool!
In the early 80s, it became common to see movies that had recently finished
their theater runs avaiable for rental in the VHS format, which played on VCRs.
Actually buying a pre-recorded videocassette was cost prohibitive, but
renting wasn't bad. For those that didn't own a VCR, those were available for
rent, too. As you can imagine, being able to bring a somewhat current movie back
to your house and watch it from the comfort of your own home was a really big
deal at the time. So big, that the demand for VCRs and the cost to own one came
into line to where the average Joe could finally begin to afford one.
By the late 80s, VCRs and videotapes became an institution unto themselves.
As the cost of VCRs and videotapes came down, people amassed large videotape
libraries and it became a common event for groups of people to enjoy watching
movies at each other's homes.
Of course, we are a mobile society, and when we travel we want to bring our
conveniences along. New technologies, such as "portable" TV's with built-in
video players became readily avaiable in the early 90s. Believe it or not,
people would travel in their cars with a 7 – 13" screen TV that ran on AC/DC
power, just so the kids could watch a movie in the backseat while mom or dad
drove. Obviously, this was not an ideal solution. Over time, smaller and more
convenient built-in vehicle solutions arose, but it has never been a simple
matter to haul around a player and a bunch of videotapes – mainly because of the
size of the videotapes themselves.
In the mid-90s, a new technology began to emerge: The Digital Versatile Disc
(DVD). When DVDs came on the scene, they almost immediately began to threaten
the 20 year reign of the  VCR/VHS combination. The quality and picture of
the digital recordings were a major selling point, but add to that the small
size of the discs themselves and a new consumer favorite was born.
As with all new technology, it took a couple of years for prices to come down
to a level where everyone could own a player and buy the pre-recorded DVDs, but
we are now in that zone. As a matter of fact, nowadays it is just as common to
see DVDs at movie rental places as it is to see VHS tapes.
It was only a matter of time before companies came out with portable DVD
solutions, and up until now, I thought I had seen them all. I was actually quite
satisfied with what I was seeing…until I laid eyes on the newest generation
portable DVD player: the
NextBase SDV17-A
DVD with integrated LCD, avaiable from Merconnet.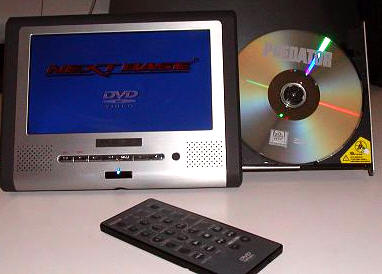 In the box, you will receive the SDV17, an AC/ DC adapter, remote control,
AV cable, soft carrying case (neoprene), accessory case, and the user manual.
Let's begin with the player's specifications…
Dimensions: 8" wide x 6" tall x 1" thick
AUTO/PAL/NTSC SYSTEM
Built in Dolby digital decoder
Multi OSD Language
English/German/FRENCH/Spanish,  Multi Angle/Audio/Subtitle Supported
Parent Lock
Fast Forward/ Reverse (X2,X4,X8,X16)
ZOOM PLAY(X2,X3,X4,X1/2,X1/3,X1/4)
Media Accepted: DVD/VCD/SVCD/MP3/CDDA/JPEG CD-R/CD-RW/DVD-R/DVD-RW/Kodak
picture/WMA disks
Input/Output: 1*AV OUT (Mini Jack),
1*Optical Digital Out (To S-LINK), 1*3.5mm Earphone Output w/volume control
TFT Screen 7" 16:9 Wide-Type TFT Display
Viewing Area: 6" wide x 3.5" tall,
112,320 Pixels(W480xH234x3RGB)

Response Time: 30ms
Other portable DVD players that I have seen and owned in the past had a
screen that folded up, similar in style to a laptop. While this was convenient
in that it provided built in screen protection, it also added bulk. Looking at
it now, they also seem so…yesterday.
I suppose one could liken the SDV17 to a
Tablet PC's
form factor. Gone is the flip-screen, and in it's place is a flat panel with a
screen and several vital function buttons. Let's take a look at the hardware…
The player's body is largely composed of gray plastic, with a satin aluminum
panel on the front. The screen dominates, measuring 6" wide by 3.5" tall (7"
diagonal). Under the screen are the on/play, off/stop, rewind, fast-forward,
mode, screen brightness down and screen brightness up buttons and the open
button. Underneath this strip is the Infrared port for the remote, and on either
side of this strip are the speakers. These speakers are adequate in a quiet
room, but the sound is (as expected) much better through a headset or through an
auxiliary pair of speakers.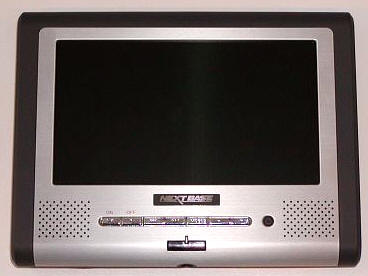 The left side of the SDV17 has a headphone jack, volume wheel, video, audio
opt out, and 12v power port.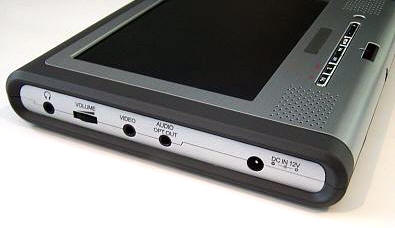 The bottom has a receptacle for a screw-in tripod.

The right side holds the DVD tray…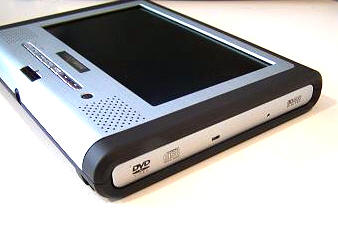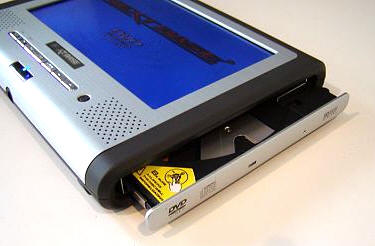 The back has rubberized grips placed so that the player can either lay flat
on a surface, or be securely propped. There is an easel leg that conveniently
folds into the player's back when not in use. It can be locked into various
lengths to get the best viewing angle.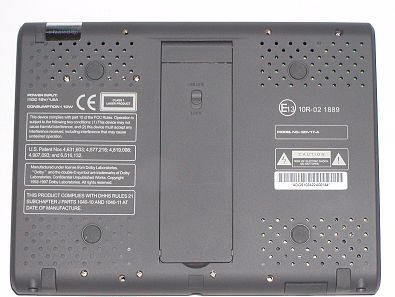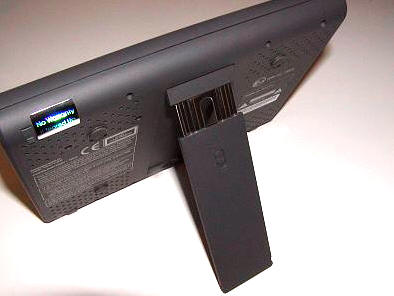 Near the bottom is a rubberized slug that covers the prongs used with the
battery pack, which attaches to the bottom and is sold separately.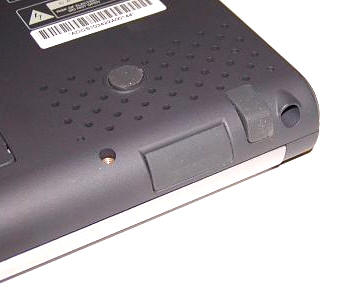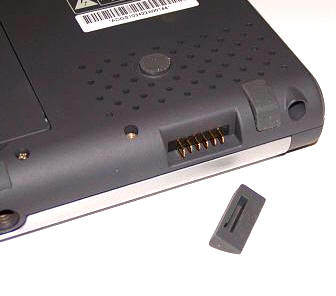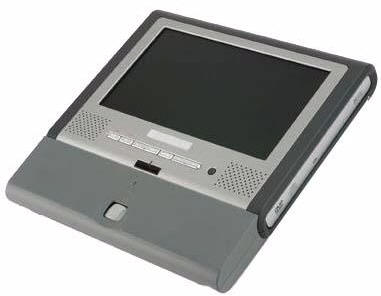 Battery pack picture courtesy of
Merconnet website
Using the SDV17 is a pleasure. When plugged in, a red light glows at the top
of the Infrared port. When turned on, the light glows blue.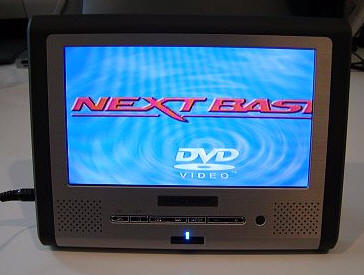 You can access most DVD functions from the front panel buttons, but the
remote control is more convenient.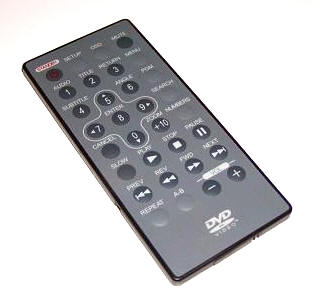 The picture is beautiful! There is no eye strain from a tiny screen when you
are holding the tablet, and the adjustable brightness makes viewing comfortable
in any setting.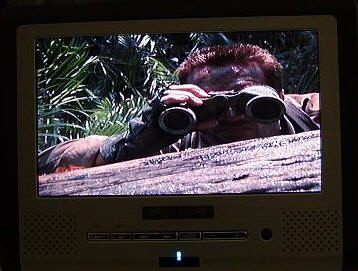 Even though this is a great DVD player, it can also be used to play a number
of other similarly sized disks, most notably pre-recorded CDs, CDRs, and CDRs
with MP3 format files burned on them. As you can see in this photo, the player
supports MP3 playback with tags…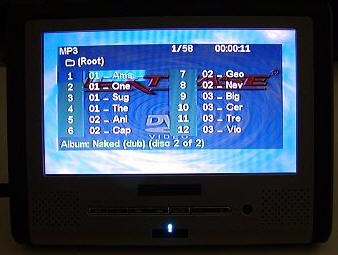 All told, the NextBase allows you to view or listen to DVD/VCD/SVCD/MP3/CDDA/JPEG CD-R/CD-RW/DVD-R/DVD-RW/Kodak
picture/WMA disks. Pretty nifty for a device that weighs 1.7 pounds and is the
size of a small hardback book!
I can only think of two caveats with regard to the SDV17: I wish that it came
with the rechargeable
battery pack.
But then I suppose that there are those that won't need it, so perhaps it is
good that the option has been left to the consumer as to whether to purchase it
or not. I also wish that it had come with the
car adapter, because I can totally see using this device on trips…but once
again, I suppose not everyone will need the adapter, and by not including either
of these two items, NextBase was able to keep the price on new technology down.
The NextBase Tablet DVD Player is one of the greatest gadgets available for
those of us who travel and want to keep entertained. It is compact, feature
rich, and reasonably priced. If you have someone on your Christmas list that
likes watching movies, is hard to please, and has "everything," then this latest
evolution of the DVD player will surely appeal to them. If you do a lot of
traveling, then this DVD player is portable enough to throw in your gear bag
without completely weighing it down. Whether you buy it for yourself or a loved
one, this item is tops on my list of Christmas gadgets.
The rechargeable battery with 2.5 hours playback time available
here.
The car adapter is sold
here.
Price: $399
Pros:
Reasonably priced
Portable tablet with 7" (diagonal) screen
Excellent picture
Remote control
Has capabilities of a full size player, can fit in your bag
Comes with AV cable for use with a larger screen TV
View or listen to DVD/VCD/SVCD/MP3/CDDA/JPEG CD-R/CD-RW/DVD-R/DVD-RW/Kodak
picture/WMA disks from the same compact device
Cons:
Does not come with a battery
Does not come with a car adapter
Product Information
Price:
399.0
Manufacturer:
Merconnet
Pros:

Reasonably priced
Portable tablet with 7" (diagonal) screen
Excellent picture
Remote control
Has capabilities of a full size player, can fit in your bag
Comes with AV cable for use with a larger screen TV
View or listen to DVD/VCD/SVCD/MP3/CDDA/JPEG CD-R/CD-RW/DVD-R/DVD-RW/Kodak
picture/WMA disks from the same compact device

Cons:

Does not come with a battery
Does not come with a car adapter