We use affiliate links. If you buy something through the links on this page, we may earn a commission at no cost to you. Learn more.
I have had a few camera phones already, but none of them had a reasonably good integrated camera that delivers fair picture quality. Until now only snap-on cameras for Sony Ericsson and Siemens phones provided VGA-quality, but I always forgot to take the cameras with me, and in any case quick snap shots were almost impossible, as you always have to attach the camera module to the phone. Thanks to Samsung, this is no longer necessary.
This review is about the new and very cool looking Samsung E700 that is a great phone with a pretty good camera. It is amazing, what Samsung managed to squeeze into this small phone that weighs only 83 grams. This phone has just been released in Europe. In the US the E715 is available. The main differences are: grey-scale external OLED display, Java 2.0 (better compatibility), flash light and it is a bit heavier (around 93 g) – so they added some and took away some, but in the end it is almost the same phone.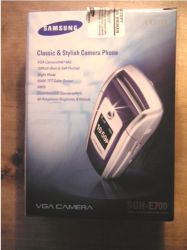 But lets start with the moment I received the package. As usual when it comes to Samsung the box looks very attractive. However I was a little bit disappointed to see that Samsung does not provide the software on CD and a spare battery anymore. So you have to download the software from The Samsung Mobile site and buy an extra battery yourself, if you want one. But the reason for this is the lower price of the E700 (compared to its successor the V200/205), so I will not complain too much!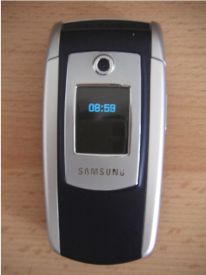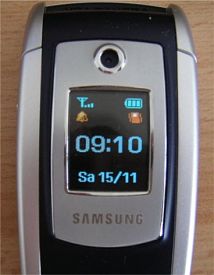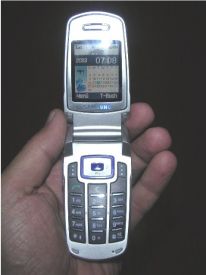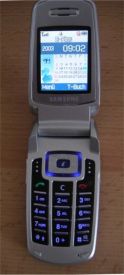 Right away I fell in love with this baby because it looks so elegant and feels so lightweight without being too small. As with all Samsung phones you have to press the red button (turn-on, end-call) for at least two seconds. You need to type in your pin (depending on your SIM card) and a little welcome text appears that you can change yourself. Plus you hear all sorts of sounds, which leads me to the quality of the ring tones.
This phone sounds incredible. All tones sound very realistic, music as well as voices. They are clear and rather loud. You can change the settings in the menu or use the buttons on the left side of the handset to set the volume. There are a few sounds preloaded but you will not find a classical ring tone but for example jungle sounds instead. You can download other ringbones from Samsung or other websites. I prefer more classical ring tones, so I consider this a bit of a disadvantage. You cannot change the sounds used for the alarm.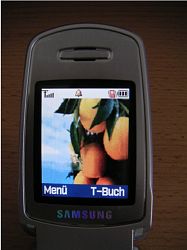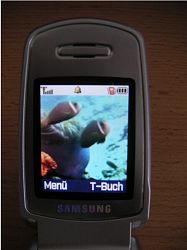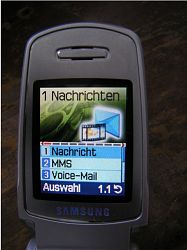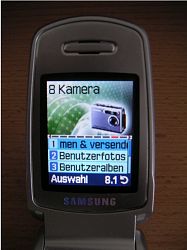 As soon as you take a closer look at the screen (128×160 pixels) you see how bright and crisp the pictures are. You can set animated and still pictures as background images. There are a few very nice ones preloaded (calendar, swimming tropical fishes, ice bear), but you can also download new ones or use pictures taken with the phone's own camera.
OK – I guess you are all mostly interested in the camera features so lets talk about the camera for a moment. There are several ways to access the camera. You can go into the menu pressing the left soft key and scroll to camera section. You cannot access the camera clicking on a camera icon, as the menu structure does not provide any icons. While some may think that this is a pity I don't think so. The menu is very attractive and you have to scroll anyway, though you can also access all menu sections by typing in the appropriate number to (8 for the camera). The camera has a special button dedicated to it (below the i, which is the button for web browsing but not an OK button).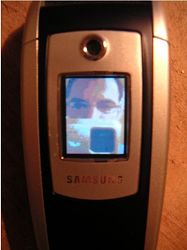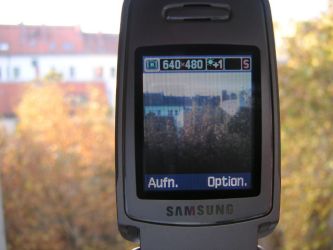 You can also access the camera when the phone is closed. On the right side you find a camera button. Press this for 2 seconds and the camera is ready to shoot pictures. In this mode the external display serves as a viewfinder. Though the picture on the external display is not that crisp you can well see what you shoot. This way it is really easy to make self-portraits. Press the camera button again and the picture is stored automatically in the phones memory. The phone has 9 MB of memory for pictures and ring tones (picture size varies between 40-90 kb). Plus 600 KB for Java programs and it can store 200 text messages. That is more than most other phones offer and enough for many shooting sessions.
When you make pictures with the phone closed you cannot change any settings. In regular camera mode the phone offers a lot of extra functions that make shooting pictures a lot of fun. You can set the picture size (from 128×120 for MMS to 640×480 for prints or PC transfer). There are four different picture qualities to choose from (economy to super fine). So far I have just used VGA with super fine quality. The colors are not very vivid, but the pictures are of large size and otherwise good quality. At least you can recognize what you wanted to shoot.
Another thing that makes the camera of the E700 superior to other mobile phone cameras is the excellent night mode. The camera has no flash but brightens up the pictures. This makes the colors look even more unnatural but enables you to take decent pictures in almost all lightning conditions, even at a party. Here are some sample pictures (click thumbnails for full-size) so I suggest you judge for yourself.
One thing worth mentioning is that you cannot turn off the camera sound. You can however change it and, which I just found out, turn the volume of the sound down by using the volume keys on the left side of the handset. What else can you do with the camera? You can shoot up to 15 pictures in a row (multi shot) and set
frames, turn around the pictures, set a timer and yes, you can transfer them to your PC (just PC, pity for us Mac users). You need to download the Easy Studio software from Samsung and set the connection to infrared. There is a special icon for the file manager, which lets you up and download pictures and ring tones to and from the handsets. You can also Import your address book and sync it with Outlook (well, not really sync, it is more a transfer of data). To really sync your data with Outlook you need to download another program from The Samsung Mobile site. All in all the program works fine. If you do not have an infrared port you need to buy a data cable, available for sure on eBay.
You cannot send pictures via the infrared port though you can send addresses as business cards to your Palm. That works fine and is a big step forward for Samsung as they neglected this function for a long time. The E700 does not have Bluetooth either. While a few Gadgeteers will certainly complain one needs to understand that Samsung makes so-called fashion phones and not business phones. Compare the E700 with the new Sony Ericsson Z600. The Z600 is a connectivity wonder, but it is also bulky and lacks other features like external color screen, VGA camera resolution etc. I agree that Bluetooth headsets are nice, so if you do not want to use the headset provided by Samsung you can still buy a BT headsets with an adapter.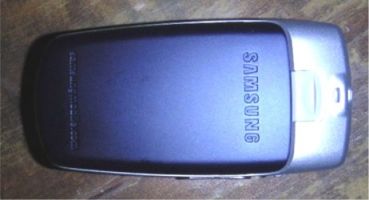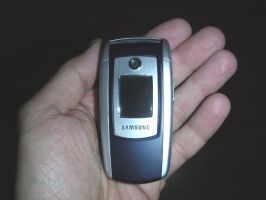 Talking about size, this is another where the E700 truly shines. The handset weighs just 83 grams. Most other flip phones with integrated camera weigh 20-30 percent more. The phone has a very solid feel. When you squeeze it tight you can hear no cracks at all. Though it is small enough to fit in almost any pocket, it also fits perfectly in your hand. All buttons are large enough and easy to press, even with large fingers like mine. The keyboard is lit in blue, which makes it look cool in the dark. When you close the phone the external display shows basic information like time, battery status, connection strength etc. also in color for a limited time (you can change the settings). If closed the external screen can show the time, an animation or stay blank. Even if you choose time or animation, the screen will be black most of the time. I guess this is to save energy.
What else is there to mention. The phone has no picture caller ID. When you assign an address to a group (e.g. friends) an icon appears on the external display when this contact calls you. So you can see if it is a friend or family member calls, plus the name is displayed if the phone recognizes the number, but no pretty picture – even if taken with the camera – is displayed. There are a few games preinstalled. They are all fun but I am not a big gamer. You can download more though not all java games are compatible. I still cannot get a
mail client to run on the phone, although it did on my S300. This is probably the major disadvantage of the phone. You have to send pictures as multi media messages, which is rather expensive. This is a pity but I guess the result of pressure from mobile phone providers like T-Mobile.
Of course there is a calculator, a decent organizers, you can write memos and set alarms as a reminder or to wake you up. The phone has also a timer and a stopwatch but no voice recording or voice-dialing. It comes with a fully featured text messaging system. You can add a picture and ring tones to a MMS (multi media message). You can also send EMS (enhanced message system), adding one of the preinstalled icons. Plus you can write messages with up to 1.920 letters, which will be split into up to 12 messages.
All in all I think the feature list is long enough to set this phone apart from most other phones, but in the end you have to decide what is most important to you. If you want a beautiful phone that will make people turn their heads, get the E700. If you look for a fairly good camera that you can carry with you all the time, this is the phone to buy. If you need a lot of business features check out a Siemens or Sony Ericsson phone. The phones battery lasts around 3-5 days when you use the phones functions for about 30 minutes a day, plus shoot some pictures, transfer them to the PC and make a few calls. This is better than most other flip phones, especially considering the two color screens.
Price: Varies depending on carrier and plans
Pros:
Internal antenna but good sound and above average reception quality
Clear and crisp internal display with more than 65.000 colors
Small external OLED-display with 256 colors
External display can be used as viewfinder
Good VGA camera with lots of features
Wap 2.0 (to view color pages and establish secure Internet connection)
Java
MMS-ready
Amazing sound (40-polyphony ring tones)
Lightweight and small
Nicely laid-out keypad
Can send and receive addresses as vcf-cards
Decent battery life
Cons:
No mail client
No picture caller ID
No classic ring tones preinstalled
Java not compatible with many programs
No triband
No Bluetooth
Menu structure not accessible through menu icons
Can transfer picture to PC via infrared only with Samsung software (Outlook compatible)
Need to download software from site (64 MB), no spare battery included
This may sound like a lot of cons but let me assure you that this is the almost perfect gadget phone. You can make good pictures almost anywhere, the displays and polyphonic ring tones are among the best you can find, the menu structure is easy to understand and well though through. Plus the phone is a lot smaller and
lighter than all other flip phones with camera. Oh and did I say that it just looks awesome!? As soon as the US version is available I recommend that you try it for yourself.