We use affiliate links. If you buy something through the links on this page, we may earn a commission at no cost to you. Learn more.
Product Requirements:
Device:
All iPod models
If you are an iPod owner that also happens to enjoy working out, biking,
walking, or running, then you're going to want to take a closer look at the
product I'm about to review. The iSport iPod Pack from
SpeckProducts is an update on an old
favorite: the waist pack (or as we call them here in the US, the fanny pack).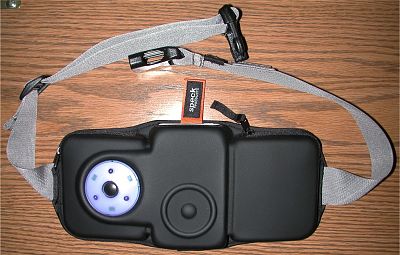 The iSport is a molded black foam pack with 3 compartments. The soft padded
compartment in the middle will securely hold any version iPod. When fully
inserted, only the top of the iPod is accessible. This allows you to plug in
your headphones and / or remote control. Since the player is held so securely,
you really can't remove it using your fingers. Luckily, SpeckProducts has
employed a unique method of extraction. A thick ribbon is sewn into the pack so
that it cradles the bottom of the player. Pulling on the end of the ribbon will
pull out the player. Pretty nifty!  I tested the pack with my
30gb iPod. It fit in the iSport
perfectly.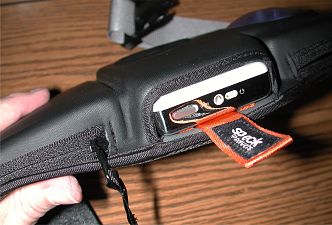 The two outside zippered compartments can hold money, credit cards, car keys,
etc.  While these compartments are convenient, they are somewhat difficult
to get your fingers into due to the small zippered opening. Snap flaps might be
a better option here.
The front of the pack has a blue plastic disk with a button in the middle.
Pressing the button will turn on a slowly flashing light. Pressing it again,
will turn the light off. This is a nice safety option for people that like to
walk / run at night, as it will make you more visible to motorists.  2 AAA
batteries (included) are housed in the zippered compartment behind the light.
The battery pack doesn't interfere with the compartment as there is a Velcro
'wall' that covers it.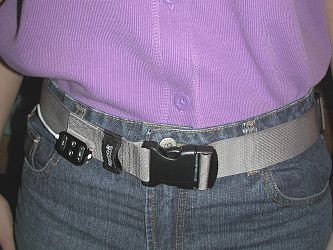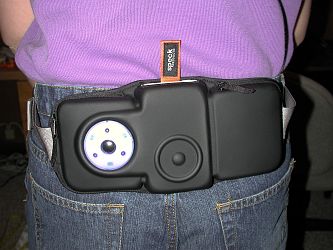 The back side of the pack is made of a mesh material that stays dry and feels
very comfortable on your back.
The belt is adjustable and has a rugged plastic clip on the end. A tab is
sewn into the belt so that you can clip-on the iPod remote and easily use it to
advance your tunes as you work out. Neat touch!
I'll admit that when I first saw this product, I thought it was a bit goofy
looking. But after using it while walking on my treadmill, I can totally see the
benefits of having one. The construction and materials of the pack are
excellent. If you are an active iPod user, take a closer look at the iSport.
Price: $44.95
Pros:
Flashing light for visibility
Easy extraction of iPod
Cons:
Zippered compartments are somewhat cramped
Product Information
Price:
44.95
Manufacturer:
Speck Products
Pros:

Flashing light for visibility
Easy extraction of iPod

Cons:

Zippered compartments are somewhat cramped