We use affiliate links. If you buy something through the links on this page, we may earn a commission at no cost to you. Learn more.
Julie's comments are in BLACK and Judie's are
in BLUE and italicized
Tuesday
Since the TECHXNY exhibits weren't going to open till 10am, we weren't going
to break our necks getting up at an insane hour on our 2nd day in New York (not
to mention the fact that we were up past 2am the night before writing the first
installment of this trip report).  So around 9:30, we headed downstairs for
Judie's standard Starbuck's latte and to catch the shuttle bus to Javits
Convention Center. A short 10 minute ride later, and we found ourselves walking
into the building ready to traipse up and down aisles of gadgety goodness.
We got our first clue about what was awaiting us at
the Javits Center when we boarded the shuttle bus and there was only one
other person on it…
Like most conventions though, our first task upon arrival was to check in at
the upstairs press registration area to get our badges and check out the
computer area. It was here that we received our second clue that TECHXNY might
not be "all that"… As we were waiting for our badges to be printed, we noticed
through a gap in the sectioned off press area, that there wasn't ANYONE in
there…
Well, there were maybe 10 guys in dark suits, which
is not what you usually see in a happening event. We are used to having
to fight over vacant computer terminals, passing on the slim pickings of the
vast wasteland of obligatory press kibble, and perusing aisle after aisle of
press releases before hitting the event's floor. Let's just say that none of
that applied in this instance. We were starting to make jokes about how PC Expo
might be as lame as the wireless event we had attended in San Jose while Sharp
Event in 2001. But we didn't really believe that. We just thought maybe
everyone was already on the floor. So we took the escalators down and figured
out our plan if attack.
We began in the far left section of the exhibit floor, which seemed like the
logical place to start. We figured we would work our way to the main exhibit
area from there.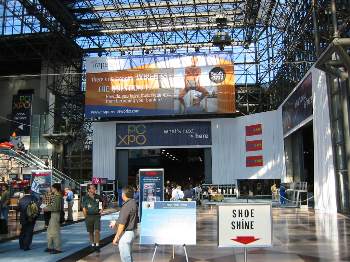 This section appeared to be mainly foreign business exhibit booths, many of
which basically catered to companies wanting to outsource their services. There
was a conference in progress in the back of the room that was being put on by
IBM. Since we saw their large logo hanging from the ceiling in that area, we
thought we would see some actual hardware products. Instead, we found ourselves
in the midst of a seminar on how to outsource your company  being put on by
IBM. We toughed it out, wandering through a bunch of booths that were not
interesting to us in the least. Of course, this was the first section that we
came to, so we weren't that concerned… yet…
Never miss one of our posts again. Sent MON, WED, and FRI with the latest gadget reviews and news!
As we left this section, entering the next, we saw a
booth with actual product! At this point, I will admit that it could have been a
less than exciting item and we might have been just as overjoyed to see it. But
in fact, the Case Closed Bags
display was pretty darn cool. They were displaying a selection of cleverly
stylish laptop bags that cater to women that don't want a boring black bag. Some
of the bags had colorful graphics on their exterior, and some were more
conservative – but all had colorful interiors and contemporary lines. We hope to
be able to get some samples in the near future so we can see if they perform as
well as they look.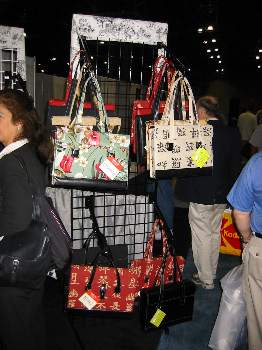 While Judie had noticed the laptop bags, I instantly noticed the colorful
iPod cases.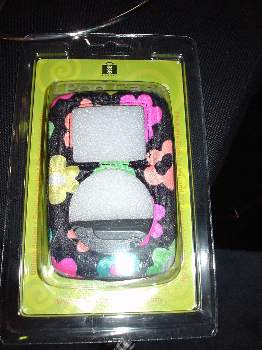 We continued walking past various booths, and noticed a cappuccino and coffee
line being sponsored by AMD. Judie didn't even attempt to get in the line
because it was so long. In fact, it was the longest line of people we had seen
waiting for anything at the show so far.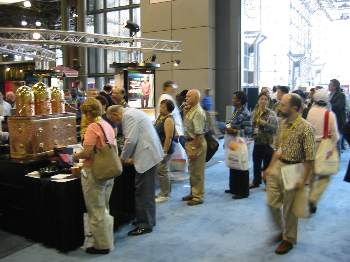 I was just fine though. I had just finished a venti
latte, after all!
The next interesting booth that we came upon was from a company named
Neovo, which had beautiful flat screen
monitors on display. They had the best image quality that either of us had seen
before. The company representative explained that their monitors were different
than standard offerings, due to the very strong glass used in their screens
which have a surface hardness of 6. While this number probably doesn't mean
anything to most people, it will surprise you to learn that steel has a surface
hardness of 6.5.  Wow!  We will be sending out sample request emails
ASAP…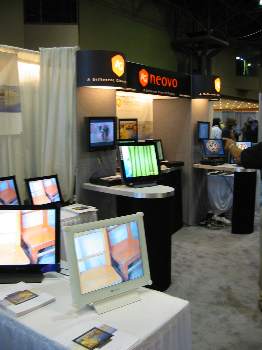 We continued to walk the floor…and all of a
sudden we found ourselves back in the main open foyer. Julie and I figured that
we had seen everything on that floor – time to head to the meat of the show!
After all, we had read that Palm and Microsoft were exhibiting and we were
hoping to catch a glimpse of something new and different. We walked down the
steps in to the ground floor, but not seeing anyone else milling about, we
became suspicious that we had missed something on the floor we had just vacated.
We climbed up the stairs again, and looked at the show before us. Julie and I
bantered for a moment about whether we had really exited from the section on the
right, or if we had missed it somehow. Figuring anything was possible, we walked
up closer…and then we saw a booth that we had definitely already visited. We
asked a security guard that was checking badges if there was something else that
we had missed. She said, "Nope – that's it." At which point Julie and I felt our
hearts sink. We decided to give the floor one more go round and as we were
walking in, a gentleman heard us commenting on the pathetic offerings of the
trade show.
He introduced himself as Neal Weiner from Akira Technologies. He lamented
with us and mentioned that four years ago, the trade show had taken up all three
floors of the Javits Center and had even needed a outside pavilion. Then last
year he said that the show had at least used one entire floor. We had to laugh,
when he make the comment, that the biggest line at the show was for coffee. He
followed us back into the show area as we decided to make one more round through
the exhibits to see what we had missed. We were sure we had to have overlooked
something interesting. As we walked along the back edge of the booths, we
peeked behind the draping and saw the vast empty area of unused show floor. It
was a very sad sight.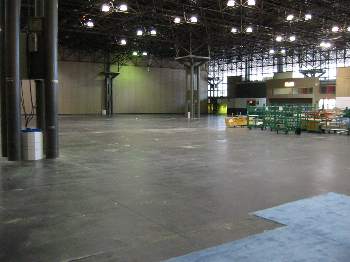 We did a leisurely walk-through which only confirmed
our earlier findings. As we were walking down an aisle, we heard "Judie, Julie!"
We turned around to see Joel Evans of Geek.com.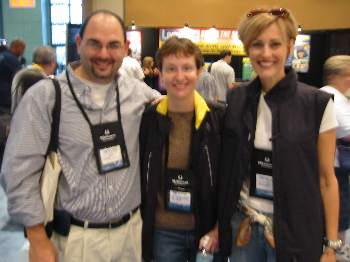 Joel agreed with us that this was the poorest excuse
for a trade show ever, but he said that we had missed one product that
would be worth mentioning. It just so happened that it was in the booth we were
standing in front of with him. The product was a teeny-tiny little USB card
scanner; it was so cute it looked like a toy! But the
WorldCard by
Pen Power is actually a very powerful
scanning tool that will read your business cards and enter their information
directly into Outlook. This device was so portable that road-warriors that need
this type of device should not even feel the added weight when they add it to
their gear bags.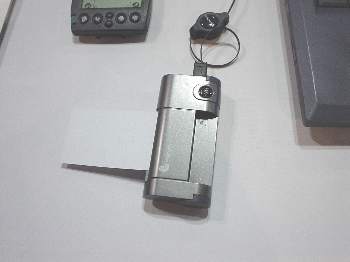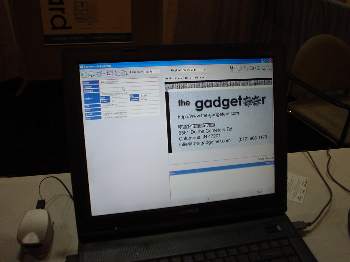 After viewing the card reader in this booth, we were done. Totally done. All
the way done. There wasn't any more. It was done.
Judie and I probably repeated to each other at least 20 times that we
couldn't believe that this was it! I don't think we spent a total two hours at
the show, if that – and we even went through twice! As we walked out to catch
the shuttle back to the hotel, we realized that the one day that we had set
aside to see the sights of NYC, had just increased to 2.5 days. We were asking
each other what we wanted to do to fill the time. With only one day to sight
see, we knew we would just hit the high lights such as the Empire State
Building, Ground Zero and if we had time, the Statue of Liberty. Now we had 2.5
days to fill! So we decided to do what had worked for us on our trip to
Edinburgh, Scotland. We would take a bus tour around the city to get our
bearings and a general lay of land. Then we could pick the things we wanted to
investigate further. 
Disclaimer: from here on out, this article is no longer the TECHXNY / PC Expo
trip report article… it is now the how to see New
York City in 2.5 days article. Hey, we can roll with things as they come.
☺
As we were riding back to the hotel and formulating
this plan of action, we were surprised and slightly impressed to see a large
Navy Destroyer docked in the harbor. We didn't see a sign, but we surmised that
we were looking at the Intrepid Sea-Air
Space Museum. On the deck of the ship, we saw several Tom Cat fighter jets
and a black plane that I at first thought was a Stealth Bomber because it
looked…well, stealthy! Looking at the website, we now know that it is an
A-12 Blackbird
which when first flown in 1962 was the
fastest and highest flying manned aircraft in the world. Evidently, it still is
– even after 30 years!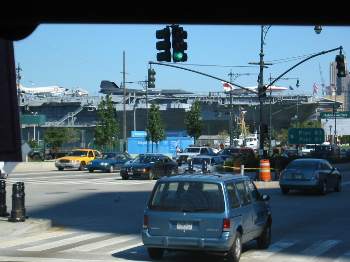 We looked at some of the visitor information in our hotel room, and decided
to take a city tour with the Gray Line
company. We had seen their red double decker, open top buses tooling around the
streets, and knew that such a bus would offer better picture taking
opportunities. We booked our Classic New York tour at the Port Authority Bus
Terminal.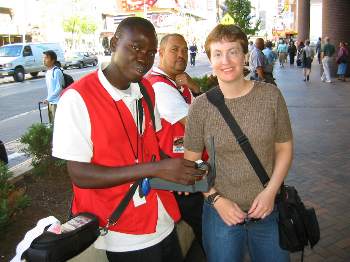 Our ticket enabled us to take the downtown, uptown, Brooklyn, and night tour
loops during a 48hr period. We also received a ticket to ride the ferry to Ellis
Island to see the Statue of Liberty. Soon, we were seated in the open air
section on the top floor of the bus, with Reggie as our tour guide.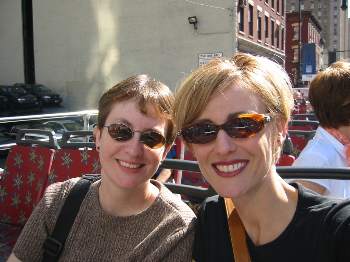 Reggie was a blast as he explained all the sights as we wound our way through
the downtown loop.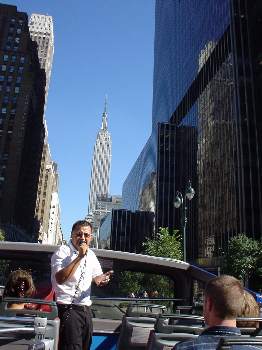 Behind Reggie is the Empire State Bldg.
Julie and I behaved like typical tourists and
snapped pictures of everything we saw that looked remotely interesting. Here is
a sampling of some of the sights and buildings that caught our eye…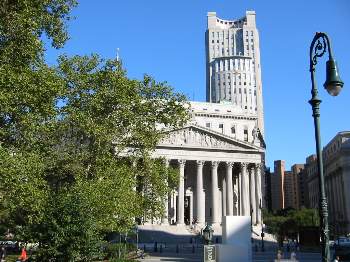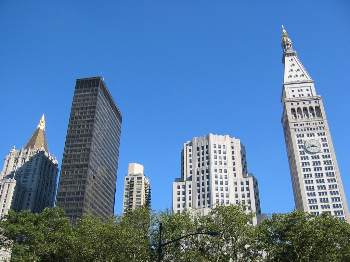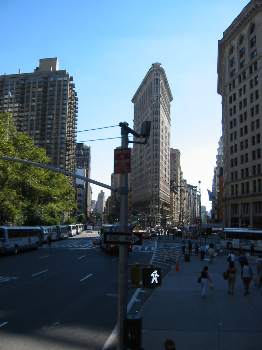 From left to right: The Courthouse, the two outer buildings in
the middle picture are both owned by insurance companies – and you wonder why
our premiums are so high, & the Flatiron Bldg.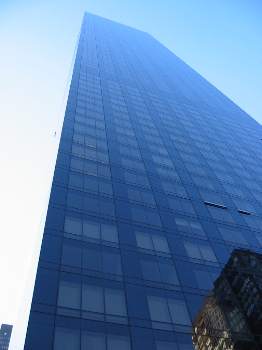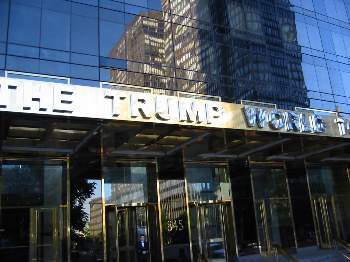 Trump's new World Tower Bldg. According to Reggie, Bill Gates
bought two multi-million dollar apartments and made them into one gigantic
living space
After three hours on the bus, Julie and I decided to
get off at the Rockefeller Center stop. The courtyard was an explosion of
Japanese pop art, because Takashi Murakami has an exhibit there.
From the Mr. Onion Head statue to the colorful toadstools you could sit on,
Julie and I decided that his
artwork was a cross of Hello Kitty meets the Teletubbies on
hallucinogens.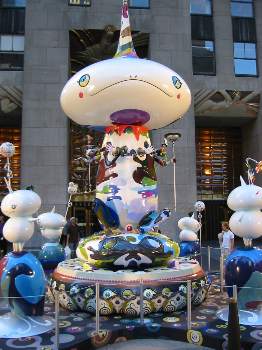 Frankly, I think that he is laughing at the people
who like his art, or maybe it is those that don't like his art – case in
point: the two giant black balloons that he placed in the courtyard in front of
the Rockefeller building. I am not going to say anything else about it, I will
just leave you with this picture…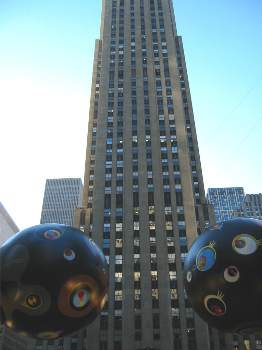 Otherwise, the Rockefeller Building was beautiful
and the gold statue in the sunken lower level was stunning.
As we turned the corner, we saw the familiar marquee of Radio City Music
Hall. We didn't see any Rockettes, though…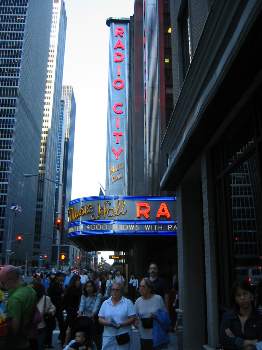 Less than 10mins later, we were back in Times Square…looking
at some idiot who calls himself the "Naked Cowboy"..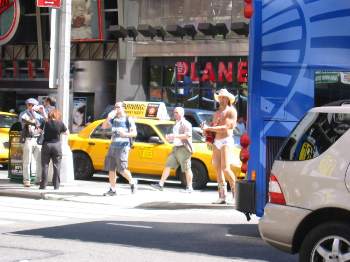 The back of his tighty-whiteys said his stage name…
By this time, we were starving. Luckily for us, we were able to get into
Carmine's, the restaurant that had been too busy the night before. We decided to
order an appetizer of Calamari to start. As we ordered it, our waitress warned
us that the food there was served family style, which meant very large
portions. We were advised to order one entree and split it between us. The
Calamari arrived before we placed our dinner order. This was a good thing, due
to the fact that the appetizer could have fed a family of 5 easily! It didn't
take Judie and I long to decide that we were not going to have any room left for
the main course. We couldn't even finish the appetizer.
Carmines was an awesome place, with a casual
atmosphere. Even though we didn't order an entree for ourselves, that didn't
stop us from salivating as we saw the mutant sizes portions the waitstaff were
delivering to their patrons. Case in point, this was our calamari before we tore
into it: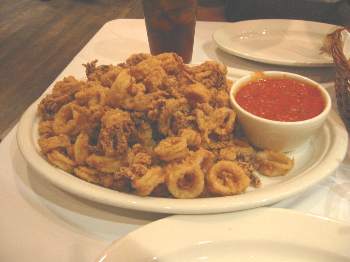 …this was what was left after Julie and I were
full. Yes, the portion was that huge!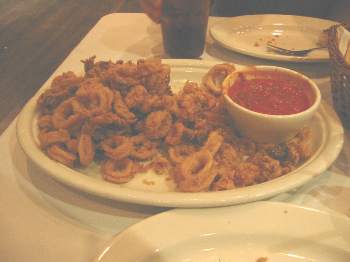 May I add that this was easily the best calamari I
have ever had. Those of you that have read all of Julie's and my trip reports
know how much we love the stuff, and how we usually get it at least once on
every trip – so this is high praise, indeed.
After eating, we headed back to the hotel so that we
wouldn't miss our new favorite drama, The O.C.
Once again, we are up until all hours writing this report – so we may have to
sleep in again in the morning.
Tomorrow our plans are to finish our bus tour, see Ground Zero, ride the
ferry to Ellis Island to see the Statue of Liberty, and whatever else might
strike our fancy. Hope you are all enjoying the report (even though it is
severely lacking in gadgets) so far!