We use affiliate links. If you buy something through the links on this page, we may earn a commission at no cost to you. Learn more.
Product Requirements:
Device:
Various mobile phones (see site for list)
Here at the Gadgeteer, we're always on the lookout for something 'different'
to review. So, when the folks at
SideWinder contacted me to ask if I was interested in reviewing a manual
powered cell phone charger, I said sure! Just the idea of cranking for talk
minutes piqued my curiosity.
The SideWinder emergency cell phone charger is a small handheld unit
measuring approximately 2 x 1 ½ x 1 inch and weighing only 2.5 ounces. On one
end there is a high-bright white LED and a connector for a cell phone cable. On
the opposite end is an eyelet that an included woven hand strap can attach to.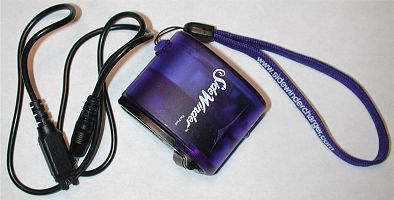 On the right side of the device is a fold out plastic crank. To use the
SideWinder, you unfold the crank, grip it in your right hand and start turning
it as you would a fishing reel. As you turn, the LED begins to glow (if you
don't have the cell phone cable inserted). The faster you crank, the brighter it
glows. 30 seconds of cranking will yield about 5 minutes of light. Turning the
crank is not hard to do, but there is some resistance, and the gears inside the
module do make a grinding noise. This isn't a stealth device by any means.
Output from the SideWinder is a steady 6.2 volts.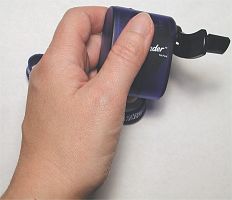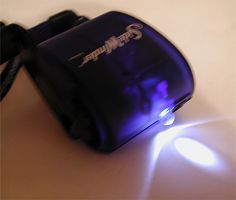 It makes a pretty nifty little flashlight that will never require replacement
batteries as long as you don't mind winding it up when the light gets dim. Of
course the light is only one smallish LED, so don't expect much from it. It
works fine for reading in the dark or trying to find a key slot in a door. But,
it doesn't work too well for lighting your way in the dark.
The main function of the SideWinder is for charging your cell phone's
battery. A short (2ft) cable is included that plugs into a jack next to the LED
on the module, while the other end plugs into the cell phone's charger jack. I
first tested the SideWinder with an old Motorola V120 that I had let the battery
drain on for weeks and weeks. The phone would not turn on at all before I
connected the SideWinder to it. The first thing I noticed when I started
cranking was that the resistance seemed much stronger when connected to the cell
phone than in did without it. According to the instructions, 2 minutes of
charging would equate to around 6 minutes of talk time. After only about 1
minute of cranking, my left hand was tired from gripping the module and my right
hand was cramping from winding the crank. I was surprised that after only a few
seconds of cranking, that the phone turned on and showed the CHARGING indicator
on the screen. However, if I let up on the cranking speed, the phone would turn
off. Two minutes felt like forever, but when the time was up, I stopped winding,
unplugged the SideWinder and tried to turn the phone on. No luck. It was still
deader than a doornail. So I plugged the module back into the phone and cranked
for another 2 minutes. Afterwards, I tried to turn the phone on and still
nothing. At this point, I figured out, that this type of charger requires a lot
of effort if you want to charge a dead battery.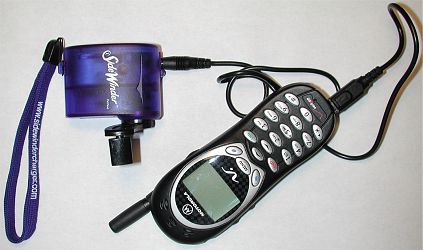 Never miss one of our posts again. Sent MON, WED, and FRI with the latest gadget reviews and news!
My next test was with a Motorola T730. This time, I just let the battery
drain to the point where the LOW BATTERY warning appeared on the screen. The
results of this test were quite a bit better. Two minutes of cranking was
sufficient enough to make that warning disappear for a few minutes of talking.
Incidentally, you can charge with the SideWinder while your cell phone is
powered on and you are talking. How you might be able to do this with only two
hands is beyond me, but it is possible.
I can see where this device would be handy for outdoor enthusiasts. It is
great for emergencies. People that are still within a cell phone service area
("Can you hear me now?"), but without access to an electrical outlet will find
it to be a handy tool. The SideWinder feels like a robust little module that
with a little effort, can juice up your cell phone for a quick call, anytime you
need it.
Price: $24.95 (Available for $19.95
here)
Pros:
Ability to power your cell phone anytime, and anywhere
Small and convenient
Built-in flashlight
Cons:
Doesn't work well with a completely dead battery
Makes noise while winding the crank
Product Information
Price:
24.95
Manufacturer:
SideWinder
Pros:

Ability to power your cell phone anytime, and anywhere
Small and convenient
Built-in flashlight

Cons:

Doesn't work well with a completely dead battery
Makes noise while winding the crank