We use affiliate links. If you buy something through the links on this page, we may earn a commission at no cost to you. Learn more.
Product Requirements:
Device:
Palm Zire 71
 
At the same time I bought my Zire 71, I got the "slim leather case" made by
Palm. That was a mistake. Upon purchasing a Pilot 5000 in 1997, I also bought
the "original leather case". Both Palm cases fit over my Zire 71 much like a
book cover. I preferred using the old case because its snap closure was
convenient. The new "slim leather case" uses a strap that inserts into a
loop–closing the case requires two hands.
I thought I was happy using my old case. Then I discovered the
InnoPocket case.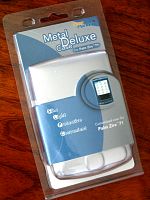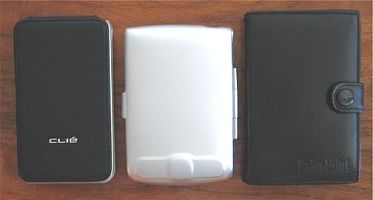 The InnoPocket Metal Deluxe Case suits the way I carry and use my Zire 71. I
don't carry a purse or shoulder bag, I slip the PDA into my front pants pocket.
For my purpose, the perfect case needs to be small yet very protective. This
case fits snugly over the Zire 71–its barely larger than the PDA itself. The
metal clamshell construction is extremely protective of the case and the screen.
It's a more compact package that's a big improvement over the "original leather
case".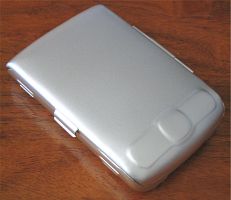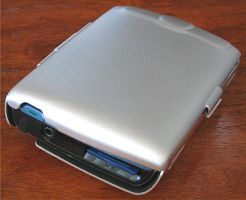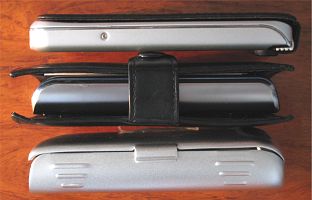 This silver anodized aluminum shell is neoprene lined. The neoprene along with
two security clips on the back and four tabs on the front, creates a friction
fit that holds the Zire 71 securely. There's no chance the PDA will fall out
accidentally. The hinged cover opens to the right. Behind it are storage cutouts
for two SD cards.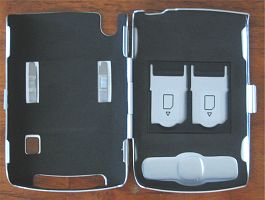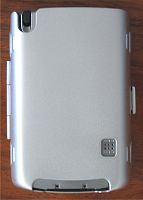 The case openings are well thought out: At the top: power switch, SD card,
earphone plug and stylus are all accessible. At the bottom: the
serial connection.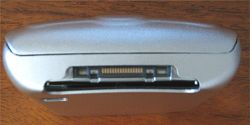 Unfortunately, you can't hot-sync your Zire 71 without removing it from this
case. The case is thick enough to prevent the serial connector from aligning
with the plug in the cradle. Removing the Zire 71 is inconvenient because it
fits so snugly.
Also, when the cover is open, it may be difficult to hold the Zire 71 with one
hand while writing with the other. The open cover gets in the way of your
fingers grabbing the hinge side of the case. I've overcome this problem by
positioning my thumb and pinky on opposite corners. This might be uncomfortable
if you have small hands.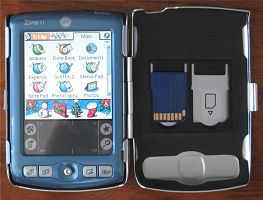 On the other hand, this cover design makes picture taking easier. The rigid
hinge allows holding the open cover with one hand and the Zire 71 with the
other, creating an extremely stable photo setup.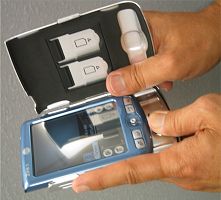 It fits my pocket, protects my Zire and makes picture taking easier. For the
moment, this may be the best solution for my needs.
Price: $29.90
Pros: 

Handsome, well finished product
Custom fitted to the Zire 71. A very snug fit, barely larger than the PDA itself
Holding the open cover creates a stable photo setup
Cons: 
Difficult to hold PDA when the cover is open—can't put fingers on
opposite sides of the case
Must remove Zire 71 from this case to perform a cradle hot-sync
Product Information
Price:
29.9
Manufacturer:
Innopocket
Pros:

Handsome, well finished product
Custom fitted to the Zire 71. A very snug fit, barely larger than the PDA itself
Holding the open cover creates a stable photo setup

Cons:

Difficult to hold PDA when the cover is open—can't put fingers on
opposite sides of the case
Must remove Zire 71 from this case to perform a cradle hot-sync