We use affiliate links. If you buy something through the links on this page, we may earn a commission at no cost to you. Learn more.
Product Requirements:
Device:
Sony Ericsson P800/P802 PDA/GSM phone
Finding a play through case for the innovatively designed PDA/GSM phone hybrid,
the SE P800, can be quite challenging.
Enter the Brando P800 leather case
with belt clip, with its ruggedly handsome design (of course, beauty is in the
eye of the beholder).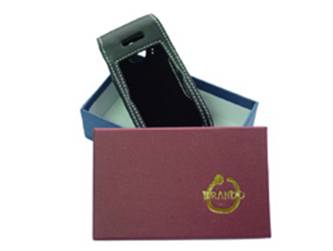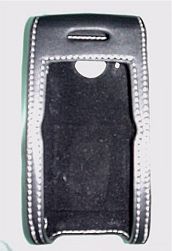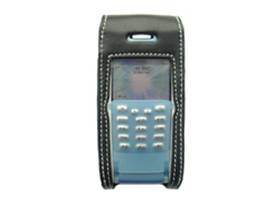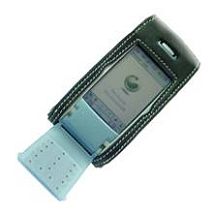 As you can see, the front part of the case is cut out in such a way as to
expose the phone and allow one to use the phone with the keypad flip closed
(like a regular mobile phone) as well as extended (to reveal the full screen,
like a PDA). Proper cut outs are also made providing access to the power button,
connector for stereo headphone, jog dial on one side, and the camera shutter
button, internet button, stylus and memory stick duo slot on the other. The
communicam and external speaker area are also properly exposed at the back.
The bottom of the case is open so you can charge the phone with the travel
charger plugged directly to the phone and synch with your PC using an optional
cable (also available in the Brando internet store). However, it is hard, if not
impossible, to synch and charge the phone using the cradle because of the
leather sticking out slightly at the bottom of the case.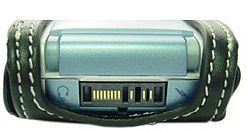 This case offers minimal protection for the front part of the phone. However,
it is a compromise between functionality vs. protection, with the former gaining
more "points" than the latter.
The case uses regular snaps to hold the cover secure closed. Although it seemed
to add a little bulk at the back of the case, it actually protects the camera
lens from being scratched or damaged when you put the phone right-side-up on a
flat surface.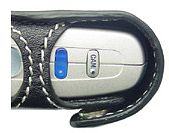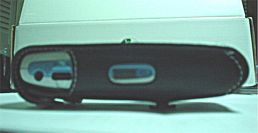 The belt clip is made out of plastic and feels sturdy enough to withstand
typical daily abuse. The case is designed to be worn in a vertical position. It
may seem weird for the phone to be hanging upside down but I believe it was
designed in such a way so that one doesn't have to remove the phone from the
belt clip to read a text message or see who is calling. I personally prefer the
case to be worn in a horizontal position.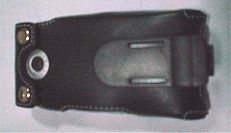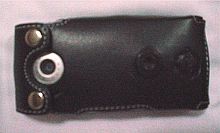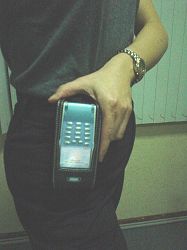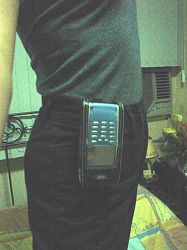 There is no additional slot if you have more than one memory stick duo card.
All in all, the case is a good compromise for people who like to use a play
through case for the P800 with the keypad flip attached. It offers no protection
for your screen if you decide to remove the keypad flip (for this, you might
want to consider another case made by Krusell or Piel Frama).
Price: $32.00 (also available without the belt clip
at the same price)
Pros: 

Designed to be used with the keypad flip attached
Play through case
Adds minimal bulk to the PDA/phone
Relatively inexpensive
Cons: 
No memory stick duo slot
Looks weird hanging "upside down" with belt clip
Offers little protection for the screen if used with keypad flip removed
Must use cable to sync
Product Information
Price:
32.0
Manufacturer:
Brando
Pros:

Designed to be used with the keypad flip attached
Play through case
Adds minimal bulk to the PDA/phone
Relatively inexpensive

Cons:

No memory stick duo slot
Looks weird hanging "upside down" with belt clip
Offers little protection for the screen if used with keypad flip removed
Must use cable to sync