Product Requirements:
Device:
PDA with a Type I or II slot, Windows
98/98SE/2000/ME/XP, MAC OS 8.6
and above
I'm an accessory pack rat. Useful little do-dads make me smile. Especially
when I can pull one out of my gear bag to help solve my own or someone else's
problem. Case in point: The Semson's & Co.
4 in 1 Memory Card to CF Adapter. This product turns your PDA (if it has an
existing CF slot) into a media
card
reader just like those available for your PC.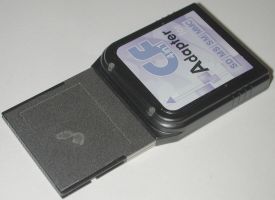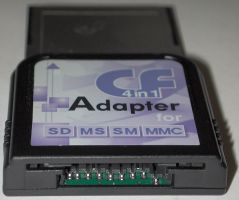 I tested this adapter with my Compaq iPAQ 3800. When plugged into my Silver
Slider CF sleeve, I instantly had the ability to read SD, MMC, SM or Memory
Stick media without any special drivers or setup.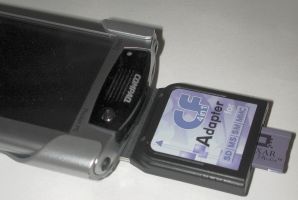 Adapter with a Memory Stick inserted
Made of metal and plastic, the 4 in 1 adapter is basically a typical CF card
with a plastic module attached to it. When plugged into a CF slot, the module
sticks out a little over 2 inches. At the top of the adapter, there are 2 slots.
One for Smart Media and one that can accommodate SD, MMC or a Memory Stick. On
the front of the adapter there are 2 LEDs. One that glows amber while the
adapter is plugged into a CF slot, and the other that flashes green when a card
is being accessed.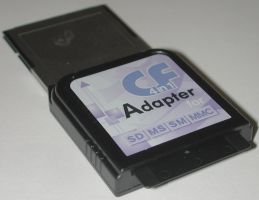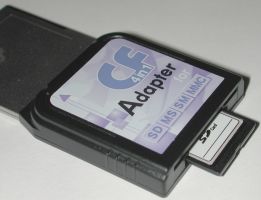 Adapter with SM and SD cards inserted
Although you can conceivably fit an SM card AND an SD, MMC or Memory Stick in
the two slots at once, only one card is accessible at a time. Darn…
Having the ability read Memory Sticks on my iPAQ is great because it allows
me to take pix with my
Sony
Cyber-shot DSC-U20 and then transfer and or view them on the iPAQ's larger
display.
I'll admit that this accessory isn't overly sexy or fun, but for those of you
that need a really compact way to give your PDA (notebook PC too for that
matter…) an additional SD, MMC, SM or Memory Stick slot, this product will do
just that. The price is nice too.
Price: $34.99
Pros:
Go anywhere adapter
Doesn't require drivers
Doesn't require batteries
Reads 4 memory card formats
Cons:
Although 2 cards can fit in the slots at once, only one card is accessible at a
time.