We use affiliate links. If you buy something through the links on this page, we may earn a commission at no cost to you. Learn more.
Let's see a show of hands, how many of you think of kids when you hear
someone mention a Game Boy? It's true that these handheld game machines from
Nintendo are primarily marketed towards
children. But guess what? Adults can love them too! I know I do. Having owned
the original Game Boy, Game Boy Pocket and Game Boy Color, I was extremely
interested when I first read the news about the Game Boy Advance SP. It finally
included the features I'd been waiting years for. But, I'm getting ahead of
myself. How about a quick history lesson first…
The original Game Boy unit was first introduced in Japan in 1988 (1989 in the
USA). It had an 8bit Z80 based processor, 160×144 pixel, 4 gray scale screen, 4
channel sound and ran 15-30 hrs on 4 AA batteries. In 1996 the Game Boy Pocket
was introduced. This model was smaller in size, had a better contrast screen and
ran for 10hrs on 2 AAA batteries. Then in 1999 the Game Boy Color was released.
It had an 8Mhz Z80 based processor, 160×144 pixel, 56 (out of 32000) color
screen, 4 channel sound and ran 13 hours on 2 AA batteries. Two years later in
2001, the first radical change to the Game Boy design was released with the Game
Boy Advance. It sported a larger screen, 240×160 pixel, horizontal layout and a
faster processor. Now, it's 2003 and Nintendo has added another new model to
their collection. The Game Boy Advance SP.
Hardware Specifications:
CPU: 32-Bit RISC with embedded memory
Memory: 32 Kbyte + 96 Kbyte VRAM (in CPU), 256 Kbyte WRAM (external of CPU)
Screen: 2.9in diagonal, reflective TFT color front lit LCD, 240 x 160 pixels
capable of displaying 32,768 simultaneous colors in bitmap mode
Size: (closed) 3.3 x 3.23 x 0.96 in.
Weight: 5 oz.
Power: Rechargeable lithium-ion battery, 10 hours continuous play with light on,
18 hours with light off, 3 hours recharging time
Are you wondering what the "SP" in the name stands for? It stands for
special. Though the performance is exactly the same as that of the
original Game Boy Advance, the new Game Boy Advance SP has a compact folding
design, rechargeable batteries and finally a back light for the display! Other
than these three changes, this new unit has the same functionality as the
regular Advance unit. Both can play the entire library of Game Boy games.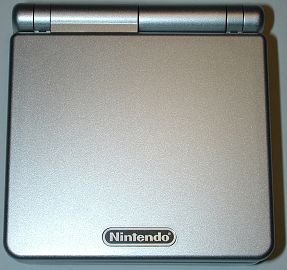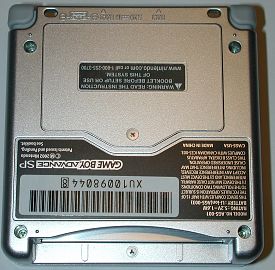 Physically, the SP reminds me of an original Game Boy that has been folded in
half. It has a boxy shape with rolled edges. Available in Platinum or Cobalt
case colors, I chose Platinum. When closed the unit is very small. Small enough
to easily fit in a pocket or bag. The case is very solid and stood up to my
patented (ok, I haven't patented it – yet) squeeze/creak test.
The game cartridge slot is at the bottom front of the unit. Game Boy Advance
carts fit flush with the front of the casing. Older original carts stick out
about 1.25 inches. Although this looks awkward, the carts don't get in the way
of your hands as you hold and play with the unit.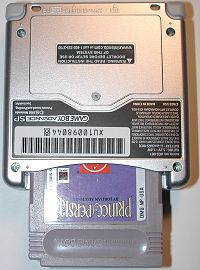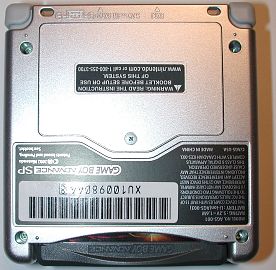 On the left side is a small slider switch that controls the volume level of
the speaker. On the right side is an On/Off power switch and 2 status LEDs. The
top LED glows green while the unit is powered on and changes from green to red
when the battery life drops to 30% – 20%. The LED below it is the battery
charging LED. It glows amber while the batteries are charging, and turns off
when charging is complete.
Never miss one of our posts again. Sent MON, WED, and FRI with the latest gadget reviews and news!


On the back of the unit is the AC adapter and External Extension connectors.
The AC adapter connector also doubles as the headphone jack. Yeah, it doesn't
look like any stereo jack that I've ever seen either! Unfortunately, to use the
Game Boy Advance SP with headphones, you're going to have to purchase an adapter
separately (less than $5). This adapter will give you a 3.5mm jack that any
standard set of earphones can plug into. There is a caveat, you won't be able to
charge the batteries and listen through headphones at the same time. Pffft! The
External Extension connector allows you to use a link cable to link Game Boy
units for multiplayer games, or interact with a GameCube.

On the 'shoulders' of the SP are 2 spring loaded Left and Right buttons.
These buttons do different things depending on the game cartridge loaded in the
slot. One cool feature that I discovered when using the SP with old original
Game Boy games is that pressing these buttons changes the display from regular
to wide screen format. It stretches the image to fill the screen. Older games
were only 160 x 144 pixels.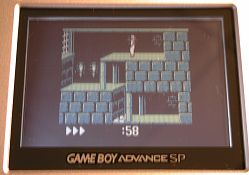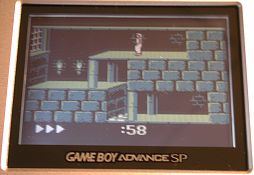 left to right: normal mode, wide screen mode
Opening the cover reveals the screen, buttons and speaker grill. Although the
screen isn't held closed with a latch, it will not fall open on its own, even if
you shake the unit when it is upside down. When opened, the screen folds back
approximately 140 degrees which is a great viewing angle for playing games.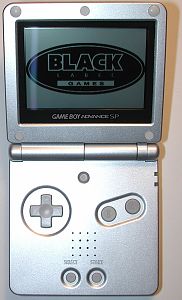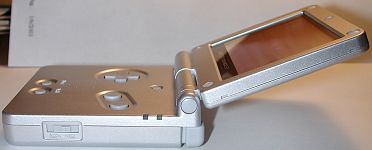 Sound-wise, the front speaker is loud enough in most situations. For noisy
environments though, you're going to want earphones…
The button layout is pretty much classic Game Boy. The 4 way navigation pad
is on the left and the A / B buttons are directly across from it. Above these
buttons is the screen light toggle and below them are the Select and Start buttons.
Playing games on the SP is great. The unit is comfortable to hold, and the
buttons have very good tactile feedback, and are easy to press.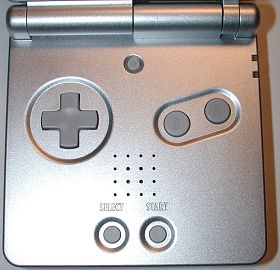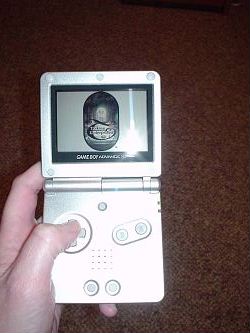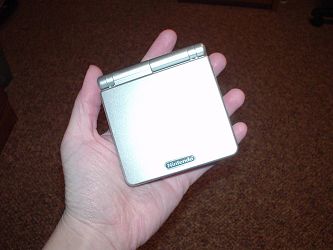 The frontlit display is the best new feature of the SP as far as I'm
concerned. Now you can enjoy playing games in any lighting condition. You don't
need an overhead light to allow you to see the screen like you had to have with
the Game Boy Color and original Advance units. The new front light makes the
screen as bright as playing with an unlit screen in a bright room… if that
makes any sense. The only thing I wish is that the light was just a little
brighter and that there was a way to adjust the brightness / contrast. The only
display adjustment that you have available to you now, is On or Off. The display
on the SP isn't as bright as a Pocket PC on its brightest setting. It's about as
half as bright. Playing outside in the direct sunlight is great too! In bright
sunlight, you can use the light toggle button to turn off the light to
save your batteries.
I love this little game machine. I can put it in my bag, and have it with me
anytime I'm in the mood to hack and slash with the Lord of the Rings. Not having
to buy batteries for it, is a real plus as well! Should you buy the Game Boy
Advance SP? At $100, if you already have the Advance and don't mind not having a
lighted screen, then I would say no to upgrading. But, if you don't have a Game Boy
unit at all, and are looking to buy one, then definitely get this one! It's
compact, fun and not just for kids!
Price: $99.99
Pros:
Frontlit screen
Compact size
Rechargeable battery
Plays all games
Cons:
Doesn't have a standard earphone jack. Must buy an adapter separately
No brightness / contrast control
Product Information
Price:
99.99
Manufacturer:
Nintendo
Pros:

Frontlit screen
Compact size
Rechargeable battery
Plays all games

Cons:

Doesn't have a standard earphone jack. Must buy an adapter separately
No brightness / contrast control