Product Requirements:
Device:
A laptop computer with an open USB port
The minute I saw the Irxis
ilūm,
I knew I needed one. There have so many times when I have been on my
laptop in the evening, and my husband has wanted to veg out on the couch and
watch TV with our office's lights on low or off completely. Since I am not a
touch typist, but am instead a rather efficient hunt-and-peck type, I really
need a light to see what I am doing.
Enter one of the most elegant and unobtrusive solutions I have ever seen…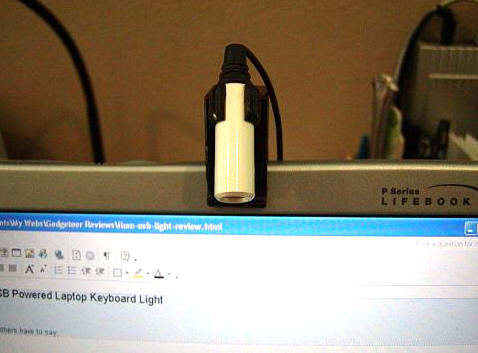 The ilūm, as it's name implies, uses a
"super bright white LED" to illuminate your laptop's keyboard. It is
incredibly easy to set up and even easier to use. You simply take the universal
clip and sandwich it around the upper edge of your screen. The coiled cord
stretches to reach your laptop's USB port and once plugged in, you are in
business. There is a ball-in-socket clip that holds the microphone-styled light
in whatever position is most efficient for you.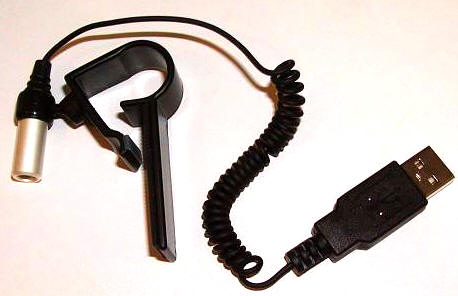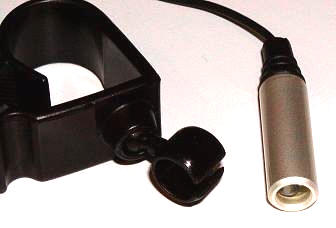 Road warriors will especially appreciate the fact that the ilūm
comes with it's own convenient travel case, into which everything neatly
tucks…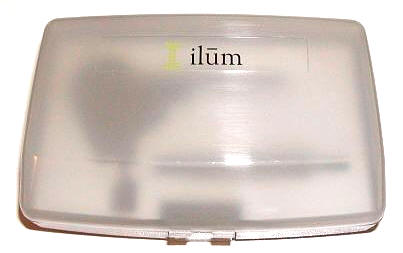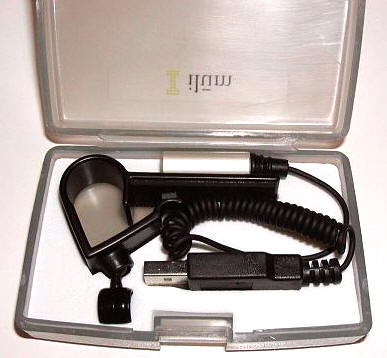 The ilūm's light is turned on and off by
either inserting the plug in the USB port, or removing it  – which complies
very nicely with the K.I.S.S. idea so many products seem to have forgotten these
days.
By now, you might be wondering what kind of performance you can expect from
this little doohickey when it is plugged in. I think it performs quite well! I
took these shots at 4:40 in the afternoon, with the blinds closed in the office
and the lights out. The room was nowhere near pitch dark, but it was still too
dark for me to comfortably type. These un-retouched photos show the difference
that the ilūm can make. Obviously, the
darker the room – the more dramatic the difference will be.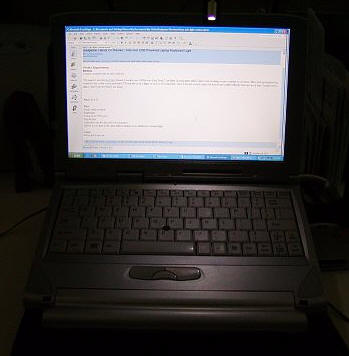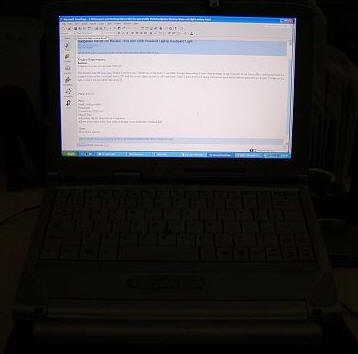 According to the ilūm website, "The
LED used to illuminate the keyboard has an extremely long life and uses an
almost un-noticeable amount of power 3.6v 30mA. "I believe that I now have a
solution that will make both Steve and me happy when I am up late surfing! If
you need a light to see, but don't want to illuminate a whole room, you should
give the ilūm
a try.
Price: $24.95
Pros:
Small, easily portable
Bright light
Powered by USB port
Plug & Play
Adjustable clip fits all notebook computers
Allows you to type in the dark without turning on an additional overhead light
Cons:
None – this product is pretty nifty!