We use affiliate links. If you buy something through the links on this page, we may earn a commission at no cost to you. Learn more.
Product Requirements:
Device:
Windows 98 and higher, USB port
Instant messaging applications such as
Windows Messenger, ICQ and
Yahoo! Messenger are extremely popular
with both teens and adults alike. The ability to type in real-time back and
forth to your friends is fantastic. I know I would feel totally cut off if I
didn't have Windows Messenger running on my PC at all times. Personally, I have
never had a real interest in combining video and voice with plain old text
message style chatting. But, when
Crayton Electronics asked if I would like to review their Qcam 210 WebCam, I
thought I'd give it a try.
Hardware Specifications
Camera Lens: 1/7" CMOS PC Camera
Pixel: CIF Format 352*288
Resolution: 640*482, 352*288, 320*240, 176*144, 160*120
Frame per second: Up to 30fps@352*288, 35fps@176*144
Capture Resolution: Up to 640*480
Focus Distance: 5cm~infinity (CIF)
Lens: wide angle 56 degree Diagonal
Brightness: Auto-Detect
Exposure control: Auto-Detect
Image format: RGB24
Power consumption Full Run: 130mw typical
I/O interface: USB 1.1, Full Speed
The Qcam is a very small WebCam that is suited more for laptops than a
desktop PC because of its short flexible cable which can be bent into the
desired angle for the camera to point. This cable is 12 inches long with a USB
connector on the opposite end of the camera.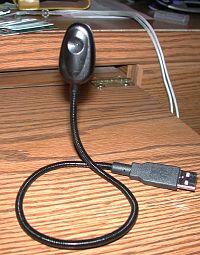 Installing the camera couldn't be easier. It's just a matter of plugging it
in and then popping in the mini CD when Windows asks you for the driver disc.
Your PC doesn't have to be restarted and the camera is available to you right
away.
Since this is a pretty inexpensive web cam, you don't get much in the way of
extra software included with it. Actually the only thing you do get is a generic
capture application that you can use to snap still images and capture video
streams. Also included are instructions for using the Qcam with NetMeeting.
Unfortunately, the instructions seem to assume that you already have NetMeeting
installed… As far as I can tell, NetMeeting does not come as part of the
default Win XP Pro installation. At least it isn't installed on my machine.
I first used the generic capture application just to get an idea of the
quality of the video. Right off the bat, I was pretty disappointed. The captured
image was dark and very grainy.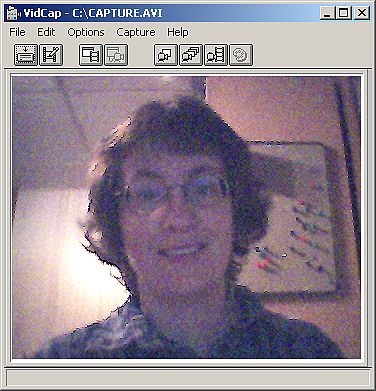 This same application allows you to capture a video stream in AVI format.
Even at 30 frames per second, captured video is blurred during movement.
I also captured a few still shots just to get an idea of how well the Qcam
handles color and focus.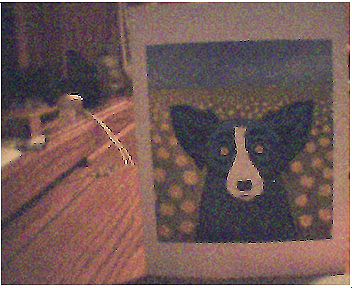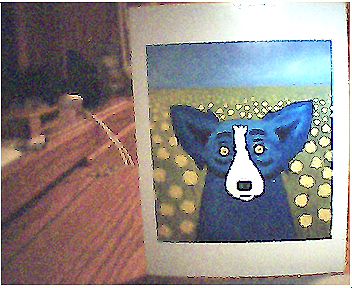 The picture on the left was snapped in a medium bright room with a 2 bulb
overhead light turned on. The same image was taken while I shined a mini
flashlight on the card. As you can see, the more light, the brighter the colors
and the less grainy the image.
The still images are actually saved in a strange file format (.DIB). But I
found that if I renamed them to .BMP, that I was able to then convert them into
JPGs without any problems.
Most people won't be purchasing this WebCam to take still images though, they
will be wanting to use it with their favorite instant messaging application. I
first tried to test the cam while chatting with Judie via Windows Messenger.
Unfortunately, she never saw my video feed. So, I gave up on that IM app and
tried the Qcam with Yahoo's IM application. Getting the cam to work with Yahoo!
was a snap. I started up the app, initiated a chat with my friend, and started
the video feed. He did the same and voila, we were talking and seeing!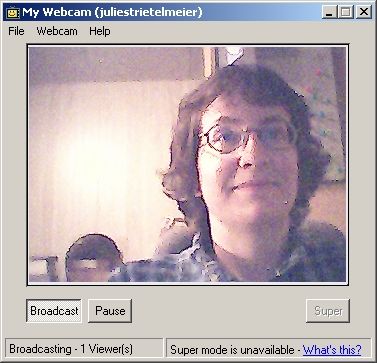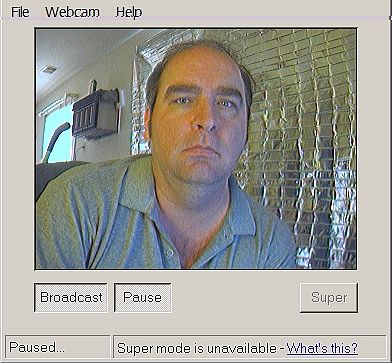 The picture on the left is the video preview of my side of the conversation.
The picture on the right is my friend Dave as we were chatting back and forth.
You can really tell a big difference in image quality between the two images.
His is less pixilated and has much better color definition. His WebCam is an
ADS
1394 WebCam (Firewire) priced at around $74. Even though his cam is Firewire,
his image blurred just like mine as he moved around in front of the cam.
The Qcam is an inexpensive WebCam that can pretty much fit in any laptop bag.
Although it doesn't give you the sharpest, or brightest image, there is
something to be said for portability and price. I wouldn't buy this to use with
a desktop… I'd rather spend a few extra bucks for something that gives a
better image. That said, if you are looking for a cam for your laptop and don't
mind fuzzies, you might consider adding the Qcam to your shopping list.
Price: $29.99
Pros:
Small
Easy to install
Flexible cable
Cons:
Grainy, dark image
Product Information
Price:
29.99
Manufacturer:
Crayton Electronics
Pros:

Small
Easy to install
Flexible cable

Cons: