We use affiliate links. If you buy something through the links on this page, we may earn a commission at no cost to you. Learn more.
Product Requirements:
Device:
Windows 98 or higher
If you are a music enthusiast, you have it pretty good right now. MP3 players
seem to be everywhere, and come in all shapes and sizes, so you can take your
music with you where ever you go. The latest player to come across my desk is
the iAudio CW200 from Jetaudio. This
little player is small on size, but big on features. With a built in FM tuner,
and voice recorder, it has a lot to offer. Available in 64, 128 and 256mb
versions, I was sent the 128. Let's take a closer look…
Hardware Specifications
Bit Rate Supports – MPEG1/2 – Layer 2/3 (MP3), all bit rates within 8kbps
~ 320 kbps and VBR
Memory – 64/128/256MB according to model
PC Interface – USB
File Transmission Rate – Maximum 4M bps (500Kbyte/sec)
Battery – 1.5V (AAA) 1 unit (maximum 9 hrs of continuous playback)
LCD Display – 128 x 16 Bitmap
S/N Ratio – 95dB
Audio – 16 Ohm earphone 6mW
Output Frequency Band – 20Hz ~ 20KHz
Size – 83.8mm x 35.9mm x 16.1mm
Weight – 1.7oz. (47g) (with battery)
The CW200 is small. It is only slightly larger than a pack of gum, or a Bic
lighter. It will definably fit into any pocket, purse or bag.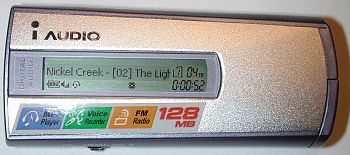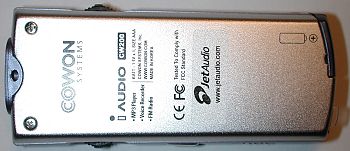 It is made of plastic and aluminum. The main shell is made of lavender
colored plastic, while the front and back have a silver aluminum shell.
The unit has a very sturdy feel to it. It does not flex, creak or crack when
squeezed and doesn't rattle when shook. It also has a nice weight and feels
comfortable to hold and use.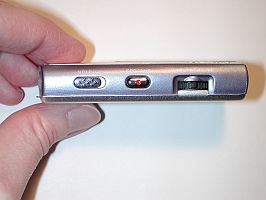 The front of the CW200 has a long, thin LCD 2 line display which is separated
into 3 areas. The main area is a marquee-like window where the song title
scrolls across from right to left. This is also the menu area. Under the main
area is a status bar which displays various indicator icons for battery life,
volume level, etc. On the right side of the display the track number and time
info are displayed. The display itself is crisp, clear and easy to read. A blue
indigo backlight allows you to view the info even in the dark.
The left side of the player has the spring loaded volume / menu rocker
switch. This switch has ridges and a nub in the center. Rocking the switch up
and down adjusts the volume, while pressing it in activates the onscreen menu.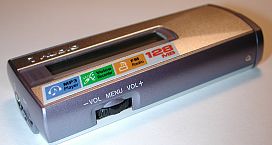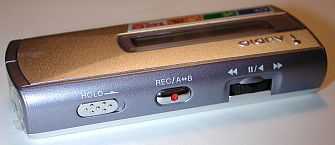 On the right side is an identical spring loaded rocker switch. This one
controls music play back. Rocking it up and down allows you to move forwards and
backwards thru the songs stored on the device. Pressing the button in when the
unit is off, will power it on. Pressing it when the unit is on will toggle
between play and pause. Pressing and holding the button in for a few seconds
while the unit is on, will power the unit off. This switch also allows you to
tune in radio stations when you are in FM mode.
Below the rocker switch is the Record button. Pressing this button will allow
you to use the voice recorder feature built into the CW200.
Directly below the Record button is the Hold switch. Sliding this switch to
the activate setting will lock all the other buttons on the device. This allows
you to put the CW200 in your pocket while playing music without worrying about
pressing buttons or changing settings inadvertently.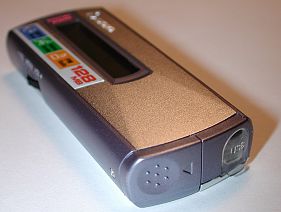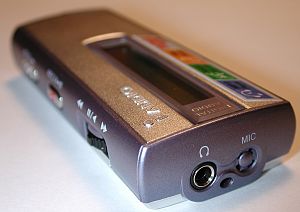 The bottom of the player has the battery compartment and the USB connector.
The CW200 runs on 1 AAA battery which can be easily inserted and replaced. A
rubber cover protects the USB connector from dirt and dust while not in use.
The top of the player has the microphone for voice recording, earphone jack
and hand strap eyelet.
Physically, the CW200 is attractive and sufficiently rugged. I've dropped
mine a couple of times from several feet to a hard surface without any
noticeable effects. To help protect the player, a white vinyl case with a belt
clip is included. I personally think it is pretty ugly!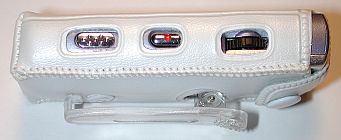 Since the player does not have a memory card slot, you have to transfer the
files using a USB cable and your PC. This is accomplished using an included
software package called jetAudio. This software is super easy to use. You just
drag and drop MP3s or tracks from your CD to the player to transfer them. It
will automatically convert CD tracks to MP3 format as it transfers. The software
can also look up the CD song titles from an Internet database if you are online
at the time. A nifty feature is the ability to choose any Windows font and size
for song titles to display on the LCD.

You can even create pseudo play lists on the CW200. The player has four
albums (folders) that you can use to organize your music. Songs can be played
sequentially or randomly.
Unfortunately, this player does not support WMA music files. It only supports
.MP3. Overall, I found the sound quality to be very good. A full equalizer with
separate +/- control of bass, treble, loudness & dynamic bass is included. You
can save your settings under a "User" selection, or choose from several preset
equalizations (rock, classical, jazz etc.).
The CW200 isn't just an MP3 player, it is also a voice recorder. With the 128
Mb model and no MP3s loaded, you should get approximately 9 hours of voice
recording time! The microphone picks up pretty well and there is a level
indicator so you know how strong the input signal is. There is a fast key press
combination that will you directly into voice recorder mode, so if you are in
the car and want to record a note, you can do so without even taking your eyes
off the road. The gotcha with using this device as a voice recorder  is the
fact that there is no speaker. To hear your recordings, you have to use
headphones.
In addition to the voice recorder feature, the CW200 also has an FM radio
tuner built in. During the review period, I found myself using this feature way
more often then the voice recorder. It is nice to switch to a local radio
station for some fresh music when you tire of the content on the device. The
reception wasn't half bad for such a small radio.
I think that the CW200 is a great little player. It is a perfect size, has
good sound and extra features that make it more attractive than most players in
the same price range. If only it had an SD slot… Oh well, I guess you can't
have everything!
 
Price: $179.99
Pros:
Small size
Great sound quality
FM tuner
Voice recorder
Cons:
No memory expansion slot
Can't play WMA files
Product Information
Price:
179.99
Manufacturer:
JetAudio
Pros:

Small size
Great sound quality
FM tuner
Voice recorder

Cons:

No memory expansion slot
Can't play WMA files