We use affiliate links. If you buy something through the links on this page, we may earn a commission at no cost to you. Learn more.
As a longtime user of the HP200 and its predecessors the
HP100 and HP95 (since the late '80s), I have been looking for a replacement for
these seriously obsolete machines. A PDA which would keep the advantages of a
useable keyboard, a real operating system (like the HP's DOS) with wide software
choices, while giving me some of the new PDA plusses of a color backlit screen,
smaller size, faster chips, and better link to my desktop PC. 
The HP had an active user community up to about the
mid-'90s, and my machine was double-clocked, had a 32MB internal memory upgrade,
and a 160MB PCMCIA card. But not much is being written for DOS these days and
software to connect to newer Windows PCs was slow.  So when I saw the report
from Judie and Julie late last year of their sighting of the Linux-based Sharp
Zaurus C700 at Comdex, I called
Dynamism and got on the list for their English
language port of this maybe Japan-only machine.  Mine came about a week and a
half ago, and despite some limitations and remaining Japanese language issues I
am delighted with it. 
First of all, it looks like a laptop designed as an
accessory for a Barbie doll.  It's SMALL, but the keyboard is useable. The keys
are actually bigger than the HP200's, although closer together.  The device
works like the Transformer toys my son had in the '80s, which converted from a
truck to a robot. The C700 goes from a micro-mini laptop with keyboard to a PDA
–  with a twist of the screen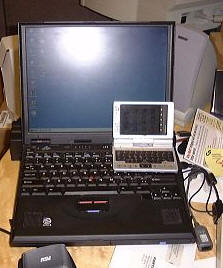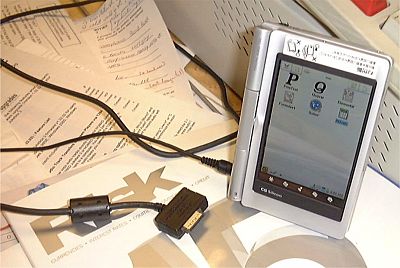 I am sorry I don't have a PDA to compare it to (it is a bit
bigger and heavier than the smallest of these), but here it is with my old
HP200: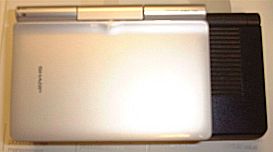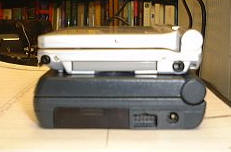 It is about 4 5/8" x 3 1/8" x ¾", weighs 8 oz with battery
and SD card (I will also get a compact flash card).  So you can have 1.5 Gig
storage using a 1 Gig compact flash and 512 Meg SD (I am using a 256 meg SD
now).  Available internal storage is 32 Meg (my machine now shows about 9 Meg of
this used by my software, some of which will run from the SD card, and the Sharp
and Dynamism stuff); operating memory is 30 Meg, about half of which is occupied
by the Japanese system rolling out of ROM.  I can run many programs
simultaneously without any obvious problems, and have not yet hit the wall on
this.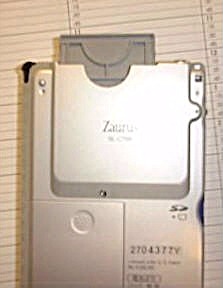 The battery life is only estimated to be 3 ½ hours, but I
have not had any problem with this.  The charger is as Lilliputian as the C700,
about the size of a pack of tic-tacs, the plug folds into it, and it weighs 2
3/8 oz.  I bought an extra battery and external charger, but have not yet used
it.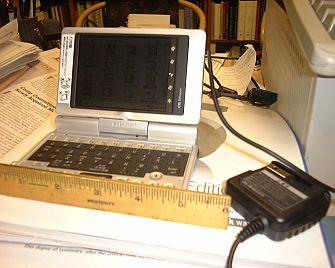 The major problem I have had is the lack of an English
manual (one is promised by Dynamism, once the English porting is finalized). 
The CD-ROM of PC software it came with is in Japanese, the instructions from
Dynamism's Tech support were not exactly accurate and the install on my desktop
computer is clearly a kludge: if the C700 is turned off or disconnected from the
USB port, it will not be found again without rebooting the desktop, and if I
don't shut down the Zaurus Shot and Zaurus Manager buttons on now appear on my
PC's menu bar the PC will not shut down and has to be unplugged!  Sometimes the
drop-and-drag of files from the PC to the C700 fails (the explanation is in
gibberish, an ASCII port of the Kanji text).  It has been easier to load files
onto an SD card directly from my USB port (using a Sandisk Cruizer) and plug the
card into the C700. 
The software that comes with the English C700 is okay.  The
Hancom Sheet program handles Excel files pretty well (though not Lotus 123 files
from my HP200, those had to be converted to Excel on my desktop to run on the
C700).  Hancom Word seems to handle Word documents, NetFront browser reads html,
though not bigger text files (cuts off after a few hundred k).  The date book
works fine.  I replaced the contacts program, which kept trying to write
Japanese unless manually forced back into English characters at each entry, and
did not alphabetize properly, for a contacts program from tkc, which only
orients in the PDA view (it was written for the Zaurus 5500) and locks up if I
try to edit entries too fast.  I also got a video viewer program from tkc, since
the included media viewer could not handle DiVX, mpeg4 or other files.  I was
very pleased to find that this tkc video program can play movies filmed on my
Archos Jukebox Multimedia Recorder, as well as movies I have downloaded from the
net.  You need a headset or external speakers for sound (other than beeps or
alarms), and the action is a bit jerky (this seems a problem on the Zaurus 5500
too, judging from the tkc forum groups-  the tech people there are amazed it
runs on the C700 at all, as they haven't tried it yet).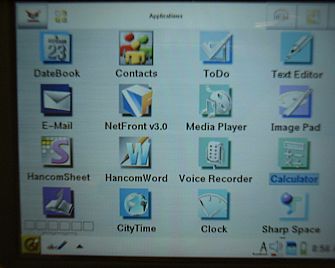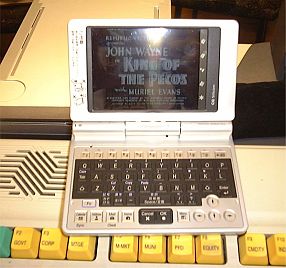 The media player software that comes with the C700 does play mp3 files, and
they sound very good over headphones or external speakers (as I mentioned above,
the internal speaker is limited to system sounds). There is also a voice
recorder program, but so far as I can tell without an English manual it needs a
microphone plugged into the headphone socket to function. There is note taker
and txt file editing software that comes with it as well, I have not used these
yet. Also unused yet are the various communication programs (email, Terminal,
and "Embedded Konsole") which await the English manual and some instructions
from a net guru on how to use wi-fi, LAN, etc. with this machine.
I sort-of replaced my DOS symbolic math program with three
very nice 5500 programs which run on the C700: Formulae1 for algebra and
calculus, Calculon for graphing, and a very nice programmable scientific
calculator RDCalc which comes with an internal library (e.g. for prime
factoring, etc.).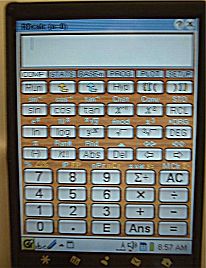 A free astronomy program Solun' for the Zaurus 5500 runs on
the C700, as do English and German-English dictionaries from Beiks and a free
text reader called JustReader.  Only the last of these works in landscape mode,
the others show in PDA portrait mode only so far as I can see.  Software
availability would be more of an issue if the 5500 were not around; I am hoping
that things explicitly for the C700 will emerge soon, or that I get as
comfortable porting Linux stuff to this machine as I was with DOS for the HP200,
though it is clearly a much more complex effort.
I am pretty far along in switching to the Zaurus C700 as my main PDA, leaving
the HP200 on my desk for emergency use only. I miss only the reverse-Polish
input on the HP200 calculator (yet another commercial math program could give me
this as well, but I have so far resisted). It is a bit slower in switching apps
than the HP, as well (why???). The C700 goes with me everywhere in my jacket or
shirt pocket. Pulling it out and running that hour-long John Wayne movie (see
picture above), jerky as the video sometimes is, gets me lots of geek points
from colleagues.
Price: $700 from Dynamism for English version)
Pros:
Super-cool look and feel; perfect laptop for your favorite stuffed
animal
Useable keyboard
Bright clear screen (amazing, actually)
Fits easily in shirt or jacket pocket
Cons:
Expensive ($700 from Dynamism for English version)
Limited software availability
Shortish battery life
No manual yet, PC setup a mystic adventure
Product Information
Price:
700.0
Manufacturer:
Sharp
Pros:

Super-cool look and feel; perfect laptop for your favorite stuffed
animal
Useable keyboard
Bright clear screen (amazing, actually)
Fits easily in shirt or jacket pocket

Cons:

Expensive ($700 from Dynamism for English version)
Limited software availability
Shortish battery life
No manual yet, PC setup a mystic adventure