We use affiliate links. If you buy something through the links on this page, we may earn a commission at no cost to you. Learn more.
Product Requirements:
Device:
Handspring Visor, Deluxe, Prism, Pro, Neo and
Platinum
"I am become Death, the destroyer of PDAs…"
Wait, that's not right! Well, I guess it is applicable for me. Between the
dropping, the crashing, and the crushing I can almost hear my PDA start to cry
when I grab it in the morning – like a dog that knows that it's being taken to
the vet. For a PDA to make it through my ownership, there is a single word that
needs to be invoked.
Industrial.
It would seem that Process Technologies had me in mind when they created the
GummiGuard II, a serious case for
serious Visor users. Actually, they didn't have me in mind; they had EMS
personnel, industrial data collectors, auto repair, and field service workers in
mind – people who use those big-ticket springboard modules for hands-on, dirty
kinds of work.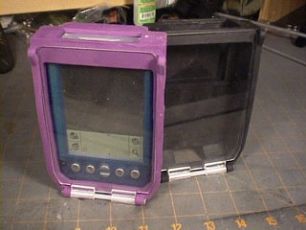 Before you get into it, yes, I know that the Visor (and the Springboard) are
no longer in active production, but that is all the more reason to keep the
visor that you have as safe and sound as possible, right???
The GummiGuard II (there is a III available for "larger CE devices") is a
rubber sheath for the Visor, molded to accommodate larger Springboard modules
such as GPS, barcode readers, probes, and the infamous Visor Phone.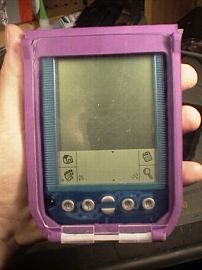 Never miss one of our posts again. Sent MON, WED, and FRI with the latest gadget reviews and news!
I do not own a single Springboard, much less an over-size one, but the case
works just fine without one of these devices.
Just slide in the top of your Visor and the pop in the bottom and you are
there. The installation and removal are fairly painless, which is nice as there
will be no syncing or charging from a cradle – I do not own a Visor cable, but
it seems as though the cutouts would work for one.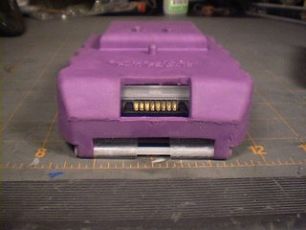 Now that your Visor is inserted, rest assured that there is a MINIMUM of
3/16" rubber protection covering your handheld with two exceptions (more later).
The sides of the case have integrated finger depressions that make the case easy
to hold for righties and lefties.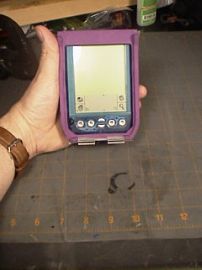 A clear plastic window covers the entire front of the PDA. With this screen
closed, viewing the screen is functional, but there is no method of interaction,
as the window does not allow access to either the buttons or the screen. There
is an optional soft cover available to deal with this situation.
This window is hinged at the bottom for access to screen and buttons and is
held in place by molded nubbins set at the top of the case. This method both
holds the window secure and allows ease of opening – even when wearing gloves.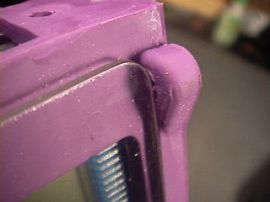 The two areas that are not covered in rubber are the IR port (which is inset
3/8" and it would take a nail being jammed in there to cause damage) and the top
of the unit. This rather gaping hole is meant to accommodate the previously
mentioned oversize Springboards.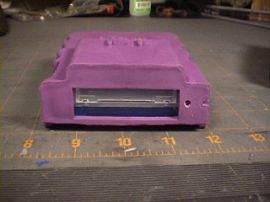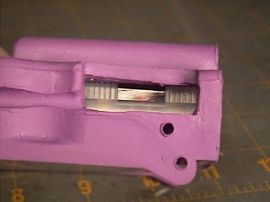 A stylus can be inserted into the stock silo (via a series of holes in the
top of the case) or into grooves placed along the sides. The stock Visor stylus
did not fit into either very well, but I would guess that a true industrial
application would also involve some aftermarket stylus.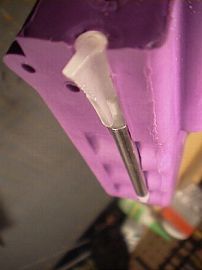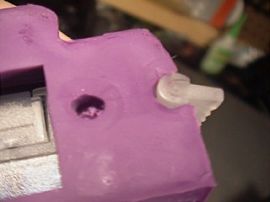 Obviously, this case is not for everyone, it adds quite a bit of bulk to
every side and is built for far greater tolerances that many of out gear bags
will ever experience. As I stated previously, this is a serious case for serious
users.
Price: $29.99
Pros:
Major Protection for your Visor
Capable of using oversize Springboard Modules
Cons:
Adds considerable bulk
No cradle sync or charge within case
No H2O protection
Cannot use PDA with (standard) cover closed
Product Information
Price:
29.99
Manufacturer:
Process Technologies
Pros:

Major Protection for your Visor
Capable of using oversize Springboard Modules

Cons:

Adds considerable bulk
No cradle sync or charge within case
No H2O protection
Cannot use PDA with (standard) cover closed