We use affiliate links. If you buy something through the links on this page, we may earn a commission at no cost to you. Learn more.
Product Requirements:
Device:
Windows® 98SE, Windows® 2000, Windows® ME, and
Windows® XP, Mac OS 9.x
I've been on a quest for awhile now. The quest to find the perfect media card
reader. I started way back when with a Sandisk parallel port reader. It worked
great, but only accepted Compact Flash (CF) cards. I replaced it with another Sandisk reader
that was USB. It too only read CF cards. Shortly after I purchased that reader,
I obtained a device that used Secure Digital (SD) cards. So I chucked the Sandisk and began using
the

CSD4-USB 4-in-1 reader. It worked great for awhile, but then I began using a
device that used Memory Sticks (MS). The CSD4-USB did not support this format, so I
found myself looking for yet another reader.
What I found was the Dazzle Universal
6-in-1 Card Reader. A small USB desktop model, this reader has slots that can
accommodate Compact Flash, IBM Microdrive, Smart Media, SD Card, Multimedia Card
and Memory Stick media.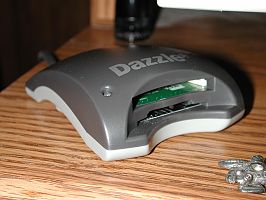 Made of grey plastic, the reader is light weight and has a 4 ft USB cable
attached to it. There are two slots on the front and a status LED on top.
Installing the reader under Windows XP is a no brainer. You just plug the cable
into a free USB slot and you're finished. It does not require a power adapter or
drivers. Once it is plugged in, three new drives show up under My Computer. You
can treat these drives as you would a regular hard drive. Files can be copied to
and from them.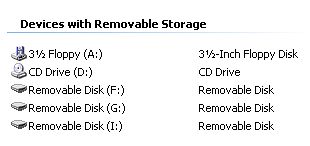 This product is called a 6-in-1 reader, but it really only reads 4 types of
media: CF, SD/MMC, MS and SM. Enough acronyms for you? But as I mentioned above,
the reader only has 2 slots. How can 4 physically different types of cards fit
into only 2 slots? Glad you asked! The top slot is for CF and Microdrives and
the bottom slot is molded in such a way that SD/MMC, MS and SM cards can all
share it. Unfortunately not all at once though. I guess this reader should have
really been called the 4-in-1-but-not-at-the-same-time reader!
| | | |
| --- | --- | --- |
| Compact Flash card | Secure Digital card | Smart Media card |
| | |
| --- | --- |
| Memory Stick slot | Compact Flash and Memory Stick at the same time |
Here's the deal. CF cards have the top slot all to themselves. The cards
slide in right-side up and can only fit in the slot one way. The bottom slot is
shared by either a Memory Stick, SD/MMC or Smart Media card. Wait, it gets more
confusing… SD/MMC cards are inserted upside down, but can only fit one way. SM
cards are inserted upside down but can also fit right-side up. And, Memory
Sticks are also inserted upside down but can fit right-side up. This presents a
problem with a person such as myself. I often tell people that I have the memory
of a gnat.. and as such, during the review period, I was always inserting the
cards the wrong way and wondering why the heck they wouldn't work. <sigh>
Never miss one of our posts again. Sent MON, WED, and FRI with the latest gadget reviews and news!
Although you can't use 4 cards all at once, you can use 2 cards at once. One
in the top slot and one in the bottom slot. I found it disappointing that I
could not use all the cards at once. I even thought it might be possible to use
the SD/MMC at the same time as the SM cards. I was wrong. Although both can fit
in the slot, it will totally make your PC angry. The My Computer window crashed
when I tried this… eep!
I had another problem with this reader. I was unable to read a LEXAR 64mb
Memory Stick. I could read a Sony Memory Stick just fine though. The LEXAR stick
also worked fine in a Sony CLIÉ… So I'm not entirely sure what the problem
was. I tested a variety of CF, SD and SM cards without any problems.
Also included with the Dazzle reader is a program called OnDVD. This software
allows you to make photo slideshows and burn CDs for playback on your DVD
player. Of course you need a CD/RW for this task.
At the moment, this reader is my main one… But my quest continues as I am
looking for a true 4-in-1 reader. One where I can have all 4 types of media in
use at once in their own slots.
 
Price: $49.99 (available at
StylusCentral and other online
retailers)
Pros:
Able to read 4 popular media formats in one reader
Plug and play
Cons:
Can not use all four slots at once
Some cards can fit in the slots upside down
Product Information
Price:
49.99
Manufacturer:
Dazzle
Pros:

Able to read 4 popular media formats in one reader
Plug and play

Cons:

Can not use all four slots at once
Some cards can fit in the slots upside down