We use affiliate links. If you buy something through the links on this page, we may earn a commission at no cost to you. Learn more.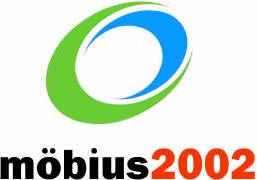 As many of you will recall, last year Julie and I were invited
to attend Mobius, a Microsoft
sponsored event, held in Washington state. This year, Julie was on
vacation in Sedona during the event so I made plans to attend by
myself.
Last year, there were several attendees that brought their
spouses. With that in mind, I figured it would be fun to bring
Steve along so that we could hang out together in the evenings.
Thursday:
Unlike last year's travel fiasco with Continental, this year I
flew American on Microsoft's dime (approximately $375) and got
where I needed to be – completely on schedule. While on the plane,
I alternated between reading e-books on my CLI� and watching a
DVD on my Fujitsu P2110.
Also along for the trip, I had my new Canon s330, my Razor Zayo, all the accompanying power and
sync cables, and various memory cards. I was traveling light!
I had no sooner walked into the baggage terminal at SEA-TAC,
when I spotted a guy holding a card with my name on it and pushing
a luggage cart. We grabbed my one item off the belt and as we were
leaving he introduced himself to me and said that he had figured he
was going to have to wait at least a couple hours before he met me.
I asked why, and found out that there had been some kind of
security breach in one of the other terminals – no one was allowed
to come or go. Thankfully it didn't affect us, so we loaded into
the waiting Town Car, and were soon on our way.
Chris, my driver, was very accommodating. He asked if I needed
to stop anywhere, but since I was afraid it would make the ride
cost more, I said no. I know that Microsoft was picking up that tab
– about $60 worth – but I can be a tight-wad even when it is not my
money, okay? Chris then told me I had the car for an hour – whether
I used it or not, so I thought why not? We stopped at a local
Starbucks, and I treated us both to a latte. I was interested in
hearing what Chris thought about his job, so he entertained me with
his stories until we pulled up at the hotel.
Once again, Microsoft housed us in the fabulous Bellevue Club Hotel
(approximately $275 a night), and once again I have nothing but
praise for the place. You should seriously consider staying there
if you ever find yourself in the area and want a first-class
experience…but I digress.
I was starving when I arrived, so I ordered room service – the
southwestern quesadillas with corn relish (YUM), and I
settled in to wait for Steve's arrival, since he had taken a
completely different flight.
One meal, a shower, a nap and Steve's arrival later, we were
ready to check out the informal reception being held in the Olympic
room. Once there, I was pleased to see several faces I recognized:
Jason Dunn was there
with his wife Ashley, phillip torrone (or
pt, as he is becoming
known to everyone), Ryan
Mock (my buddy from Hawaii),
Joel Evans and
Jeff Kirvin, as
well as eric
levine and Beth Goza – our hostess.
eric was kind enough to point out some of the people that I did
not know yet, including Ed
Hardy, Steve Sande (who
also came with his spouse) and Stephen Wellman. I was also
pleasantly surprised to see Wes
Salmon there.



phillip and eric


Beth taking pictures of the guests for
posterity
eric had the new Casio Exilim camera, which was so
tiny it made my new Elph look humongous! This is a 2 Mega Pixel camera that can shoot 30 second mini-movies,
has a LCD display and is about the same size as a credit card.
Very cool! He had it slipped into a credit card wallet – and it
fit. Guess he won't be leaving home without it. ;0)


We were treated to an open bar and hors d'oeuvres. Everyone got
a chance to hang out and catch up with each other – a great way to
break the ice and get into the spirit of the weekend. After hanging
out for a while, Steve and I realized how exhausted we were, so we
said our good-byes.
Friday:
I met the other attendees in the hotel lobby bright and early,
where we chatted until eric rounded us all up for the 8:10 bus ride
to Redmond. We loaded up, and I found myself sitting next to
Stephen Wellman, who I learned was from Washington DC. As you can
imagine, the Washington Area Sniper was one of the
topics that came up. :0/
Once we arrived at the Microsoft Campus, we were led to the same
classroom that we used last year. Inside, the tables were set up in
a horse-shoe design, with the open area at the front of the room.
In front of each seat was a red Swiss Army brand backpack. Our
nametags were affixed to the backpacks, so we took a few moments to
figure out our seating arrangements. I couldn't have been happier
when I found that I was seated between Ryan Mock and Reggie Suplido. I don't think I
just imagined the big grin on Reggie's face when I pulled out my
NR70V to take notes. We compared our cases and chatted about the
upcoming NX70 series.
While we got settled in, I took stock of all of the different
websites represented in the room. They were, in alphabetical order:
Brighthand, CLI� Source,
Club PPC, Devbuzz, FierceWireless, Flashenabled, The
Gadgeteer, Geek, Gizmodo, Howard Chui, InfoSync, LockerGnome, MySymbian, Palm InfoCenter, PDA Live, PDA Buzz, PDA Blast, PDAntic, PhoneScoop, Pocket PC Thoughts, The Feature, Treo Central, Wireless Software Info,
Writing on Your
Palm, ZaurusZone. There
was definitely a mix of writers!
After grabbing something from the breakfast buffet
in the back of the room, we all got ready to listen to Beth's
welcome speech. She thanked us all for coming – scolded those that
were already trying to peek in their bags, and told us a little bit
about the speakers that we would be hearing that day.
The first of the day's speakers was James Pratt of the DAT Group. His topic was "Realizing
Mobile to Market." What I got out of the
speech was basically that they were creating a smartphone
application that will allow customers to buy & download
software online, which would then immediately install to their
phones.
Next, we heard from Douglas Beck of Digital Concepts. This guy is
amazing! He is the programmer behind such games as Rocket Elite,
Bust'em and Motocross Stunt Racer. He was showing us how he had
adapted several games so that they could not only be played on
pocket pc (a stylus based device), but also on smartphones (which
do not have touch-screens and must be controlled with a D-pad).
Then, we heard from Brad with eBeam, a company that makes whiteboard
sharing solutions. This is a very cool device that suctions to a
white board and connects to a PC (via Bluetooth or USB), relaying
whatever you happen to write on the whiteboard to the PC or even a
Pocket PC. Pretty cool, huh? These should be available in April
2003, and will cost approximately $1,000.
While the next company was busy setting up, Beth demoed Tomb Raider for
Pocket PC and Nevo, a remote control
application. If you think that Julie and I are bad about owning so
many PDAs, get this: Beth has an iPAQ that has nothing installed on
it but Tomb Raider!
Next up was Viewsonic, a
US company headquartered in Walnut, California. David Feldman (a
Senior manager) was there to show us their new Pocket PC, the
Viewsonic V35. This model should be available around the beginning
of December.
What makes this Pocket PC so interesting is the fact that the
V35 has a brilliant 3.5 TFT screen, runs on an X scale processor,
has 32MB ROM and 64MB RAM, includes and SD/MMC slot, a jog dial,
weighs only 4.2oz, uses a 4-way directional pad, has four
launch buttons, comes with a cradle & sync cable. WHEW! While
it only comes with a 900mah battery, Viewsonic is saying you
should be able to get 8-9 hours battery life. Hmmmm. Not bad for a
PDA that retails for $299.00!
David said that M�bius attendees would be
receiving a Viewsonic when they were available, so you can be
expecting a review from us on this unit when it comes. Here are
some shots of the Viewsonic, as well as comparison shots with my
Zayo – the only Pocket PC I have that compares in such small
size.

Note the cute trio of birds
appliqu�d at the top of the
Viewsonic.

This was not a final consumer version, so the
backs may be different when it ships.

Here you can see that the Zayo is just slightly
thinner than the Viewsonic. Otherwise, they are virtually the same,
size-wise.

Side by side comparison: Viewsonic, then
Zayo
Next, we learned more about the ever-elusive Smartphone 2002.
Jonas Hasselberg, a Smartphone product manager spoke to us and
actually gave us a date: he said the Smartphone will be available
at the end of the year. About time! He showed us the Sendo "candy
bar" version, which looked very desirable to me.
I have been told that M�bius attendees will be
receiving a Smartphone once they are available. I have to admit
that I don't remember anyone official saying it, but I am hearing
that from other attendees. So if it is true, Julie and I will have
a review on this device posted for you in the upcoming months, as
well.
Then came the part of the conference where – I am embarrassed to
admit – I almost completely spaced out because the speaker
was so technical. This was when Ed Kaim was telling us about .NET
smart device development, which is basically (quoting phillip from
his M�bius
report), to "make an application that can live on the desktop as
well as the device using web services and the tools that developers
already know." Ed got into the nuts and bolts of it, and I
spaced…I admit it. :0/
I "woke up" when Randy Walker with Verizon came in and started
telling us about their plans over the next three years to offer
data rates from 300 – 600 kbps…wow!
Megan Kidd was next to demo Windows Powered Smart Displays. I
thought this was a pretty cool concept. Imagine if you could pull
the monitor off your PC and walk throughout the house with it –
using it wherever you happen to be as a touch screen device to
communicates with your desktop, via your WiFi network. Cool, huh?
There were quite a few attendees that weren't impressed with the
concept – but I can see its value. If I want to work on a review
while sitting on the couch with my daughter, I could just pull the
display off my monitor and sit on the couch – writing directly on
its touch-screen. Megan said that "Tablet PC is the evolution of
the laptop, whereas Smart Display is the evolution of the
monitor."
Which was the perfect lead-in to what I had been waiting all day
to see…the Tablet PCs! <drum roll please>
Chris Berry (product manager) and Jeremy White (test engineer)
were on hand to show us three Tablet PC devices from Fujitsu, Acer
& Viewsonic. These devices will launch on November 7, and I
sure wish I had a couple extra grand to drop on one.
<sigh>

Chris and Jeremy with their wonderful
toys

The Acer has my favorite form-factor…so
far!
Next we had an "on-the-record" question and answer
period with Beth and Ed Suwanjidar. No, there wasn't any top secret
information handed down. Nothing about Pocket PC 2003 or 2004 or
whatever, and if you want Mac support – 3rd party software still
looks to be the only way to go.
Juha Christianson, the Corporate VP of the Mobility
Group and Beth's boss also made an appearance for a 30 minute
Q&A.

Personally, I thought it was very cool that he took time out of
his day to talk to us in such an informal manner.

I refrained from asking when we could expect Blackberry/RIM
capability from a Pocket PC. I figured he wouldn't be able to
answer that question, anyway. ;0)
Afterwards, we finally got the go-ahead to look in our
bags. So here is what we received: a M�bius
branded red Swiss Army 22″
Trek Pack Traveler bag ($255), a PDA
carrying case ($17.95), a M�bius branded
Soundbug ($49.95), a
M�bius branded stylus/pen combo (I can't find a
price for it, but I am going to guess under $15) , and an HTC/T-mobile PPC phone edition PDA
($549.99). My phone was the unbranded version, which is pretty cool
because not only does it not scream T-Mobile, it also came
with a travel sync/charger instead of a cradle. Pretty handy! I am
not sure yet if I will get a SIM card for it, but I am enjoying
playing with it right now. At least even without a SIM card it can
still dial 911 if I ever needed it to. Well, that is assuming that
I am in an area that gets a signal, which it appears San Angelo
does not. Bummer.
I am going to send the carrying case to Julie – do you think we
should get her to review it? :0)

Steve Sande is quite happy with his phone
edition
So next, we all loaded into an even larger
bus, so that we would have room for our newly acquired SWAG. Where
were we headed? To the Microsoft company store.
We were each given a certificate saying that we could spend
$60.00 of our own at the company store. So what did I get? I went
all out and got Links
2003 for $10, instead of $54.95 (not for me, but for Steve). I
really wanted this cool sweatshirt they had, but it was $72! eeesh!
I think a few of the other attendees found some better bargains
than I did – maybe I just wasn't in a shopping mood. Actually, if
they had sold X-Box units, I would have bought one. ;0)
We got back on the bus and headed to the Microsoft Consumer
Experience for a catered dinner and more interaction with some of
the day's speakers. The three spouses (Steve's, Jason's and mine)
met us there and were able to participate in the evening's fun.
Steve and I were really impressed with the Home Media XP
setup. This is like getting a 80GB home PC, with built in DVD,
CD-RW, stereo, TV, and a TiVo, all for about a grand. In a word?
Sweet!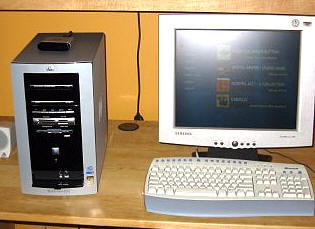 Eventually it was time to load back into the bus and return to
the hotel. Our bags were still in their seats waiting for us, and I
couldn't wait to get back to the room so I could really check out
the Pocket PC phone edition.
Saturday:
I got downstairs a little early, so I was able to enjoy coffee
with Beth, Joel and Jeff . Beth was trying out a word we were all
pretty sure that she had coined: "technovelty." She was
referring to emerging technology that is neat in and of itself –
but not so much because it is necessary, or something that you
would even use on a regular basis. She was also telling us about
her Starbucks card, and how even though she had to put money onto
it every month, it didn't feel like real money. I think anyone with
a credit card knows about that phenomena. ;0) Of course, that
discussion sparked an idea that we saved for later…
eric soon came looking for us all, so we loaded
into the bus and took a ride to the Harbor Club for breakfast and
to listen to Doc Searls give
our keynote address. From our vantage point many floors up, we
could see Seattle across the water – beautiful!
phillip and Doc, both being authors, enjoyed a
mutual signing of their books.
Doc talked about digital identity. He also gave a
power-point presentation about Linux that involved quite a few toy
penguins; it had us all cracking up.
Then it was time to head back to hotel, and that concluded the
formal M�bius event.
Around 2:00, Steve and I decided we were hungry, so we headed
down to the hotel's lobby looking for food. While looking
for an open restaurant we ran into phillip, who was also nosing
around looking for a bite to eat. Chris Pirillo joined us in the
search and while in the hallway walking to what we hoped would be
an open restaurant, we ran into Doc Searls, Jeff, Joel, and
James Hromadka.
We managed to get the wait-staff to put a couple of tables
together for us, and then we were all able to pile in together for
lunch and plenty of talking. It wasn't long before Jason &
Ashley along with several more M�bius attendees
were seated in our section, followed by Beth and Eric. We were
pleasantly surprised when it was time to go, to find that Beth had
picked up everyone's tab.
At six everyone that was interested was loaded into yet another
bus, where we were transported to BurgerMaster.
What made this place so cool was that not only did the waiter take
our order on a WiFi enabled iPAQ, the restaurant was right down the
hill from the original Microsoft building. When asked, the manager
assured me that "Bill" still eats there on occasion – and that he
had in fact just been there a week or so ago.

Our waiter with his WiFi enabled
iPAQ
Steve and I both ordered a crab sandwich…two words: Rich
& Yummy!! Definitely worth trying!
Then we headed into Seattle looking for Gameworks.
While on the way, Joel mentioned that we ought to take up a
collection for Beth, to get her something nice for giving us such a
fun weekend. Ed Hardy and Joel headed the gift committee and made
plans for slipping away to get her a gift while everyone was else
was being entertained at the next stop. Steve and I happily made
our contribution to the pot.
We pulled up at Gameworks, which if you have never been to one,
I can only describe like this: Remember the arcades we all hung out
in, back in junior high? Admit it, you know you did! Well, this is
one on steroids! I don't know how many thousands of
square feet are in this place, but it was huge. There was even a
bar inside – more about that later…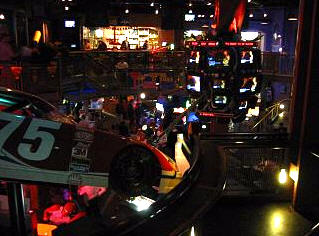 As we walked in, Beth handed all the M�bius
attendees a card with $25.00 credit on it – more than enough to
have a couple hours of fun! Steve and I played a few games, but
then decided we wanted to see a little bit of downtown Seattle, so
we ventured outside to see what we could see.
You should know right now that when people kid about there being
a Starbucks on every street corner in Seattle, it is no joke. Not
all of them were open, however it didn't take long to find one that
was. We both enjoyed a latte, then we headed back to Gameworks and
decided to play some of the classic games on the second floor. Yes
– that was me getting my butt kicked on the millipede machine! I
had not played that game since like, 1986!
As Steve was playing some three-screened Ferrari racing
simulator, phillip came over to tell us how Bill and Melinda Gates
had just made an appearance in the Gameworks bar, of all
places. I asked if he got Bill's autograph (hey – I think it would
have been cool to get one on my Pocket PC phone edition!), and he
was like "nooooooo….", so I guess I would have just embarrassed
everyone if I had been up there. I really think I would have
been nervy enough to ask him for it.
At ten, it was time to get on the bus. Ed and Joel
showed up with a little blue bag from Tiffany's for Beth! Evidently
enough money had been gathered to buy her not only a $100 Starbucks
card (ha!), but also a beautiful sterling silver full size stylus
from Tiffany's! Beth got a little teary as she thanked everyone,
and then made an announcement about how just in case any of us
weren't aware of it, she and phillip would be getting married later
this month. Congratulations you two!
Then we rode back to Bellevue on the bus, cussing the driver
because it seemed like he was all over the road!
Once we were back at the hotel, we took a group
shot. Almost everyone was in it – except for those that skipped out
on the "field-trip."
Sunday:
Steve was packed and ready to leave by 6:30, I however didn't
have to leave until 8:30 – so I got to amble down to the enjoy
coffee and scones with Jeff and Joel.
We all wound up riding to the airport together,
once again in a town car (another $60), so we had our driver take
our picture. After a fun ride, we parted ways at our respective
terminals.
After checking in, I was actually able to see Steve before he
got on his flight home. Then I grabbed my last Seattle Starbucks
latte and settled in for the wait.
While I was sitting at the airport waiting for my flight to be
called (and admiring my new Swiss Army carry-on I might add), I had
a moment to reflect on the week-end and what I had gotten out of it
– literally and figuratively. When I tallied up what Microsoft had
spent on me, it was (and still is) an impressive amount.
This would beg the question of what exactly Microsoft expected from
me in return. I feel like what I owe them is fairness in my
reporting. What I owe you, as Gadgeteer readers, is honesty
and full disclosure. I believe that I was able to accomplish
both with this article.
My flight home was blissfully uneventful, a perfect lull for the
week that was waiting for me once I returned to San Angelo…