We use affiliate links. If you buy something through the links on this page, we may earn a commission at no cost to you. Learn more.
Can you believe that I haven't purchased a DVD player yet? And I call myself
a Gadgeteer?! Yes, it's sad but true… I guess I can rationalize this by also
telling you that I subscribe to EVERY premium movie channel there is on DirecTV. So
see, I do
watch movies! I just never had the desire to buy a player. But of course, that
changed when I found the NextBase DVD unit from
Merconnet.com. It is small and portable,
a real Gadgeteer's dream! On with the specs:
Hardware Specs:
Dimensions (W x H x D): 8.25 x 6.25 x 1.5in (205 x 32 x 155mm)
Unit weight: 21.1 oz (0.6kg)
Disc physical format: 12cm/8cm
Dual laser optical pickup system for enhanced disc compatibility
Hi-resolution DVD/DVD-R/CD/S-VCD/vCD/CD-R/CD-RW multifunction player
Video system: NTSC/PAL
Video decompression: MPEG-2, MPEG-1, JPEG
Video output: Composite/s-video
Audio output: 2-channel stereo analog audio
Digital output: Optical
Multi-region
Power consumption: < 10W
What drew me to this player was its size. It is very portable and can easily
be packed along with you for trips. It's also great for people with small
entertainment areas as it doubles as a CD and MP3 player and doesn't take as much space as a set top box style
player would.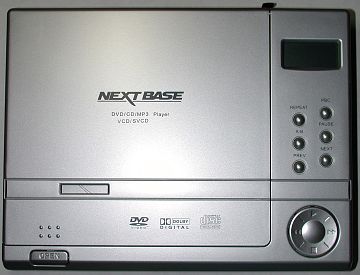 Setup is easy as it comes with a composite cable (Red, White, Yellow). You
can also use S-Video, but you will need to purchase your own cable. It would have been
nice to have RF and component (HDTV) outputs, but due to the size of the unit,
it is understandable that they weren't included. I used the
composite cable and hooked the NextBase directly into my
ReplayTV's Line1 input jacks. I was up and running with my very first DVD
(Harry Potter and the Sorcerer's Stone) in less than 5 minutes!
Onscreen menus are available to tweak your settings for your TV and audio
system. There are many settings that you can adjust, but I just went with all the
defaults and found the picture quality to be good (as good as my stone aged
Magnavox 27in could be). I let a friend borrow
the NextBase to try with his much nicer TV and he said the picture was great
using both composite and S-Video.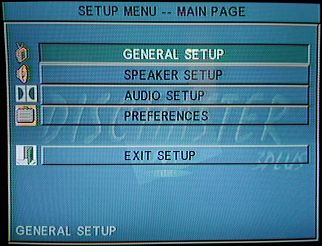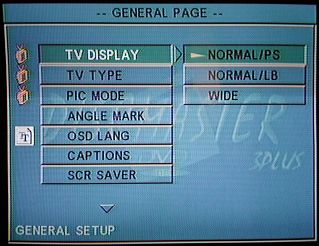 I didn't notice any problems at all while playing DVDs. Playback was smooth.
I noticed no pauses or skips.
Made entirely of silver plastic, the unit has a sturdy feel to it. The only
thing I noticed that could be improved is the cover which slides slightly back
and forth. I'm being super picky though as this isn't something that anyone
would probably notice. Speaking of the cover, when you press the OPEN button, it
lifts slowly instead of just flying open.
A small LCD on the top of the unit indicates if the disc playing is an MP3 or
VCD disc. There is also a volume control, earphone jack and a small On/Off switch
on the left side of the player.
Speaking of the On/Off switch, I noticed that if you leave the unit on for an
extended period of time, that it gets pretty warm to the touch. As such, it's
probably a pretty good idea to turn the unit off when it's not being used.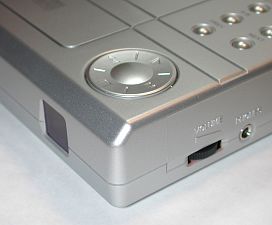 The NextBase comes with a remote (batteries are even included) that is simple
to use even for a first time DVD user. However, the
buttons are small and the layout is cramped which makes it difficult to use in the dark. The actual unit also has buttons that
perform all the main functions. So, isn't necessary take the remote with
you if you were taking this player along on a trip.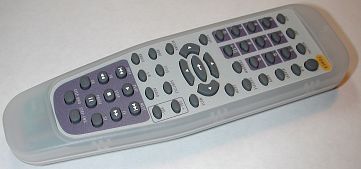 Besides playing DVDs, this unit can also play your regular audio CDs. You can
either listen to them thru your TV's speakers or thru headphones connected to
the earphone jack on the left side of the unit. Audio quality directly through
TV speakers isn't very good as you can imagine. My TV is hooked up to my home
stereo though, so the audio quality was very good. But thru headphones, the sound is
fantastic.
In addition to audio CDs, you can also listen to MP3 CDs thru this unit. I
burned a CD of 180 MP3 tunes, popped it in the NextBase, and away I went. When
you are playing MP3's on this device, the onscreen menu gives you a list of all
the files on the CD. The only problem is that it truncates the filenames and for
some reason, making it hard to find a specific song to play. There isn't a
search feature either. In addition to truncating the names, it also splits songs
into multiple parts in the file list. When the song plays, it plays straight
thru without pausing, but as you can see below, the songs are split. FYI: You
can play the fragments individually if you want…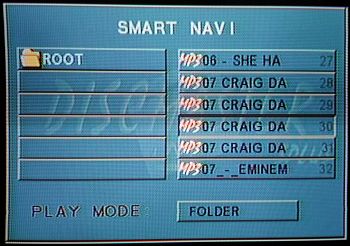 Although I copied all the songs to the root directory of the CD, you can make
folders during the CD burning process, which will show up in the menu. Shuffling
and random playback features are also supported.
Of course playing MP3s thru your TV won't give you that great of audio
quality, but it can make for a great 'jukebox' during a party where people are in
your living room instead of your computer room.
I think that the NextBase makes a great little DVD/CD/MP3 player.  It is
simple to setup and use, and has a great picture. It is ideal for someone with
limited space, or someone that likes to take a player with them when they
travel.
Now I'm hooked on DVDs and have joined a club in order to build a collection.
Hey, The Princess Bride is ready to start! Who wants popcorn?
Price: $159.00
Pros:
Very portable
Great picture
Doubles as an audio CD and MP3 CD player
Cons:
Cramped remote
Unit gets warm when left powered up
Product Information
Price:
159.0
Manufacturer:
Merconnet
Pros:

Very portable
Great picture
Doubles as an audio CD and MP3 CD player

Cons:

Cramped remote
Unit gets warm when left powered up