We use affiliate links. If you buy something through the links on this page, we may earn a commission at no cost to you. Learn more.
Product Requirements:
Device:
Any touch screen device
I haven't written a stylus review in quite awhile. Why? Mainly because I
haven't found one to spark my interest in a long time. It seems like most of the
new styli that I've seen advertised are huge 584 function pens that require you
to devote an entire backpack to carry them in! Totally NOT my style. I like the
smaller, more unusual styli like the

2 in 1 Comfort Grip Shorty, the

Platinum Pen Zepher Mini Trio, or the
Retro 1951
Tornado Stylus. The Shorty has a permanent spot right next to my keyboard at
home, and the Zepher has resided on my keyboard at work for over a year now.
Every month or so, I'll take a look at
StylusCentral to see what new items they may have posted since my last
visit. As soon as I saw the Acura Push Me Pull Me Duo, I knew I had to review
it. Now that I've had a chance to use the Acura, one of the two styli mentioned
above are definitely going to end
up in a drawer as eBay fodder.
The Acura multi-pen is made in the US, and available in Blue, Red, Green, Silver, Purple,
and Gunmetal.  It is made entirely of metal and has a nice matte powder
coat type finish that gives your fingers a good gripping surface.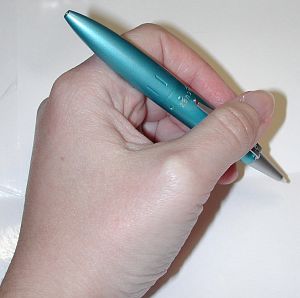 The shape this stylus is what attracted me to it most. It has this retro,
spacey thing going on that makes me think of a stylized spaceship from the 60's.
A strong pocket clip with circular cutouts helps to contribute to this effect.
Constructed of metal, the Acura has a really nice weight to it (1.1oz, 30g).
It has a nice balance and feels great in my hand for both writing and PDA work.
This is a two function pen. It has a black ballpoint writing tip on one end,
and a white nylon stylus tip on the other. The pen tip writes smoothly without
skips or ink blobs, and the stylus tip feels great on every PDA screen that I
have tried it with so far.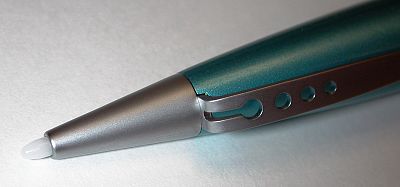 Only one tip can be exposed at a time. To extend the desired tip, you just
twist the barrel. Twisting it one direction causes the pen tip to extend, and
twisting it in the opposite direction causes the pen to retract, and the stylus
to extend on the other end and visa versa. This twisting action is very smooth
and makes absolutely no noise. The entire pen is very solid and doesn't rattle
at all when shaken.

The only problem with this design is the fact that both tips can NOT be
retracted at the same time. One tip is always exposed. That's really the only
thing I don't like about this stylus… If you want to protect the stylus tip,
you have to have the pen tip exposed… This makes carrying it your pocket
susceptible to ink marks. Carrying the pen with the stylus tip exposed can give
it greater risk for damage which might then translate to your screen. For those
reasons, in my opinion, this pen is better suited as a desk pen and not one that
you throw in a purse, pocket or backpack every day.
The Acura is available at Stylus
Central and other retailers.
Price: $19.99
Pros:
Compact
Unique look
Cons:
One tip always exposed