We use affiliate links. If you buy something through the links on this page, we may earn a commission at no cost to you. Learn more.
Product Requirements:
Device:
Windows 98SE, ME, 2000, XP
Macintosh OS 8.6-9.x, OS X
Mini USB file storage solutions such as the Q
Drive have been around for a while now. They allow a person to carry large
files with them in convenient plug and play USB modules. These devices have been
available in memory sizes anywhere from 8MB or so to as high as 256MB or more.
USB is all well and good, but what do you do if you want a faster product
that you can actually upgrade as needed?  The solution is to go FireWire
with the FireWire Keychain from WiebeTech.
Available in pre-configured capacities from 32MB to 1GB, this product is special
because you can also buy it without any memory at all. Why is that a good thing
you ask? Because the FireWire keychain accepts any IBM Microdrive or CompactFlash module.
You just remove the back plate and plug in the card!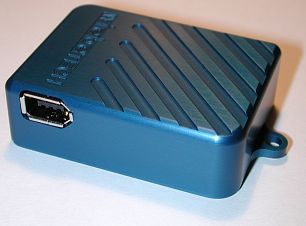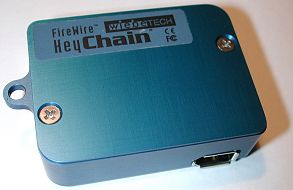 The module itself is made of a durable metal with an attractive blue finish.
It is a good size that can fit in almost any pocket and definitely any purse or
gear bag.
Size:
1.75 x 2.35 x .75in (45 x 60 x 19mm)
Weight:
2.4oz. (67g)
The FireWire keychain feels like a solid block of metal, but it is actually
just a shell that houses a circuit board and a full sized FireWire connector.
Two Philips screws on the back of the module can be removed to access the guts.
Doing so allows you to remove and / or replace the CF card contained inside.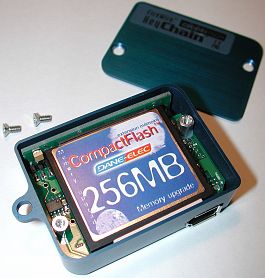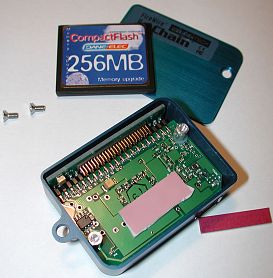 To use the keychain, you just plug it into a FireWire port on your PC, Mac,
notebook or Powerbook. I did run into a slight problem when trying to perform
this task though… the keychain did NOT come with a FireWire cable! I had to
actually run out and buy one… argh! As a result, I think it would be great if
WiebeTech would consider adding a really short pig tail cable to the keychain,
or at least include a really short cable in the package.
If you happen to be running Windows 98SE, ME, 2000, XP, Mac OS 8.6 – 9.x or
OS X, when plugged into a FireWire port, the keychain will mount just as if it
was another hard drive added to your system. When I first plugged it into my PC,
I didn't think it was recognized as I kept looking for it in the Removable
Storage section of the My Computer window. I'm used to CF cards showing up in this area
when using my CF card reader. I finally noticed that the keychain was showing up in
the Hard Drives section instead.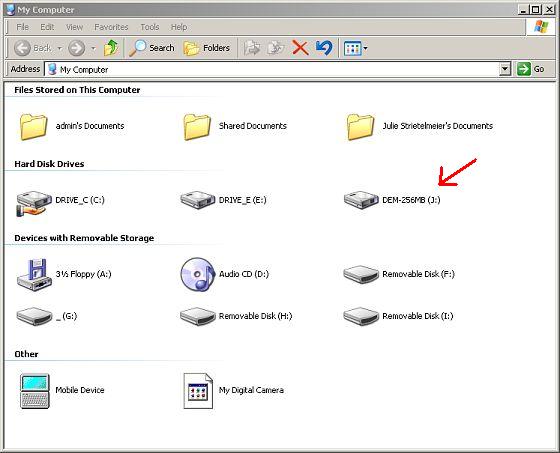 I should mention that the great advantage of this storage device is the fact
that it does not require batteries or an AC power adapter. It is bus powered in that
it gets the juice it needs from the host: your PC or notebook.
Moving files to and from the module works like any other hard drive on your
system. You can drag and drop files to your little heart's content. It works great!
Another plus for Mac OS X users is the fact that you can actually boot from this
device.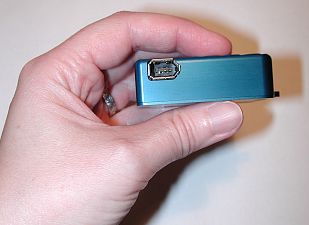 The FireWire Keychain is rated at a maximum transfer rate of 400Mbps and real
world read rates of up to 5MB per second. Of course, what review would be
complete without a few speed tests? Using my homebuilt 800mhz Athlon (yeah, I
know that I need to upgrade!) in which I had just installed an OrangeLink USB 2.0 / FireWire PCI
card, I preformed several transfers to and from my PC and the keychain using a
26.2MB .mov file. And then, as a comparison, I also did the same test with a CF
card. The file that I used was the Harry Potter II movie trailer in QuickTime
format. Here are the results:
18 seconds to transfer 26.2MB file from the PC to the keychain
9 seconds to transfer 26.2MB file from keychain to PC
52 seconds to transfer 26.2MB file from PC to CF card
29 seconds to transfer 26.2MB file from CF card to PC
As you can see, FireWire is quite a bit faster. The speed increase alone may
not excite you about this product, but the fact that it has no moving parts, and
can be upgraded to larger CF card sizes anytime you want, makes it way more
attractive to me than the USB solutions out there. CF storage is dirt cheap
right now, so if you need a really portable way to transfer files to and from computers that
are equipped with FireWire ports, this is the ONLY way to go!
Price:  32MB $69.95 64MB $79.95 128MB $99.95
256MB $179.95 1GB $359.95 EMPTY $56.95
Pros:
User upgradeable
Plug and Play with the most popular OS versions
Cons:
A FireWire cable was not included