We use affiliate links. If you buy something through the links on this page, we may earn a commission at no cost to you. Learn more.
Product Requirements:
Device:
Compaq iPAQ 3100, 3600, 3700 & 3800
Every now and then, I feel like PDA case-makers have fallen into a serious
rut. Everything starts looking the same, and except for the brand names – there
is little to no difference between the cases themselves. I mean, the fact of the
matter is that after you have described one manufacturer's style case for a
particular PDA, there isn't much to say about the various models that the same
manufacturer makes in the same line for all the other PDAs. When this happens, I
find myself almost dreading having to write "yet another case review."
Well, I have been sent a new
Vaja product that has delivered me from case-review-monotony-hell.
The Vaja I-Volution is the single most awesome case that I have
encountered in ages. Not only does it look and smell wonderful, it also does
exactly what it was made to do: protect the iPAQ's screen and edges without
adding a tremendous amount of bulk to the usually svelte iPAQ.
From the sumptuous reusable leather presentation box that it comes ensconced
within…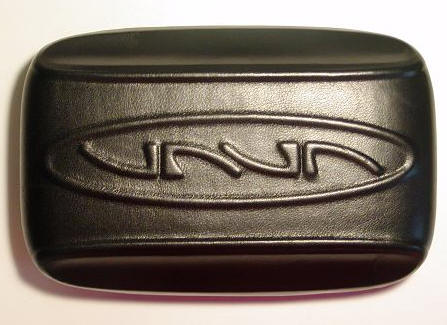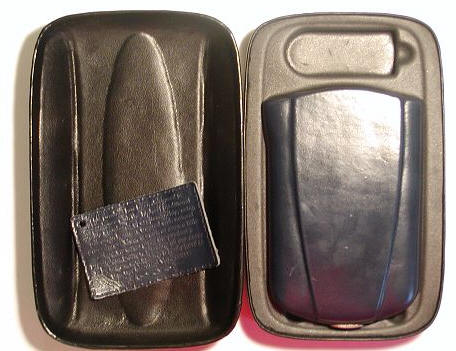 To the futuristic design of the case itself…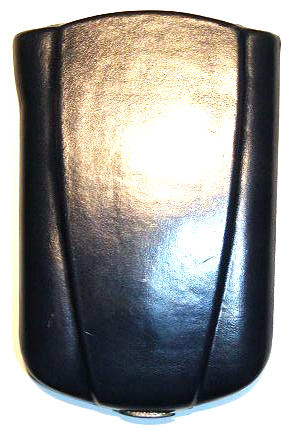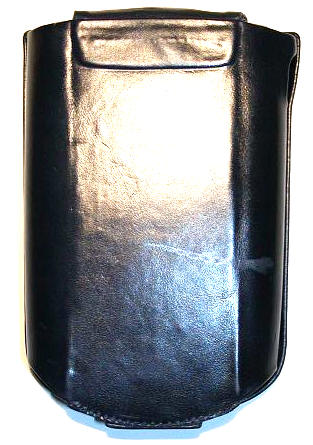 You will only have to hold this Vaja once to know that you are in the
presence of the new standard that other case-makers will be scrambling to
imitate. If it sounds like I am gushing, that is because I am – but
only because this case is worthy of my praise.
The design of the Morpheus is such that it allows access to
the stylus and headphone jack when closed. You will have to open the
flip-lid for access to the syncing/charging port, however.

Speaking of the
flip-lid, there is a very strong magnet in the tab which is attracted to the
metal in the base of the Morpheus. The lid is virtually impossible to
accidentally open, thus there is a special method for opening it: by placing
your thumb and forefinger on either side of the tab, you simply pull the tab
away from the bottom.

The discreet oval metal Vaja tag is the only branding on this case –
something many of you will appreciate.

 
As you can see in this picture, the Morpheus has an open
design that makes it ideal to accommodate the iPAQ in all of its
incarnations thus far.

This case is built in such a manner that the record button, while
accessible, is not easily pressed. This is good news for iPAQ owners!
Although it is not designed to hold any business or ID
cards, the triple ABS reinforced flip-lid does have two clever molded
inserts to hold MMC or SD cards.

Ok – In a perfect world, someone would
find a way to add the electronics to make at least one of these slots
hardwire into the iPAQ, creating an extra drive. Am I dreaming, or can this
be done? Maybe Whitney or
GM will come up with something.
;0)
As you can see, the Morpheus adds very little bulk and weight to the naked
iPAQ. For this chart, I used an iPAQ 3835 with an SD card inserted as well as a
metal stylus:
| | | | | |
| --- | --- | --- | --- | --- |
|   | Weight | Height | Width | Thickness |
| Naked iPAQ | 7 oz (199g) | 5.3" (13.4cm) | 3.1" (7/9cm) | 0.6"1.6cm) |
| iPAQ in I-Volution Morpheus | 9.6 oz (273g) | 5.5" (14cm) | 3.5" (9cm) | 1.1" (2.9cm) |
This page
gives you a little more information about the new I-Volution line.
As you can see by the chart below, the Morpheus is available in a large
assortment of colors, and all cases can come wither with or without a belt-clip.
Be advised that some of these leather and color choices come at an additional
cost.



Apache Cognac



Beige Floater



Black Floater



Blue
Floater



Brown Floater



Caterina Black



Earth Green Apache



Green Floater 



Orange Floater



Red
Floater



Vitelino Chocolate



Vitelino Passion 
The Morpheus is designed for the naked iPAQ; so if you are one that uses a
sleeve regularly, this case will most likely not appeal to you. But if the basic
iPAQ is all you need for your day to day dealings, then this case might be
exactly what you have been looking for.
Even though I have been carrying the Toshiba as my Pocket PC Daily Driver,
this case was almost enough to make me see my 3835 in a new light. It's
amazing when any accessory, much less a case, can do that.
Price: $149.90, add an additional $4 for the ultra
belt clip

Pros:

Futuristic design that makes this hard leather case stand out from the
others available
Triple reinforced screen protection without much added bulk
Secure magnetic flip-lid – won't accidentally open
Slots for two SD or MMC cards
Exceptional quality and craftsmanship – truly raises the standard for future
case manufacturers to try to imitate
Cons:

Expensive
Can not hold business or ID cards
Only available for naked iPAQ
Product Information
Price:
149.9
Manufacturer:
Vaja
Pros:

Futuristic design that makes this hard leather case stand out from the
others available
Triple reinforced screen protection without much added bulk
Secure magnetic flip-lid - won't accidentally open
Slots for two SD or MMC cards
Exceptional quality and craftsmanship - truly raises the standard for future
case manufacturers to try to imitate

Cons:

Expensive
Can not hold business or ID cards
Only available for naked iPAQ