We use affiliate links. If you buy something through the links on this page, we may earn a commission at no cost to you. Learn more.
Product Requirements:
Devices:
Cases are made to specifically fit the following
PDAs: iPAQ 3100/3600/3700/3800 series, Palm m500 and V series, Palm III/IIIc
series, Casio E-125, Visor Edge and Visor Deluxe
If you spend more time in the great outdoors than you do behind an office
desk – yet you still need to have access to your PDA, then you have entered into
an area that calls for specialized equipment.
For some, a non-padded product like the Aquapak
that I reviewed last year might do the trick. Then there are those that work in
environments that are so extreme that adjectives such as crushproof,
water-resistant, airtight, and shock resistant are necessary when describing
their perfect PDA case. I am not talking about those of you that every once in a
while will go where it's dirty or rainy – I am talking about those of you that
are boat captains, ranchers, dock workers, rock climbers, etc. etc…
Up until now, such a PDA user's options were slim; but with the introduction
of the Otterbox Heavy
Armor 2000 Dry Box PDA Case, that is no longer the situation. There are
Otterboxes for the iPAQ 3100/3600/3700/3800 series, Palm m500 and V series, Palm
III/IIIc series, Casio E-125, Visor Edge and the Visor Deluxe. I was presented
with a box specifically for the iPAQ. I was pleasantly surprised to find that it
was a gorgeous shade of green – massive points for Otterbox! With a little bit
of lining up, I was able to get the iPAQ's buttons to fit in the Otterbox's
screen cover's button forms.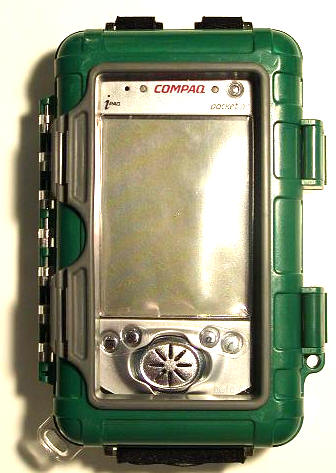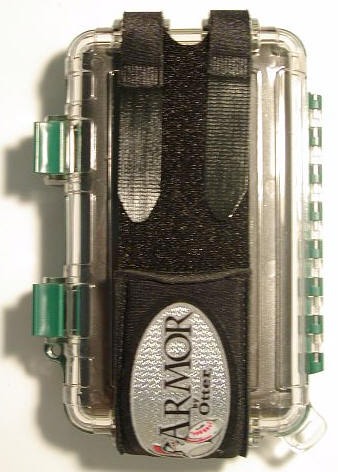 The Armor by Otterbox is made of ABS plastic and polycarbonate that has been
reinforced with fiberglass. A plastic piano hinge with a metal rod runs down the
left side of the case, and on the right are two heavy-duty plastic clamps.
The back of the case has a removable and adjustable neoprene and Velcro hand
strap. You can even use this strap with gloves on, it is that adjustable. For my
use, gloves aren't necessary – but I like the sense of security that the wide
strap provides me with.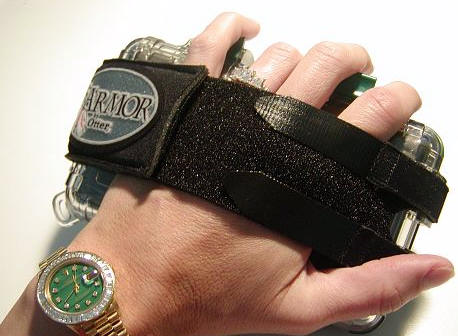 It's not necessary to remove your PDA from the case when you
are ready to write something on its screen, because of the recessed plastic
screen cover that allows you to write directly to your PDA's touch-screen.
While this method works, you do (of course) lose some of your touch-screen's
sensitivity. However, if you need to use your PDA in a gale-force hurricane,
you should expect to trade something for that privilege.

From what I can tell, the depressions in the screen cover may be what
determines which PDA will fit in each case. This is fine for the larger
PDAs, but I wonder about the additional bulk this will add to a smaller PDA,
such as a Palm m500.
The screen cover looks like it might be replaceable as it is not permanently
attached to the case. In these pictures, you can see that it is held in place
with a replaceable silicon and Buna gasket that fits into its molded edge –
locking it into the lid's molded gasket.
Even though Otterbox calls the case waterproof, you are not supposed to
actually use it underwater. In my book, that makes the Otterbox
water-resistant not waterproof – which is still a good thing – just
not the same thing.
In any case, we'll see just how water resistant the Otterbox is in just a
little bit…
If you are wondering how you are supposed to write on the
screen when your stylus is locked inside the Otterbox with your PDA, there
is an integrated rubber stylus holder on the outside. Personally, I didn't
like keeping a stylus there as it seemed rather easy to knock off.

Instead, I used a pocketable multi-pen. The option is there for you if you
would like to use it, though.

 
The Otterbox is quite a bit bigger than the naked iPAQ. In fact, you will
need to use the blank sleeve, a silver slider, or a CF sleeve in order to keep
your iPAQ from sliding around in the case. I would actually recommend adding a
little bit of padding to the top and bottom area, too. By the way, a PCMCIA
sleeve makes the iPAQ too large, and the Otterbox will not close with one
inside. Obviously the dual PCMCIA sleeve will not work, either.
Although there is a clear spot in the general vicinity of
the Infrared port, it doesn't really line up well enough with the iPAQ to be
useful, so that was another reason I went ahead and added the padding.
For this review, I used the CF sleeve and surrounded the
iPAQ with cotton balls…
As you can imagine, the Otterbox will add quite a bit of bulk to your PDA.
Here are the measurements for this case:
 
Height
Width
Thickness
Weight
Naked iPAQ
5.1" (13cm)
3.1" (7.9cm)
0.6" (1.6cm)
6.4 oz (183g)
iPAQ in Otterbox Heavy Armor
(with necessary CF Sleeve)
6.8" (17.1cm)
4.6" (11.7cm)
1.8" (4.6cm)
1.2 lb. (509g)
Okay – that was your overview of the case – now let's see if the Otterbox
Armor can actually live up to some of its claims!
Crushproof
As of this morning, I weighed 140. I placed my iPAQ 3670
inside the Otterbox, and as you can see in this photo I stood on the case.
What you can't see is that I rocked back and forth.
My iPAQ survived the ordeal unscathed, so that gives you an idea of how tough
this sucker is.
Water Resistant
I placed my iPAQ in the Otterbox, and put it under the
faucet in my kitchen with the water on full blast…
Once again, my iPAQ lived to tell about the experience!
Airtight
See above…
Floats
| | |
| --- | --- |
| Yep, your PDA will float in this case… | |
After all of the water abuse I dealt it, my iPAQ remained bone dry. YAY! :0D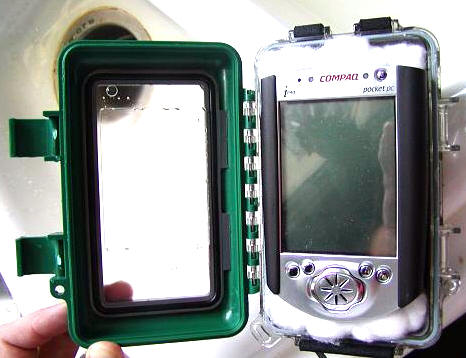 Shock Resistant
I dropped my iPAQ from a height of 5 feet…I guess the neoprene liner in the
back of the case really was enough to protect it from blowing up.

Outdoor Use
As evidenced by the Otterbox's water resistance, there
should be no problem keeping out dirt, water, humidity, or snow.  If you
are really planning on going out into a hurricane with your PDA, and you are
feeling a bit paranoid, you can even attach a tether or lanyard to the Otterbox
through the provided holes.
Do I recommend this case for the average weekend warrior? Certainly not!
Other than the obvious difficulties of writing through a sheet of plastic, and
the fact that the case seems to be a bit too big to perfectly fit the PDA it is
designed for, this case is simply so hefty that you wouldn't want to carry it –
unless you really needed it. But, if you really need it, the Otterbox can not be
beat!
You can order the Otterbox
Heavy Armor 2000 Dry Box PDA Case directly from the manufacturer, or from
other retailers.


Price: $49.95
Available to fit the following specific PDAs: iPAQ 3100/3600/3700/3800 series,
Palm m500 and V series, Palm III/IIIc series, Casio E-125, Visor Edge and Visor
Deluxe
Comes with a
Lifetime Guarantee – "Otter Box will replace the case for any reason at anytime
if the product fails."
Available in Midnight Black, Fluorescent Yellow, Forest Green and Sky Blue.
Pros:

Ultimate protection for your PDA

Cons:

Case is too big for PDA, may wish to add insulation to keep it from moving
Infrared port cutout in case does not line up with PDA's Infrared port
Must use a sleeve with case, but PCMCIA sleeve is too big
Product Information
Price:
49.95
Manufacturer:
OtterBox
Pros:

Ultimate protection for your PDA

Cons:

Case is too big for PDA, may wish to add insulation to keep it from moving
Infrared port cutout in case does not line up with PDA's Infrared port
Must use a sleeve with case, but PCMCIA sleeve is too big