We use affiliate links. If you buy something through the links on this page, we may earn a commission at no cost to you. Learn more.
Product Requirements:
Device:
Casio E-200, HP 560 series, and the Clie 700c series
For the longest time, I have associated a particular style of PDA case with
the products offered by Vaja, one of the premier leather PDA case makers in
business today. When another company would come along and use what was essentially the
same style as a Vaja case, meaning a custom fitting holster with a padded protective flip lid that
snapped shut, I would have an almost knee-jerk reaction, thinking "Vaja
imitation."
Well, the time has come for me to re-think my position.
Piel Frama, a company based in
Spain, is
manufacturing a product that is easily of the same caliber as the classic
Argentinean Vaja cases that we have all grown accustomed to seeing.  I
would have to say that their cases might have even surpassed their Vaja
counterparts, in some aspects.
The three cases I am taking a look at today are essentially the same in all
areas, except the devices that they were manufactured to fit. Therefore, we'll
first focus on the construction of each case, then we can touch upon the specific
models' features.
All models are available in three different color combinations: black on
black, tan on tan, and black on tan. I received a solid black E-200 case, a
solid tan Clie 700c series case, and a black on tan HP 560 series case.
Other than the contrasting stitching on the front flap of
the two-toned HP 560 case, there are no decorations, labels, or other
obvious branding ploys used anywhere on these Piel Frama.
What sets them apart and makes them look like the pricey cases that they are,
is the obvious meticulous care that went into their manufacture and the
sumptuous leathers they are made of. All of the Piel
Frama stitching is perfect, the cutouts are exact, and these cases fit their
respective PDAs like a glove. The leather is soft, small-grained, and extremely
dressy – more so than the "all-weather leather look" of the classic Vaja
cases. The only thing missing is a really strong leather smell, like the Vajas
are known for.
Like the Vaja cases, the Piel Frama utilizes a top-loading holster design. When
the case is snapped closed, a padded, plastic insert reinforced, flip-cover protects the
PDA's screen. The snapping tab closure system protects the otherwise exposed
bottom opening for the sync port.
These cases are quite padded, both on their front and back sides, so you will
not be able to use the PDA's cradle for syncing and/or charging.  This is
something that many will see as a con, so I am listing it as such, however this
is a non-issue for me personally.
When the Piel Frama case is opened, you have easy access to all of the items
located on the top of the PDA, through the top-loading slot.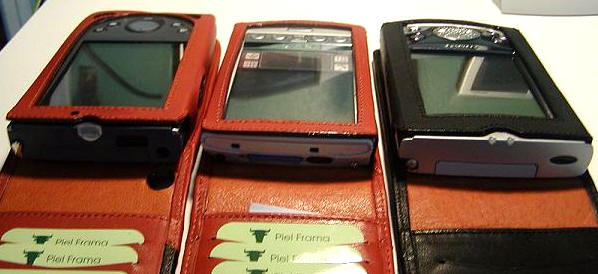 There are three ID or credit card slots in the flip-lid, as well as a deep
pocket behind this section.
Like Vaja, Piel Frama reinforces their custom-cut PDA
holster with fabric to keep it from stretching or distorting.
The cutouts for each PDA's screen and button area are exactly like I prefer
them – completely open with no "leather bars" crossing over and cluttering up
the user area. I found that using the buttons and accessing the screen for each
PDA was effortless and non-frustrating.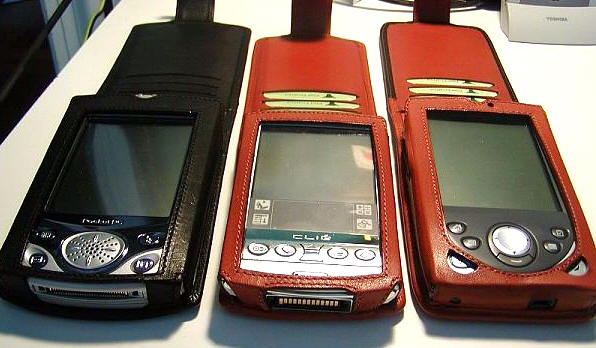 Piel Frama cases also feature cutouts for all of the buttons, sliders,
head-phone jacks, and jog-dials that appear on their respective PDA's sides. For
the HP, there is a circular cutout in the flip-lid to accept a headphone jack.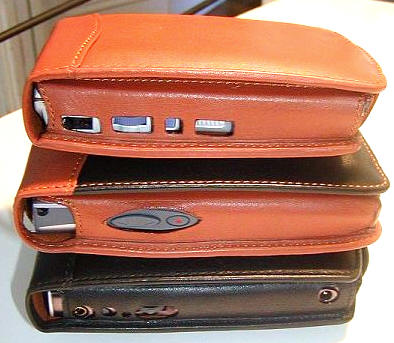 The bottom of each case has cutouts for any charging or syncing ports; so if
you have the correct cables you will not need to remove your PDA to accomplish
these deeds.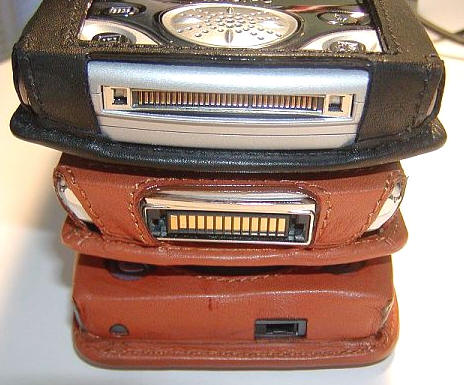 Like I mentioned previously in this review, the Piel Frama cases are quite
padded. As such, you can expect them to add some bulk to the size of the naked
PDA, but the bulk added is neither unwieldy nor is it ugly. Simply put, your PDA
will look great in a Piel Frama case.
I believe that there is enough padding that PDAs should be protected during
short distance falls (up to four feet, or so), but I wouldn't consider it padded
enough to protect anything while playing "toss the PDA."
Here are some comparisons so you can better see the size differences I am
referring to…
 
Height
Width
Thickness
Weight

(No styli, SD or CF cards)
Naked E-200
5.15" (13.1cm)
3.2" (8.2cm)
0.7" (1.8cm)
6.5oz (184.3g)
E-200 in Piel Frama Case
5.5" (14cm)
3.5" (8.9cm)
1.5" (3.8cm)
8.8oz (251g)
Naked HP 565
5.20" (13.2cm)
3.01" (7.65cm)
0.68" (1.7cm)
6.1 (174g)
HP 565 in Piel Frama Case
5.6" (14.3cm)
3.3" (8.4cm)
1.5" (3.8cm)
8.5oz (244g)
Naked Clie N710c
4.7" (11.9cm)
2.8" (7.1cm)
0.66" (1.7cm)
5.4oz (155g)
Clie N710c in Piel Frama
Case
5.1" (12.9cm)
3.1" (7.8cm)
1.5" (3.8cm)
7.7oz (219g)
The belt-clip on these cases opens and closes with a pinch,
and there is a plastic plunger system to release the locked plastic "button"
that is unobtrusively located on the back of the case.
All things considered, I think that the Piel Frama cases are beautiful, made
extremely well, and protective enough that even the pickiest PDA accessory hound
should be quite happy with them.
Price: $60
Available in black, tan and a combination of the two colors
Pros:

Extremely well designed and fabricated
Very protective and padded
Belt clip "nub" is not to obtrusive
Cons:

Expensive
Can not sync PDA while in the case
Product Information
Price:
60.0
Manufacturer:
Piel Frama
Pros:

Extremely well designed and fabricated
Very protective and padded
Belt clip "nub" is not to obtrusive

Cons:

Expensive
Can not sync PDA while in the case