We use affiliate links. If you buy something through the links on this page, we may earn a commission at no cost to you. Learn more.
Product Requirements:
Device:
Almost every touch-screen PDA known to man
Early in 2001, I wrote a none-too-flattering review about my first encounter
with the
screen
protectors offered by John at
PDAScreenProtectors.com. This was my first time to use a protector that
didn't utilize screen adhesives, and while I was open to the new method, I
wasn't thrilled about the fit of the product. What set this experience apart
from others was the fact that John actually listened to what I had to say, and
he took my comments as constructive criticism.
It wasn't long before I was able to update my original review with the 
improvements that John had made to his protectors. Shortly after the first
update, he provided me with a further improved product. It was this type of
tenacity and willingness to "get it right" that won me over, and made me
proclaim to the world that his method and product was now my favorite. That was
in June.
When I attended Möbius
in September, I brought a supply of John's SPs (as I had started calling them)
with me, because Julie wanted to give them a try. First of all, you have to
realize that she usually doesn't use a screen protector in any shape or form on
her PDAs. Some of her reasons (complaints, really) involve the fact that screen
protectors in general are hard to see through, they have bubbles, or they
scratch too easily. The unspoken complaint is of course that they are a pain
to install.
John's protectors definitely were easy to see through, and because they
didn't stick to the screen there were no bubbles to speak of. Since I installed
the protector for her (and a couple of the other attendees that were sitting in
the hotel lobby with us), ease-of-installation was not a factor for her.
Unfortunately, the fact that John's protectors did show scratches easily
was a problem, and Julie ended up removing hers after a couple of days.
I have to admit that the scratches never really bothered me, because I only
saw them when my PDA was turned off. Once turned on, the scratches were
unnoticeable. When the scratches did become noticeable, I had no problem
justifying the installation of a new protector, because they were so
economically priced.
It was around this time that John wrote telling me that he was developing a
new product – one that would be as clear as possible, yet near impossible
to scratch through daily usage. Well, of course I wanted to try something like
that!
The first protectors that he sent me were a little milkier than I would have
liked – but amazingly enough, I was able to use the same protector on my
PDA for almost three months! I was even able to transfer it from one PDA to
another when I switched to a newer iPAQ. In fact it is still on one of my iPAQs,
because I transferred it to a third iPAQ after John sent me the final Generation
II, or G2 as he calls them, screen protector samples. That screen protector is
still going strong!
John is very excited about this final version of the G2, and after using one
for a few weeks, I feel that he is entirely justified. This new product is just
about as transparent as the original product he offered was, yet
it is virtually impossible to scratch the G2 through normal usage. What do I
consider normal usage? When people write on their PDA's screen without
digging out a rut with the stylus – so I would imagine that 98% of the PDA
owning population should qualify as "normal".
The G2 is a little bit thicker than John's regular product, and it has a
slightly concave, or bowl-like appearance when it is laying on a flat surface.
This is handy for you, as the applier, because the  "bottom of the bowl" is
the side that needs to be positioned next to your PDA's screen. The concave side
or the "inside of the bowl" if you will, has a special coating that makes it
scratch resistant. John actually wrote, "This stuff is amazing – if you want
to see how scratch resistant it is, rub a little bit of steel wool in different
areas on each side, and you will quickly see which side is which." I decided
to just take his word for it…

The G2s are cut to fit specific PDAs, so it is important that you let John
know what you have when you are ordering.
The only downside that I have seen to these protectors – and believe me, this
is me being nit-picky, is the fact that if you are not in an almost lint
free area when you apply your G2, you will inevitably get some underneath your
protector. This may not bother the average person, but I am just anal enough
that it makes me slightly buggy.  It is absolutely imperative that you clean
the screen with a lint free cloth, in an area as free from dust as possible.
John includes a blue lint-free wipe to accomplish this, or you can use a camera
lens-cloth like I do.
John did have a suggestion on how it would be possible to create one's own
"clean room": "FYI – Dust is still a problem – I actually installed mine in
the bathroom as there is no upholstery or other dust-breeding things, plus I
turned on the hot water until I started to get a frosty mirror – but not to the
point of being a steam room. This really cuts down the dryness we have up here,
which reduces static. This made a difference for my installation."
If you are up to trying his method, then you too could have a virtually
dust-free installation. I obviously need to try it his way, because as
you can see in the picture below, the screen protector is so clear that the few
small bits of lint that I do have show up noticeably when you are really looking
for them. Rest assured though, that the lint is on top of my Cassiopeia's
screen, not under it! ;0)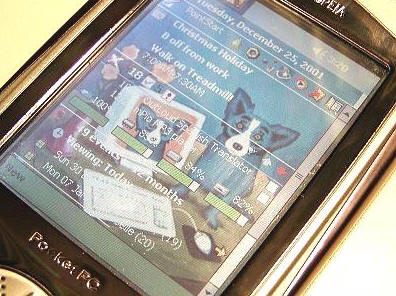 I will be bringing a supply of the G2s with me to Las Vegas in January, when
I meet Julie there for CES. Unless I
totally miss my guess, I believe that she will be as impressed with the G2 as I
have been. Since there is virtually no way to scratch them, I bet that if she
will leave the protector on it should last at least until the next time I see
her –  in May when we will take a joint vacation to Mexico with our
immediate families!
If you are looking for an economical, clear, and bubble-free
screen protector for your PDA investment, you need to check out the G2! For
those that are wondering, yes, these are my favorite screen
protectors. ☺
Price: $8.95 for one, discounts apply for
quantities starting with two
Pros:

One protector lasts a l-o-n-g time
Extremely clear – no "milkyness"
Does not show scratches under normal usage
Easy to apply
Does not stick to PDA's screen, and leaves no residue

Cons:

Must be super careful of trapping dust or lint under G2 when applying –
they are that clear
Product Information
Price:
8.95
Manufacturer:
PDA Screen Protectors
Pros:

One protector lasts a l-o-n-g time
Extremely clear - no "milkyness"
Does not show scratches under normal usage
Easy to apply
Does not stick to PDA's screen, and leaves no residue

Cons:

Must be super careful of trapping dust or lint under G2 when applying -
they are that clear