We use affiliate links. If you buy something through the links on this page, we may earn a commission at no cost to you. Learn more.
Product Requirements:
Device:
Palm m505, m500 and Palm V/Vx
Kensington, the company long known for their PC and Mobile computing accessories, has
recently come out with a line of PDA hard cases. Named the PDA Protector, 
these cases are available for the Handspring Visor, Visor Deluxe, Visor Platinum and for the Palm m505, m500 and Palm V/Vx PDAs.  I will be reviewing the
Palm V/m500 series version of this case.
The PDA Protector for the Palm is an aluminum case that is available in two
color styles: Platinum/Silver or Blue-Ice/Silver. I was sent the
Platinum/Silver.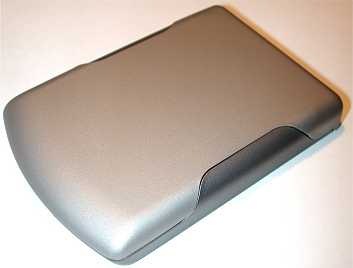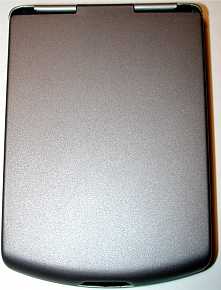 There are two features that set this hard case apart from other similar
cases. One is the fact that instead of opening like a book from right to left,
this case opens from bottom to top. The other difference is that the cover is
held closed with a magnet instead of a clasp of some type.
The PDA Protector is the first 'soft' hard case that I've used. By soft, I am
referring to the fact that the aluminum shell is covered in a thin coating of
what I'm guessing is rubber. It gives the case a smooth feel while not being
slippery or hard to hold on to. I also like the fact that the case doesn't show
fingerprints, and appears to be resistant to scratching.
Like I mentioned above, this is the first hard case that I've seen that
doesn't open right to left. Instead, the cover swings up and out of the way.
Holding the case is comfortable and is great for lefties like myself. I never
really liked using my PDA with other book style hard cases because they weren't
all that comfortable to hold and the cover would get in the way while trying to
use it.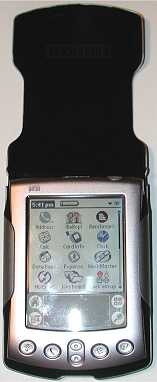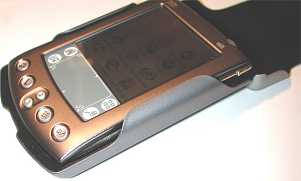 The inside of the Kensington is lined with a black velour type material that
doesn't offer much in the way of padding. However, it does protect your PDA from
scratches. Luckily, Velcro is not necessary to hold the PDA in the case.
Instead, two wrap around arms on the bottom half of the case grip the PDA and
hold it in place.  I tested the PDA Protector with my Palm V and Palm m505,
and both fit perfectly. Once inserted, neither PDA would not come out
accidentally.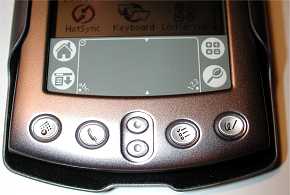 While in the case, you can easily use your PDA without removing it. Access to the
application buttons and scroll buttons is totally open which is a big plus if
you like to play games that utilize these buttons. There is also ample access to
both stylus silos and you can still beam information to another Palm PDA while
the cover is open. That said, there are a few things that you can't do while
your PDA is in this case. Syncing with a cradle or cable is out of the question,
as is accessing the reset switch and changing SD cards. You'll need to remove
the PDA from the case for those operations.
Instead of using a press fit latch, the cover is held closed with a magnet.
Although I'm not sure if the cover would stay closed after dropping the case to
a  hard surface, I found that turning the case upside down and shaking it,
didn't result in the cover coming open on its own.
The aluminum shell has a solid feel to it and doesn't flex when you squeeze
it. When closed, the case has a nice esthetically pleasing streamlined form. The
cover fits between the arms on the bottom of the case which makes it look like
an interlocking puzzle.
As far as size and weight are concerned, this case will add a little of both
to your svelte Palm V or m500 series PDA. Here is how the PDA protector compares
to two other similar hard cases (that are compatible with both the Palm V and
m500 series) that we've reviewed in the past:
* Weights measured with Palm m505
The PDA Protector also comes with the StuffBak Lost and Found Service.
If you lose your PDA, the person that finds it can have it returned to you.
Here's how it works: A sticker is included with the case, that you can put on
your PDA. This sticker has a website address and phone number. You then register
your device on the StuffBak site. This is a free service until you lose your PDA
and it is found and reported to the StuffBak site. Then you only play a $14.95
handling fee, plus the cost of shipping to have it sent back to you. I think
this is a nifty service, considering that you only pay for it when it actually
is needed.
Over all, I think this is a nice inexpensive hard case for your PDA. It looks
good, feels good in your hand, and will protect your Palm from everyday bumps
and bruises.
The Kensington PDA Protector hard case is available from
Stylus Central and other fine
retailers.
Price: $29.99
Pros:
Cover swings up and out of the way
Great access to application buttons
Cons:
Must remove from case to sync with cradle or cable, reset or change SD cards
Product Information
Price:
29.99
Manufacturer:
Kensington
Pros:

Cover swings up and out of the way
Great access to application buttons

Cons:

Must remove from case to sync with cradle or cable, reset or change SD cards