We use affiliate links. If you buy something through the links on this page, we may earn a commission at no cost to you. Learn more.
Product Requirements:
Device:

Palm m500/ m505, Palm III / IIIc / IIIxe series, Palm V / Vx
series and IBM WorkPad 3c, Palm m100 / m105, Sony CLIE series, Handspring Visor
/ Deluxe, Handspring Platinum / Prism,  HP Jornada 54X series
UPDATED 10/20/01: Okay folks, I have to make a
change to this review…I received the PRO version, which is not
the same as the regular version (which I did not receive). I wrote this
review under the impression that they were the regular version, which I now
stand corrected on. The only difference between what I had to say about this
product, and what I now have to say concerns…you guessed it: price and
quantity. I will update this review in red to reflect the values that have
changed. If the new price seems too high to you, you might check out the ec Film
non-Pro version…
Are you still looking for a screen protector that you can call your own? Are
you discouraged by the insanely high prices some companies are charging for a
screen protector that wears out in less than a month, if you can even get
it applied correctly the first time? If this sounds like you, then the
ec FilmPro
PDA Screen Protector may be just what you have been looking for.
This screen protector is very similar to the
Brando version I recently
reviewed. They are stiffer than the average "stick-on" protection, and they use
a mild adhesive that is not supposed to leave anything tacky on your PDA's
screen when they are removed.
According to PDA Surplus, ec film's Hong Kong distributor, these protectors
are easy to apply, repositionable, washable, and each protector should last a
minimum of 6 months. These protectors come one to a bag, and you'll get
5 bags to an order. This
works out to be a 30 month supply at $1.50 a month.
Sounds pretty good, right? Well, I decided give them the "old college try,"
and here's what I found…
I received the Palm V/Vx version. Since I don't own that particular Palm, I
held the protector up to the screen of my m505. The size seemed to be just about
right, so I decided to go ahead with my application.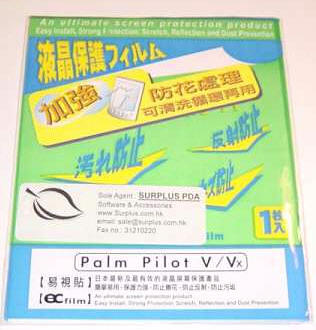 I started by giving my screen a thorough cleaning. I used the Companion Link
PDA Screen Cleaner, and then I
was ready to apply the protector.
The ec film protectors have a thin layer of plastic covering their sticky
side. You simply peel this off, and lay the protector's sticky bottom surface on
your PDA's screen. No credit card/squeegee is necessary, and if you get a bubble
it is extremely easy to peel the protector right back up, and then lay it down
again. I found a lone bubble when I first applied the protector, and I was able
to easily remedy the situation by using this method.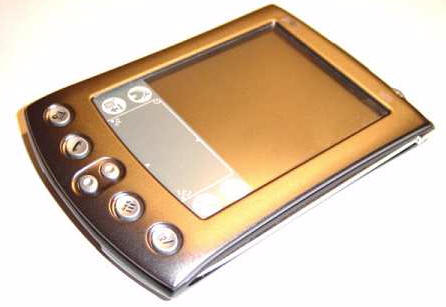 Once installed, the protectors have a slightly matte surface. I realize that
I was applying a grey-scale device's protector to a color device, but I didn't
notice any distortion or massive dulling of the Palm's color.
I have done quite a bit of writing on the protector since I installed it over
a week ago, and I have yet to see a single scratch on its surface. I realize
that a week is nowhere near six months, but based on what I have seen, I am
willing to bet that these screen protectors actually last that long.
The ec film PDA Screen Protectors are a good value for the money, and as such
I can definitely recommend them.
Price:  $45 for
5
Pros:
Long Lasting
Reasonably priced, breaks down to $1.50 a month
Easy to apply
Cons:

None