We use affiliate links. If you buy something through the links on this page, we may earn a commission at no cost to you. Learn more.
Product Requirements:
Device:
Sony Clie N710c & N760c
I am trying to figure out what is going on at
Vaja
these days…
While it is normal for a PDA case company to add new models as the various
new PDAs hit the shelves; Vaja has taken this a step further. It's as if the
company is experiencing a creative explosion.
My first clue was when the special edition iPAQ cases appeared earlier this
year. While it's true that these cases were basically made of the same materials
and in the same styles as the original, classic Vaja cases, it was their
colors that led me to believe that Vaja was attempting to do something about
PDA case boredom. With tints such as purple and cherry, cases were
finally available that wouldn't cramp your style if you weren't the black,
brown, or tan type.
Then came Vaja's line of custom iPAQ
cases. Sure, some of the available leather styles remained the same, but the
majority of the materials were new, vivid, and different. Therefore, I guess it
was only a matter of time before their stitching became something other than
just a means to hold pieces of leather together.
We got a glimpse of what was coming, when Julie reviewed Vaja's
Palm m500 series cases. Suddenly, the
case-makers at Vaja were using contrasting stitching to accent the curves of
their cases and the PDAs they contained. With the addition of this stitching, a
"plain brown case" can no longer be viewed as such.
Naturally, when I saw that there were cases featuring this stitching
available for my Sony Clie N710c, I wanted to give one a try.



Solid
Tan



Cherry & Black



Solid Black
I received their  Solid Tan

#721 Clie Case and I have to say, I am very impressed. This case is
also available in Cherry and Black, and Solid Black aniline leather. As you can
see, there is off-white contrasting stitching around all the edges of the case,
as well as on either side of the leather pieces that make up the hourglass shape
in the middle of the flip-lid.
This case is a belt-clip model, and it comes with the standard removable Vaja
plastic clip. There is a metal button on the rear of the case that sticks out by
approximately 0.25" that attaches to the clip.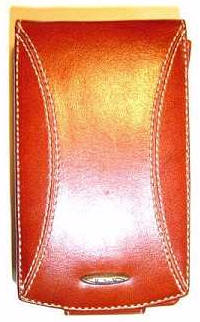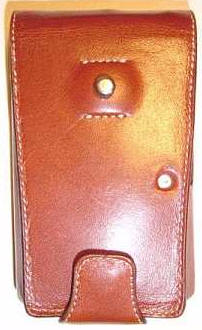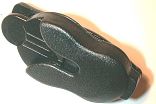 The leather is a very smooth, extremely small-grained aniline. You can expect
this case to show scratches easily, but in no way does that detract from the
looks of this Vaja. On the bottom front of the flip-lid, is the little
"road-bump" logo plate that Vaja is using now. I like this metal badge, as it
adds very subtle name recognition without being too flashy.
I was happy to see a perfectly centered reset hole on the back of the case.
It seems like it should be a given, but there are plenty of play-through cases
on the market that require PDA removal before a reset can be performed.
Here are this Vaja case's vital statistics:
| | | | | |
| --- | --- | --- | --- | --- |
|   | Weight | Height | Width | Thickness |
| Naked Clie n710c | 5.5oz (157g) | 4.7" (11.8cm) | 2.8" (7.1cm) | 0.65" (1.7cm) |
| Clie in Vaja #721 Case | 7.5oz (213g) | 4.9" (12.5cm) | 2.9" (7.3cm) | 1.2" (2.9cm) |
Without going to the added expense of ordering this Vaja as a

custom design (prices start at $85), or as a

Special Edition (prices start at $75.90), you are slightly limited in your
available options; but since this case comes with with
the snap-closure system, and the Memory Stick slots, you will have essentially
everything you might need. You won't have the option of getting a thinner, less
padded flip-lid, but I guess it all balances out.
The inside of this Vaja is just as impressive as the outside. The flip-lid is
reinforced with an ABS plastic insert, and is covered in more of the aniline
leather. Instead of pockets for ID or credit cards, there are three Memory Stick
slots. If you know even a little bit about leather-working, you will recognize
that these slots were formed by molding the leather over a form. When the slots
are empty, they still retain the Memory Stick shape, and add to the custom look
and feel of this case.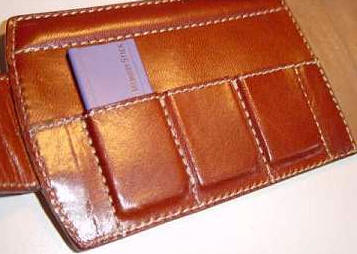 As with all Vaja cases that I have ever reviewed, the holster is reinforced
with nylon fabric to prevent stretching.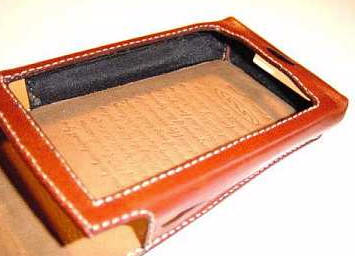 A small oval cutout is present for the power button, and the screen area is
perfectly outlined in contrasting off-white stitching.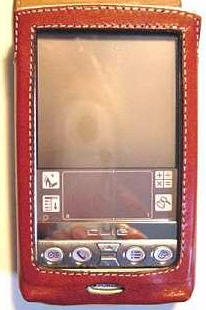 The Clie is inserted into the case through the top slot of the holster. Since
this area is left free when the case is open, you have easy access to the Memory
Stick slot, the Infrared port, and the stylus silo.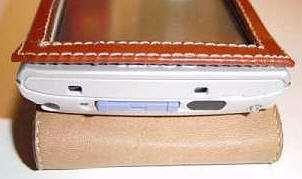 The bottom of the case has a cutout to allow syncing and charging of the Clie
with the travel cable. This case will not allow syncing while in the cradle, but
because of the Clie's detachable cradle and cord set-up, this should not be too
large of an inconvenience. When the flip-lid is closed, this port is completely
covered and protected.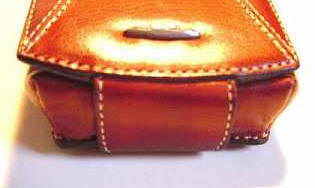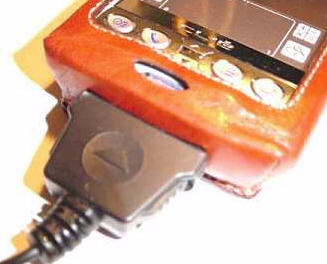 The left side of the Vaja has a dip so that the headphones can plug into
their slot, and then there is a long oval cutout directly below to allow access
to the jog-dial, back, and hold buttons. I felt that the cutout around the
button area seemed a little tight, but I had no problem accessing the jog-dial
or back button. The hold button took a little more effort, but since I rarely –
if ever – use this feature, I was not inconvenienced.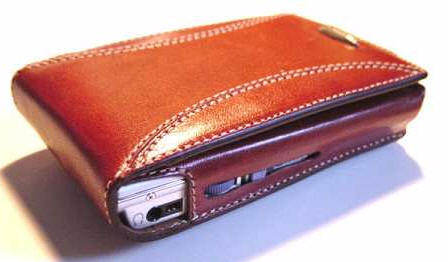 Once again, Vaja has come up with a case design that manages to not only do
an excellent job of protecting its enclosed PDA, but also looks fabulous while
doing it. I would consider this case perfect if they had offered it in a non
belt-clip version without having to go to the extra expense of ordering their
custom version. When compared to the Special Edition and custom design versions,
I found this "stock" case's price quite reasonable.
Price:  $54.90 with belt clip, $52.90 without
belt clip.
Available in Solid Tan, Cherry & Black, and Solid Black aniline leather
Pros:

Beautiful custom design at "stock" price
Does not add much bulk to the Clie
Cons:

The cutout on the side is a bit narrow – makes it tricky to access hold
button, jog dial, and back button