We use affiliate links. If you buy something through the links on this page, we may earn a commission at no cost to you. Learn more.
Product Requirements:
Device:
Any Palm OS 3.x or later device
250 K free RAM
Desktop:
Microsoft Windows 95/98/NT/2000, 5MB of free hard
disk space, HotSync
3.0 or newer, Microsoft Excel 5.0, 95, 97, 2000
Many of us have
already discovered that Quicksheet, by Cutting Edge Software (whom I will refer to as CES in this review),
is a very well thought out spreadsheet program for the Palm OS device.
The addition of
Quickchart, earlier this year, made the Quicksheet program even more desirable
by adding the ability to create charts from spreadsheets made on the Palm.
CES then made
SmartDoc to "turbo-charge" your Palm Notepad application. If you were
willing to purchase a third-party document converter, you could even read and
edit Word documents on your Palm. This was great, but it did have its drawbacks.
Well, perhaps you
have felt like something was missing, and you thought that it was time for an
application that would allow you to seamlessly integrate with the Word program
on your desktop PC, also.
Well, CES has done
it. On November 13, 2000, they released a new set of programs called Quickoffice,
which incorporates Quicksheet v5.0.2, Quickword v5.0 (aka SmartDoc), and
Quickchart v1.0.
By using the Quickoffice Desktop Suite, you will now be
able to create and edit Microsoft Word and Excel documents on your desktop, and
then fully synchronize with each program's counterpart
on your Palm. Likewise, you can also create documents on your Palm that will
upload to your desktop.
I have been using Quicksheet for some time, now. I
especially liked the way that CES integrated a button on the top of my Excel
spreadsheet, which would allow for saving and transferring of my work directly
to my Palm.
I am pleased to tell you, that the Quickword program does
the same thing. Once the program is installed, a new button will appear on your
Word toolbar, also allowing you to save and transfer Word documents in the same
easy way that Quicksheet always has.
For those of you that have not yet used any of these CES
products, I will now go into a quick overview of their capabilities:
Quicksheet v5.2
Quicksheet works much like the spreadsheet on your desktop.
There are over sixty built in scientific, financial, statistical, date &
time functions; including sorting, which is one of the features I use the most.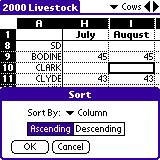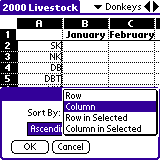 You can have multiple page worksheets, just like on your
desktop Excel program. They are re-nameable, and the page names will transfer
seamlessly to your desktop.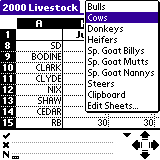 Spreadsheets can be up to 996 rows x 254 columns per sheet.
That sounds like a really big spreadsheet for such a tiny screen, and it is. The
good news is that since you can freeze rows or columns while viewing and working
with Quicksheet on your Palm – it is possible to view a lot of information
when using that tiny screen.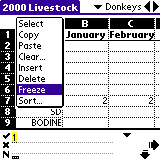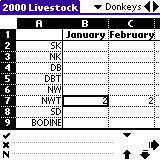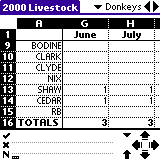 It is very easy to create and modify spreadsheets on the
Palm; in fact, you can either use the "Save" function, or the "Save As"
function, when you need to create a different sheet from the same information.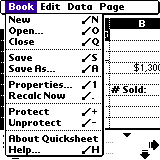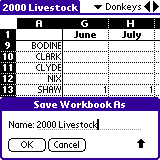 You can format the cells, columns, or rows for your
spreadsheet, right on your Palm.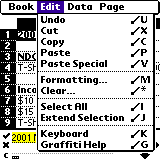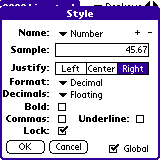 Column width is can be customized by dragging its borders
– just like on the desktop, and you can utilize cell locking to protect
worksheets against accidental changes.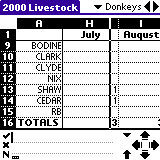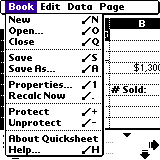 You can search worksheets for a value or formula, and then
replace the information with whatever is needed.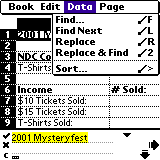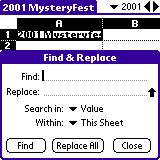 You can even beam spreadsheets from one Palm to another.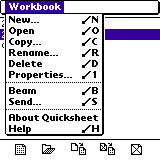 Quicksheet comes with quite a few templates to get you
started. This version comes with the following templates: Checkbook, Golf Score,
Grades, Ledger, Loan Calc, Mortgage, Pricing Template, Time Card, & Vehicle
Maintenance. This is a great assortment of spreadsheets that can give you
working examples of what Quicksheet is capable of.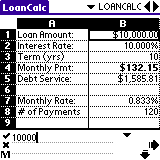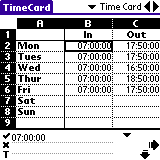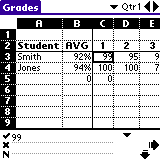 One of the most impressive features of Quicksheet has to do
with its ability to integrate with its sibling program Quickchart. I'll
explain more about that here in a little bit.
The only downside to this program that I have ever found,
is that when you have a worksheet with a lot of formulas and values on it,
entering a new value can take a long time. You have to watch a little wristwatch
icon for what seems like forever, while a "Recalc" tab shows in the upper
left hand corner. I would love to know if the Prism's faster processor makes
the wait any more bearable. That is the one thing I did not check while I had a
Prism in my possession.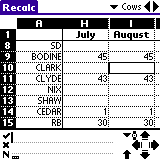 Quickchart v1.0
The way that you initiate a Quickchart is by double-tapping
a cell from within Quicksheet that has a CHART function.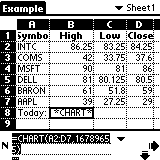 With Quickchart, you are able to create five types of
charts directly from your Quicksheet spreadsheets (say that five times fast!!):
Line, bar, pie, stock, and scatter. Each chart's appearance can be customized.
You can create as many charts as you want from charts
stored within your Quicksheet spreadsheets, and they can be done in either
grayscale or patterns. I hope that someday, CES will decide to integrate color,
also.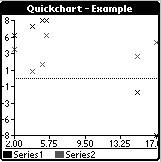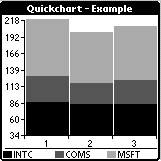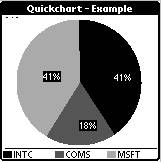 Quickchart has definite "gee-whiz" factor for all of us
that like to whip out our Palms to prove statistics.
Quickword v5.0
Just as Quicksheet added seamless integration with your
desktop PC's Excel program, Quickword will do the same with your Word program.
Quickword acts like many other document readers, in that it
offers you the ability to rename and reorder bookmarks, choose one of four font
sizes, keep up with word count statistics, and it even offers auto-scrolling!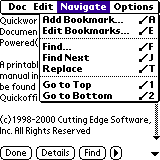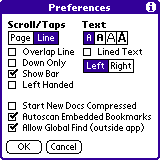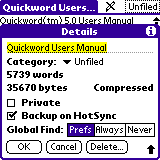 In case you were wondering, auto-scrolling is achieved by
tapping the "play" button. Once tapped, the "play" button will turn into
a "stop" button, which you can tap when you've had enough.
Quickword steps away from just being a DOC reader though,
because it also has many powerful features that you wouldn't ordinarily find
in an ordinary reader, such as:
You can find and replace text.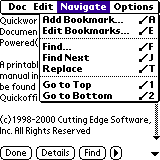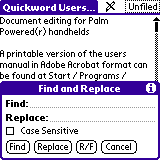 You can even set Quickword up for right or left-handed use.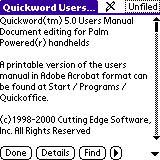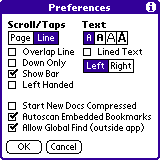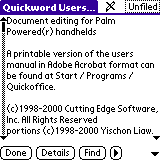 You can use categories to organize your texts and
documents.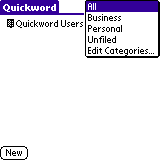 You can import and export with the Palm's built in Memo
Pad.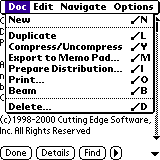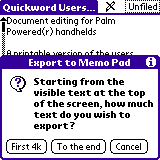 You can beam documents to other Palm users; or print from
an IR printer, by using Palm Print.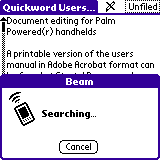 Not only will you be able to read your Word documents on
your Palm, you will also be able to edit them or start new ones, and then
synchronize with your PC. This is a new Quickword document, just waiting to be
started. There is nothing like a blank piece of paper, is there…or should I
say screen?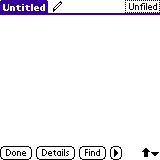 You'll notice that there is a little pencil icon at the
top of the screen. When that icon is showing, you can edit away to your
heart's content. When you are done, you tap the pencil icon, and a
"strike-through" line will go through the pencil, signifying that the sheet
is locked.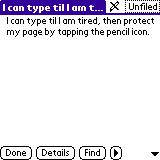 Here is a rough draft of this review, shown on Quickword.
Unfortunately, pictures are not supported at this time. Perhaps they will be in
the future?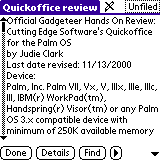 Quickword is fully compatible with the GoType and the
Stowaway keyboards.
Quickword is even compatible with the Sony Clie's jog
dial. That should be a major luxury for the owners of the Clie – other Palm
owners can try to recreate a jog dial by holding their "up" or "down"
buttons. J
In Summary:
This is a great program for the Palm Platform. Not only is
it intuitive, it is also what I would consider an essential product if you need
to keep up with any type of information that would go on either an Excel or Word
file.
If you have already registered Quicksheet, don't worry.
CES is offering a special "upgrade" package deal that will install the
latest version of Quicksheet, along with the other Quickoffice items.
Price: $39.99 for full program, thru Dec. 31
$9.99 for upgrade from Quicksheet
$19.95 for upgrade from SmartDoc
Pros:
Seamless integration with desktop Word & Excel programs
Easy to use (if one is familiar with Excel spreadsheets & Word documents)
Includes free upgrades for life
Cons:
Quicksheet is still s-l-o-w when adding entries in calculated
fields
No Mac version at this time
Product Information
Price:
$39.99
Manufacturer:
Cutting Edge Software
Pros:

Seamless integration with desktop Word & Excel programs
Easy to use (if one is familiar with Excel spreadsheets & Word documents)
Includes free upgrades for life

Cons:

Quicksheet is still s-l-o-w when adding entries in calculated
fields
No Mac version at this time