We use affiliate links. If you buy something through the links on this page, we may earn a commission at no cost to you. Learn more.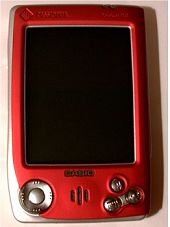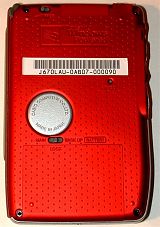 The EM-500 is Casio's first Pocket PC with a new body design since the E-100,105, and 125. The new EM-500 is smaller and lighter than their previous offerings and is being heralded as a mobile multimedia tool that targets a younger market. It is available in 5 different colors (Red, Blue, Sky Blue, Green, and Yellow) and is the first Pocket PC to feature the new MMC (MultiMediaCard) memory system which is postage stamp sized and offers up to 64MB of storage.
Hardware Specs:
Operating System: Windows CE ver 3.0
Processor: MIPS VR4122 processor operating at 150 MHz
Memory: 16MB RAM
Display: 240 x 320 pixel Color LCD, HAST (Hyper Amorphous Silicon TFT), 65,536 colors
One MMC (MultiMediaCard) slot
IrDA port
Stereo Headphone Jack
USB sync cable
Power: Lithium Ion Rechargeable battery pack, AC adapter also included (Input: AC100-120V 50/60Hz 29VA, Output: DC5V 2A) Back-up Lithium CR2032 battery
Size & Weight: 5.04 x 3.275 x .760 in, 7.6 oz., (12.80 x 8.32 x 1.93 cm, 215 g)
Although pictures of this PDA make it look like the case is metallic, it is not. It is in fact a light weight plastic that feels solid and does not creak or flex when you squeeze it. The unit is a nice size and is comfortable to hold and use. It is smaller and has rounded sides instead of its more brick-like E-100 series siblings.
As you can see from the pictures below, the EM-500 is pretty similar in size to the Palm IIIc and HP Jornada 548. The iPAQ is still the smallest Pocket PC, but you have to add the Compact Flash card sleeve to it in order to expand its memory. Doing that actually makes it the largest Pocket PC.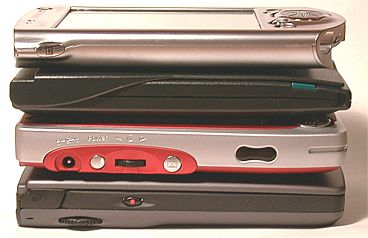 (top to bottom: iPAQ, Palm IIIc, EM-500, HP 548)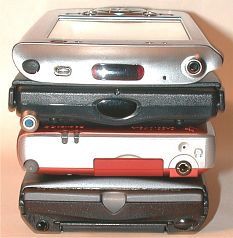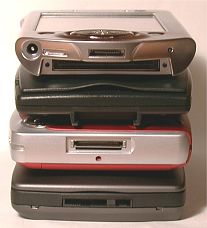 (EM-500 and E-115)
Although the EM-500 doesn't look like it is that much smaller than the E-115, it actually is. It feels significantly lighter and smaller in your hand.
The front of the unit has two LEDs at the top. The left LED which is the battery charging indicator glows red while charging and then turns green when the battery is fully charged. The Right LED blinks red when an alarm is sounded. You also have the option to set alarms so that this LED is your only notification of an alarm. This is a nice feature for meetings where you don't want an actual loud alarm sound to go off but still want notification.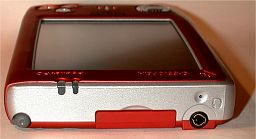 The display which measures 2.42 x 3.17 in (6.15 x 8.05 cm) is the typical gorgeous Casio color screen for which all the other Pocket PCs are judged by (at least by me). The colors are vivid and bright. But like other TFT screens, this screen is not easily viewable in direct sunlight. It turns very dark even when the brightness is turned up to the max. I'm still waiting for someone to come up with some type of outdoor screen shade (like sunglasses) for these displays.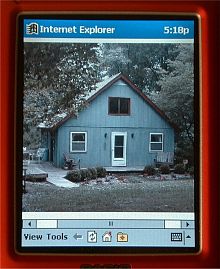 (picture taken indoors with no flash and no touchups)
Below the display is the joypad, speaker and application buttons. The joypad is easy to use and is great for one handed navigation and games. The EM-500 joypad is shaped differently than the E-100 series joypad. Instead of being pretty much dome shaped, it is now concave or more bowl shaped. This makes it easier to use because the pad of your thumb can grip the edge of the button easier. The button rocks up, down, left and right. Unfortunately, you can not press the button in to select something. You must use the side action button for selections. I hope Casio decides to remedy this situation for future devices.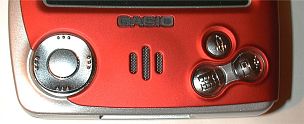 There are also three application buttons which launch (by default) the Casio Menu program, Calendar and Contacts applications. Although the two bottom buttons look like they are just one large rocker button, they are in fact two separate buttons. These buttons are easy to press but have no real tactile feedback to them.
The speaker which is the middle has what I think is the best audio output of all the Pocket PCs currently available. When the volume level is set to the maximum setting, it's not as loud as the max iPAQ volume setting, but the sound quality is much better. It is not as tinny as the iPAQ. It also doesn't overdrive the speaker like the HP 548 when set on max. The sound is similar to the E-105 but is louder and clearer. The stereo output from headphones is also better than the other current Pocket PCs. The bass is very good as is the treble.

The left side of the unit has the AC adapter plug in at the top, power button, action rocker wheel/button, voice recorder button and the IR port. The power button is pretty small and is slightly hard to activate because of the size. I tend to use the tip of my thumb to turn the unit on and sometimes find that I have to press it more than once to actually power the unit it on. The action rocker wheel/button is pretty much the same as on previous Casio models. It is serrated and has a small tab that your thumb can grip in order to press or rock the spring loaded wheel up or down. The voice recorder button isn't in the most convenient spot. I think it should have been switched with the AC adapter location. It seems a little awkward to pick the unit up and activate the recorder with one hand.
The voice recorder's audio quality sounds ok using the various settings. I did notice that almost every setting yielded a certain amount of background whining or white noise when playing the recording back thru the Casio external speaker or headphones. This isn't horrible, just a bit annoying. After transferring the recording to the desktop PC, it sounds perfectly fine and clear though.
The IR port strength seems pretty mediocre. I did several tests where I would beam a contact to a Casio E-115 and a Compaq iPAQ while they were both laying on a flat surface. The farthest I could separate the units was about 19 inches. Anything farther than that, and one or the other PDA would time out before making a connection.

The right side of the unit is devoid of any buttons and just has a clear rubber-like grippy bar. Although this helps keep the PDA from slipping out of your hand, I think it looks a little cheesy.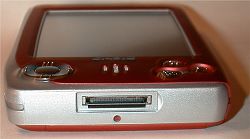 On the bottom of the unit is the serial port that the included USB cable plugs into. The EM-500 is Casio's first Pocket PC to ship without a cradle. You can optionally purchase a USB cradle, serial cradle or serial cable. I don't have a problem with using a cable and even find it somewhat more convenient due to the fact that I can easily take it with me when I travel and it doesn't take up valuable desk real estate (you should see all the cradles on my desk – yikes). The only bad thing about not having a cradle is that you can't just pop the unit into the cradle and charge the battery. Instead you have to plug the AC Adapter into the wall and then into the PDA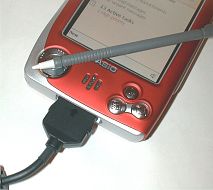 Syncing via the included USB cable is about as fast as the HP 548's USB cradle. No one has the iPAQ's sync speed beat yet. Check out the results from some syncing tests that I performed.
| | | |
| --- | --- | --- |
| | 1067KB file transfer | 5019KB file transfer |
| PC to Casio EM-500 via USB Cable | 40sec | 2mins 18 sec |
| PC to HP 548 via USB Cradle | 38sec | 2mins 47 sec |
| PC to HP 548 via Serial Cable | 1min 51sec | 9mins 33 sec |
| PC to iPAQ via USB iPAQ Cradle | 14.04sec | 1min |
| PC to Casio E-115 via Casio Serial Cradle | 2min 32sec | 9mins 42 sec |
| PC to CF card via USB Sandisk CF Card Reader | 3sec | 11sec |
The top of the unit has the MMC slot, stylus silo, stereo speaker connector and microphone. The MMC slot which is covered by a rubber door is spring loaded. So to remove the MMC, you just push it down and it will disengage and then pop up. There is also a little locking lever on the left side of the MMC slot that allows you to lock the cards into the slot. This will probably be for future MMC slot devices that will stick out of the PDA. Right now the only thing you can use in the MMC slot is memory cards. These cards come in 8, 32 and 64MB versions. According to what I've read, you can also use SD (Secure Digital Media) cards in the EM-500. SD cards are the same cards that future Palm devices will begin using.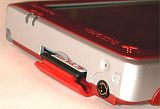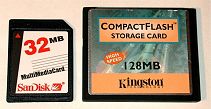 I wish the EM-500 had a Compact Flash slot instead of a MMC slot. But this is mainly because I already have several CF memory cards and a CF modem that I would like to use with this PDA. I also wish the MMC's came in larger than 64MB versions. Ultimately, I think MMC's will probably take over in the future due to their smaller size. I just hope it doesn't take long for non-memory devices to become available. I'd especially like to see a MMC Modem. Special thanks to Sandisk for sending me an MMC card to test with the EM-500.
The back of the EM-500 has the reset switch, backup battery and rechargeable battery doors.
The li-ion rechargeable battery is rated at 6-7 hrs use per charge. From normal use (I didn't sit down and use the EM-500 for 7 hrs straight…), I found that I could use the PDA for 3-4 days of typical use without needing to recharge. Typical daily use for me is to listen to three or four MP3's, play games for 15-20mins, read Avantgo for 15-20mins, read and respond to emails for 15-20mins, look up addresses a couple times, check my schedule once or twice, syncing once or twice, and use other programs 15-20mins. Battery life isn't a real issue for me because it is easy to just plug it in once or twice a week before I go to bed to totally recharge it. I've yet to see a low battery warning.
Software-wise, the EM-500 comes with a pretty decent bundle.
Software Specs:
Casio Specific Software
Mobile Calendar (ROM)
A Casio specific calendar program (in addition to the regular built in Windows CE calendar program) with synchronization to Microsoft Outlook 2000 on your PC. I like this program somewhat better than the built in calendar because it gives you some nicer looking views.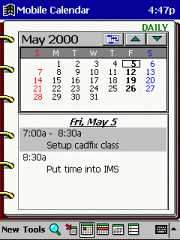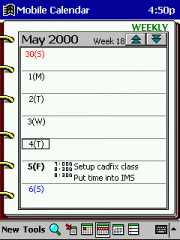 Mobile Address Book (ROM)
A Casio specific address program (in addition to the regular built in Windows CE address program) with synchronization to Microsoft Outlook 2000 on your PC. This program also has a little nicer interface compared to the built in address book.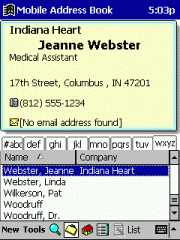 Mobile Emailer (CD)
A Casio specific e-mail program (in addition to the regular built in Windows CE e-mail program) with synchronization to Microsoft Outlook 2000 on your PC. This
program is very similar to the built in Inbox program. It does give you the ability to add signatures to your emails though.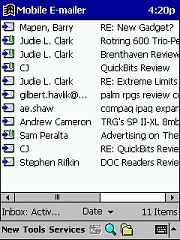 Casio Menu (ROM)
Casio Menu program that allows you to launch applications and open files by tapping a button on the screen of your Pocket PC. You can assign the application or file
you want to each button. As many pages of icons with 12 icons each can be added as well as sub-menus that can hold 6 icons.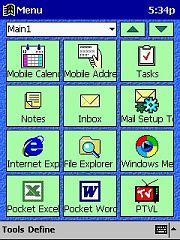 Card Backup Tool (ROM)
Card Backup Tool lets you quickly and easily back-up or restore your EM-500 data to a MMC card. I just wish this program allowed you to do a total backup of your PDA. I found that it does back up all your data and applications that are installed on the PDA, but it must not backup the registry settings because a few of my
programs were missing their ID codes after doing a restore.
Palm Data Converter (CD)
Allows you to move your Palm Pilot contact and schedule information to EM-500.
Mobile Video Player (CD)
You can view them on the EM-500 or E-mail them. It includes a thumbnail viewer and helps manage your movies and snapshots.
Mobile Video Converter (PC) (CD)
The CSI Mobile Video Converter converts popular PC-based video formats into a special video format that can be seen, heard and enjoyed on your EM-500. The Desktop PC-based video formats that can be converted and played on your EM500 includes, MPEG-1, AVI and QuickTime.
Mobile Video Picture Viewer (PC) (CD)
For viewing Images and CMF Movies on your PC desktop.
Packet Video (CD – initiates download via the web)
Another video clip player.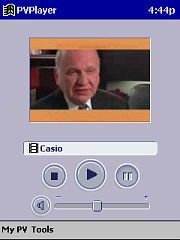 Audible (CD) (PC)
Audible.com is where you'll find the thousands of spoken word audio programs-from best selling audio books to readings of top newspapers and magazines.
E-Mail Set-Up Tool (ROM)
An application that simplifies troublesome settings you need to make in order to send and receive e-mail on your Pocket PC. Use Mail Setup Tool to make the required settings to configure the ISP. With Mail Setup Tool, you input information you get from ISP in accordance with the instructions that appear on the display of your Pocket PC.
AOL Dialer (ROM)
AOL (MAIL) (WEB)
ZIO Golf Demo 3D (CD)
Real-time 3D golf game in the palm of your hand designed by ZIO Interactive, Inc., from actual golf courses around the world.
Microsoft Software included in ROM on all Pocket PCs:
Pocket Word (ROM)
Pocket Word provides many features, optimized for the mobile user, that you're already using to create documents in Microsoft Word on your desktop computer.
Pocket Excel (ROM)
Pocket Excel has many features, optimized for the mobile user, that you're already using in the Microsoft Excel spreadsheet program on your desktop computer.
Pocket Outlook (ROM)
Pocket Outlook applications include Contacts, Calendar, Tasks and Notes.
Voice Recorder (ROM)
Calculator (ROM)
File Explorer (ROM)
Pocket Internet Explorer (ROM)
Web browser that you can use to surf in real time (if you have a modem) or to view offline webpages that you can sync to your PDA.
AvantoGo plug-in (ROM) & Sync Provider (CD)
Designed to enable people to securely browse any Web site, instead of the pre-selected and limited Web sites to which most other personal digital assistants are restricted.
Microsoft Reader with ClearType (Audible Support) (ROM) and Sample Books (CD)
Designed to deliver an on-screen computer reading experience that for the first time approaches the convenience and quality of reading text printed on paper.
Personally, I find that ClearType looks blurry to my eyes.
Windows Media Player for Pocket PC (ROM)
This is the first portable media player that plays both Windows Media format and MP3, so customers don't have to worry about the format of the music. In addition, it automatically generates custom play lists using any of the music that's been downloaded to the device either in regular memory or a MMC card.
Microsoft Expedia Pocket Streets (CD)
You can download maps onto your Pocket PC and even specially tag your favorite locations from the sample maps included on the companion CD, or custom maps you can create yourself with either Microsoft Expedia Streets & Trips 2000 or Microsoft MapPoint 2000.
Transcriber (CD)
Handwriting recognition software.
Outlook 2000 (CD) (PC)
Desktop PIM and email application.
Overall the system speed on the EM-500 is pretty snappy. Although it's not quite as fast as the iPAQ, it is a close second. All the built in applications work fine as far as speed. They all pop up pretty much instantly. Probably the slowest application of all the built in apps is the Microsoft Reader program. It takes a few seconds to start up.
I think that the EM-500 is a great little Pocket PC. The screen is terrific, the stereo audio is great, is small in size and it is a snappy performer. Really, there are only two things that I can complain about. One is that it just has 16meg of RAM built in. If it had 32meg, it would be outstanding. The other thing
is that I think it is a bit expensive. Since the unit only has 16meg of memory, I'd like the see the price be a little lower.
Product Information
Price:
$499.99
Manufacturer:
Casio
Pros:

Small size
Fast Processor
Great screen
Great audio

Cons:

Only 16MB RAM
MMC slot instead of CF slot
USB sync speeds could be faster