We use affiliate links. If you buy something through the links on this page, we may earn a commission at no cost to you. Learn more.
Program Requirements:

Device:

Palm III organizer series or greater, Handspring Visor Organizer series, Sony Clie
150 K free RAM (more like 500k, when you are using it)
Desktop:
Windows 95, 98, or 2000

Here is the 5-second version of my review: Get it, it works – If you use it, you will see results!
If you'd like something a little more in depth, read on…
I first found out about the Vivonic Fitness Program while reading the July issue of Walking Magazine. In a glossy advertisement, I was introduced to a new portable touch-screen computer that was dedicated to recording meals & exercise for $229.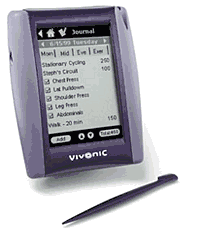 "What a great idea", I thought, "but why would I want to carry another portable device?" Well, after looking at the Vivonic website, I was pleased to find out that that wouldn't be necessary. The folks at Vivonic were selling the same program (minus the pedometer) for people like us to install on our Palm OS Devices.
Now I realize that Palm OS users have had other fitness, diet and weight monitoring programs available in the past; most notably the programs from
HealtheTech, Inc., which include Diet Log, WeightLog, & ExcerLog. I've used all three of those programs and had success with them, but the "new guy" piqued my interest.
Once I had the software CD in my hot little hands, it was simply a matter of loading the program onto my PC, and answering some personal questions about height, weight, fitness goals…you know the routine.
What was different about this program versus others I had tried was that the majority of this information was loaded onto my PC, to be synced to my Palm later. I suppose that it probably saved some room not to have a bunch of one-time profile questions located on the Palm.
The key thing that you need to realize is that this program expects you to use your PC. It is imperative that you enter your profile, custom foods, & exercises there, as it is impossible to edit these things on your Palm. I am spelling this out because if you have the basic Visor that doesn't come with the hot-sync cable: you're going to need to get that cable.
Once you have entered your profile & other settings, it is a simple matter of syncing – and then you will be ready to start.
Since I figured it would be worthless to review a fitness plan without actually using it myself, I signed on for the four-week program, which is the shortest of the three available. You can also choose from an eight-week or twelve-week program. Of course you can start over at the end of your plan, or begin again at any time.
I had to overcome some initial problems, mainly from my side, because I was used to using a different tracking system for my exercise, weight and intake monitoring. Once I got used to the "layout" of the program, both on the Palm & my PC, I found Vivonic to be very simple to navigate and a highly intuitive tool. You'll notice that the entire day is on the screen. You simply hit the block for Breakfast, Lunch, Dinner, or Exercise. Vivonic realizes that there are very few people who eat just 3 meals a day, so the program literature said that if you snacked, to add it to the meal closest to the time in which you did it.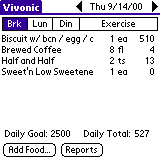 This is a typical breakfast at Burger King. Kind of looks scary when you see how many calories are actually in that breakfast sandwich, huh. You'll notice I didn't get the hash browns, either!
I have to extend kudos to the team at Vivonic for a subtle, but very impressive bit of programming: when you are choosing your food, if you pick the wrong one, you can hit the "Back" button, and you will simply be taken to your previous screen. I was used to having to start my search all over with again with the last program I used. This feature alone saved me massive frustration. You know, it is bad enough to be at your table in a restaurant, tapping out everything you are about to eat, or just ate, without drawing even more attention to yourself by taking twice as long to do it!
This program comes with many of your favorite frozen dinners already listed by brand, as well as many national fast food chains' menus already factored in. What a time saver! I didn't have to request the little handout on nutritional facts at Mc Donald's, Wendy's, Long John Silver's or Taco Bell. I did have to get one from Chick-fil-a, though.
J
.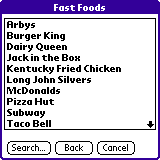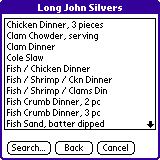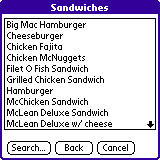 One of the things you can do directly on your Palm OS Device is enter "Custom Meals" from selected menu items. Let's say for instance that you get the same breakfast almost every time you go to Burger King. To save yourself some time, all you would have to do is enter that first breakfast as a "custom meal", and in the future you would only have to enter the meal as one item. If you needed to adjust quantities or individual items in that meal, you would still be able to do that.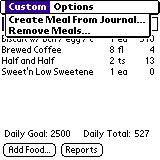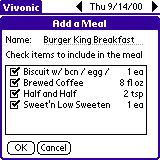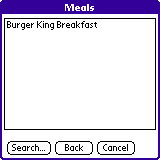 Exercise is also infinitely editable with Vivonic. When you are setting up your exercise program on your PC, it will transfer the choices you have made to your Palm.
If you are someone that takes great satisfaction in being able to place a checkmark next to a "to-do" item, then you are going to love this system. What you need to accomplish will be spelled out daily – and all you will need to do is to perform it, and then enjoy "ticking it off".
There is an extensive database of exercises already entered into your Palm to choose from. However, if you happen to partake in some obscure type of exercise, and you are able to figure out what its "calorie burn" would be, then you can enter it onto your PC just like you would a new food and it will show up as a "Custom Exercise". You can also create "Custom Circuits" from your Journal entries, if you have specific things that you do together on certain days.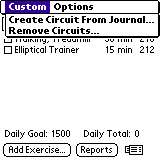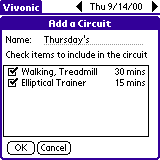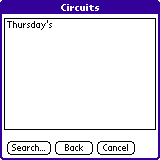 It is hard to be apathetic when you know that there is a little box that you should be ticking off on your workout days.
You are also able to enter Personal Metrics. This is where you enter your weight, and whatever body measurements you are interested in tracking. I kept up with this once a week.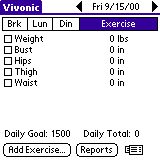 Okay, that's basically the nuts and bolts of the program. Now I want to tell you about the support & resources available to you as a Vivonic user. The Vivonic opening page on your PC interacts directly with the Internet, bringing you information about program updates, informative exercise and health articles, a "fit fact of the day", and of course, a summary of your current exercise & intake. You can peruse a broad list of information pertaining to exercise, fitness and nutrition, or you can examine detailed summary graphs of your intake & exercise over the time you have been using Vivonic.
I really liked how the desktop was interactive with my Palm, and it actually got me more involved and motivated, knowing that I could access information in this manner.
You can also go to Vivonic's web site, and download specific exercise and training programs.
…And now for my personal experience:
I began using Vivonic on Wednesday, August 17, 2000. I am 5'10″, and I am moderately active. I weighed 157 on the day I started Vivonic, with a BMI of 21.9, I am generally considered to be at the right weight for my height. Like many people, I felt that I could benefit from a plan that would help me tone my muscles, and maintain my current weight.
I managed to enter just about everything I ate, and I also managed to do just about every workout I was scheduled to do. I kept this up for four weeks. I say "just about" because there were days that I didn't feel like exercising and there were days where I went above my goal calories – but there were also days that I did extra exercises, and days that I didn't eat anywhere near my quota, so I suppose that it must have evened out in the end.
Now that I have completed the 4-week program, how do I feel? Great – with a tremendous sense of self-accomplishment! I have lost 1 ½ " off my waist, 2 " off my hips, and I can really "feel" my leg and arm muscles. This is in addition to the 5 pounds that I lost! Yeah!
Would I recommend this program? You bet! I think of all the money I have spent on other gadgets & gizmos to help me maintain my weight and tone up – and not one of them motivated me, or made me feel guilty when I was lazy – quite like this program.
You know what? I could have kept on plodding along, recording the food I was eating, but not really paying attention to the calorie intake and outtake ratio that is graphically spelled out for you
each day with this program.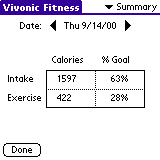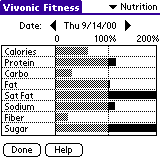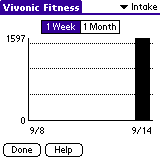 Now that I have completed the 4-week program for the sake of this review, I have started the 12-week program for my own personal improvement.
If you feel like you are in a rut and you need to try a new diet and exercise motivator – You OWE it to yourself to get this program!
Price: $49.99
Pros:
Many fast food items are already entered by restaurant
Can create custom entries of meals & recipes
Can create custom workout schedules
Can Download pre-made Workout Programs @ www.vivonic.com
Very supportive, with almost daily motivators & articles downloadable to your PC
You will always have it with you
Cons:
Most of the meal & workout customization must be done on desktop computer

Product Information
Price:
$49.99
Manufacturer:
Vivonic
Pros:

Many fast food items are already entered by restaurant
Can create custom entries of meals & recipes
Can create custom workout schedules
Can Download pre-made Workout Programs @ www.vivonic.com
Very supportive, with almost daily motivators & articles downloadable to your PC
You will always have it with you

Cons:

Most of the meal & workout customization must be done on desktop computer