We use affiliate links. If you buy something through the links on this page, we may earn a commission at no cost to you. Learn more.
Program Requirements:
Desktop:
Windows 98/95 or NT 4.0
Pentium 100 with 32meg of RAM
Bi-directional Parallel Port
MP3 players are very popular right now and are great for listening to tunes while you
are exercising, walking, biking etc. But what do you do while you're driving or in the
office and don't want to wear headphones? The problem is that most, if not all MP3 players
lack speakers. Enter the romeMP3 player.
The romeMP3 is a MP3 player in a cassette tape body. Yes, everything you
need to listen to tunes has been crammed into a standard sized cassette tape shell. What's
more, you can actually put the romeMP3 into a cassette deck and play it like an audio
tape! So, you can pop it in the cassette deck in your car and voila, instant tunes without
having to wear headphones.
romeMP3 Specs:
32meg of RAM
1.2V Ni-MH 850mA rechargeable battery:
Play time = 7hrs
Recharge time = 3hrs
10,000 times rechargeable
Interface port – Parallel 18pin connector
Transfer rate = 246kbps
The romeMP3 housing is made of gray metallic colored plastic. I wish the housing was
made of actual metal instead of plastic because it does feel a bit flimsy.  This is
especially evident in the snap-on door that covers the battery. I found this door to be a
bit difficult to remove and was always afraid that I was going to break the little tabs
that hold it in place.
Along the top of the romeMP3 are seven small round buttons. Their functions are:
Vol- & Vol+  – Raises and lowers the volume level.
Hold  – Locks all the buttons so they won't activate accidentally.
Stop  – Stops playback. Also turns unit off if held in for a few seconds.
Rew.  – Plays previous song.
FF  – Plays next song.
Play  – Starts playback or turns on the unit.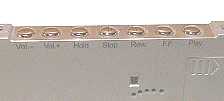 Along the left side of the unit are 6 small rectangular buttons. Their functions are:
Intro – Plays 10 sec of each song.
Menu – No function in this unit. Is supposed to be used for a future version.
EQ – Toggles through 5 EQ settings: No EQ applied, Classic, Jazz, and Rock/Pop.
A-B  – Grabs a section of audio and plays it continuously. You press the button once
at the start of the section you want to loop through and then again to mark the end.
Repeat  – Loops the current song.
Random  – Plays songs randomly.

The left side of the unit also has the earphone jack. The right side of the unit houses
the rechargeable battery. The battery has to be taken out of the romeMP3 in order to
charge it. It would be much nicer if you could just plug the whole unit into a charger
instead of having to remove the battery each time.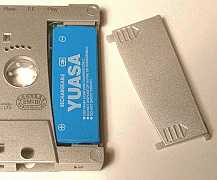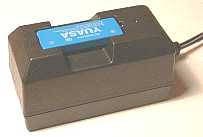 The charger itself is a nice compact unit. The battery snaps easily into the top and a
red LED lights up while the battery is charging. Once the battery is fully charged, the
LED turns off. Charging time is 3hrs with play time being ~7hrs.
The front of the romeMP3 has a green LED which gives you a status indication. This
reminds me of a heart beat as it flashes two beats every couple seconds to let you know
that the unit is turned on and is playing. It will flash four beats every couple seconds
when it is in Hold mode and will flash continuously if the battery is running low.

The bottom of the romeMP3 looks like a typical cassette tape.
In order to get the tunes into your romeMP3, you need to install the ROME Manager
software that comes on a CD. This is an easy to use program that allows you to drag and
drop .MP3 files from your PC to the unit. The romeMP3 has 32meg of memory which can hold
around 8-10 songs depending on how large each song is.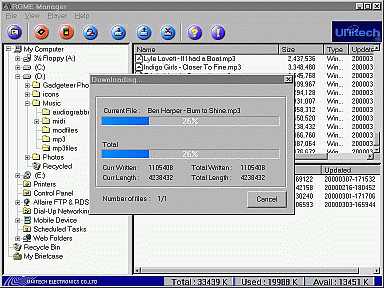 The CD also contains a free version of a program called AudioGrabber which allows you
to 'rip' your own .MP3 files from your audio CDs.
The romeMP3 connects to your PC through the parallel (printer) port. It is unfortunate
that USB wasn't chosen instead. I found that using the parallel port gave very slow file
transfers. It took ~1min 30 sec. to transfer a 4meg .MP3 file to the romeMP3. Also, I
found that while doing this transfer, my PC was pretty much useless because the CPU was
bogged down (I used a 400mhz Pentium during the review). I also found that I had to plug
the parallel cable directly into the parallel port instead of into a passthru connection
that I already had on my Sandisk PC Card Reader. When I tried using the ROME Manager
software while connected through the passthru, it would transfer about 60% of a file and
then freeze.
Since most people probably only have one full-sized parallel connection on the back of
their computer, this is an important consideration… especially if you already have a
printer.
The romeMP3 also comes with simple MP3 player software for your PC. It's a beta version
of a program called DigiCap Player. It worked fine but had a few graphics bugs.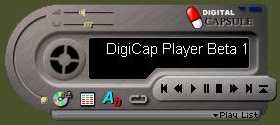 The unit comes with a pair of stereo earbud earphones that give really good audio
quality when used through the earphone jack on the romeMP3. You have control over the
volume level and can also choose from several EQ settings. You can get a suprisingly loud
playback through this small unit. I'm not an audiophile, but found the audio quality to be
just fine while listening directly through the unit.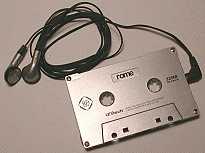 But, I was most interested in the ability to listen to the romeMP3 in my vehicle while
driving to and from work. The romeMP3 sounded really 'muddy' through the Delco tape deck
in my 1991 GMC Sonoma pickup truck. I had to turn the volume way up in order to get
halfway decent sound. This was a problem because when I pressed the eject button my radio
would kick in and blasted me at this very high volume. I tried the romeMP3 in a friend's
Ford Aspire and it sounded significantly better. I then tried it in another friend's 1998
Ford Taurus and it sounded very good. Car tape decks seem to vary widely.
Trying the romeMP3 in my Kenwood home stereo tape deck gave ok playback. It wasn't as
bad as my truck but it wasn't all that great either. I also tried the romeMP3 in my little
Panasonic Walkman type cassette player. Again, the playback quality was so-so. The romeMP3
really sounds best when you listen to it through its earphone jack.
Because you can use the RomeMP3 in a tape deck, you can also use the tape deck's Fast
Forward and Rewind functions to go back and forth between songs. The problem is that quite
often the player will get confused and restart the song or go backwards one song instead
of forward to the next song. I found that using the FF or REW functions on the tape deck
consistently did not work as planned. Using the actual buttons on the romeMP3 to FF or REW
always worked though.
In summary, the romeMP3 is a unique player because it can be used in a standard tape
deck. Unfortunately, that is the only compelling feature that this player has and that
compelling feature doesn't seem to work that well in all tape decks. The romeMP3 really is
way too expensive for a non-upgradable 32meg MP3 player. I do like its compact size, ease
of use and audio quality through headphones. But because it lacks a CF or Smart Media
slot, and a USB connection for transferring files from the PC I really can't recommend
buying it. As it stands, I'd pass on this one…
Price: $249.95
Pros:
Small compact package.
Ability to play in car, and standard cassette decks.
Good sound quality through unit earphone jack.
Cons:
Expensive.
Slow parallel interface.
Memory can't be upgraded.
Playback quality varies when used in a cassette deck

Product Information
Price:
$249.95
Manufacturer:
RomeMP3
Pros:

Small compact package.
Ability to play in car, and standard cassette decks.
Good sound quality through unit earphone jack.

Cons:

Expensive.
Slow parallel interface.
Memory can't be upgraded.
Playback quality varies when used in a cassette deck