Program Requirements:
Device:
Palm-size PC running WindowsCE 2.0 or later (16meg
unit recommended)
~4Meg free RAM
Game playing on the color Palm-size PCs seems to be exploding. Don't get me
wrong, I use my Casio E-100 to keep track of my schedule and addresses. But I'm
a sucker for a good game! I really like RPGs (Role Playing Games) and even
though I've never played the PC version of ShadowGate, I thought the graphics
for the HPC version looked terrific and was very excited when a PPC version was
released by Infinite Ventures.
ShadowGate Classic is a 1st person adventure where you explore the Castle
ShadowGate in search of the ancient Staff of Ages. This weapon is the only one
powerful enough to combat the evil Warlock Lord. You must find items and solve
puzzles in order to find this staff and finish the game.
The first thing you notice when you start the game is that the screen
orientation is sideways. I think this mode is great and hope more game makers
start taking advantage of it.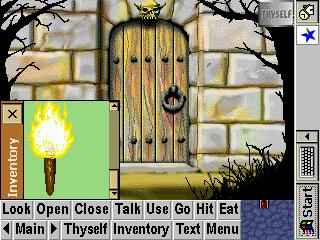 When you find items, you can tap on them once and then tap on the LOOK button
to read about the item. If it is something that you think you want to keep, you
can drag it to your inventory window.  You can carry quite a few objects,
but eventually your inventory will be full so be selective. Be careful,
sometimes being too greedy or taking the wrong item will cause unexpected things
to happen… like your death! So, it's a very good idea to save your game often.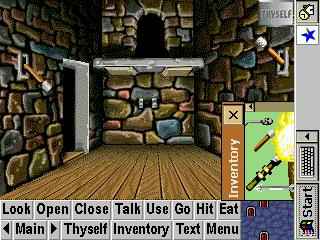 The game interface is pretty easy to get used to. There are command buttons
at the bottom of the screen that will allow you to look at objects, open/close
objects, hit objects, use and eat objects and talk to objects.  You can
also tap on a doorway and then tap the GO button to go thru the doorway. A small
window at the bottom right of the display shows you the exits to the room you
are currently in.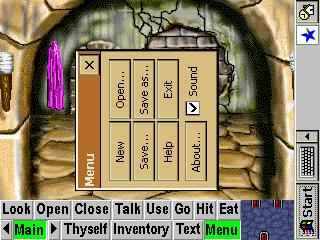 The graphics in this game are very good. There's even a little bit of
animation here and there. The sound effects are great and will sometimes startle
you.
There's only one annoying thing that I found with this version of ShadowGate
and that is that some of the popup windows are the wrong orientation. This isn't
a major problem, but I still wish they could fix it.
The game is very linear in that you have to find certain items in order to
find your way thru the castle. Each time you play the game, it will be the same
as the items and puzzles are always in the same location. This gives the game
little if any re-play value. But, this game can't be finished in just one
sitting so it should give you several hours of fun before you're done.
There are additional versions of ShadowGate for the HPC, Windows and even the
Nintendo 64. Unfortunately, there isn't a demo available at this time so you
have to buy it sight unseen. If you enjoy adventure puzzle games, you have to
check out ShadowGate Classic. It is a lot of fun!
Price: $29.95
Pros:
Great graphics and sound effects.
Easy game play.
Cons:
No downloadable demo available.
Game is the same every time you play it.
Some popup screens are not the right orientation.
More of our stories that you'll enjoy: