We use affiliate links. If you buy something through the links on this page, we may earn a commission at no cost to you. Learn more.
Program Requirements:
Device:
PalmV/Vx
1.3M free RAM
The OmniSky package is the first wireless
modem designed for the Palm V and Palm Vx. Even though I've never been
particularly fond of the III series form factor, nor the 2mb memory limit, I've
been jealous of the wireless access afforded by the Palm VII. The OmniSky does
better than the VII does, and a lot more.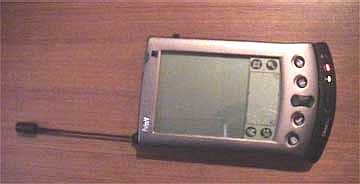 The Beginning
I ordered my OmniSky on November 29th with complimentary second day shipping,
planning on having it well before my December 17th trip. They told me on the
phone that shipping was somewhat delayed, and that I wouldn't have it until
"The first week of December". This was still well before my trip, so I
went ahead with the order. When it didn't come the first week of December, I
called them, and they said that I should get it around the 15th. One delay led
to another, and eventually it was promised the first week of January. To their
credit, they did give me, along with every other customer, an extra month of
usage for free, and complimentary overnight shipping. Hopefully these delays
won't be an issue for upcoming customers. I am told, however, that they are
still having trouble getting modems to some regions due to unfinished airtime
contracts.
Installation
The OmniSky came in a retail box with a personalized typed letter, a manual, a
quick start manual (several printed papers stapled together), a CD, the Minstrel
V modem, and an AC adapter. My first impressions were that the modem was a lot
bigger than I expected, but a lot more sleek as well. However, it was obvious
that this was still a beta product as advertised. The CD was actually a
scratched CDR with a label printed on it, which worried me, but wasn't an issue.
Even the OmniSky sticker on the modem wasn't on properly. Installation didn't go
smoothly the first time. It hung when it tried to upload the new ROM to the
Palm. Too impatient to work through it, I backed up my files and cleared the
Palm's memory. After doing that, installation continued without a hitch. It's
important to take everything out of flash and to delete AvantGo prior to
installing. What OmniSky does is actually upload a new ROM which takes up nearly
all of your flash memory, as well as install programs in your regular memory.
Overall, it takes up 1.3mb, so you might consider upgrading to 8mb. After
completing the installation process, I snapped on the modem, ran the Minstrel
program and was connected. Other users have reported nightmares trying to get it
to work, but I haven't had any problems in that regard.
Hardware
The Minstrel V is a nice piece of hardware. It's roughly the thickness of a Palm
V, and slightly longer. It is styled nicely, and looks as if it's part of the
Palm. It definitely adds noticeable weight and bulk to the Palm V. The Palm with
the OmniSky is 1/4″ shorter than the Palm VII, 1/8″ thicker, and
roughly the same width. The modem features a button and three indicator lights.
The button is for remote hotsyncing which I had no trouble enabling, after using
the developer back door to disable timeouts. The three lights are a connection
status light (on, off, or blinking for poor connection), mail/activity light
(green for activity, red for mail), and a power light (flashing while charging,
solid green for fully charged, and red indicating low power), respectively. The
antenna is one inch while in storage, and 4 inches in use. You can use the modem
with the antenna retracted, but you get much better connections extended. The
battery takes a couple hours to charge, and lasts a long time. I use it
excessively and have yet to run out of batteries. It looks like it runs out
roughly twice as fast as the Palm V battery. The modem never actually turns off,
though. It just goes into sleep mode which still draws power. The red e-mail
indicator is a great feature. I just take the palm out of my pocket to check if
I have e-mail or not, instead of firing up the e-mail software.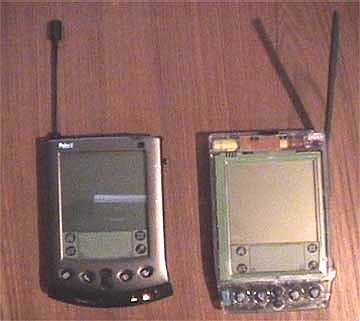 Software
The software included with the OmniSky is all well known software such as
AvantGo and web clipping apps, with the exception of their own e-mail client,
which I love. The e-mail client is very full featured, better than MultiMail and
Eudora, in my opinion. It supports filters, has cool icons indicating whether
you've replied, read, or only have the header of a message, can be set to just
download headers, and anything else you'd expect in an e-mail client. The killer
feature is the red message LED, which will only work with their program. This
software does have several significant glitches, however. The most important is
that I can often not connect to my non-OmniSky mail server. I've had very few
problems with the e-mail address they provided me with, but it only connects to
my university e-mail server about half the time. The second glitch is that it
always shows the to address as your address, even if the message is sent to a
mailing list, which limits its filtering capabilities. Overall, it's a good
piece of software, though. It supports the e-mailing of address book files and
datebook appointments, which isn't useful for me, but could be a timesaver for
some people.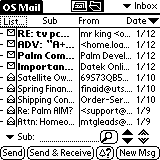 Service
So far I have had no problems at all. I have always gotten good reception (3 or
4 out of four bars), and have tested it in the car and in various locations
around Austin. Some people have reported problems, but tech support at OmniSky
is very friendly and do their best to try and help you. Others have had to call
AT&T Wireless, the provider for the bulk of the regions, but were successful
after that. The connection is 19.2Kbps, but I'm not convinced I actually reach
that speed. It seems to take far too long to retrieve e-mails and go through
pages. However, it's certainly a fast enough connection for the Palm.
Pricing
The current price for the OmniSky is $299, which includes the Minstrel V modem,
Service through April 30th, and a lifetime 15% discount on service. At this
price, it's really a no brainer. If you consider that the service will cost
$49.95 a month, $42.50 with the discount, you're getting the modem for about
$129.
Overall, this is a great modem. I've had it for under a week, and already don't
want to live with out it. My friends and I do all our chatting online rather
than on the phone, so no matter where I am I can connect to our IRC chatroom and
see what's going on. I've found that PQAs really are more useful than web
browsing if you can find one for what you're looking for. Impossible on the Palm
VII, it's nice to be able to fall back to the web using proxiweb or another web
browser. The only real disadvantage as compared to the Palm VII is that you
can't charge it with the cradle while the modem is on. Also, the pack-in case
for the Palm V is rendered useless by the modem, because it doesn't fold behind
the palm like it used to. I think that a pack-in case from OmniSky would've been
a nice feature, since I have to take the leather thing off whenever I plan on
using the modem for more than a couple minutes. The bottom line is this :
Wireless access will be a necessity in the future, without question. If you want
to be one of the first to have it, OmniSky is a great way to join.
Price: $299
Pros:
Nationwide coverage with no roaming charges.
Unlimited service.
Reasonable pricing.
Good software.
Reliable, stylish hardware.
Friendly tech support.
Cons:
Still in beta.
E-mail glitches.
Unreliable shipping promises.


Product Information
Price:
$299.00
Manufacturer:
Omnisky
Pros:

Nationwide coverage with no roaming charges.
Unlimited service.
Reasonable pricing.
Good software.
Reliable, stylish hardware.
Friendly tech support.

Cons:

Still in beta.
E-mail glitches.
Unreliable shipping promises.