We use affiliate links. If you buy something through the links on this page, we may earn a commission at no cost to you. Learn more.
Program Requirements:
Desktop:
Windows 95 or 98
The Pocket BiteMate, from E.W.
Bridge LLC is a pocket sized, solid state, digital multimedia recorder and player.
This little gadget will not only allow you to record just about anything, but it comes
with a desktop software package that enables you to download the sound bites into WAV
files.Of course when I say that it's solid state, I'm referring to the fact that the
Pocket BiteMate stores the sound bites digitally, instead of using tape or some other
media. It is simple to use and has a host of interesting functions. Record, play, delete,
change the volume, page through the sound bites, you can even set an alarm to play a
specific sound bite at a certain time.

Recording is as simple as pushing the "record" button. But unlike other
"voice" recorders, you don't need to put the Pocket BiteMate close to your mouth
to record. It picks up the sounds very clearly. In fact, I was able to pick up the sounds
of someone talking to me at 12 feet away! And there is also a jack for a microphone, (if
you wanted to use one). Because of the clarity, the Pocket BiteMate is more than just a
voice recorder. You could use it to record anything from music to a press conference to
your kid's nursery rhyme.
Speaking of the later, without my son's knowledge, I asked him to sing Twinkle-Twinkle
Little Star and recorded him. Since he isn't even 3 years old, it was easy to trick him,
er…, I mean, to get him to cooperate. Anyway, I held the Pocket BiteMate in my hand
and pressed "record" as he started. This is the recording.
When played back on the Pocket BiteMate, the sound bite was a bit overpowering, but on
a computer like the one that you are probably listening to it on, with better speakers,
the sound clarity is exceptional. There are only 2 volume settings, and the higher setting
can cause the Pocket BiteMate to vibrate if too loud. But that doesn't effect the quality
of the sound bite.
The Pocket BiteMate comes in two models, Pocket BiteMate 400 and Pocket
BiteMate 800. The 400 has 4MB of memory and the 800 has 8MB of memory. 4MB of memory will
go a long way, especially since you can easily download the sound bites to your PC, and
delete them off of the Pocket BiteMate. The desktop software was easy to install, and use,
although it comes on 3 floppies instead of a CD. It's compatible with Windows 3.1, 95, and
98, but not Windows NT. The NT version will be available in the future.As I mentioned,
there are a number of features on the Pocket BiteMate. You can scan forward or backward
between sound bites, and within them, file sound bites into 10 categories (7 pre-labeled,
3 self-definable), schedule Auto-Reminders once, daily, weekly, or yearly editable later,
confirmation of hearing alarm, and use voice-activated recording, with high or low
sensitivity, for dictation and interviews. And there are many other functions.
The Pocket BiteMate uses 2 AAAA batteries(included). I've never seen AAAA batteries
before, and I don't know how easy it is to buy them, but if you get the Pocket BiteMate
you will want to make sure you can get them. The unit I reviewed came with 2 AAAA
Energizer batteries, so I'd assume that if Energizer makes them, availability may not be a
problem. The Pocket BiteMate is small enough to fit in just about any pocket. It's tapered
at the corners but at widest points it's 4 3/8″ x 2 1/8″ x 9/16″ (11.2 x
5.4 x 1.4 cm); and weighs only 2.4 ounces (68 g) with the batteries. The Pocket BiteMate
comes with a nice play through protective case. It also comes with a 2-year warranty.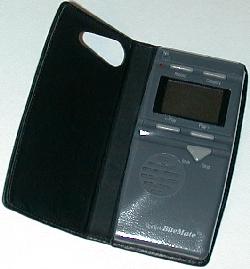 With regards to the price, I would have to say that if you need a high quality, pocket
sized recorder, that it is fairly priced. Just the fact that you can download the sound
bites into WAV files and use them for business or pleasure makes it worth it. I've already
put the bambino's song in the archive folder on my PC. I can't wait to play it to him when
he is older.

Price: $199.99 -Pocket BiteMate 400 (4MB, 20min. short play, 50 min. long
play)
$299.99 -Pocket BiteMate 800
(8MB, 40min. short play, 100 min. long play)
Pros:
Excellent sound quality.
Compact & Lightweight.
Can download the files to a PC.
Never miss one of our posts again. Sent MON, WED, and FRI with the latest gadget reviews and news!
Cons:
Only two settings for volume control.
May be hard to get AAAA batteries.*
*Note: If you can easily get AAAA batteries, ignore this "Con".