We use affiliate links. If you buy something through the links on this page, we may earn a commission at no cost to you. Learn more.
One-Touch Communicator by JP Systems, Inc. is a
powerful email package for the PalmPilot. The software and manual come on a floppy
diskette. The diskette also includes documents such as the licensing agreement, quick
start user guide, and a readme file. You can purchase a copy from their web site, PilotGear as well as many retail outlets which carry
the Palm products. The Microsoft Word formatted user manual (which can be viewed or
printed) is clearly written and illustrated. Installing the included software on a PC is
quick and easy. Installing the .prc file on to the Pilot will require approximately 200 Kb
of free space. It will work with OS version 2.0 or higher, and with a PalmIII, PalmPilot
Professional or IBM Workpad. Installation can be from a Windows or Macintosh computer.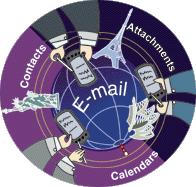 The artwork for the package is shown above. It depicts the power and versatility of
this program extremely well. These attributes are realized from the fact that it provides
connectivity from either a modem (Pilot Modem or other modem using the Pilot modem cable),
or with a wireless modem. This allows the user to stay connected with information and
email from anywhere wireless modem coverage or a phone plug could be found. One-Touch
Communicator can also be loaded into the FlashROM of the PalmIII or the custom TRG memory
boards. To do this would require the flash-loading program from the Technology Resource Group (TRG). This capability allows
the user to save additional precious RAM space by storing and running the program from the
unused 800k of ROM space.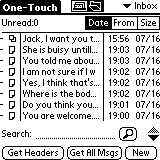 One-Touch Communicator provides up to four custom mailboxes for filing away important
messages. Other mailboxes are Inbox, Outbox, Deleted, Draft and Sent. Inbox provides the
interface for retrieving headers and messages from any POP3 server. Up to six POP3 servers
can be configured for message retrieval. Outbox provides the interface for sending
messages through any SMTP server. Likewise, six SMTP servers can be utilized. The first
icon on the top line is the address display. One-Touch imports all email addresses from
the built-in AddressBook application. This display is a great feature which simplifies the
selection of persons whom you wish to compose a message to. Simply check to the left of
each person and then hit the Compose button. This will quickly bring all addresses into
the To: field of the message. The icon to the right of address, is the folder icon which
represents the messages screen. This screen will display all messages you have in the
selected mailbox. Messages are sorted by Date with the newest message first. The message
display will show the message subject on half of the line, with the remaining half either
Date, From or Size. This allows you to quickly scan how big messages are and whom they are
from. When retrieving messages from your POP3 account, you can choose to first download
only message headers and then select which messages you wish to receive. Following
reception of all headers, uncheck which messages you do not wish to receive and then
simply download the selected messages. This screen also shows how many messages are
unread. Unread messages will have the subject shown in bold type, as is the standard for
most desktop mail programs. Once messages are read, you can check all messages you wish to
delete from the Menu, Delete command. You can even search for strings within any messages,
to find which message you are interested in. This is a built-in search function;
Furthermore, One-Touch does support the global Find function as well as FindHack from
Florent Pillet.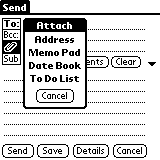 Another great feature of this program is the ability to include attachments to email
messages. Attachments can be made of the AddressBook, DateBook, MemoPad, and To-Do List.
You can attachment an unlimited number of any or all types as shown above. The formats are
compatible with the vCard and vCalendar standards suggested by the IMC/PDI (Internet Mail
Consortium – Personal Data Interchange), which are described at http://www.imc.org/pdi/. These attachments can also be
received by other Palm One-Touch Communicator users, or email programs that comply to
these standards. See the IMC/PDI website for details on which programs are compatible.
Attachments combined with the imported addressbook display, allows for quick scheduling
with other Palm users. This program will revolutionize many product market areas where
connectivity from the field is crucial. Such companies can send out group messages to all
their Palm-carrying employees, each hour updating schedules and providing instructions via
To-Do List or MemoPad items.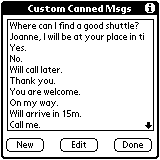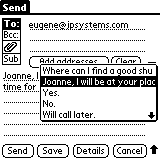 The features don't end there. One of the most exciting new features not
found in other Palm email products is the addition of "Canned Messages". Canned
Messages are short messages that are used most often such as: "Thank You",
"I'll Call You Later", "Meet me for Lunch", "No",
"Yes", etc. These messages provide the user with the quick response without
having to type the message. This is also important when sending email to alpha-numeric
pagers by keeping the message size to a minimum. You can create an unlimited number of
canned messages, with each message having a maximum size of 500 bytes. Custom messages can
be added to the preconfigured list, as well as deletion of any messages. When writing a
new email message, a pop-up picklist of canned messages appear as shown in the above right
figure.
Never miss one of our posts again. Sent MON, WED, and FRI with the latest gadget reviews and news!
Some of the other features that may not be found with other Palm email products are
filtering, group messaging and downloading of messages up to 60k in size.
One-Touch Communicator is a very easy-to-use program, which has a very intelligent and
aesthetic user interface. It has many new features that simply are not provided by other
email programs. My review has found this program to provide the best set of features and
price value. It provides a revolutionary way to communicate with friends and co-workers,
having the ability to synchronize calendars and contacts very easily.
I have beta tested many email products for other handhelds such as the HP
95LX/100LX/200LX and Psion 3a/3c/5. I must say that One-Touch Communicator is the most
innovative product that makes communicating much easier than ever before. It is a
must-have program for the Palm Computing Platform organizers, and the perfect email
solution for people on the move.
Price: $49.95
Pros:
Powerful and full featured.
Can be loaded in FlashROM.
Wireless or line modem.
Cons:
There are only advantages over all other Palm email products, with no missing
features.
Product Information
Price:
$49.95
Manufacturer:
ACM
Pros:

Powerful and full featured.
Can be loaded in FlashROM.
Wireless or line modem.

Cons:

There are only advantages over all other Palm email products, with no missing
features.