The Throttle stylus made by Tools is a new idea
for an old concept. This is a dual action stylus with a ink pen, and a PDA stylus in one
package. The Throttle is made of grey plastic (the same grey as the PalmPilot casing).
When the top red button is pressed in, it can be used as an ordinary ink pen, but
when it is retracted, it is a stylus. The stylus can also be unscrewed like an ordinary
pen to insert ink refills.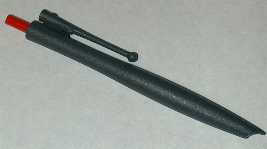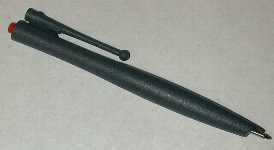 But what makes the Throttle unique is that it docks into the actual PalmPilot or Palm
III case. The clip portion of the stylus slides into the PDA's stylus silo. I found that
the Throttle fit better in my Palm III than my PalmPilot. It was a very tight fit in the
PalmPilot and required quite a bit of pressure to remove it once it was fully inserted. It
fit much easier into the Palm III but because the stylus silo is on the back of the
casing, using the Throttle with a Palm III isn't that convenient.  I'm not sure how
convenient this stylus would be with a PalmPilot for that matter. It seems like it tended
to get in the way. I'd rather just put the stylus in my pocket than dock it in the PDA.
It also probably wouldn't be compatible with most playthru cases.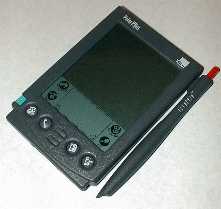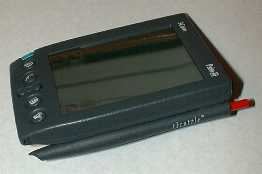 The tip of the stylus is made so that the ink pen tip can slide out under it. When I
was first checking the stylus out, I ran my finger over the writing tip and found it a
little rough to the touch. With closer inspection, I found that the plastic seam between
the two halves of the stylus run through the tip. Writing with the stylus felt smooth on
the screen but I would always keep the tip facing forward so that I wouldn't have the
potential to scratch the screen. (see TTools rebuttle in the comment page of this review) The Throttle does
have a nice thick barrel which makes it comfortable to hold.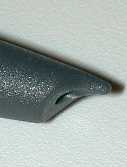 Write
while the tip in this direction.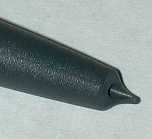 Not this way.
This is a neat idea for a stylus, but I'm not sure I'd ever really use it like it is
intended. It makes an adequate standalone stylus / pen combo but would be much better if
they fixed the seam problem. Since the price is so low, I'd say give it a try and see what
you think…
Price: $9.98
Pros:
Inexpensive
Pen and stylus in one package
Cons:
Snug fit in my PalmPilot
Tip is rough… could have a potential to scratch display if held wrong while writing
For another viewpoint on the Throttle
read what the PalmGuru said
…
You'll love these stories too