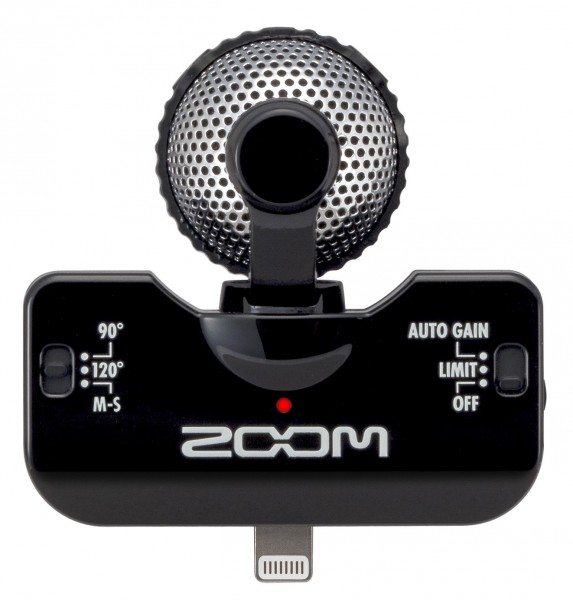 Over the years, video quality has gotten better on smartphones, but if there's one area that hasn't changed much, it is the audio recording side of things.  Have you ever wished your Lightning connector-equipped iOS device (iPhone, iPod, iPad) had a better microphone?  The Zoom iQ5 Professional Stereo Microphone for iOS gives you just that in the palm of your hand.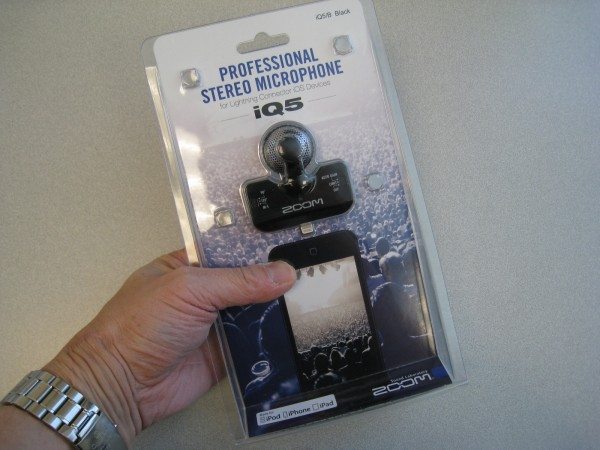 Microphone: Mid-side (M-S) stereo condenser mic(90°/120°/M-S)
Output connector: Stereo mini jack (combined headphone/line level output)
Audio quality: 44.1kHz/16bit
Input gain: + 0 to + 40dB
Maximum input sound pressure: 120dB SPL
Connector: Lightning connector
USB: Mini-B connector (only for recharging the connected iOS device)
Power: Powered by the connected iOS device
The connected iPhone/iPod touch should be powered with the genuine Apple power adapter that was included with it. (iPad/iPad mini does not support this function.)
Compatible devices: iPhone 5, iPod touch (5th generation), iPad (4th generation), iPad mini
Supported OS: iOS 6.0 or newer
Dimensions: 58.6 (w) x 62.4 (d) x 38.5 (h) mm
Weight: 30.5g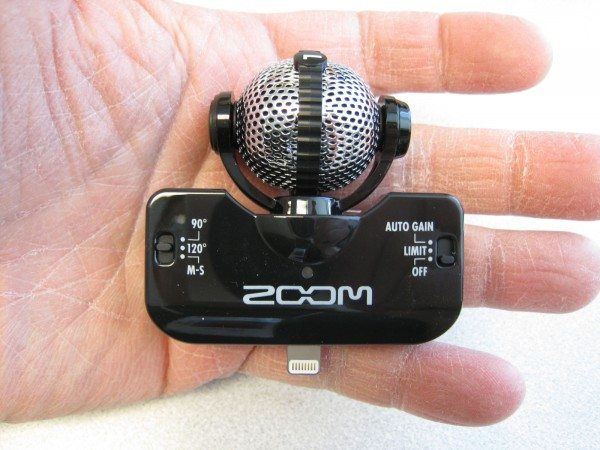 The Zoom iQ5 is very small and easily fits in the palm of your hand.  Comes in black or white.  I was sent the black version.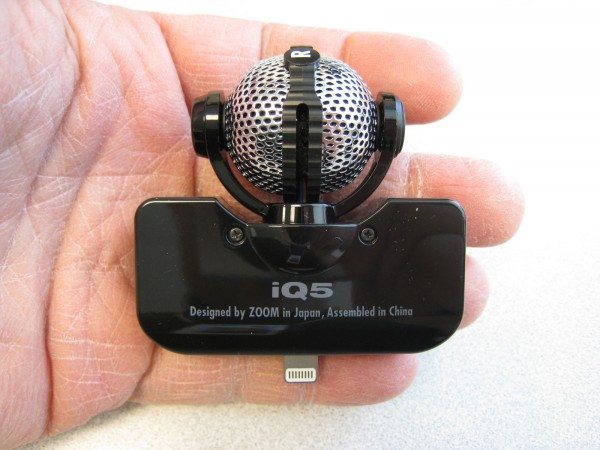 This is the back side of the Zoom iQ5.  Because of the Lightning connector, it's up to you which way to plug it in.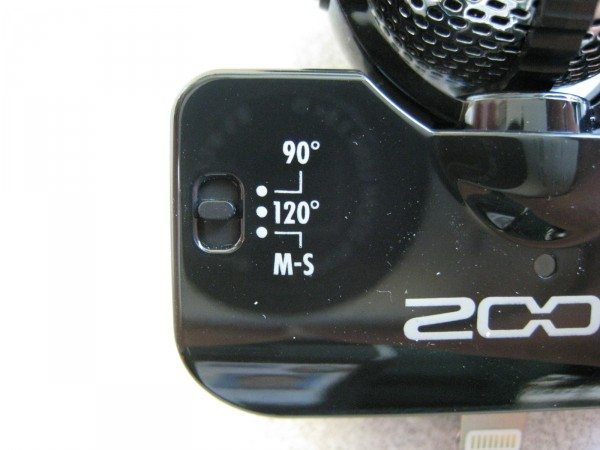 On the left side is the Zoom iQ5's pickup pattern switch.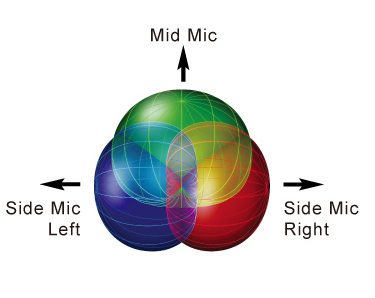 The Zoom iQ5 features multiple microphones that allow the user to choose a pattern that suits them best.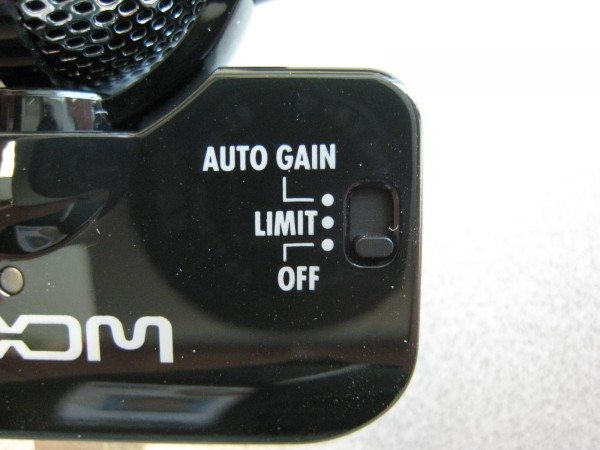 A built-in auto gain setting is included, or set your own limits.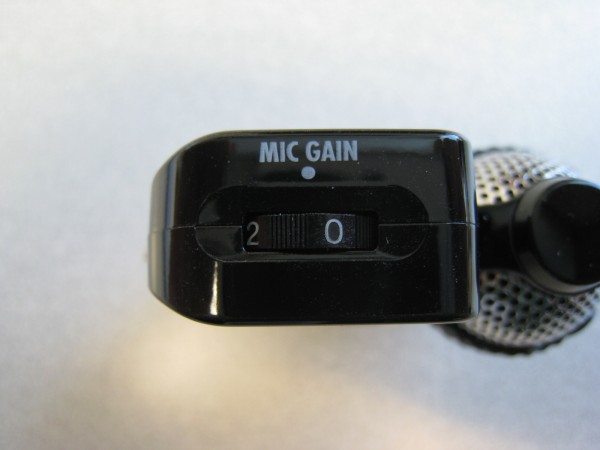 Speaking of limits, there's a dial for that.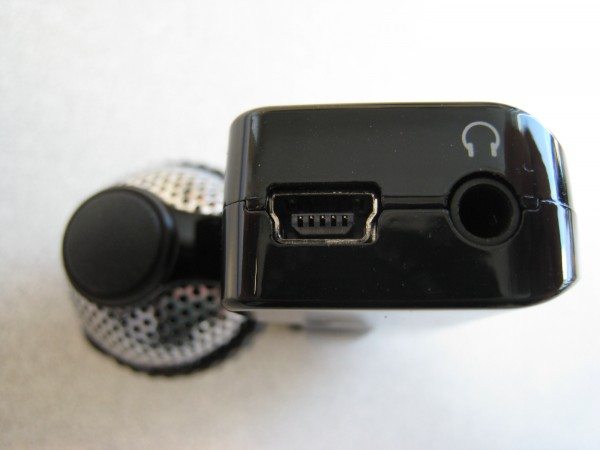 On the opposite side of the Mic Gain dial is a mini USB plug for charging the iOS device (charger/cable sold separately) and a headphone jack for monitoring, since the iOS device's own headphone jack may be covered up, as it is on the iPhone 5S.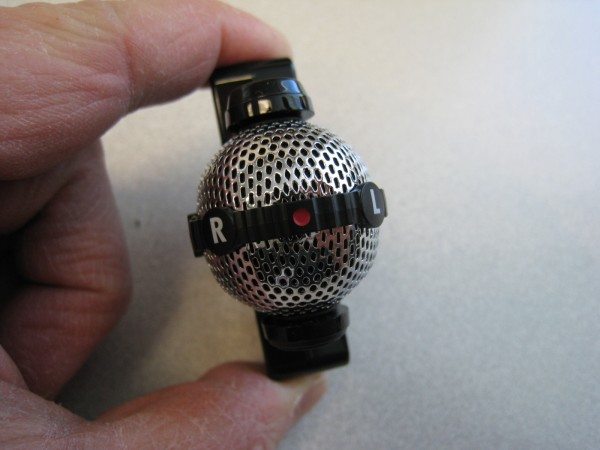 The microphone capsule has a few interesting tricks.  It's rotate on a gimbal-like frame that permits a 90-degree pivot and rotation in two planes.  The red dot indicates the "direction" you're pointing the microphone.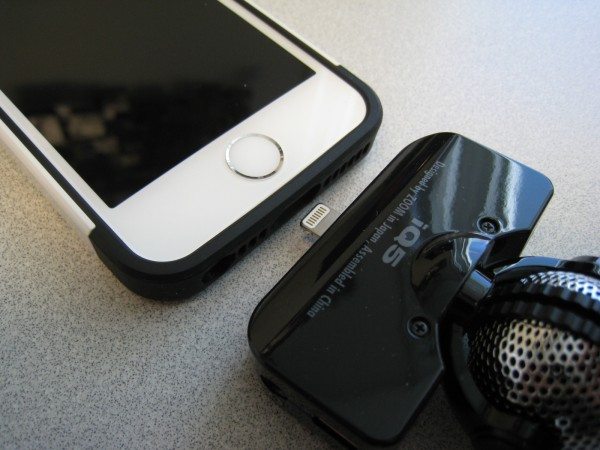 Ready to go!  Not so fast… the Zoom iQ5 would only fit on my iPhone 5S if I took the case off.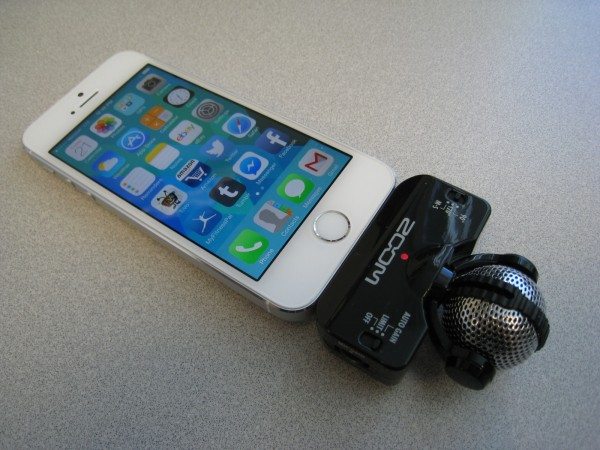 Fully assembled Zoom iQ5 with iPhone 5S.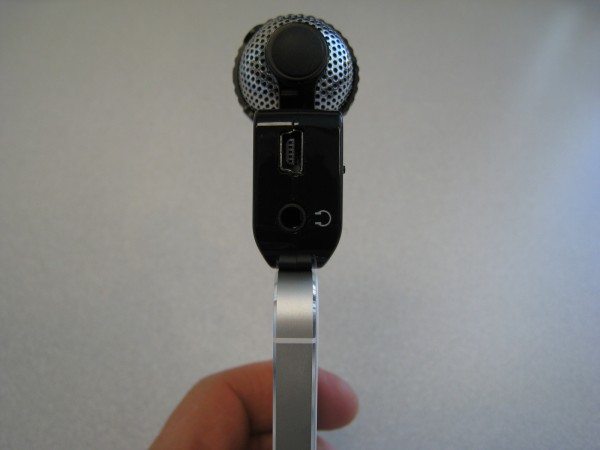 Looking from the side, the Zoom iQ5 is actually thicker than the iPhone 5S.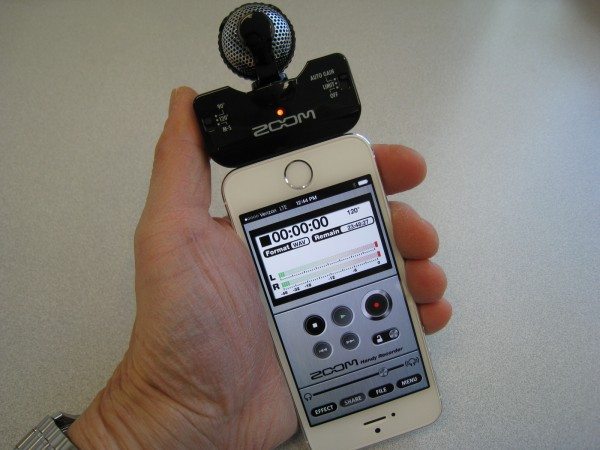 This is the Zoom Handy Recorder app (free download) which works with the iQ5.  Thankfully, the screen rotates accordingly so the mic is up.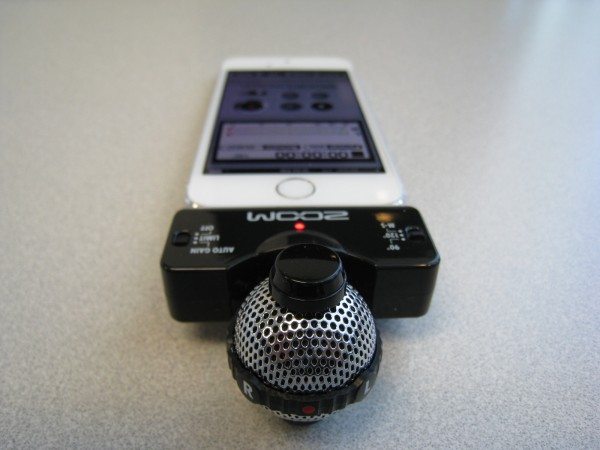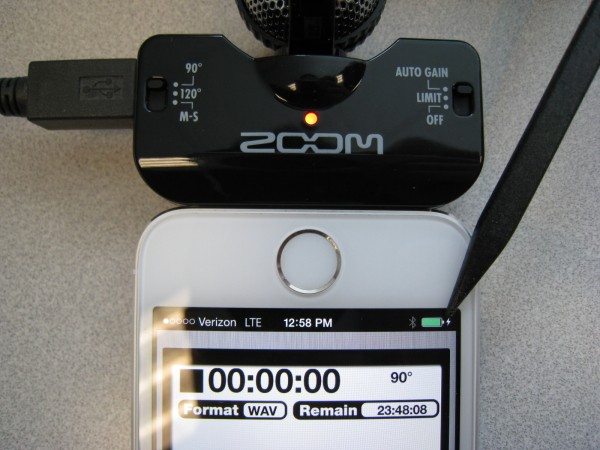 The mini USB port can be used for charging.  Note the charging symbol.
I tried a few other audio recording apps, including the built-in iOS "Voice Memos"…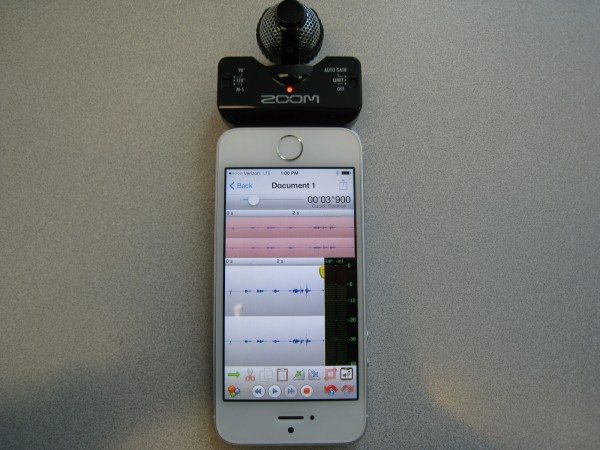 And the one I personally use, TwistedWave.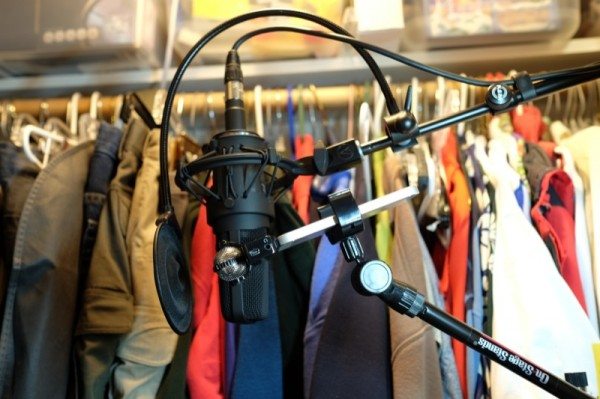 My first test was using the Zoom iQ5 for voice.  I set up the Zoom iQ5 in my recording booth (a modified closet) an recorded some sample commercial tags alongside my Audio-Technica AT4060.  The Zoom iQ5 was recording directly to the iPhone 5 running TwistedWave.  The AT4060 mic was connected to an iPad Air via the Apogee One (with Lightning connector), also running TwistedWave.
Both microphones were mounted behind a pop filter to reduce plosives ("popping" breath sounds).  All tracks recorded in mono.  No post-processing or equalizing was done at all, except for trimming clips.
There are some big differences between these two microphones.  The AT4060 is a large, bulky vacuum-tube condenser microphone that requires its own separate power supply and interface to connect to an iOS device.  The Zoom iQ5 is lightweight, simple, and portable.
To my ears, the Zoom iQ5 does fine for such a pocketable mic.  In fact, depending on the speakers (or headphones) I'm using, it sounds a little clearer.  It loses some low-end range and doesn't seem as "flat" sounding.  If I find myself needing to submit an audition and I'm nowhere near my recording booth- I mean, closet- then the Zoom iQ5 would probably do fine in a pinch.  But I'm not sure voiceover work is the Zoom iQ5's strong point.  So what is?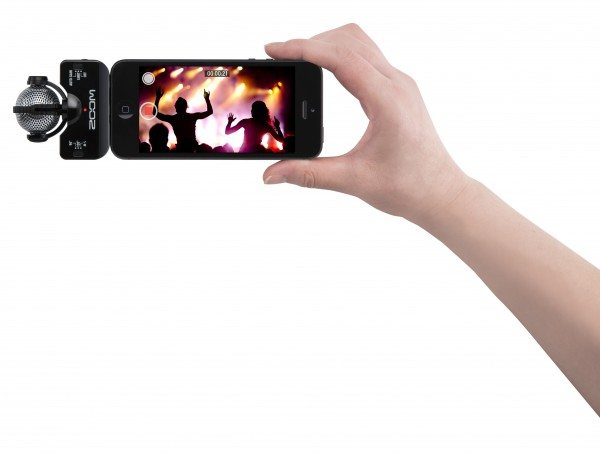 Since the iPhone's video recording feature still relies on the built-in microphone, the Zoom's stereo capability should add quite a bit of "oompf".  Let's give that a try.
The most obvious difference here is the addition of stereo audio.  The iPhone 5S records in mono, and is not adjustable to point in different directions for taking video, for example.  You can hear some odd left-right switching in the iQ5 tracks, probably due to my rather close proximity to the mic.
In the end, I probably wouldn't use the Zoom iQ5 as a mic in my booth.  That's not what it's designed for.  But if you need stereo recording, this tiny take-anywhere mic for your Lightning-equipped iOS device is pretty darn cool.
Other Gadgeteer posts you might like...
Product Information
Price:
$125 MSRP
Manufacturer:
Zoom
Requirements:

iOS device with Lightning port

Pros:

Adjustable stereo microphone allows flexible recording options
Compact
No external power required
Comes in black or white
Very portable
Works with many recording apps

Cons:

Probably won't work with a case on your device