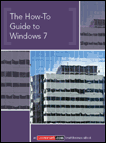 The How-To Guide to Windows 7 – Free eBook [affiliate link] is practical guide on accomplishing everyday tasks in Windows 7, including finding and managing files, networking, wireless, security, and more.
There are a few hoops to jump through to get this guide, but it helps The Gadgeteer to earn some some affiliate fees that can help us to bring you more cool product reviews.
Other articles that we've written that you might like...