We use affiliate links. If you buy something through the links on this page, we may earn a commission at no cost to you. Learn more.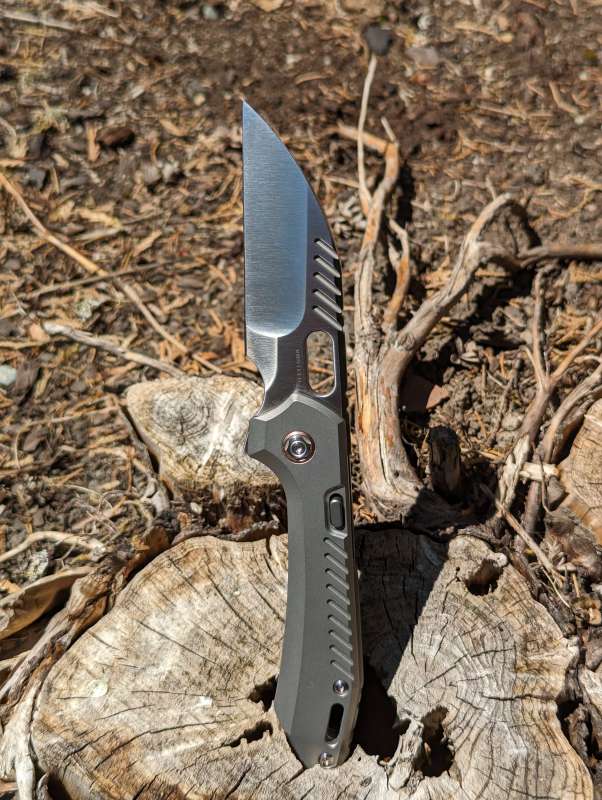 REVIEW – I've reviewed a few Vosteed knives so far and have been impressed with each one but they have mainly been very budget friendly knives in the $50 to $70 range. The Vosteed RSKAOS is their new premium knife collaboration with Rob Saniscalchi that looks to up their knife game considerably. Let's check it out.
What is it?
The Vosteed RSKAOS is their new flagship knife with a 3.46" Wharncliffe blade made from M390 premium steel known for excellent edge retention. It sports a full titanium handle and a very innovative top liner lock. The Vosteed RSKAOS is also available with a 3.30" sheepsfoot blade and can be had in satin or a stonewashed PVD black titanium coating for the same price.
What's in the box?
Vosteed RSKAOS with satin Wharncliffe blade
Plastic case
Support card, sticker, cleaning cloth, Velcro patch
Hardware specs
Model Number: MHET2
Overall Length: 8.39″ | 213.22 mm
Blade Length: 3.46″ | 87.89 mm
Blade Width: 1.24″ | 31.44 mm
Blade Thickness: 0.16″ | 4.00 mm
Blade Material: M390
Grind: Compound
Blade Style: Wharncliffe
Finish: Satin
Hardness: HRC 60±2
Handle Length: 4.93″ | 125.33 mm
Handle Width: 1.21″ | 30.81 mm
Handle Thickness: 0.55″ | 14 mm
Handle Material: Titanium
Color: Gray
Weight: 5.4 oz | 154.4 g
Opener: Thumb Hole | Back Flipper
Lock Type: Top Liner Lock
Pivot Assembly: Caged Ceramic Ball Bearing
Pocket Clip: Titanium | Non-reversible
Carry Position: Tip-up
Knife Type: Manual Folding
Frame/Liner: Titanium
Backspacer Material: Titanium
Pivot Screw Material: Stainless Steel
Pivot Collar Material: Aluminum
Button Material: Titaniun
Designer: R.S. Knifeworks
Country of Origin: China
Design and features
My first impression when opening the plastic case for the first time and seeing the Vosteed RSKAOS is that this is a special knife. This is the first collaboration between Vosteed's in-house designer, Yue Dong, and Rob Saniscalchi, the namesake behind R.S Knifeworks. You can see some design similarities between the RSKAOS and another Rob Saniscalchi collaboration with Kizer called the Mini Paragon.
The Vosteed RSKAOS has a substantial 3.46" Wharncliffe blade in M390 steel, a more expensive premium steel known for its incredible sharpness retention. They also chose TC4 titanium to make the handle, and both are harder to manufacture, so you typically only find them on more expensive knives.
It is on the hefty side at 5.43oz, which no doubt is due to the 4mm thick blade. Despite the weight, the Vosteed RSKAOS still feels nimble and well balanced in the hand. It also looks very streamlined and is very comfortable to hold.
The Vosteed RSKAOS sports a top liner lock that fixes my main issue with traditional liner locks in that it avoids placing your thumb in the blade's line of travel when closing. This design uses a button to push the liner lock in, thus retaining the inherent strength of the liner lock but keeping your thumb out of the way.
The Wharncliffe style blade flips open with authority and a very satisfying thunk when the liner lock engages. Along with the button lock, there is a flipper and thumb hole giving you two more ways to open the RSKAOS, which adds to its usability and also fidget-ability. The caged ceramic ball bearings on the pivot are buttery smooth and have zero play in them. Another nice touch is the titanium pocket clip. I've seen some very expensive knives with the same basic steel pocket clip they use on other knives, so a matching titanium clip shows Vosteed really wanted to make a stand out piece.
The titanium handle has some stylish cutouts that add grip and tie in with the cutouts on the blade. Some jimping on the spine provides a purchase for your thumb, and the finger choil is perfectly placed when choking up on the knife for more precision work.
When closed, the compound ground blade nestles nicely in the handle and has a pleasing contoured profile. The copper colored aluminum pivot collar adds a pop of color. You can tell a lot of thought and work went into this knife with little touches like that.
When people see the Mona Lisa for the first time, most comment that they thought the canvas would be bigger. If you're a knife person and someone told you they have a knife with a close to 3.5" blade and full titanium handle, I think most would expect it to weigh no more than 4 oz. Rob Saniscalchi is a self-proclaimed grind master, and it shows. With the gorgeous compound grind on the M390 steel, he needed a thicker 4mm blade to achieve it. As with the Mona Lisa, her size in no way takes away from her beauty, and so it is the RSKAOS is just heavier than I had expected it to be. From carrying it and using it daily for a couple of weeks, I now appreciate its solid heft and think it's perfect the way it is.
What I like
Superb quality and craftsmanship
M390 steel with titanium is knife art
What I'd change
Final thoughts
The Vosteed RSKAOS is a premium knife with an incredibly reasonable price tag. At $249, you are getting the Mona Lisa at a thrift store price.  The PVD black titanium coated version is the same price, too, which is an added cost and step in manufacturing, making it an even better deal. I understand some will be skeptical since the Vosteed RSKAOS is made in China, but the fit and finish are up there with the top makers. This is a collector's knife with an EDC price tag. For comparison, the USA-made Benchmade Narrows 748, which also sports an M390 blade and titanium handle, will set you back $522 and still has the basic steel clip they use on their other knives. I'm not saying Benchmade's are not great knives because they are. I've taken a personal tour of the Benchmade factory in Oregon City and have quite a few that I love and one that literally saved my life, but with the flipper, thumb hole, rock solid top liner lock, and little extras like the matching titanium clip the Vosteed RSKAOS has earned the top spot in my pocket (sorry Vosteed Raccoon Crossbar).  Up to now, Vosteed has made some good budget-friendly knives. The RSKAOS has shown me they can make master-level knife art, and if this hints at what's to come, I am super excited for their future knives. Well done Vosteed and R.S. Knifeworks!
Price: $249.00
Where to buy: Vosteed Store
Source: The sample for this review was provided by Vosteed.