We use affiliate links. If you buy something through the links on this page, we may earn a commission at no cost to you. Learn more.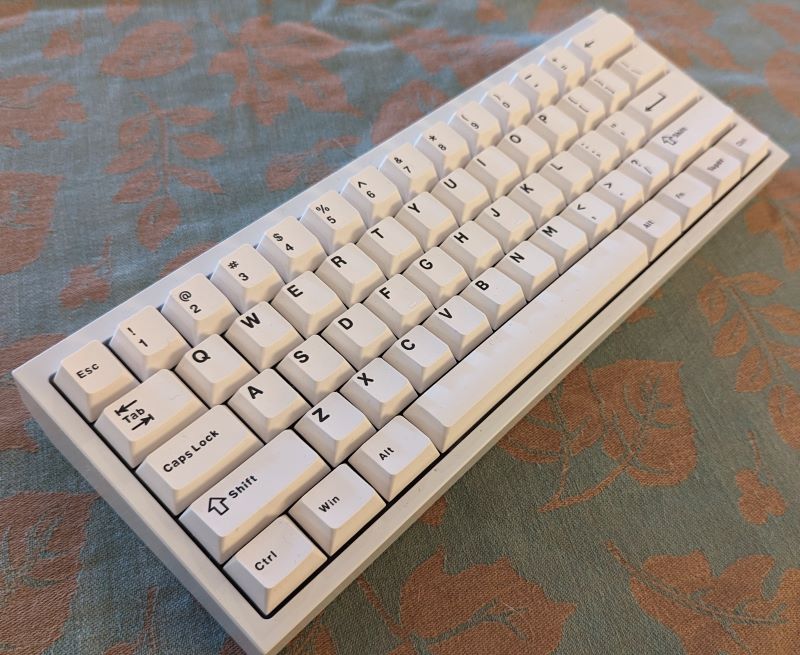 REVIEW – If you're into custom gaming PCs, I'm pretty sure the name Cyberpower PC is familiar. They've been around for years and make great machines with quality parts and quality builds. Well, now they've gotten into custom gaming keyboards, so you know I had to get my hands on one. They already have some gaming keyboards but they would look more at home on the desktop of a full gaming rig with RGB galore. But what, if like me, you want something a little more subdued and open to all sorts of customization options? The new CyberpowerPC CK60 might be just what you're looking for.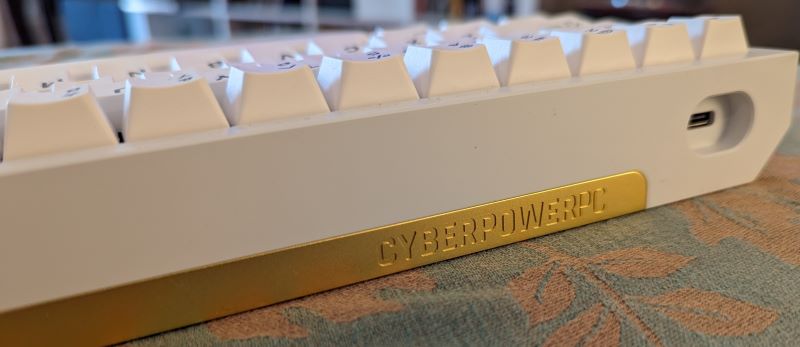 What is it?
The Cyberpower PC CK60 Custom Mechanical Gaming Keyboard is the company's first foray into custom-built gaming mechanical keyboards that can be shipped out in a matter of days versus having to wait for a group buy or sponsor a campaign.
What's in the box?
Cyberpower PC CK60 Custom Mechanical Gaming Keyboard
USB A to USB C cable
Keycap/switch puller
Hardware specs
Features:

Full CNC Aluminum Case
Gateron Red Linear Switches
Gold Plated Aluminum Base Plate
Customizable 16 Million Color Individual Key RGB
Thermal Resistant PBT Keycaps
2X Noise and Vibration Dampening High Density Foam Padding (Base and Plate)
Compatible With Most Standard 60% PCBs

Specifications

Form Factor: 60% ANSI Keyboard Layout
RGB LED Orientation: North Facing Top Row, South Facing Base
USB Interface: USB 3.0 Type-C
Key Number: 61 Keys
Net Weight: 2.8 Lbs
Dimensions: 300mm (L) x 110mm (W) x 39mm (H)
Design and features
The Cyberpower PC CK60 Custom Mechanical Gaming Keyboard is a 60% customizable mechanical keyboard, meaning you can change out almost everything and replace it with something more to your liking if you want. There's a bit of a caveat at the moment though. Currently, on the CyberpowerPC website, there are only two colorways to choose from and only one set of switches for a pre-built model. You can choose from a white or black with a full CNC anodized aluminum case, but can only get it with Gateron red linear switches, the ubiquitous gaming switch. With that said, I need to fess up right now and tell you upfront. I hate red switches. It doesn't matter who makes them. I hate them all with a passion. The first thing I did, after a quick feel of what the reds felt like in the CK60, was promptly replace them with some Holy Panda tactile switches. Is that cheating? Does that affect my review of the CK60? Depends on how you look at it. The CK60 is made to be customized, so I did. I didn't want a biased opinion based on the switch and to me, it made a world of difference.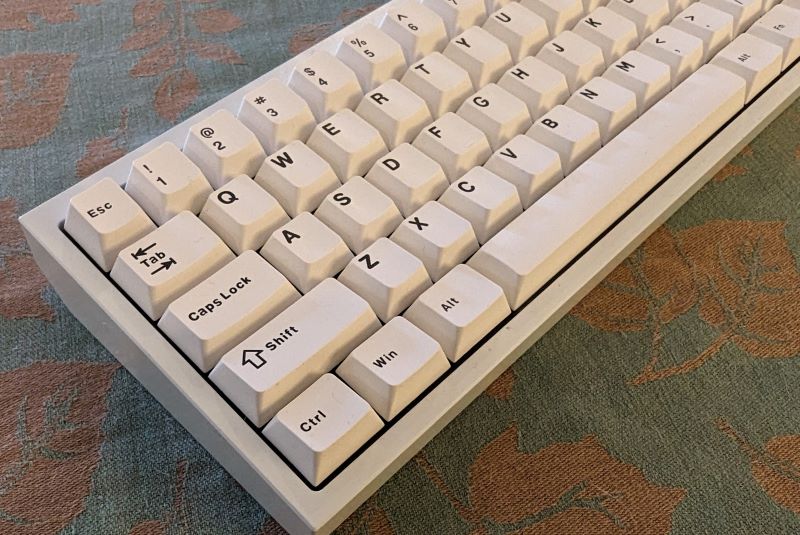 The CNC case of the CK60 makes this little guy a tank, and I mean that as a compliment. I do not want some lightweight plastic case on my keyboard so it moves at the slightest bump. Everything is accessible from the top, so the case is a monolithic slab. No cracks or seams. The edges all have a slight chamfer to them that's not immediately apparent, but adds a nice little aesthetic.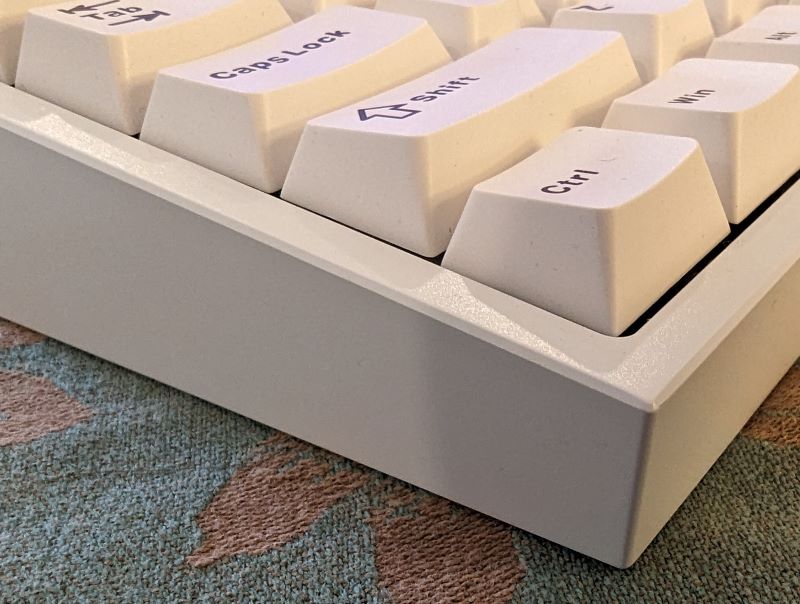 Somewhat similarly, the rear lower corners have a severe chamfer that I really like. CyberpowerPC says that was done for a practical purpose, making it easier to pick it up and move. For me, it adds a little flair, nothing over the top, nothing that screams, "Hey! Look at me! I'm a GAMING keyboard."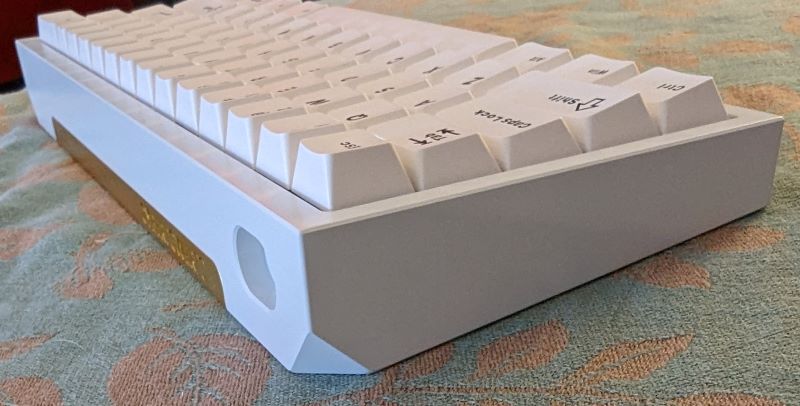 It will look right at home on your desktop if you aren't into the Cyberpunk setup. Another nice bit of bling is on the bottom. They've added a gold-plated aluminum base plate, although I have to say it looks more like brushed brass.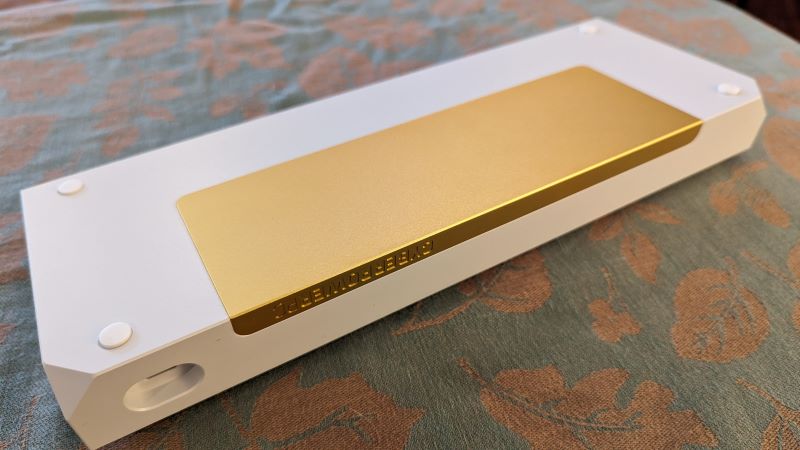 Regardless, it adds a lot to what otherwise would be a monochromatic slab. You will have the option to have a logo/picture/text/whatever lasered etched on it, once CyberpowerPC starts offering the custom-built option.
The keycaps are made of thermal-resistant PBT, so they'll resist any warping from heat and should last a lifetime.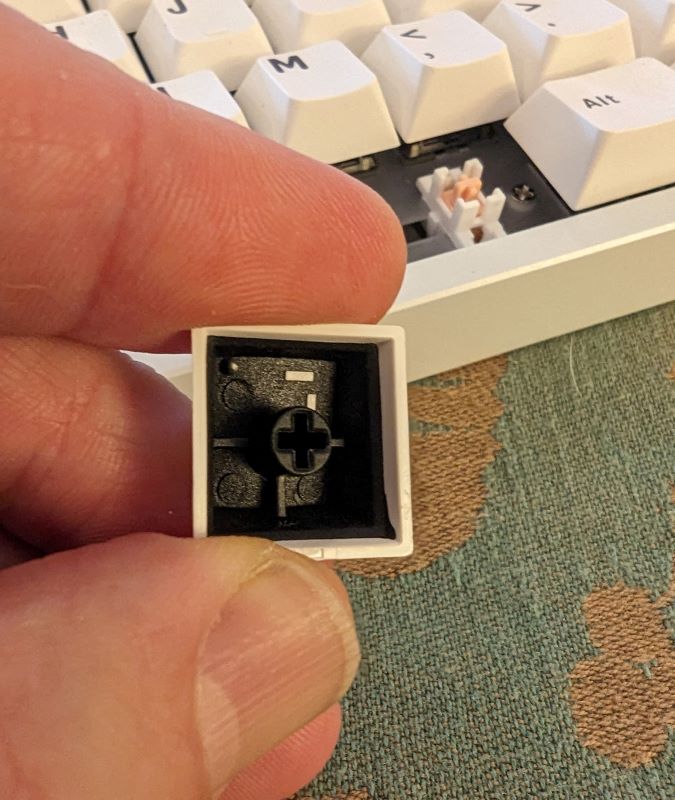 CyberpowerPC says on its website the keycaps are dye-sub printed but they look to be double shot to me. They also look to have used some of the thickest plastic when making them. They are solid and feel nice when typing.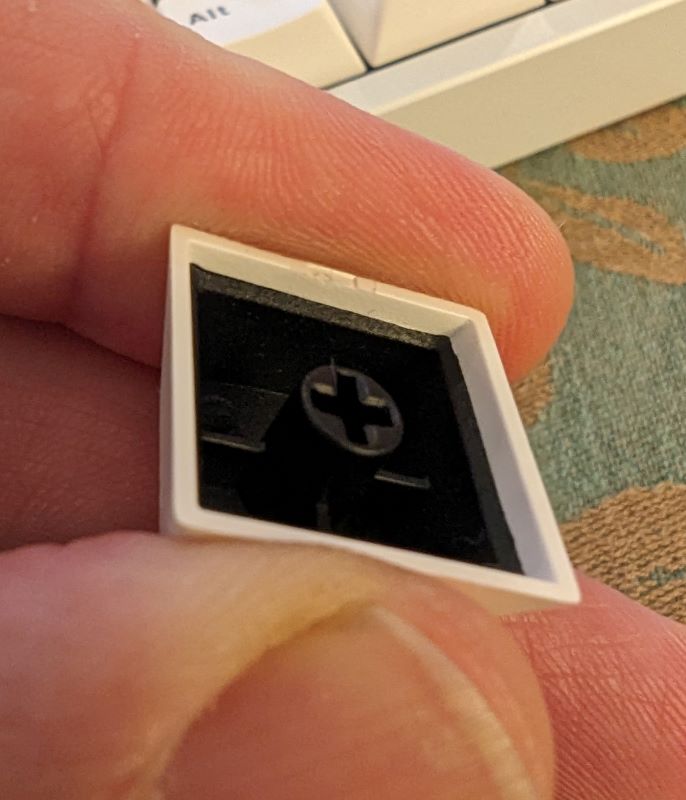 The only complaint I have about them is the color doesn't match the same white as the case. This issue isn't exclusive to Cyberpowerpc. I've seen the same thing on other more expensive keyboards too. It's me being nit-picky, but I would prefer they match.
Another aspect you can change once the custom-built option is available is the switches. There will be 9 different switches to choose from. Sigh, I wish I could chosen something other than reds, but beggars can't be choosers.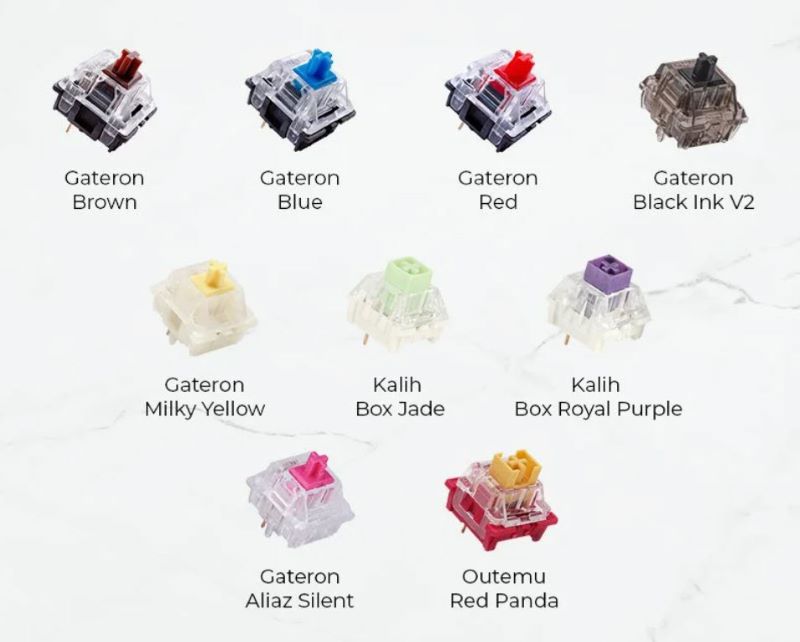 And here's something I haven't seen in any of the keyboards I have or reviewed. CyberpowerPC based its case design around the Tofu60 keyboard so you can even replace the PCB with most standard 60% PCBs available.
Finally, in case you're wondering, the keyboard is wired only, no Bluetooth, no 2.4 GHz. Fine by me, I prefer wired anyway. Also, as expected with most keyboards of this ilk, there are plenty of foam gaskets that add to the comfort and sound of typing. And, there's a choice of top plates that will be available for the custom-built option. My review sample has a polycarbonate plate but aluminum and brass will be available.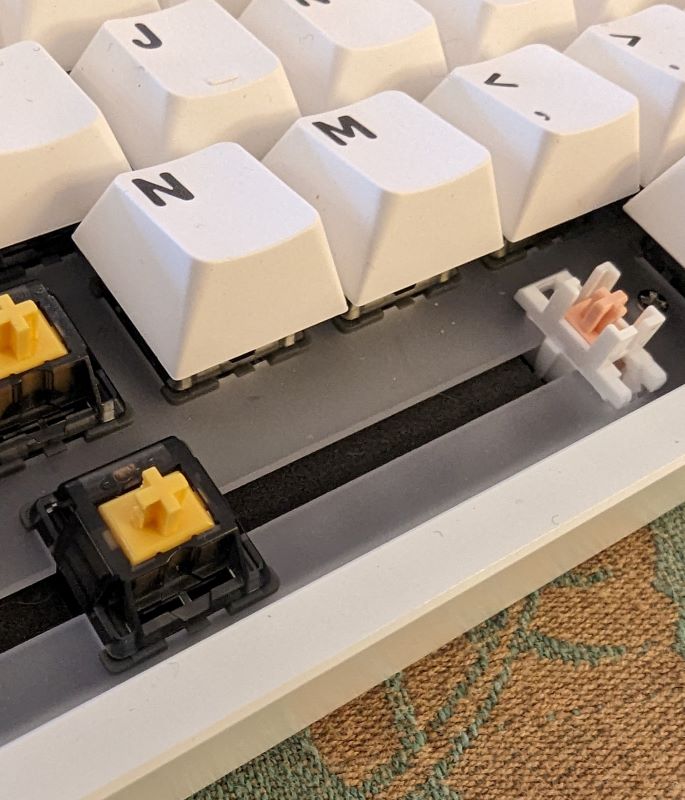 Setup
Setting up the CK60 can be really simple. You can simply plug it into your PC and get to typing or playing. I can't say if it's Mac-compatible. One, I don't have a Mac and B, they don't mention it on the website. The default key binds offer all the basic functions for f-keys, media, and lighting controls.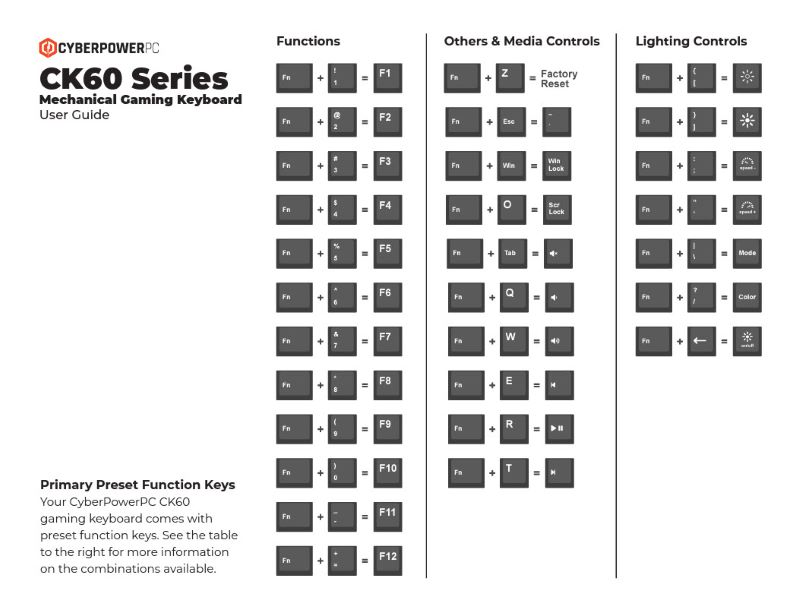 Now if you want to customize even further, you can download the CyberpowerPC CK60 utility software.  This allows you to remap keys, create macros, change the lighting effects, and more. I wish they had made the CK60 VIA and QMK compatible. I'd rather not install a separate software package to make these changes when the online VIA app is so much easier.
Performance
The Cyberpower PC CK60 feels great and sounds great. My gripe is a personal one. It's a 60% layout. It's missing arrow keys, dedicated home, and end keys. I want and need those keys so that's why I prefer a 75% layout. This is not a fault of the keyboard, just personal preference. That aside the keyboard performs admirably and feels great to use. I like it but really wish it were 75%. It would be perfect.  If 60% is your jam, then by all means, take a serious look at it.
What I like
Build quality
Case design
Customizable
Custom-built option coming soon
No group buy required
Feel and sound
What I'd change
Offer a 75% layout
Make it VIA-compatible
Color match keycaps to the case
Final thoughts
This is a great keyboard and is available for shipping immediately. CyberpowerPC has a winner on their hands that can only get better once the custom-built option becomes available. For anyone looking for a sub-$100 gaming keyboard, this isn't for you. If you're looking for a more custom keyboard with tons of options for making it your own, this is a great value. I would definitely use this as a daily driver, but I need the missing dedicated keys for my daily workflow. With that said, I can't recommend the CK60 enough. It's really that good.
Price: $149
Where to buy: CyberpowerPC
Source: The sample of this product was provided by CyberpowerPC.