We use affiliate links. If you buy something through the links on this page, we may earn a commission at no cost to you. Learn more.

REVIEW – Hey! It's me again. Yep, I'm back with another budget-friendly mechanical keyboard. What can I say? I can't help myself. If one comes up for review, I have to try to get it. Here's what I've got for you today. It's the Womier S-K71 68% Tri-mode, gasket-mounted mechanical keyboard for about $100 bucks. Is it worth the money? It can't be all that for only $100, right? I bet it's all flimsy plastic! If you really want to know, then read on to get the scoop.
What is it?
The Womier S-K71 is an RGB loaded, silicon and foam gasket mounted, tri-mode connection, Win and Mac compatible, aluminum cased, 68% layout mechanical keyboard.  Sounds good, right?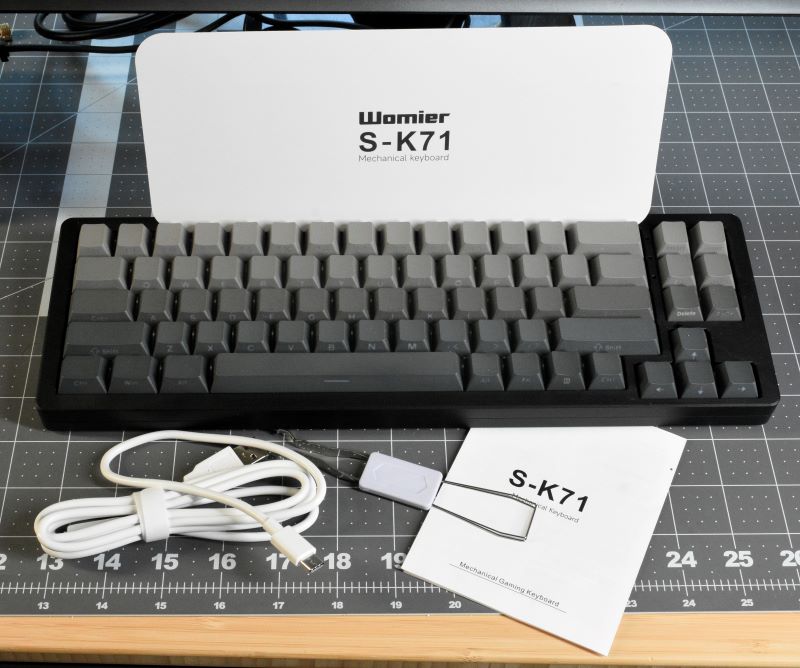 What's in the box?
Womier S-K71 mechanical keyboard
USB A to C cable
2.4 GHz dongle stored in the keyboard frame
Switch/keycap puller
Manual
Hardware specs
Model: Womier S-K71
Total Keys: 71 Keys
Color Options: Blue/Purple/Black
Keycap (Black version): Cherry profile side-printed shine-through double-shot PBT keycaps
Case Material: CNC machined Aluminum
Connection Types: Wired/2.4GHz Wireless/Bluetooth 5.0 connection
Switches: Outemu White pre-lubed linear switch
Backlight: South-facing RGB LEDs
Stabilizer: XINMENG V2 Satellite Stabilizers
Hot-Swap PCB: Supports both 3-pin/5-pin switches
Mounting Style: Leaf-Spring Gasket Mount
Battery Capacity: 4600 mAh
Interface: USB Type-C
Operating System: Windows/macOS
Dimensions: 350*115*31mm
Weight: 1300g (Keyboard)
Design and features
Let's take a look at the S-K71 and see what we find. The first thing I noticed when it arrived was the weight. It's just shy of 3 lbs which doesn't sound like much. But when you compare it to other plastic-cased keyboards, it's quite substantial.  Is that a bad thing? Not in my opinion. I like a heavy keyboard. I want to feel confident it's not going to slide around my desk at the slightest bit of a push. Yes, the rubber feet on the bottom help that but I want my keyboard to feel like something! The Womier S-K71 has me covered there.
Besides I'm not going to be traveling with it, although I could since it falls right in the sweet spot for me as a 68% keyboard. I have limited space on my desk so a smaller keyboard is most welcome. Because of this though, you will be giving up a dedicated F-key row, so now you'll have to use the FN key in conjunction with the corresponding key on the top row. Not a problem for me, but something to consider.
If you've read any of my other keyboard reviews, you'll know I'm not a huge fan of RGB lighting. I mean I do like some backlighting, particularly the lovely cyan I'm currently using.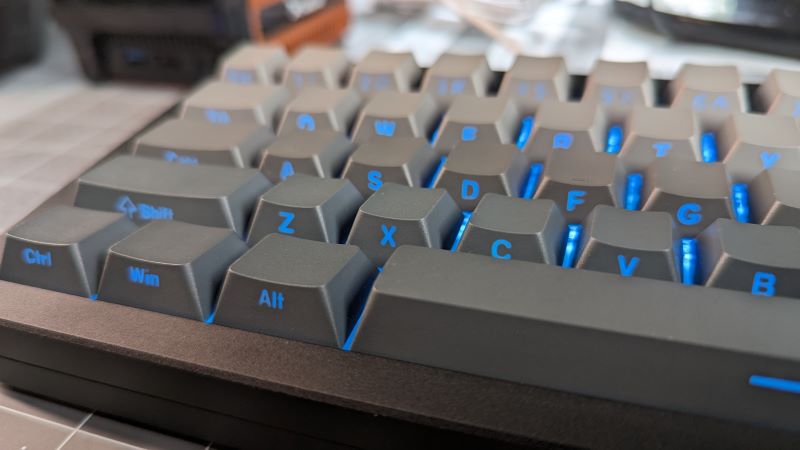 But for those of you who do like all the flashing lights, then you'll be happy to know the Womier S-K71 will let you set several different modes, colors, speed of effects, and intensity right from the keyboard, no additional software is needed.
The next thing the S-K71 has going for it is all the PORON foam and silicon gasket mounting used for sound and comfort.  The PCB is supported around its perimeter with both, while underneath there's a foam layer.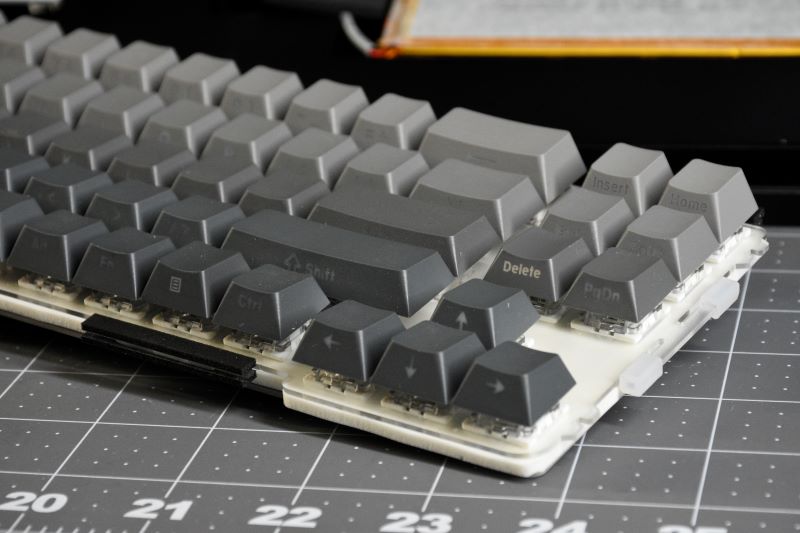 Sandwiched between the PCB and the top plate is another layer of foam.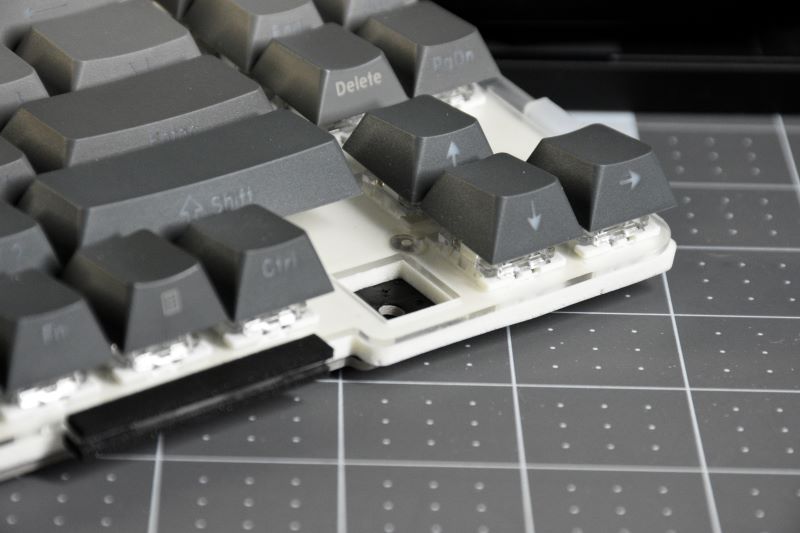 This makes for a quite comfortable typing experience for this gorilla using it. I tend to bottom out pretty hard while typing and this cushioning is much appreciated. It also helps make the S-K71 sound like muted popcorn popping. It sounds great in my opinion. There's no ping or rattle that I can tell, just a nice poppy sound. Here's a little video so you can hear it.
The keycaps are double-shot PBT keycaps with shine-through legends on the front of the keys instead of the top. So they should look great for a long time and not get the dreaded shine on them like ABS keycaps do. On the black version that I received, the keycaps have a grey-to-black gradient. I love this look.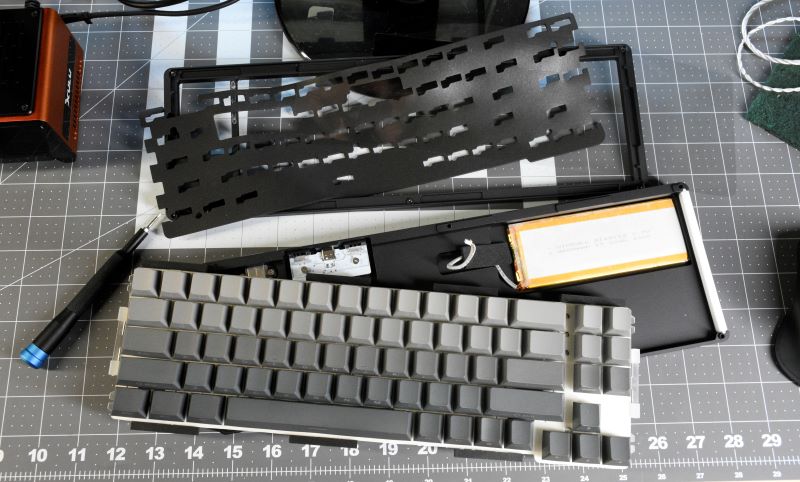 The Womier S-K71 allows you to use it wired or wirelessly. So you can either use the included cable to USB C, the 2.4 GHz dongle to go wirelessly one way, or Bluetooth 5.0 to go wirelessly another. Plenty of connectivity options to meet your needs. All of which worked flawlessly for me on my Windows laptop. Womier says the S-K71 is also Mac-compatible but I can't confirm that.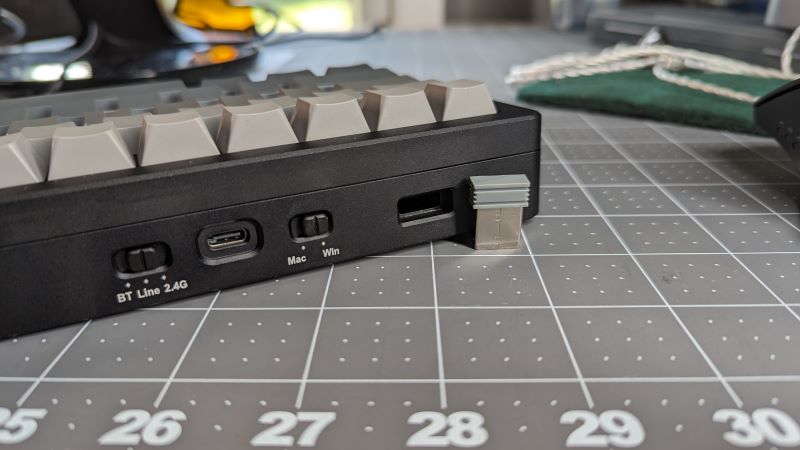 Womier says you should be able to get about 15 days of battery life out of the 4600 mAH LiPO if you use Bluetooth and no RGB and that sounds about right. I used it in all three modes with RGB on the whole time and have only charged it once, although I never ran it out completely.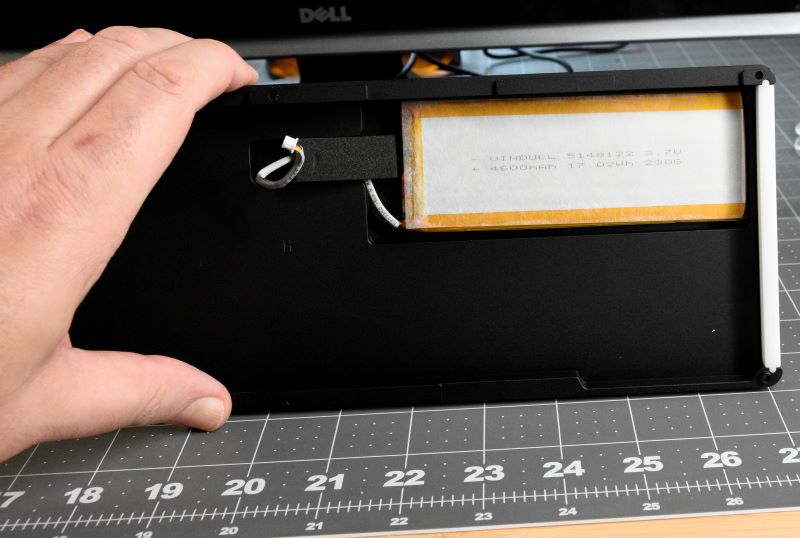 The supplied switches are Outemu pre-lubed white linear switches which are ok for linears.  They feel a little squishy but not too badly.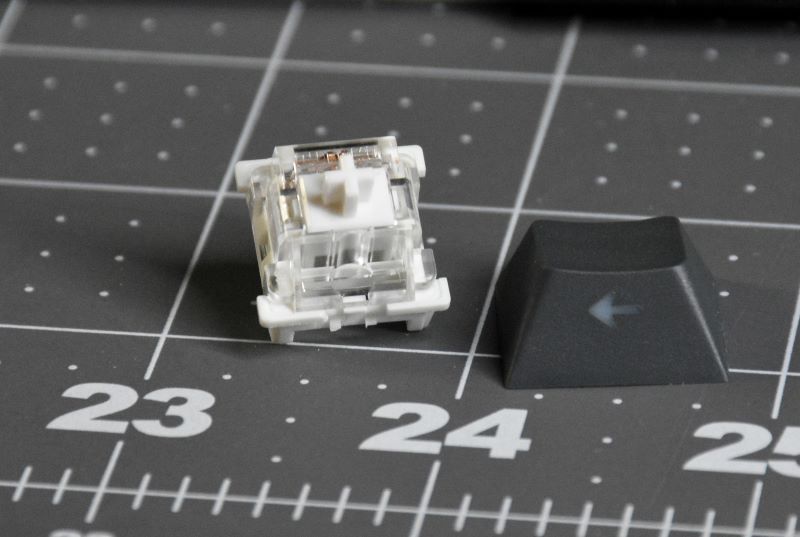 I just wish Womier had a tactile switch option. I would like to see what the S-K71 felt and sounded like with some nice tactile switches. Luckily since the S-K71 is hot-swappable, if I can get my hands on some I can just swap them out. This could be someone's end-game build and not cost you a car payment.
I really like the 68% layout Womier uses here. I typically prefer a slightly larger keyboard but this one feels just about right. The only thing I don't really like about this particular setup is the home key isn't directly above the end key. I haven't gotten used to it yet so I have to glance over every so often to remind myself to hit the right key. I think for the price of this keyboard I can overlook that. There is some software that can be downloaded from XVX/Womier and it probably will let me swap that. I'm using it on my work setup and IT won't let me install it so I'll have to try it out on another system at some point. Again, it's not that big of a deal.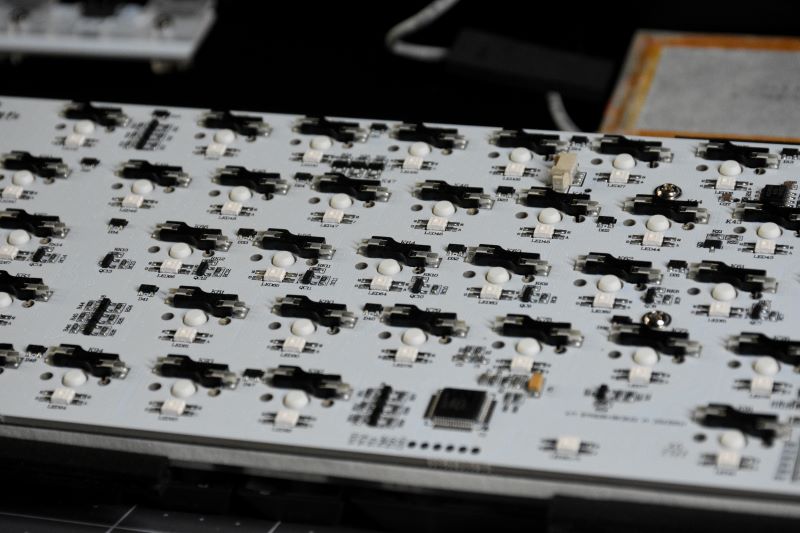 What I like
Aluminum case
Hot-swappable
Wired or wireless connectivity
Double-shot, shine-through PBT keycaps
Small form factor
The soft, poppy sound
What I'd change
Final thoughts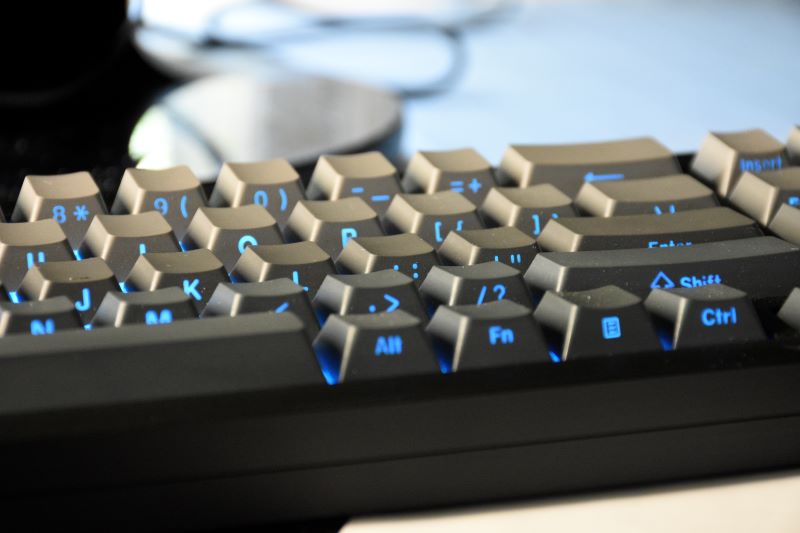 So what do you think? You get a lot for $100, right? If you're just getting into the whole mechanical keyboard hobby, I think you should check out the Womier S-K71 68% keyboard. If you're looking for a really good keyboard with lots of options that doesn't require opening a line of credit, then check out the Womier S-K71 68% keyboard. If you're a keyboard nerd like me and like to change your setup often, then check out the Womier S-K71 68% keyboard. It sounds good, looks good, and feels good right out of the box. And if black isn't our jam, they offer a couple of colors to choose from as well, so you should definitely… You get it.
Price: $100, currently $90 with a code available on the XVX/Womier site
Where to buy: XVX/Womier and Amazon
Source: The sample of this product was provided by XVX/Womier.