We use affiliate links. If you buy something through the links on this page, we may earn a commission at no cost to you. Learn more.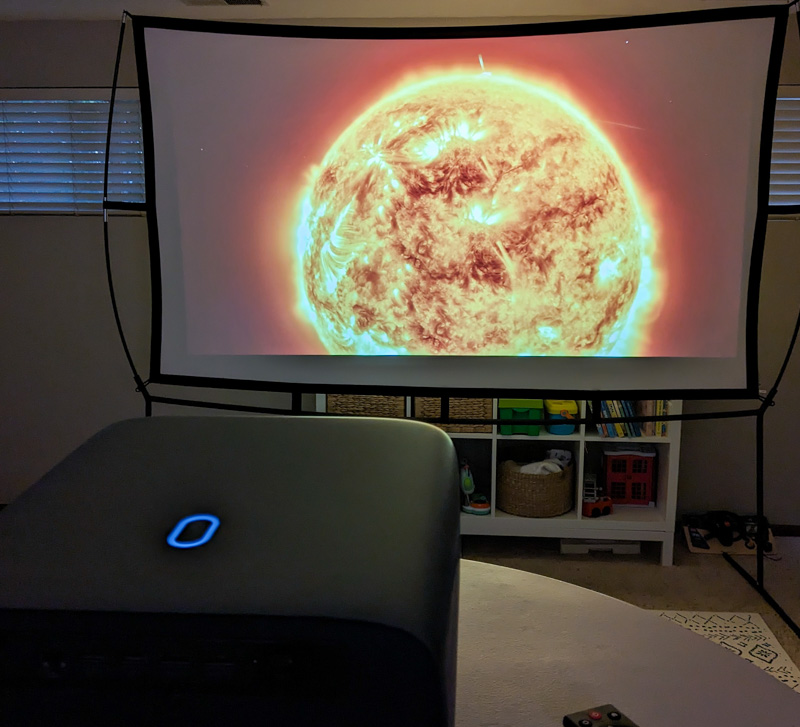 CROWDFUNDING REVIEW – If you're in the market for a home projector, there are probably two key specifications you're looking for: resolution and brightness. Many entry level projectors are 720P (or even worse), but you're going to want at least Full HD (1080P) for any decent sized screen. If you're going really big, then you might benefit from a 4K resolution projector, but those tend to be a fairly big jump in price. For most people wanting a theater experience, a 1080P projector is going to do a great job (especially since lots of folks still don't have home internet capable of streaming 4K at decent bitrates). The brightness of the projector is the next key element: many entry-level and mid-level projectors are meant to only be used in a very dark room, and will appear washed out if the room is bright. A lot of budget projector models on popular websites like Amazon and Ebay will advertise tens of thousands of "lux" brightness, but this is often misleading or even outright lies (I've personally bought projectors in the past advertised at 10k+ lux that end up being dimmer than a ~250 nit computer monitor, even in a dark room and smaller projector screen). I've learned to watch for actual ANSI lumen brightness ratings, these seem to be a better indicator of performance. Based on these two specifications, the KJM K3 projector looks like a good value, especially for the early crowdfunding prices (though with crowdfunding there's always a degree of risk – I've had several crowdfund projects I backed fail with no refunds, so buy at your own risk!).
What is it?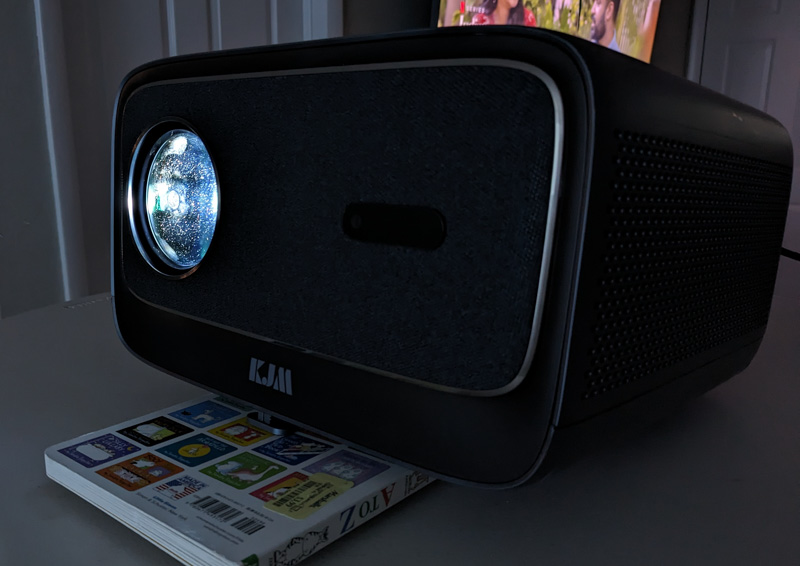 The KJM K3 projector is an LCD projector capable of Full HD (1080P @ 60 FPS) resolution, 1500 lumens brightness, loud JBL speakers, and certified compatibility with most major streaming services like Netflix and Prime Video. Think smart TV blown up to 100-200 inches on a wall or screen.
What's in the box?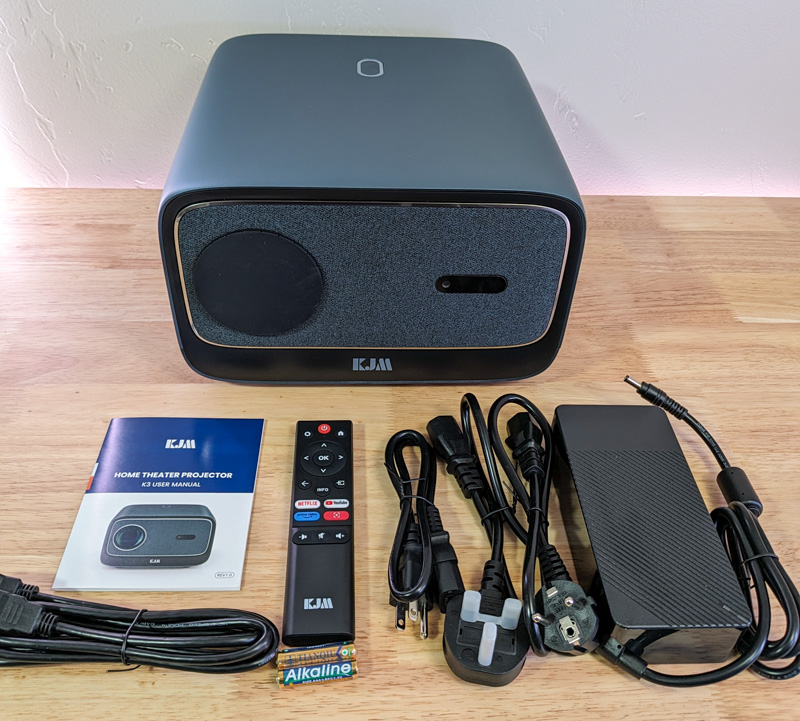 KJM K3 projector
3x AC power cables (for different regions)
AC power brick
HDMI cable
Smart controller
Batteries for controller
Instruction manual
Hardware specs
Size: 11.1″ x 11.1″ x 6.7″
Weight: 9 pounds
Working temperature: 32-104 °F
Controller: Bluetooth
Resolution: 1920 x 1080 @ 60 FPS
HDR: HDR10
Audio: 2x 15W JBL stereo speakers with Dolby Audio
Brightness: 1500 ANSI Lumens (max)
Design and features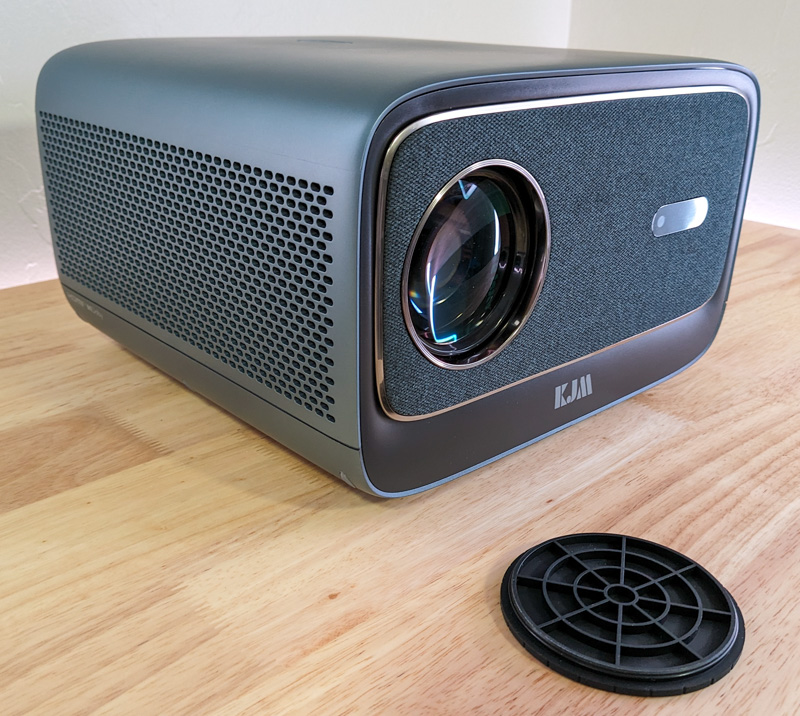 The KJM K3 projector has great curved edges and I like the cloth elements on the front. The body has a plastic exterior, but doesn't feel cheap. The lens cap keeps dust off the lens when not in use.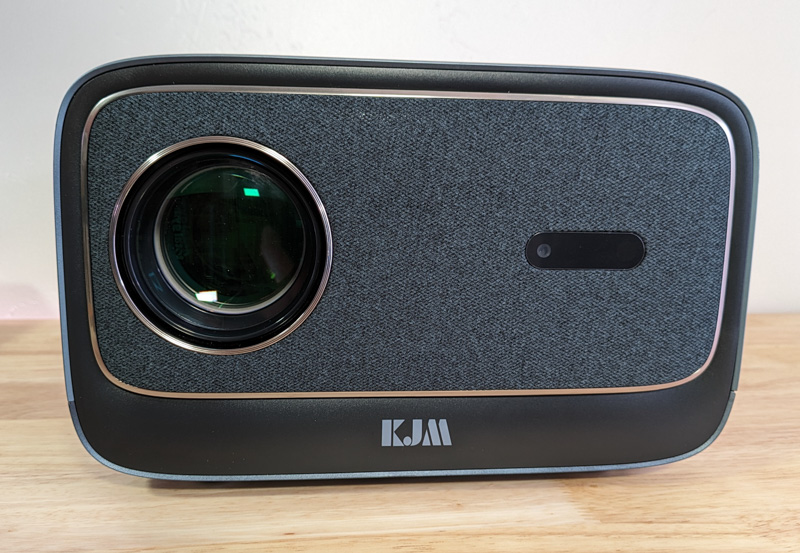 There's an IR sensor on the front and rear, but the included Bluetooth remote doesn't use these so it must be for universal remotes.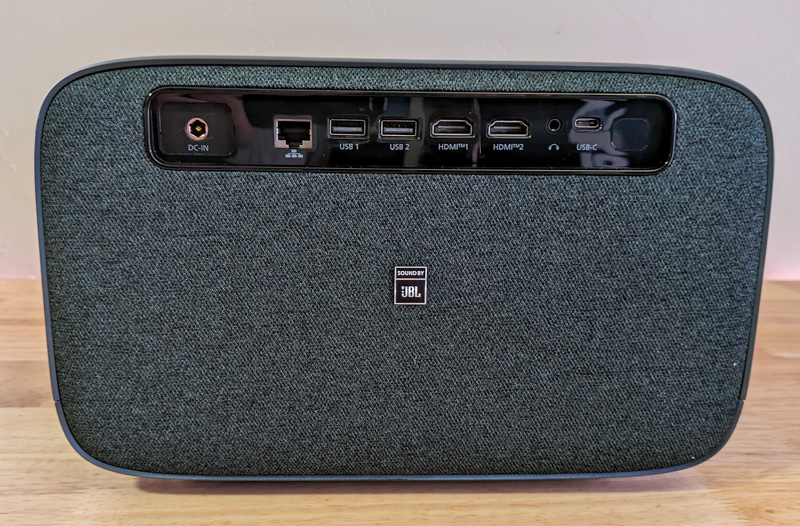 Around the back, the JBL speakers are covered by more of the cloth material. A pair of HDMI ports allow you to connect other TV devices, game consoles, or computers. USB inputs can provide low amounts of power (for streaming TV sticks), or read video/image/audio files with quite a few file types supported. Power input, an Ethernet port, and audio/headphones output rounds out the back IO.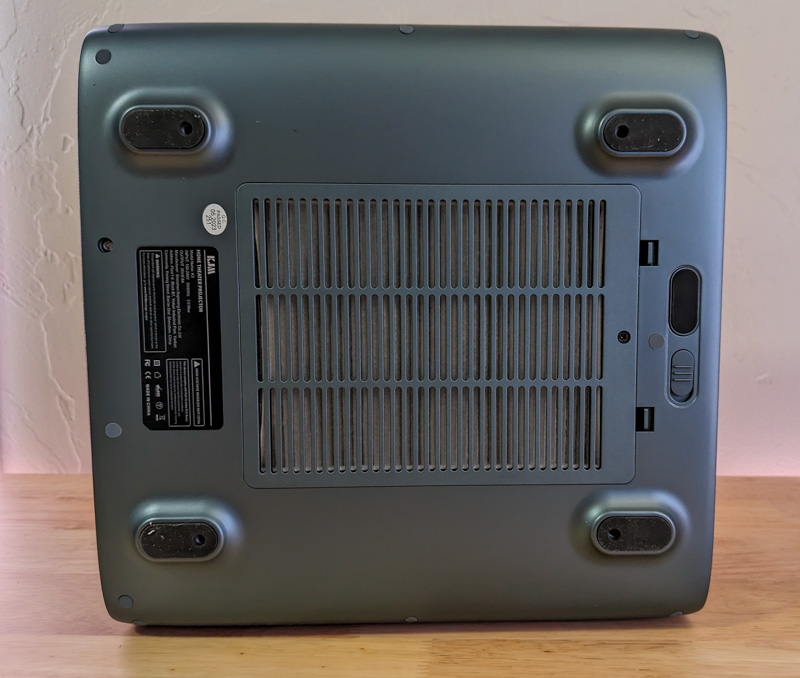 Four rubber feet and a filter cover are on the bottom. I like that this filter is easily removable for cleaning. Projector mount points are available in these rubber feet (and the image can be flipped in the settings if you mount it upside down, like to a ceiling mount).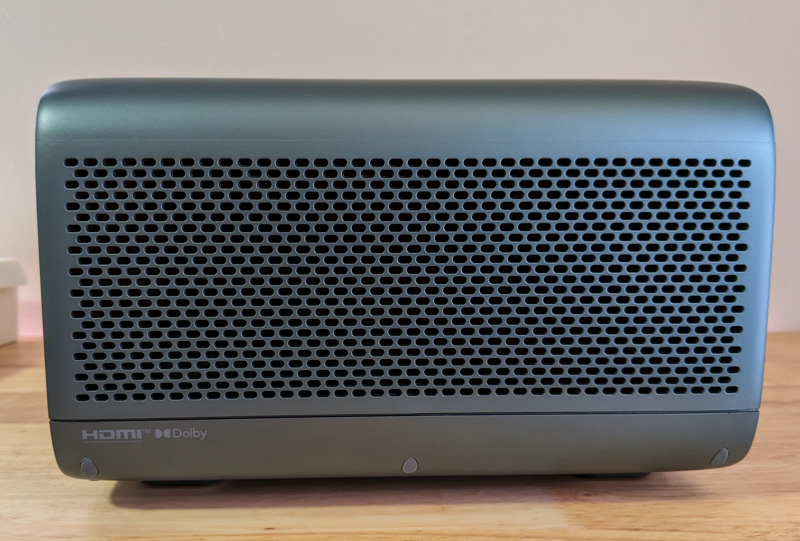 Both sides of the KJM K3 projector have vents for airflow (and audio output?).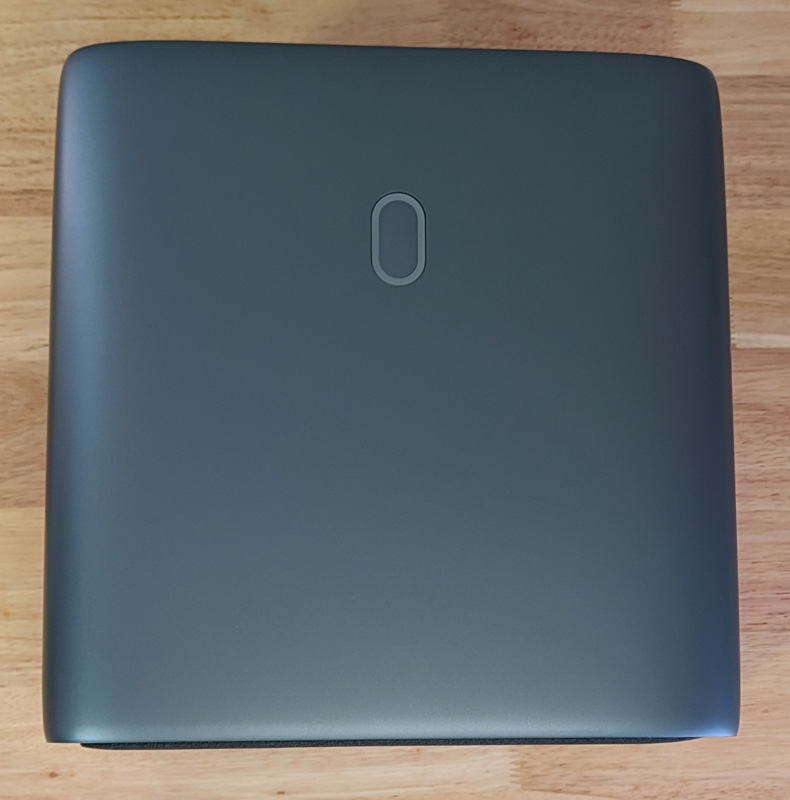 Up top is the single control button, which acts as the power on/off switch and has a ring LED light to indicate status.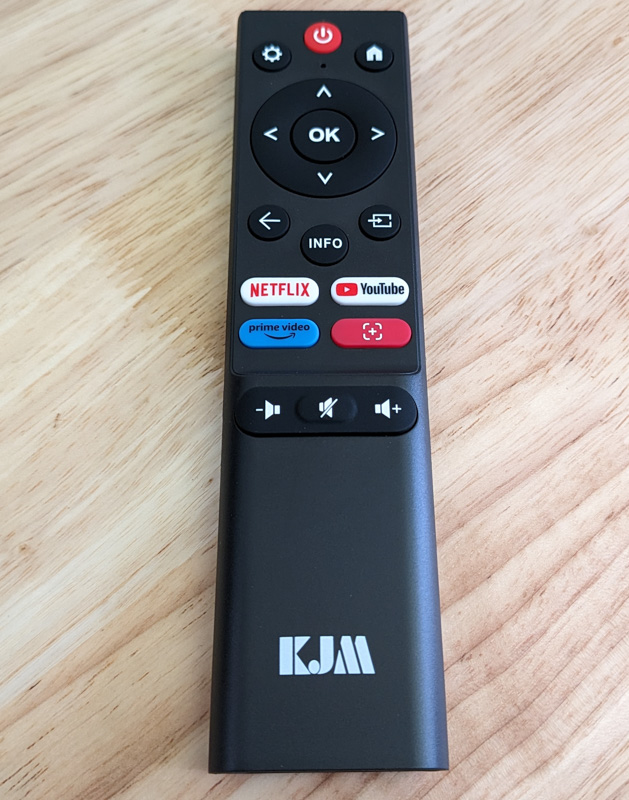 Finally, the KJM K3 projector's remote is pretty small and slim (which is not a bad thing), powered by two AAA batteries (included), and includes quick shortcuts to Netflix, YouTube, and Prime Video. The fourth button in the center cluster triggers autofocus. Layout is good, and after using it a few times I can easily use it in the dark (which is good since it doesn't have any backlighting).
Setup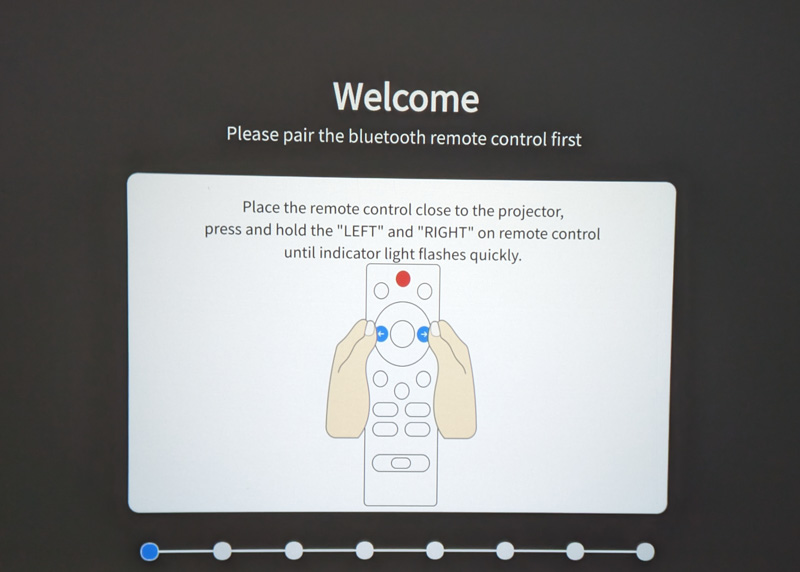 Setup begins with remote pairing as shown above.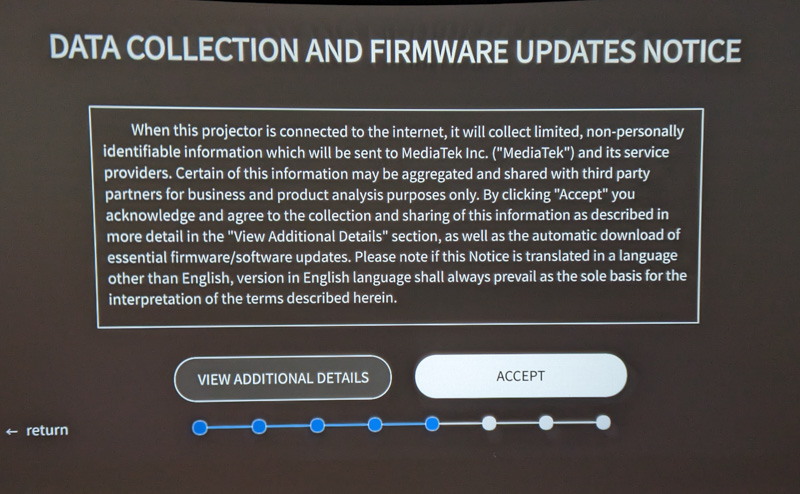 And then a series of steps, which includes data collection by MediaTek. You are prompted to login to Netflix, but can choose to skip and do this later (or never).
The other part of setup is choosing a screen or similar flat surface to project onto. KJM is selling a 100 inch screen on their Indiegogo campaign, and this would probably be a good size for this resolution (unless you have a large auditorium sized space or backyard area and want to go up to a 200 inch screen). Increasing screen size will make everything a bit blurrier (unless you're physically farther away), and will also spread the projectors light over a larger area, thereby decreasing the brightness-per-square-inch on the screen (this is like shining a flashlight on a wall from 1 foot away versus 10 feet away, you'll get a much smaller but brighter light up close).
Performance
It's always hard to convey how a screen or projector behaves by recording it with another camera and then having you, the reader/viewer, watch on your screen. The video above shows different scenes and the KJM K3 projector autofocus in action. Note the brightness of the nearly-pitch-dark room in bright scenes – and also how this brightness can wash out the darker areas of the scene (the starry night scene at 1:20 in particular is black between the stars on my laptop's mini-LED screen, but looks dark grey on the projector screen). Overall though for most content, the watching experience was fantastic for movies, TV, and games (I tested with PC games and an Xbox Series X, no input lag felt and the 60 frames per second were great).  My portable projector screen is 120 inches but because of how it stretches I was actually projecting to closer to 100 inches.
The brightness is particularly good if you have some ambient light in the room, I could still easily see anything I tried to watch in all but direct sunlight.
The sound is phenomenal for a projector of this size and price. Bass is decent, and mids and highs are well balanced and sound great to my ears. The projector fan is definitely audible though in quiet scenes (or when sitting on the menu screen), it sounds to me like a typical laptop with fans going on medium speeds.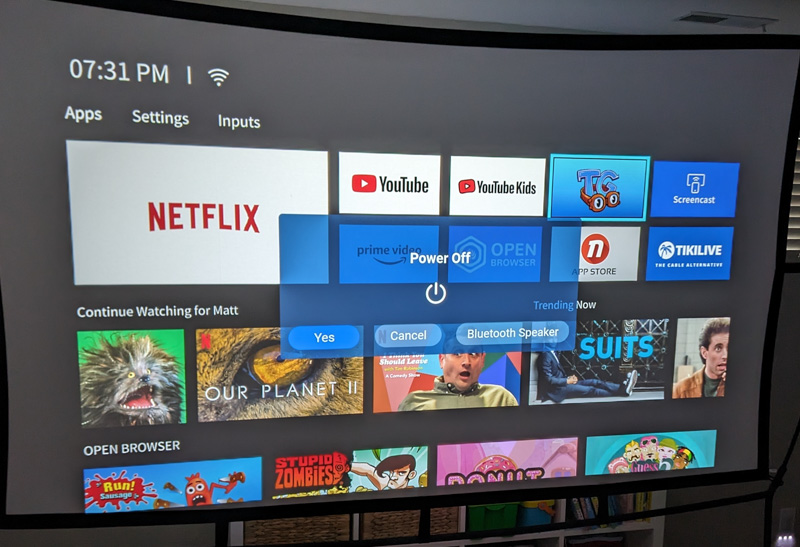 One nice feature of the KJM K3 projector is the option each time you turn it off to fully power off, or to switch to Bluetooth Speaker mode (which turns off the projector light but keeps a Bluetooth speaker connection available). This worked great, the device functions just like any other portable Bluetooth speaker when this mode is turned on.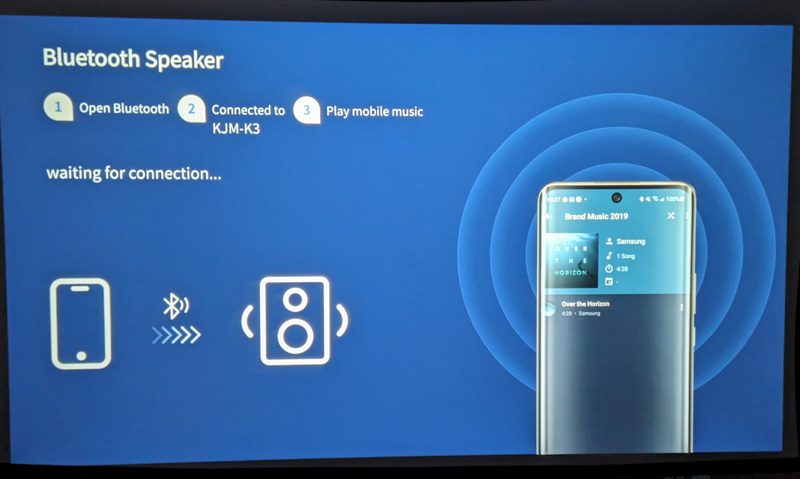 The interface is … interesting. The actual layout is definitely inspired by other popular streaming apps so it feels familiar, but I'm hoping they optimize and improve it because during the several weeks of testing it out it was intermittently agonizingly slow. I'm used to "Smart TVs" having pretty lousy interfaces, but there were times where I would press buttons, then press them again thinking I hadn't pressed hard enough, then wait another 5+ seconds before something finally happened.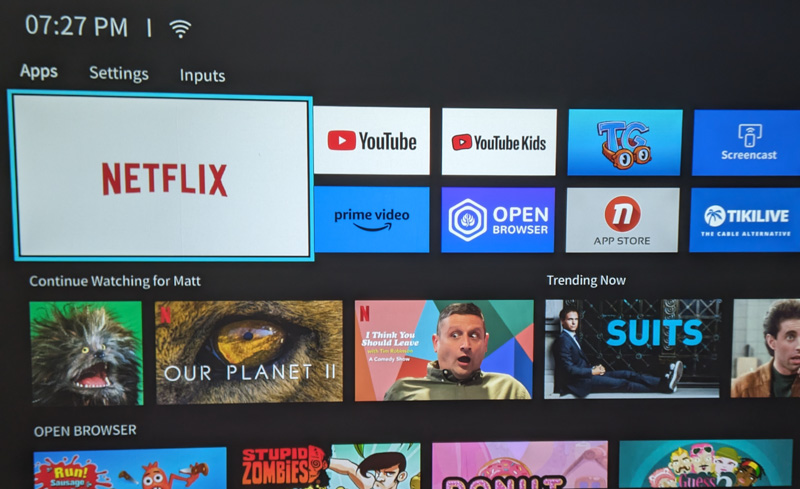 The app selection is pretty decent, with Netflix, Prime Video, and YouTube front and center. I've seen claims that KJM is adding Apple TV and Disney Plus certified apps along with others, but at the time of this review the ones mentioned above are the only major ones certified and preinstalled. The "netrange" app store is mostly full of apps I've never heard of besides Plex: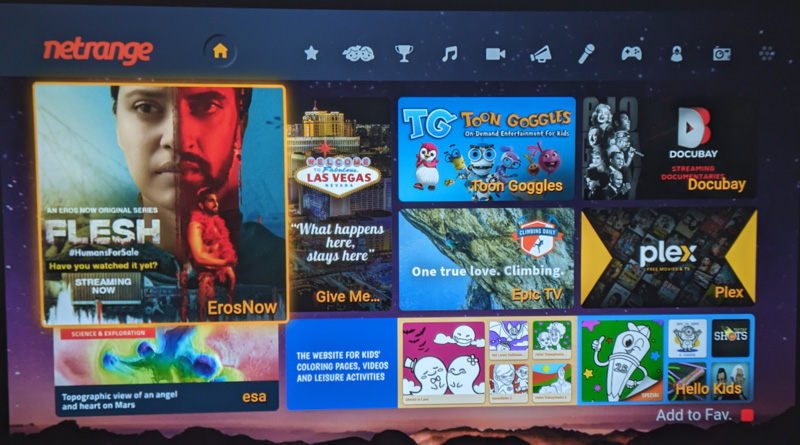 The KJM K3 projector's autofocus worked great for me every time. The resulting image is sharp and clear unless you're projecting onto a massive screen, and using the manual focus option didn't achieve any better picture quality.
If I was using this as our main home theater projector (our current TV beats it in image quality so it'll be assigned to backyard-movie-night duty), I would definitely use something like a Google/Apple TV device rather than the built in stuff. I do like that they're working on certifications for most of the major streaming services and have some big ones already done, but a proprietary Linux-based projector isn't as likely to get the same level of app updates in the future.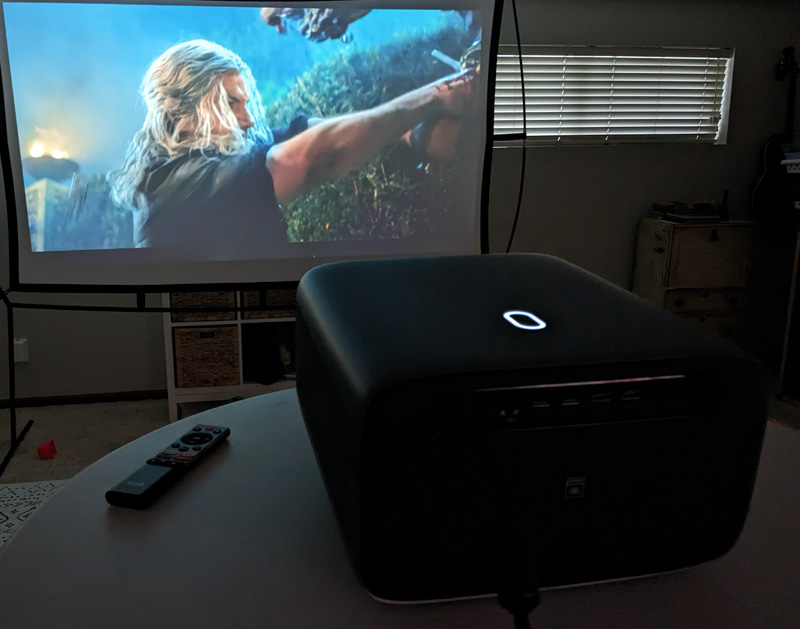 What I like
Great image and sound quality for the price (at least at the crowdfunding ~$300 price)
Good remote, feels intuitive
Bluetooth speaker can remain active when projection is turned off
What I'd change
If they raise the price to full retail after the crowdfunding launch, it will be a much lower value-for-price
Built-in UI needs optimization and improvement, the fully-frozen laggy moments make navigation difficult
Final thoughts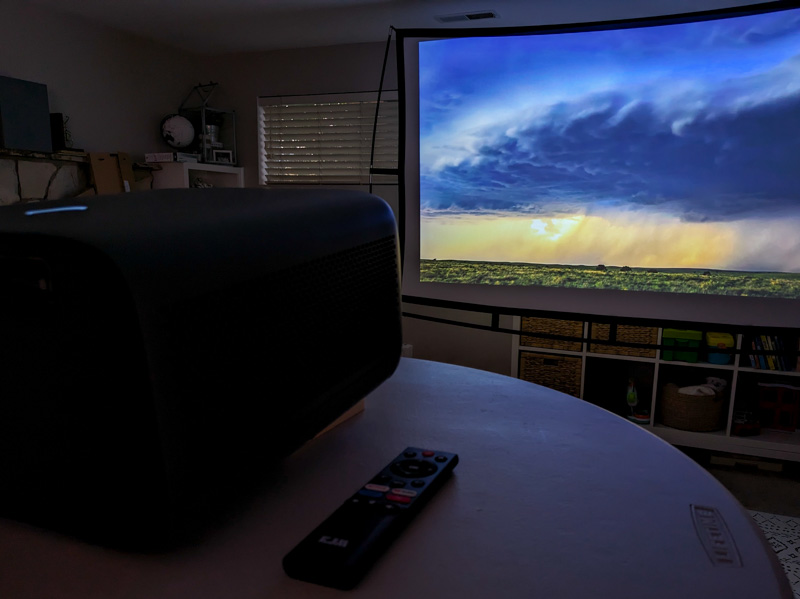 The KJM K3 projector is a solid LCD projector at the early launch price. I currently can't find anything similar under $300 that seems like it would match the picture quality and brightness I'm getting on it. However, if they go to their full retail price after the crowdfunding launch, it would be much harder for me to recommend, with the laggy user interface and some-but-not-all big streaming apps supported. Whenever a company can't get all the big streaming apps certified, you might as well just use a 3rd party device like Apple or Google TV or an Amazon Fire stick, etc., unless you're only ever watching the ones already on here.
Price: $558 ($279 early bird deal available at time of review, estimated shipping November 2023)
Where to buy: Indiegogo
Source: The sample of this product was provided by KJM